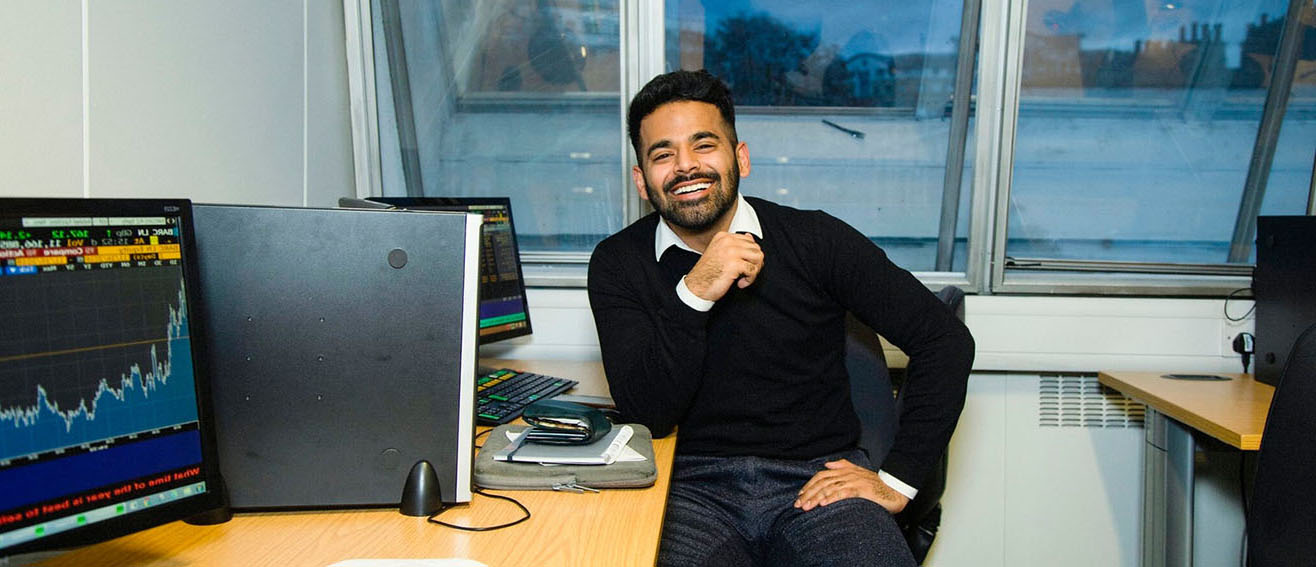 BSc (Hons) Economics (September start)
Southwark Campus
Mode: Full-time
BSc (Hons) Economics (September start)
Overview
---
Starting university is an exciting time. Studying Economics at LSBU is even more exciting. Here we show you why.
Why study Economics at LSBU?
At LSBU we teach real economics, show you the factors which shape the current economic climate and discuss the theories which can explain recent trends. From questioning fundamental economic concepts by reviewing country or industry case studies to developing economic models to forecast what the future holds, we will make you apply economics from the first day you join us.
We take you on an exciting journey of exploring economic ideas, schools of thought and historic events which have lead the world economy to where it is today.
The course is informed by the challenges and tasks professional Economists face in a variety of industries. This allows us to equip you with key graduate skills, turning you into an educated, passionate and competitive graduate who will be successful in any career path you choose.
With this focus on application, you can also apply your knowledge through consultancy projects via our Business Solutions Centre, or further enhance your employability with a year-long placement. Based in the capital city, you will benefit from LSBU Business School's links and connections.
From sustainability to cryptocurrencies, this course introduces you to the vast range of topics which drive the economy. And then we give you a glimpse of the future, leaving it to up to you to make your own critical judgement of what is yet to come.
Why Economics at LSBU?
The course is accredited by the IOEE. The School has Centre of Excellence status with the IOEE, in recognition of our entrepreneurial culture and leading-edge practice.

We hold close professional links with the Centre for International Business Studies and guest speakers are invited to reflect on a range of disciplines.

During your third year you'll have the option to spend a year in industry, working in a business or economics-focused environment. This could be in the UK or overseas.

Access to software widely used in industry: Stata, Bloomberg, SAGE, FAME, Nvivo and SPSS.

Top 5 for satisfaction with course for Economics in London (Guardian University League Tables 2020) and we're top 5 for overall satisfaction for Economics in London (NSS 2020).

We're top 5 for teaching in Economics in London (NSS 2020).

First in Economics for graduate prospects amongst Modern London universities (Sunday Times League Tables 2020).
The Economics course gives you an incomparable edge to start your career, and is a perfect mixture of theory and practice applied in real case scenarios. Another benefit is the fact that most of the lecturers call on previous careers with leading institutions.
Key course information - ordered by mode
Mode
Duration
Start date
Location

Mode

Full-time

Duration

3 years

Start Date

September

Location

Southwark Campus

Mode

Full-time (with placement)

Duration

4 years

Start Date

September

Location

Southwark Campus
Modules
The course offers a variety of modules including options in the final year, which cover current economic trends and themes which shape the global economy. You will be able to gain a practical experience by applying their knowledge to work on real cases and with real data.
Year 1
Finance and the Economy This module introduces you to a range of economic and financial topics and shows how these can be applied to understand the world around us. The module develops your understanding of the external environment businesses face, and aspects of finance relevant to the business context. 100% coursework assessed.
Business Mathematics As an Economics student, it is important for you to learn about the application of quantitative methods and techniques to analyse and solve problems that exist in business, economics and finance. For this purpose the module introduces and applies the powerful analytic method of calculus for finding optimal solutions to specific issues in economics and business. Coursework and exam assessed.
The LSBU Discovery Project In this module you will be utilising business project frameworks, problem-solving skills and idea generation techniques that will support them through the key stages required to complete a small business project from concept to delivery. Throughout the stages of your project, and by incorporating a facilitated coaching process, you will be supported to develop key skills vital to successful leadership and management. 100% coursework assessed.
Economic Concepts This module will continue to develop your understanding of the essential micro- and macroeconomic theories which are the bedrock to the economic concepts and methods studied in Finance and the Economy. The emphasis of the module is upon the theoretical frameworks underpinning the business applications of economics in facilitating the decisions of policy-makers, managers and entrepreneurs in a variety of situations as well as the implications of the open macroeconomy on the operations of modern firms. 100% coursework assessed.
Management and Organisations This module introduces you to the basic concepts of management in organisations. It gives you an appreciation of the complexities of organisations that affect employee behaviour within them. It introduces you to human resource management strategies to manage people in organisations. The module incorporates key management, organisational behaviour and people management theories and practices. 100% coursework assessed.
Principles of Strategy This module aims to equip you with the knowledge of skills of basic strategic analysis. You will be exposed to the use of simple strategic tools to evaluate the business and its wider environment. You will also be able to identify creative strategic solutions to simple organisational issues. The module further aims to develop your ability to make decisions between different strategic alternatives. 100% coursework assessed.
Year 2
Microeconomic Modelling
The aim of the module is to provide an intermediate level analysis of the principles governing the allocation of resources in market economies, and the operations of the micro-economy. The module develops the theoretical concepts introduced at level 4, by investigating in greater depth the decisions of individual consumers, and firms in order to explain why, and how, such choices are made. The course also introduces you to welfare economics, and considers general equilibrium, economic efficiency, and social welfare questions and issues. Market failure and the policy responses to such failure are also explored. Coursework and exam assessed.
The Analytical Economist
This module provides comprehensive insights into graduate employability and career development for economics students. It teaches you essential techniques of self-awareness building, career exploration, job search, succeeding in recruitment and selection processes and teamwork, enabling you to secure employment and thrive in the world of work.In addition, the module covers specific skills of particular relevance to economists, especially digital and communication skills that are valued and highly sought after by relevant employers. 100% coursework assessed.
Introduction to Econometrics
This module introduces you to the basics of econometrics. It starts with the standard OLS methodology and beginning with simple regression analysis, moves to multiple regression analysis. The problems associated with OLS are explained along with their consequences and potential alleviating measures. Indicator or dummy variables are also considered along with their applications. A heavy emphasis on addressing econometric problems with the use of statistical software will also be pursued. 100% coursework assessed.
Macroeconomic Modelling
This module embeds both the definition and importance of macroeconomic indicators, including what they mean and how they are calculated. You will have a clear story of the history of economic though in the context of macroeconomics. This will involve understanding historic theory including Say's Law, Keynesianism, Monetarism as well as modern economic thought within macroeconomics. You will work with and manipulate macroeconomic data and gain an understanding of current economic conditions within the United Kingdom using government economic reports. Coursework and exam assessed.
Economic Policy Analysis
This module will help you to learn how to use economics to understand and articulate reasoned views on some of the most pressing policy problems facing our societies: inequality, financial instability, the future of work, climate change, wealth creation and innovation. It addresses positive and normative dimensions as well as political-economy constraints. 100% coursework assessed.
The Digital Economy
This module offers an excursion into the digital economy and novel types of industries and businesses arising within. It introduces you to the key drivers, which are currently transforming various industries and includes examples of the UN SDG on Industry Innovation & Infrastructure. The module aims to equip you with an understanding of the changing digital environment and trends in digitalisation, which define current economic developments. It further aims to raise awareness of the regulatory challenges these recent trends impose. 100% coursework assessed.
Year 3
Optional placement year in industry (if you choose not to do a placement year, you will take the modules listed below in your third year).

Year 4

Microeconomic Strategy
This module introduces you to an understanding of fundamental models in microeconomics and introduces you to methods of formal microeconomic analysis. It differs from previous modules on microeconomics you will have completed in that it treats the models in a more formal manner, and additionally introduces you to the treatment of the models using various mathematical (and graphical) techniques including calculus. Coursework and exam assessed.
Macroeconomic Policy
You will learn ways to connect the behaviour of households, firms and governments and central banks to aggregate economic outcomes. The module will focus on linking policies on economic growth to innovation, market structure and firm dynamics; and more generally by taking institutions seriously into account when looking at growth, business cycles and unemployment and the interplay between them. Coursework and exam assessed.

Plus 4 options from:

Big Data Econometrics
This module introduces you to the methodologies and techniques of evaluating big data in economics, finance and business. This module aims to raise your awareness of the challenges surrounding the analysis of big data and develop your ability to identify appropriate statistical solutions to such complex big data econometrics problems. It exposes you to the use of statistical software packages and the application of big data econometrics. 100% coursework assessed.
Financial econometrics
This module focuses on the use of modern econometric methodology for dealing with problems in the area of finance and economics and provides you with the necessary econometric tools. It applies the techniques of mathematics, statistics and econometrics to analyse financial data so as to understand and model the underlying financial and economic conditions. In achieving the above, use of specialist software packages is employed to analyse real world examples. Empirical applications are considered in the stock, bond and exchange rate markets. 100% coursework assessed.
International Trade and Globalisation
This module forms part of the area of international economics and studies the role played by multinational firms in the global trading system. The module introduces you to the global trading system, both the theories of how and why countries engage in trade and the role played by governments, regional trading agreements and international institutions in the regulation of trade. The module is further concerned with multinational companies, examining the growth of multinationals, the theories advanced to explain the growth of multinationals and the effects of multinationals on the countries where they operate. 100% coursework assessed.
Development Economics
This module explores the economic reasons that have led to increasing development inequality (national and international). It focuses on how formal and informal finance can encourage economic development; the relationship between gender equity and growth, and analyse core issues regarding the development policymaking and strategy. The aim of the module is to provide an in-depth analysis of the challenging development process and the various problems facing economies striving to develop and combat poverty and inequality. 100% coursework assessed.
Global Finance and Technology
This module introduces you to the concept of International Finance and the role of exchange rates and their determination in financial markets. The module covers theories of exchange rate determination and the difference between fixed and floating exchange rate systems. It further offers an excursion into modern financial topics such as cryptocurrencies, Fintech and automation in the banking sector as key drivers in the finance industry. You will be exposed to the regulatory challenges, which come with financial innovation. 100% coursework assessed.
Behavioural Economics
The module examines the psychological underpinnings of economic behaviour and in particular when this behaviour deviates from predicted economic theory. It introduces the necessary skills within economics to test theoretical predictions and hypothesis. This includes designing and running lab based experiments as well as structuring clear testable predictions. Alongside this practical application the module will introduce you to recent behavioural theories that have emerged to explain the empirical observations (both from existing literature and their own research), and will discuss the implications for economics, business and politics. Coursework and exam assessed.
Employability
The course equips you with a comprehensive skillset, which makes you highly employable in both the public and private sector. From the finance sector to the government economic service, LSBU Economics graduates will find themselves able to join almost any industry they choose.
Type of role you can expect
Typical career paths include: economic research bodies, economic consultancy practices (including the consulting segments of some of the large chartered accountancy/financial services firms), broader management and strategic consultancies, the Government Economic Service (GES), commercial banks, investment banks, private equity and other specialist investment services, the International Monetary Fund (and other international bodies), NGOs, local authorities and Learning and Skills Council offices.
The majority of employers have a small number of staff devoted to economic consultancy work, or alternatively are relatively small organisations focused purely on economic consultancy.
Typical job titles are: Senior Economist, Economics Analyst, Economic Advisor.
Upon successful completion students are eligible to apply for our MSc International Economics and Strategy or our MSc International Finance.
Employability Service
We are University of the Year for Graduate Employment for the second year in a row - The Times and Sunday Times Good University Guide 2018, 2019.
At LSBU, we want to set you up for a successful career. During your studies – and for two years after you graduate – you'll have access to our Employability Service, which includes:
An online board where you can see a wide range of placements: part-time, full-time or voluntary. You can also drop in to see our Job Shop advisers, who are always available to help you take the next step in your search.
Our Careers Gym offering group workshops on CVs, interview techniques and finding work experience, as well as regular presentations from employers across a range of sectors.
Our Student Enterprise team can also help you start your own business and develop valuable entrepreneurial skills.
Professional links
Our curriculum informed by industry and professional economists working for the government economic service and in the private sector.
Placements
You have the option to take a one year placement between your second and final year, which is a great opportunity to put everything you have learned up to this point into practice. You will be supported by the School careers team with your application.
Teaching and learning
The course is two-thirds coursework assessed. The course features a variety of delivery styles with a mix of online and face-to-face tutorials, seminars based on discussions of current economic developments or lab exercises using relevant statistical software. Wherever possible, the teaching team will invite guest speaker from industry to support student learning.
You will have the opportunity to engage in personal tutoring or seek advice from a personal tutor for the entire duration of your course.
Personal Tutoring
As an undergraduate student in LSBU Business School, your personal development and wellbeing is very important to us, so we have developed a personal tutoring system that is tailored to your individual and group needs.
Firstly, you will be allocated a personal tutor who will be available to you on a 1:1 basis as well as facilitating group personal tutoring sessions which will be designed to enhance your academic and personal development within your degree programme.
In addition to an allocated personal tutor, there will also be a personal tutor available 'on call' in a designated room, called 'Talk', for confidential 1:1 pastoral care meetings every day of the academic semester from 9am to 8pm. This personal tutor can be seen by appointment or within a few minutes in order to assist you with any concerns that you may have.
Our personal tutoring motto is that we want you to "Achieve, Succeed & Excel".
Coaching
Students in their first year of an undergraduate degree will also benefit from our BE programme. This programme is a proactive approach to student development that draws out our students' potential through a process of self-analysis, reflection, planning and action, enabling students to discover and decide upon their required needs.
Entry requirements
In order to be considered for entry to the course(s) applicants will be required to have the following qualifications:
The normal qualifications required for entry to Level 4 are GCSE passes at Grade C or above in five subjects, including English Language and Mathematics (or equivalent), plus one of the following:
112 UCAS tariff points (subject to annual review)
A Level BCC
BTEC National Diploma - DMM (subject to annual review)
Relevant recognised Access Courses with Pass +24 Merits
Any other Level 3 qualification which is of equivalent standard
Accreditation of Prior Learning (APL)
All awards for APL will be in line with the University's policy and current academic regulations.
Transfer credit
Transfer credit allows credit awarded by another HE Institution to contribute to the credit required for a London South Bank award. Credit may also be transferred from a previous experience of learning at LSBU.
Applicants will be considered on a case by case basis. Consideration of any request for transfer credit will only be confirmed against a transcript of credit or award certification and particular attention will be paid to grades achieved and number of attempts at the assessments.
Applicants for whom English is a foreign language should either hold a recognised qualification in English e.g. British Council IELTS (minimum 6.0) or the TOEFL equivalent. LSBU also accepts other equivalent English language certification.
Advanced entry
If you have already completed some studies at another university, we may be able to consider you for advanced entry. Please see our advanced entry page for more information.
How to apply
International students
International (non Home/EU) applicants should follow our international how to apply guide.
Home/EU applicants
Mode
Duration
Start date
Application code
Application method

Mode

Full-time

Duration

3 years

Start date

September

Application code

L103

Application method

Mode

Full-time (with placement)

Duration

4 years

Start date

September

Application code

L104

Application method
Accommodation
Once we have made you an offer, you can apply for accommodation. You can rent from LSBU and you'll deal directly with the university, not third party providers. That means we can guarantee you options to suit all budgets, with clear tenancy agreements and all-inclusive rents that include insurance for your personal belongings, internet access in each bedroom and on-site laundry facilities.
Or, if you'd rather rent privately, we can give you a list of landlords – just ask our Accommodation Service.
Read more about applying for accommodation at LSBU.
Finance
You don't need to wait for a confirmed place on a course to start applying for student finance. Read how to pay your fees as an undergraduate student.
Prepare to start
Applicant events
After you've received your offer we'll send you emails about events we run to help you prepare for your course.
Enrolment
Before you start your course we'll send you information on what you'll need to do before you arrive and during your first few days on campus. You can read about the process on our Enrolment pages.
Fees and funding
For more information, including how and when to pay, see our fees and funding section for undergraduate students.
Please check your fee status and whether you are considered a Home, EU or International student for fee-paying purposes and for our regulatory returns, by reading the UKCISA regulations.
See our Tuition Fees Regulations (PDF File 160 KB) and Refund Policy (PDF File 102 KB).
Possible fee changes
The University reserves the right to increase its fees in line with changes to legislation, regulation and any government guidance or decisions.
The fees for international students are reviewed annually and the University reserves the right to increase the tuition fees in line with the RPIX measure of inflation up to 4 per cent.
Scholarships
We offer several types of fee reduction through our scholarships and bursaries. Find the full list and other useful information on our scholarships page.
Contact information
Course Enquiries - UK
Tel: 020 7815 7815
Due to COVID-19, call waiting times may be longer than usual. Any questions? Use the green bubble on the bottom right hand corner to start a live chat with us
Get in touch