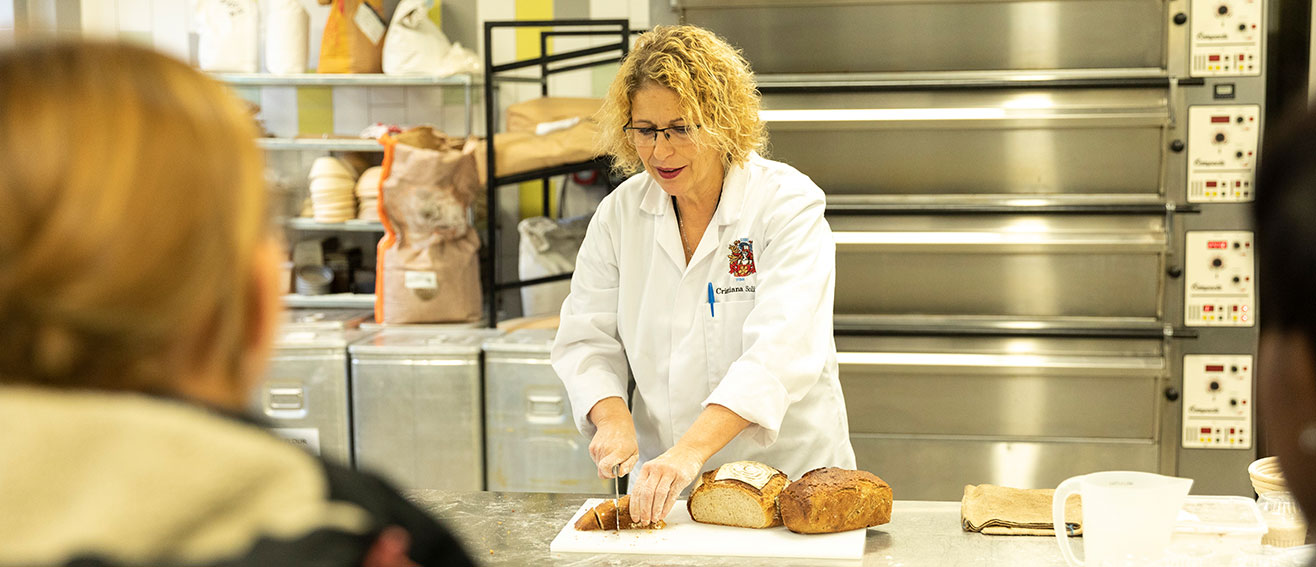 BSc (Hons) Baking Science and Technology (Management) -
Southwark Campus
Mode: Full-time
Baking Science and Technology (Management) - BSc
Overview
Have your cake and eat it
Baking is a highly technical skill and a qualification in this field will make you really attractive to employers. This course will help you to become a specialist manager, teaching you the commercial and technological aspects of the baking profession.
We offer the opportunity for all undergraduate Home/EU students to undertake a work placement, internship or work experience while studying a full-time course starting in September 2021.
Why Baking Science and Technology at LSBU?
Our amazing heritage: LSBU is the site of the oldest Bakery School in the UK.

This industry relevant course is widely recognised across the baking industry has professional links with a number of organisations.

We're no.2 amongst London competitors for research quality in Food Science (Complete University Guide league table, 2019).

This course is endorsed by The Worshipful Company of Bakers.

You'll have plenty of networking opportunities, attending industry events and guest lectures and talks from professionals hosted by us.

Our exceptional bakery facilities include laboratories - research-based teaching will inform the learning experience throughout.
Key course information - ordered by mode
Mode
Duration
Start date
Location

Mode

Full-time

Duration

3 years

Start Date

September

Location

Southwark Campus
Modules
This course will enable you to be able to work in different organisational contexts and manage the manufacturing and baking service or product from inception through to the marketplace. During your course modules, you'll be assessed through a mixture of essays, assignments, in-class problem-solving exercises, case studies and practical and theoretical exams.
Year 1
Bakery food science
This module introduces you to Bakery Food Science. It aims to lay the foundation for the basic scientific principles involved in food science, food analysis and bakery production. You'll cover all aspects of science that can be related to the baking industry and, as far as possible, the basic scientific principles are delivered in the context of food including bakery products. The complexity and perishable nature of food and food materials and the importance of the basic sciences are emphasised throughout the module. Assessment: group presentation (30%), personal assignment (70%).
Bread, theory and analysis of production management
This module introduces you to the exciting area of bakery production management, covering legislation, consumer trends and food safety. Bakery management is crucial to the survival and effective operation of a bakery business. You'll have the opportunity to manage a plant bakery producing a range of bread and fermented products in a realistic working environment. Assessment: student's bakery production management skills (60%) and a written report (30% - approximately 1500 words). You'll also be required to produce and maintain a record of all practical sessions as part fulfilment of the formative unit assessment requirement, (10%).
Bakery safety, health and safety and HR management
This module allows you to investigate the implications that food Health and Safety has in relation to consumers/ industry and regulatory authorities. This in turn will provide you with suitable knowledge and understanding to instigate appropriate control measures to satisfy all parties, ensuring policies are in place, which firmly adhere to effective practice. The module also incorporates Human Resources and seeks to develop and demonstrate proficiency in key "people" skills within the Baking industry. Assessment: two hour examination (60% - approximately 2 hours), and an assignment (40%- approximately 1250 words). Formative assessment will be included which will incorporate case study scenarios.
Technology of flour confectionery
This module introduces you to the technology of Flour Confectionery. It will cover the foundation for confectionery production, manufacture, current market trends and demands, legislation and health and safety requirements. The development is essential in an ever-changing competitive market. Creativity, together with a sound knowledge of customer requirements is essential to the survival and development of the confectionery and baking industry. Assessment: practical exam, (60%), and an assignment, (30% - approximately 2000 words). In addition, you'll be required to attend and maintain a record of all practical sessions (10%).
Research methodology
The module introduces the basic concepts and skills that underpin scientific research for baking innovations. It equips you with information gathering competences in order to undertake knowledge based innovation research. Critical analytical skills are gained which are reflected in generated posters, assignments and presentations. Additionally, some basic statistical (and mathematical) competencies are attained for future baking innovation and enterprise research. It also develops some basic skills for undertaking Baking Technology Management research. Assessment: 100% coursework.
Chocolate production, computer labelling and packaging
This module aims to provide you with a broader knowledge and technical understanding of various raw materials involved in chocolate production. It will allow for raw material quality control analysis, introducing you to testing methods compatible to those used within industry. The module will also investigate the nature of product analysis to ensure chocolate products continuously and consistently conform to expectation. Computer Labelling and Packaging will also be delivered to ensure legislative compliance. The module will equip you with the broad range of transferable skills necessary to meet the demands of the modern workplace. Assessment: a practical exam, (60%), and an assignment, (30% - approximately 2000 words). In addition you'll be required to attend and maintain a record of all practical sessions (10%).
Year 2
Advanced bread technology
This module focuses on both practical skills and theoretical knowledge needed to manufacture breads and related products to an advanced standard. Covering in more detail bread making processes – both modern and traditional and examining quality aspects of bread. It aims to introduce you to the principles of advanced bread making using a variety of advanced methods and handling techniques and gives you the opportunity to research and investigate the extensive range of raw materials used within the baking industry. Assessment: practical ability 60%, written work including recipe calculations and costing and drawing up of product specifications for relevant advanced bread products 30%, (approximately 1500 words) , you'll also be required to produce and maintain a record of all practical sessions 10%.
Creative confectionery
This module builds on the level four module, Technology of Flour Confectionery. It will enhance and advance existing skills and promote the design and production of creative confectionery. It will enable you to demonstrate confidence in raw material selection and balance in products and teach you more about the legislation requirements that need to be considered when designing and producing confectionery products. You'll also be able to research future work trends, e.g. specific dietary needs or healthier eating products. These skills are essential in an ever-changing market place. Assessment: 60% practical ability, (approximately 2 hours), 30% through written work, (approximately 1500 words), you'll also be required to produce and maintain a record of all practical sessions, (10%).
Artisan chocolate
This module will develop and advance existing skills, promoting artisan chocolate production. You'll be coached in the art of individualism for the design and technology of artisan chocolate whilst being aware of client demands and the current market situation. You'll have the opportunity to design and finish products and study the raw materials. It will enable you to evaluate and analyse the factors that contribute and create successful production in Artisan Chocolate. Assessment: 60% practical ability, (approximately 2 hours) & 30% through written work, (approximately 1500 words), including recipe calculations and costing and drawing up of product specifications for relevant artisan chocolate products. You'll also be required to produce and maintain a record of all practical sessions (10%).
Advanced research methods
The module builds on the concepts and skills that underpin scientific research. It explores the use of statistical techniques and measurement in advanced research methodology. You'll learn to understand the importance of data collection and presentation, measures of location and dispersion, probability, discrete probability distribution and normal distribution. You'll also construct and execute an experimental design and analysis of data through appropriate statistical techniques. Assessment: Open book test (40%), written report (60%).
Product design, development, packaging, labelling and flow processes
This module allows you to explore given briefs for product design and development working within realistic budgets and other associated limitations. In addition to this you'll be expected to research and apply a full range of packaging media for the presentation of the developed product. This module also promotes effective principles and practice with respect of bakery design, plant layout and flow processes. You'll design and develop a product within the confines of an existing bakery and ensure that it is effectively packaged and labelled to meet modern day market and legislative requirements. Assessment: bakery practical skills, (40%), written report – approximately 1250 words, (40%), and presentation skills (20% - approximately 10 minutes).
Business leadership, financial management and organisation
This module will enable the student to understand the impact of leadership and financial management functions in order to maintain and improve organisational effectiveness. You'll investigate the nature of leadership and its relation with management, establish the ingredients of effective leadership and research the likelihood of adapting skills to suit individual vs. work team vs. situation. you'll explore concepts of financial management, eo evaluate organisational complexities and aim to identify the effects of the group and the individual on business leadership and financial management. Assessment: assignment (75% - approximately 2500 words), 25%, (approximately 1250 words), work based case study.
Year 3
Applied bakery science
This module builds on Bakery Food Science delivered as a L4 module within the first year of the Foundation Degree Programme, FdSc BTM. The module teaches the scientific principles involved in the development, production and analysis of products produced within the baking industry in greater depth. You have the opportunity to conduct practical applications of intermediate /advanced level applications within bakery science in a laboratory environment/ place of production. Assessment: practical assessment, 40% and written assignment, 60% (approx 1500 words).
Science and technology of bread fermentation
This module builds upon the L5 module – Advanced Bread Technology. It focuses on both practical skills and theoretical knowledge needed to manufacture artisan breads and related products. The module will address extended bulk fermentation times using sour dough processes in addition to examining the necessary quality aspects. You have the opportunity to research and investigate the extensive range of raw materials used within sour dough production. Assessment: 60%, (approximately 2 hours), practical ability and 30%, Exam. There are also various practical exercises in addition to the maintenance of a portfolio of evidence which will contribute towards 10% of marks awarded.
Creative artisan chocolate and luxury continental patisserie
This module seeks to explore the advanced properties of chocolate and patisserie which allow for the development of innovative designs and luxurious continental patisserie to a professional standard.
Business, environmental management best practice
This module focuses upon the business and legal aspects for consideration in the set up of a new business enterprise within the Baking industry. The module also emphasises the importance of quality management and environmental principles and recommended best practices within an innovative organisation, recognising that these two factors join together to address the increasing concern for health, food safety and the environment. It explores appropriate standards, principles and applications to meet these ever emerging needs. Assessment: two pieces of written work. Formative assessment will be in the form of an assignment worth 40% , (approximately 1500 words), based on Environmental and QM Best Practice. Emphasis will be placed on the summative assessment, 60%, (approximately 2500 words), which will focus on an 18 month business plan incorporating legal aspects.
Baking innovation dissertation
This module explores different scientific philosophies (e.g. positivism and interpretivism), approaches (e.g. inductive and deductive), strategies (experiment, survey, case study, appreciative inquiry, thematic analysis, action research) which informs selection of research methodology to the baking problem of interest. Properties of complexity and uncertainty associated with baking problems are also discussed. The module highlights orthodox and alternative concepts (e.g. analytical thinking, systems thinking) and evaluation (inference statistics, thematic analysis (NVIVO)). Additionally, research design issues are discussed. The competencies gained leads to a baking innovation dissertation which benefits the individual learner and the baking industry.
Employability
Because this course is widely recognised across the baking industry – and thanks to our working partnerships – you'll find plenty of opportunities when you graduate. You'll be well equipped to start up your own operation, run a small business or work in an international food company. In the current climate, there's significant need for graduates who have the technological competence along with a creative flair to allow for innovation within NPD and research – and graduates from this course have exactly that.
The majority of bakers in the UK are employed in plant bakeries and in-store bakeries. These tend to be large companies, where opportunities for further training and career progression tend to be more positive. Prospects for promotion in baking are good, with options available to move into supervisory roles, production management roles or into an advisory role – depending on which area of bakery you specialise in.
If you're able to combine baking skills with business skills, there are excellent possibilities for starting your own business. One career option is to work your way up to a bakery production manager. They have a range of responsibilities, from overseeing the production process and drawing up production schedules, to making sure that products are produced on time and are of good quality, to estimating the costs and setting the quality standards.
To work in bakery, you will need to have a passion for food, be able to work under pressure, have good communication skills and have plenty of stamina as well. Bakers often work unsociable hours and shift work is common. Baking can involve physical work, while bakeries can be hot and noisy places to work.
Employability Service
We are University of the Year for Graduate Employment for the second year in a row - The Times and Sunday Times Good University Guide 2018, 2019.
At LSBU, we want to set you up for a successful career. During your studies – and for two years after you graduate – you'll have access to our Employability Service, which includes:
An online board where you can see a wide range of placements: part-time, full-time or voluntary. You can also drop in to see our Job Shop advisers, who are always available to help you take the next step in your search.
Our Careers Gym offering group workshops on CVs, interview techniques and finding work experience, as well as regular presentations from employers across a range of sectors.
Our Student Enterprise team can also help you start your own business and develop valuable entrepreneurial skills.
Professional links
Here at the National Bakery School we have links with a number of bodies including The Worshipful Company of Bakers, The Craft Bakers Association, CBA, and The British Society of Baking, BSB. Our strong contacts mean opportunities for students to progress.
At the moment we're working with Zeelandia, Bakels, Puratos, London Bread and Cake Company, G R Wrights and Marriages, to name but a few. On this course you'll attend industry events and guest lectures from professionals. Our collaborations continue to evolve and strengthen.
Facilities
We are home to the oldest Bakery School in the world, established in 1894.
Our testing laboratories and bakeries are fully equipped and staffed to train current and future bakers.
Teaching and learning
Personal Tutoring
As an undergraduate Applied Sciences student, you will be allocated a named tutor during your first three weeks at LSBU. The role of your tutor is to be your primary contact for academic and professional development support.
Your tutor will support you to get the most of your time at LSBU, providing advice and signposting to other sources of support in the University.
Your tutor should be the first person at the university that you speak to if you are having any difficulties that are affecting your work.
These could be academic, financial, health-related or another type of problem.
You will have appointments with your personal tutor once each semester for 30 minutes throughout your course. Weekly drop in times will be made available and you can contact your tutor for additional support by email, phone or in person.
Entry requirements
A Level CCD including two Science subjects or;
BTEC National Diploma MMM or;
Access to Science with 39 Merits and 6 Passes or;
Equivalent level 3 qualifications worth 96 UCAS points
Applicants must hold 5 GCSEs A-C including Maths and English or equivalent (reformed GCSEs grade 4 or above).
We welcome qualifications from around the world. English language qualifications for international students: IELTS score of 6.0 or Cambridge Proficiency or Advanced Grade C.
Advanced entry
If you have already completed some studies at another university, we may be able to consider you for advanced entry. Please see our advanced entry page for more information.
How to apply
International students
International (non Home/EU) applicants should follow our international how to apply guide.
Home/EU applicants
Mode
Duration
Start date
Application code
Application method

Mode

Full-time

Duration

3 years

Start date

September

Application code

D635

Application method
Accommodation
Once we have made you an offer, you can apply for accommodation. You can rent from LSBU and you'll deal directly with the university, not third party providers. That means we can guarantee you options to suit all budgets, with clear tenancy agreements and all-inclusive rents that include insurance for your personal belongings, internet access in each bedroom and on-site laundry facilities.
Or, if you'd rather rent privately, we can give you a list of landlords – just ask our Accommodation Service.
Read more about applying for accommodation at LSBU.
Finance
You don't need to wait for a confirmed place on a course to start applying for student finance. Read how to pay your fees as an undergraduate student.
Prepare to start
Applicant events
After you've received your offer we'll send you emails about events we run to help you prepare for your course.
Enrolment
Before you start your course we'll send you information on what you'll need to do before you arrive and during your first few days on campus. You can read about the process on our Enrolment pages.
Fees and funding
Fees are shown for new entrants to courses, for each individual year of a course, together with the total fee for all the years of a course. Continuing LSBU students should refer to the Finance section of our student portal, MyLSBU. Queries regarding fees should be directed to the Fees and Bursaries Team on: +44 (0)20 7815 6181.
UK/EU fee:

£9250

International fee:

£14470

AOS/LSBU code:

5018

Session code:

1FS00
Total course fee:
UK/EU
£27750
International
£43410
For more information, including how and when to pay, see our fees and funding section for undergraduate students.
Please check your fee status and whether you are considered a Home, EU or International student for fee-paying purposes and for our regulatory returns, by reading the UKCISA regulations.
See our Tuition Fees Regulations (PDF File 160 KB) and Refund Policy (PDF File 102 KB).
Possible fee changes
The University reserves the right to increase its fees in line with changes to legislation, regulation and any government guidance or decisions.
The fees for international students are reviewed annually and the University reserves the right to increase the tuition fees in line with the RPIX measure of inflation up to 4 per cent.
Scholarships
We offer several types of fee reduction through our scholarships and bursaries. Find the full list and other useful information on our scholarships page.
Contact information
Course Enquiries - UK
Tel: 020 7815 7815
Due to COVID-19, call waiting times may be longer than usual. Any questions? Use the green bubble on the bottom right hand corner to start a live chat with us
Get in touch
KIS Data