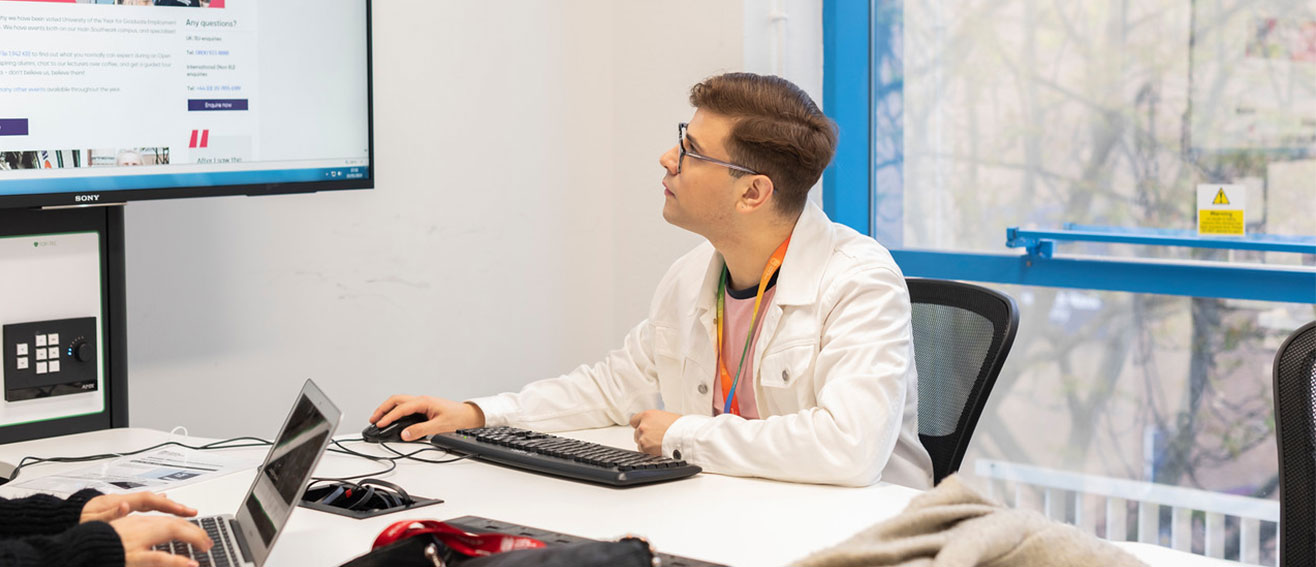 BA (Hons) Business Management with Digital Innovation & Entrepreneurship (September start)
Southwark Campus
Mode: Full-time
BA (Hons) Business Management with Digital Innovation & Entrepreneurship (September start)
Overview
What's the big idea?
The world is changing rapidly, with digital technologies impacting every aspect of our lives and every facet of how business is conducted. In this course you will immerse yourself into the mindsets, frameworks, and tools that will enable you to thrive in the digital age.
Various modules in this course cover everything from strategy, leadership and entrepreneurial mindset, to how the latest technologies like big data, artificial intelligence, or blockchain are put to use by start-ups and large organisations alike.
Whether you want to become an entrepreneur looking to carve out your path by creating your own venture, or to be a corporate innovator looking to impact digital transformation in established organisations, this course will prepare you for a career at the forefront of digital innovation.
Our focus is on application, so we include live case studies, guest lectures and speakers, and you have opportunities to put your skills in to practice with consulting and taking part in competitions. We also have a dedicated Business School Commercial Experience and Employability Team, helping you get access to the career opportunities you want. You can also choose to take this course with a one year placement; a great way to boost your networks and employability.
We offer the opportunity for all undergraduate Home/EU students to undertake a work placement, internship or work experience while studying a full-time course starting in September 2021.
Why Business Management at LSBU?
Joint 2nd for career prospects in Business, Management and Marketing among London universities (Guardian University Guide 2020).

First overall for career prospects in Business, Management and Marketing among Modern London universities (Guardian University Guide 2020).

Professional accreditation - The School has Centre of Excellence status with the IOEE, in recognition of our entrepreneurial culture and leading edge practice.

Outstanding facilities and access to the software widely used in industry: Bloomberg, SAGE, FAME, Nvivo and SPSS.

The opportunity to complete your third year in a paid professional work placement.

You could study in Europe during the second semester of the second year, with semester abroad opportunities in the USA or Australia too.

Enhanced careers support from the LSBU Business School Commercial Experience and Employability Team.
Accreditations
Key course information - ordered by mode
Mode
Duration
Start date
Location

Mode

Full-time

Duration

3 years

Start Date

September

Location

Southwark Campus

Mode

Full-time (with placement)

Duration

4 years

Start Date

September

Location

Southwark Campus
Modules
The course has been created to combine theory with current industry practice. This way, you can develop an understanding of the relevant knowledge and skills you need to apply for business management and financial roles.
Year 1
Finance and the Economy
Introduces students to a range of economic and financial topics and shows how these can be applied to understand the world around us. The module develops your understanding of the external environment businesses face, and aspects of finance relevant to the business context.
Principles of Marketing
Aims to provide you with an introduction to the nature and scope of marketing. It provides an understanding of the fundamentals within the marketing discipline and to be introduced to the understanding of marketing as a management tool. You will also be introduced to the role of marketing within the general marketplace and society.
LSBU Discovery Project
In this module you will be utilising business project frameworks, problem solving skills and ideas generation techniques that will support you through the key stages required to complete a business small business project from concept to delivery. Throughout the stages of their project, and by incorporating a facilitated coaching process, you will be supported to develop key skills vital to successful leadership and management.
Data for Decision Making
The module examines a range of ways of handling, analysing and presenting quantitative information. The underlying theme is to look at data in a variety of forms, to determine the 'story' that this data is telling, and to use that 'story' to justify decisions.
Management and Organisations
This module introduces you to the basic concepts of management in organisations. It provides you with an appreciation of the complexities of organisations that affect employee behaviour within them. It introduces you to human resource management strategies to manage people in organisations. The module incorporates key management, organisational behaviour and people management theories and practices.
Principles of Strategy
This module aims to equip you with the knowledge of skills of basic strategic analysis. You will be exposed to the use of simple strategic tools to evaluate the business and its wider environment. They will also be able to identify creative strategic solutions to simple organisational issues. The module further aims to develop your ability to make decisions between different strategic alternatives.
Year 2
Professional and Digital Skills
This module provides comprehensive insights into graduate employability and career development for Accounting & Finance students. It teaches you essential techniques of self-awareness building, career exploration, job search, succeeding in recruitment and selection processes and teamwork, enabling you to secure employment and thrive in the world of work. In addition, the module covers specific skills of particular relevance to Accounting & Finance students, especially hands-on Excel and accounting software skills, and also knowledge of technological innovations such as Blockchain, cryptocurrency, etc.
Operations, Logistics and Supply Chain Management
This module demonstrates the importance of operations, logistics and the supply chain while also considering procurement and negotiation strategies and techniques within business services, retail and manufacturing environments. You will analyse best practice in logistics and supply chain management and the effects of disruptive technological and communication developments on business operations.
Entrepreneurial Mind-set: Business Discovery and Development
This module introduces you to the theory, practice and mindset of developing a start-up business as an entrepreneur. You will learn about how to identify opportunities, how to define and develop a vision, and how to prototype and test their assumptions and pivot into product-market-fit.
Responsible Business
The corporate responsibility agenda of the 90s was about ticking boxes. Now, companies are more progressive with a shift in focus towards social value, and understanding that responsibility is a commercial imperative, embedded in strategy to provide a competitive advantage. This module outlines some of the resources and strategies adapted from management and leadership across industries. With a focus on sustainable development the module introduces you to sustainability narratives and challenges stemming from the scarcity of resources, and the inherent concerns from the complexity of the leadership issues involved towards an adaptive and assimilated sustainability planning.
Digital Transformation
This module introduces you to the basic theory, concepts, and techniques of digital business transformation. It focuses on developing the thought processes and practical skills needed to identify, analyse, evaluate and apply digital technologies in order to address real-world business problems.
Lean to Agile Enterprise Operation
The module scrutinises the principles, techniques, key tools of "Lean Start-ups" and how they might apply in a variety of processes in order to add value to new enterprises and become agile in operation management. Entrepreneurs have limited funding to start ventures, and therefore need to consider lean strategies in establishing venture that would add value to the enterprise activity. Lean, Six Sigma, Deming Cycle and other optimisation process in operations focus on the creation of quality with efficiency and increase productivity in products and services. Start-ups need to think of "lean enterprise" activities to survive and create value. The module considers how new enterprises in various industries, with the likes of low-cost budget-operations, achieved higher returns due to streamlined operations.
Year 3
Optional placement year in industry
Year 4
New Technology Innovation
This module will introduce you to theory, mindsets, and practice of new venture creation in new technology startups as well as in the context of intrapreneurial innovation within large enterprise. You will acquire a firm grasp of the most up-to-date developments in different verticals and sectors of new technology innovation (such as fintech, biotech, health tech, cleantech, edtech, social impact ventures, nanotech, augmented and virtual reality, blockchain, etc.) as well as of various support systems and innovation ecosystems infrastructures such as incubators, accelerators, corporate and hybrid accelerators, R&D institutions, venture capital, crowd and crypto based support models, and governmental support programs.
Leadership, Strategy & ChangeThis module examines the scope and nature of leadership, strategic management and change and approaches to establishing organisational objectives. It demonstrates the link between strategy, resources, markets, innovation, technology and finances available. The impact of the size and structure of organisations as well as external factors impacting strategy including globalization and sustainability are also considered.
Comparative International Management
In an ever broadening set of interdependent relationships among countries, the need to recognise the opportunities and restrictions presented by different world markets has gained significance. This module is designed to impart the analytical skills to assess the socio-economic differences between countries, and to identify how these differences impact business and management behaviour across countries through comparative studies. It is based on the rationale that students understanding as managers will be expected to analyse and compare market and business environments in different countries to attain business success. The module develops your understanding of business practice in different regions and acquaints students to apply analytical management tools and qualitative research methodologies to critically evaluate and gain an understanding of comparative international management practices.
Funding Enterprise Projects
Young and first-time entrepreneurs typically lack the skills to identify and secure tangible resources such as physical or financial capital. Their challenge is to leverage their entrepreneurial capital to gain access to tangible resources necessary to create the venture. This module provides an intense grounding of the skills required for successful enterprise creation by examining ways of funding new and developing business ventures. The module aims to develop individuals with the mind-set of entrepreneurs and enterprise managers in understanding financial and funding requirements of new and developing enterprises

Plus one option from

Research Project
This final year module allows you to consolidate their learning over the whole of their degree by undertaking an independent small-scale research project, with a business or management focus.
Applied Project
This final year module allows students returning from their undergraduate placement year to consolidate their learning on their degree and industrial experience by undertaking an applied project.
Entrepreneurial Project
This final year module allows students to consolidate their learning over the whole of their degree by undertaking a project that develops an entrepreneurial idea into a detailed business case.
Employability
All the way through the course, employability skills are promoted by our academic staff and in School Employability Team. This includes teaching via a dedicated employability module in business practices, guest speakers from industry, business insights, graduate start-up and entrepreneur schemes.
You'll be prepared when you graduate for a career in business, management and finance, and our graduates have gone onto jobs such as:
Consultant at JCW
Talent Intelligence Manager at Talent Intelligence
CEO at BoxUp Crime
Web Agency Owner
We are University of the Year for Graduate Employment for the second year in a row - The Times and Sunday Times Good University Guide 2018, 2019.
Employability Service
We are University of the Year for Graduate Employment for the second year in a row - The Times and Sunday Times Good University Guide 2018, 2019.
At LSBU, we want to set you up for a successful career. During your studies – and for two years after you graduate – you'll have access to our Employability Service, which includes:
An online board where you can see a wide range of placements: part-time, full-time or voluntary. You can also drop in to see our Job Shop advisers, who are always available to help you take the next step in your search.
Our Careers Gym offering group workshops on CVs, interview techniques and finding work experience, as well as regular presentations from employers across a range of sectors.
Our Student Enterprise team can also help you start your own business and develop valuable entrepreneurial skills.
Professional links
In recognition of the School's entrepreneurial culture and leading-edge practice, it has Centre of Excellence status: the IoEE's (Institute of Enterprise and Entrepreneurs) flagship organisational accreditation for organisations that promote and deliver enterprise skills development.
Centre of Excellence status is the IoEE's (Institute of Enterprise and Entrepreneurs) flagship organisational accreditation for organisations that promote and deliver enterprise skills development – and is in recognition of the School's entrepreneurial culture and leading-edge practice.
Placements
One of the most exciting parts of this course is the opportunity to undertake a one year work-placement in your third year. The course team work closely with both our Employability Staff, Placement Officers in the Student Centre and Enterprise Centre to ensure you are placed in suitable working environments. You'll be given guidance and assistance with respect to finding a placement, CV preparation and the application process. Most placements are within the London area. Or, if you have an idea for a new business you'd like to work on, you can spend your third year developing this in our Enterprise Centre.
Teaching and learning
Your learning materials are available on the Virtual Learning Environment so you can access them any time. Seminars make use of group-work and discussions, workshops and computer lab work.
Percentage of time spent in different learning activities

| | Lectures and seminars | Self-directed study |
| --- | --- | --- |
| Year 1 | 30% | 70% |
| Year 2 | 30% | 70% |
Extracurricular activities
Business students benefit from a number of facilities and software available within the School of Business, but are also host to a whole number of extracurricular activities that help prepare students for the world of work.
Below is a list of extracurricular activities which students can get involved in, utilising the facilities which we have available, to make the learning process at LSBU much more practical and hands-on.
Institute of Directors (IoD) – our close relationship with the IoD results in regular networking events with senior IoD members, entry into the Young Director of the Year award, membership with the IoD, and access to all of their great resources.
Business Solutions Centre - Students of LSBU's School of Business offer a free drop-in service to local businesses.
Live Projects – students benefit from live projects with real businesses who present problems and students have to suggest solutions. In 2017, they worked with London Met, and this year they worked on a English heritage clothing company, just to name two.
Hackathons – an event, which brings students together to solve a business problem over a short period, you will need to think fast and work as a team to come up with an innovative solution!
ILX courses – We provide a number of accredited courses, which prepare students for project management, a crucial skill respected within the business sector.
Learn a language – students will have the opportunity to learn another language, an invaluable skill in a global city. Another language is just another skill we can support you with, supporting you for future career success.
Personal Tutoring
As an undergraduate student in LSBU Business School, your personal development and wellbeing is very important to us, so we have developed a personal tutoring system that is tailored to your individual and group needs.
Firstly, you will be allocated a personal tutor who will be available to you on a 1:1 basis as well as facilitating group personal tutoring sessions which will be designed to enhance your academic and personal development within your degree programme.
In addition to an allocated personal tutor, there will also be a personal tutor available 'on call' in a designated room, called 'Talk', for confidential 1:1 pastoral care meetings every day of the academic semester from 9am to 8pm. This personal tutor can be seen by appointment or within a few minutes in order to assist you with any concerns that you may have.
Our personal tutoring motto is that we want you to "Achieve, Succeed & Excel".
Coaching
Students in their first year of an undergraduate degree will also benefit from our BE programme. This programme is a proactive approach to student development that draws out our students' potential through a process of self-analysis, reflection, planning and action, enabling students to discover and decide upon their required needs.
Entry requirements
A Level BCC or:
BTEC National Diploma DMM or:
Access to HE qualifications with 9 Distinctions and 36 Merits or:
Equivalent Level 3 qualifications worth 112 UCAS points
Applicants must hold 5 GCSEs A-C including Maths and English, or equivalent (reformed GCSEs grade 4 or above).
We welcome equivalent qualifications from around the world. English language qualifications for international students: IELTS score of 6.0 or Cambridge Proficiency or Advanced Grade C.
Advanced entry
If you have already completed some studies at another university, we may be able to consider you for advanced entry. Please see our advanced entry page for more information.
How to apply
International students
International (non Home/EU) applicants should follow our international how to apply guide.
Home/EU applicants
Mode
Duration
Start date
Application code
Application method

Mode

Full-time

Duration

3 years

Start date

September

Application code

N212

Application method

Mode

Full-time (with placement)

Duration

4 years

Start date

September

Application code

N21N

Application method
Accommodation
Once we have made you an offer, you can apply for accommodation. You can rent from LSBU and you'll deal directly with the university, not third party providers. That means we can guarantee you options to suit all budgets, with clear tenancy agreements and all-inclusive rents that include insurance for your personal belongings, internet access in each bedroom and on-site laundry facilities.
Or, if you'd rather rent privately, we can give you a list of landlords – just ask our Accommodation Service.
Read more about applying for accommodation at LSBU.
Finance
You don't need to wait for a confirmed place on a course to start applying for student finance. Read how to pay your fees as an undergraduate student.
Prepare to start
Applicant events
After you've received your offer we'll send you emails about events we run to help you prepare for your course.
Welcome Week
Before you start your course we'll send you information on what you'll need to do before you arrive and during your first few days on campus. You can read about the process on our Welcome Week pages.
Fees and funding
For more information, including how and when to pay, see our fees and funding section for undergraduate students.
Please check your fee status and whether you are considered a Home, EU or International student for fee-paying purposes and for our regulatory returns, by reading the UKCISA regulations.
See our Tuition Fees Regulations (PDF File 160 KB) and Refund Policy (PDF File 102 KB).
Possible fee changes
The University reserves the right to increase its fees in line with changes to legislation, regulation and any government guidance or decisions.
The fees for international students are reviewed annually and the University reserves the right to increase the tuition fees in line with the RPIX measure of inflation up to 4 per cent.
Scholarships
We offer several types of fee reduction through our scholarships and bursaries. Find the full list and other useful information on our scholarships page.
Contact information
Course Enquiries - UK
Tel: 020 7815 7815
Due to COVID-19, call waiting times may be longer than usual. Any questions? Use the green bubble on the bottom right hand corner to start a live chat with us
Get in touch