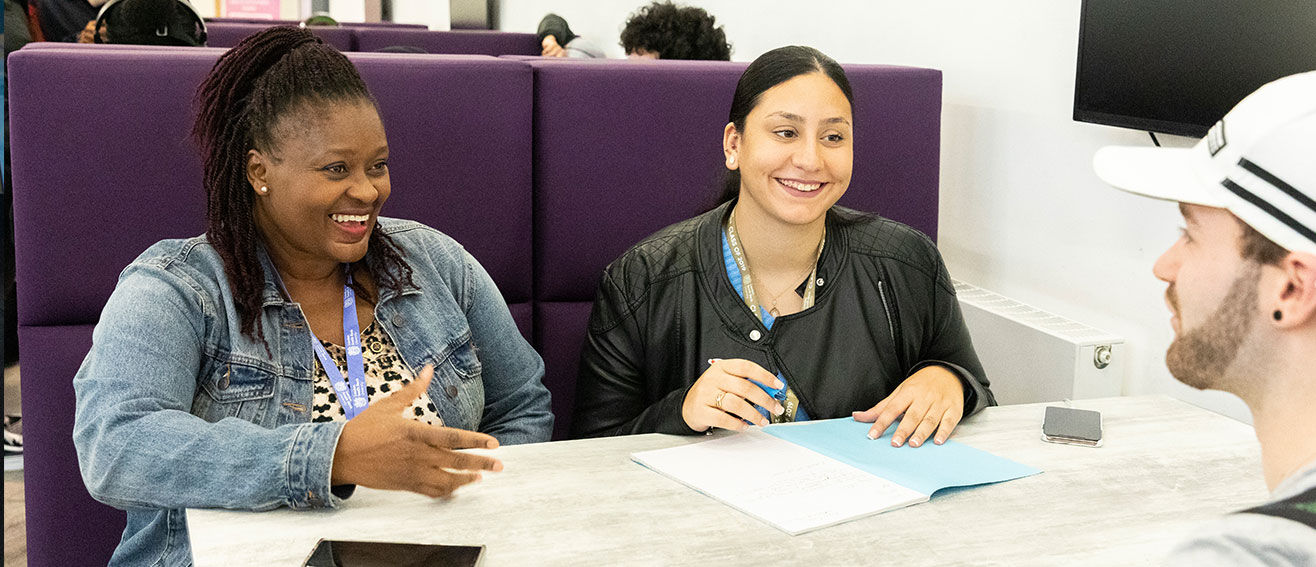 CertHE Associate Project Manager Apprenticeship - Associate Project Manager
Southwark Campus
Mode: Part-time
Associate Project Manager Apprenticeship (Cert HE Associate Project Manager)
Overview
Can you manage?
This apprenticeship is aimed at ambitious individuals from a wide range of private and public sector backgrounds who wish to develop their careers as Associate Project Managers.
We'll help you to become certified Associate Project Managers, successfully managing different aspects of a project in any type of organisations.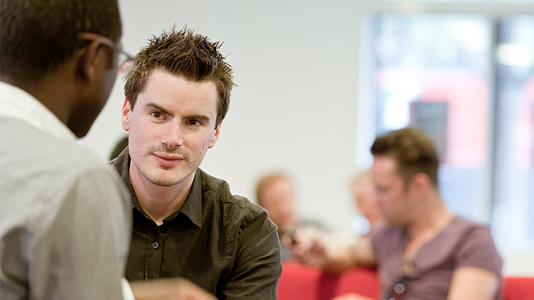 The academic programme is 2 years, plus 3-6 months for the End Point Assessment (EPA).
The full apprenticeship standard and assessment plan can be found on the Institute for Apprenticeships.
Apprenticeship Employment Guidelines
Apprenticeship Evidence Pack Guidance
Why an Associate Project Manager Apprenticeship at LSBU?
No.2 in London for satisfaction with courses across Business, Management & Marketing (Guardian University League Tables 2019).

You'll learn all competence areas of Project Management Body of Knowledge (PMBOK).

Develop an effective level of teamwork, leadership, and communication with an ethical approach to your career.

Our unique 'give back' culture means you can build relationships with small and medium enterprises and alumni.

No.1 for career prospects (Guardian University League Tables 2020) and joint 2nd for career prospects amongst London universities (Guardian University League Tables 2020).
Accreditations
Key course information - ordered by mode
Mode
Duration
Start date
Location

Mode

Apprenticeship

Duration

2 years (plus 3-6 months for EPA)

Start Date

January; September

Location

Southwark Campus
Modules
Fundamentals of PMBOK
The module outlines the principles of project management based on the APM competence framework required to pass PMQ exam.
Project management tools and techniques
This module aims to develop a range of skills to enable the students to work with the different project management tools and techniques in business project planning, scheduling and controlling.
Concepts of management
This module introduces the basic concepts and theories of management in business including the management of others and self. Students will build a virtual tool box of key communication, professional and academic skills essential on an academic business programme or in a professional business setting.
Project management in practice
This module aims to apply the knowledge gathered from principles, standards, and the skills obtained in tools and techniques during the first year. The student will use their knowledge and skills in tacking a project in their employers' organisation, based on APM competency framework.
APM portfolio
The student will work on multiple phases of one or more projects, some assigned by the employer and some by the university. They will manage, document and present the project from start to end to meet stakeholders' needs.
People and organisations
The module will give students an appreciation of the complexities of understanding people and behaviour within organizations. The module is incorporated with theories of organisational behaviour and people management practices and students will develop an understanding of how and why individuals behave in specific ways in the workplace.
Employability
Projects can be defined and delivered within different contexts, across diverse industry sectors. They can be large or small. Every project needs to be managed to ensure its success. An associate project manager knows what needs to be achieved, how it will be achieved, how long it will take and how much it will cost, and works with the project team to achieve the required outcomes.
Associate project managers need good organisation, leadership, management and communication skills. An associate project manager utilises resources with suitable skills, qualifications and experience to work together in a motivated and integrated team. Dependent upon the size of the organisation and the complexity of projects, job titles will vary, but typically they can include: assistant project manager, junior project manager, project team leader. Some organisations use 'project manager' as a generic job title.
Employability Service
By completing the apprenticeship route, you'll have the advantage of having real-world work experience, working in a role related to your area of study. This will give you a competitive edge among other graduates when you complete your apprenticeship standard.
During your studies – and for two years after you graduate – you'll have access to our Employability Service, who can help you develop your skills through the Careers Gym workshops and presentations. Our JobShop advisers support students and graduates with finding the right job for them.
We are University of the Year for Graduate Employment - The Times and Sunday Times Good University Guide 2018.
Professional links
Upon commencement, apprentices may become student members of the Association for Project Management (APM) as the first step of professional membership. Apprentices will be eligible for progression to associate membership upon successful completion of the apprenticeship.
Full membership can be attained through further experience and professional development.
Teaching and learning
The module assessment is as follows:
| | | | |
| --- | --- | --- | --- |
| Module Title | Level | Credit value | Assessment |
| Fundamentals of PMBOK | 4 | 20 | Coursework |
| Project Management Tools and Techniques | 4 | 20 | Coursework |
| Concepts of Management | 4 | 20 | Coursework |
| Project Management in Practice | 4 | 20 | Coursework |
| APM Portfolio | 4 | 20 | Coursework |
| People and Organisation | 4 | 20 | Coursework |
Apprentices must also take the APM Project Management Qualification, prior to their End Point Assessment (EPA).
Teaching and learning strategy
Interactive seminars and workshops support lectures and have a strong focus on small group activities to encourage the active participation of students throughout the course, developing peer learning and support networks amongst a diverse student body.
Applied learning
Teaching, learning and assessment is applied. Case studies and simulation are used in all modules and, where possible, live case studies are brought in to the classroom and practical games and simulations are performed so as to practice real-life project management techniques in the class environment. Project management software skills are developed throughout the course.
Life coaches
All students take part in a life coaching programme to support them with any challenges they face during their journey with LSBU.
Self-managed learning
Self-managed learning activities (to supplement and consolidate classroom based activity) include: reading texts and relevant journals, application of knowledge to additional problem based exercises, engaging in coursework, group discussion, review of key topics, blogs and reflective journals. Many of these activities are supported by the virtual learning environment (VLE).
The End Point Assessment (EPA) is designed to enable apprentices to demonstrate that they are fully conversant in the skills and behaviours expected of individuals at this level. It provides assessors with a holistic view of the apprentice, and allows them to assess to what extent the apprentice meets or exceeds the apprenticeship standard.
Entry requirements
Under UK Government rules, candidates must be employed for a minimum of 30 hours per week and must have the right to live and work in the UK (applies only in England). Candidates cannot be self-employed. The employer must enter into an Apprenticeship Agreement with the student.
All candidates must be employed in a role related to the subject matter of the Academic award of Apprenticeship and be sponsored by their employer. Applications can only be made through the sponsoring employer. The university will consider all such applications and will have the final decision as to whether to accept the candidate for entry into the programme.
Individual employers will set their own entry requirements for their apprentices. The minimum entry requirements for Level 4 entry to the programme are as follows:
A-Level BBB or;
BTEC National Diploma DDM or;
Equivalent level 3 qualifications worth 120 UCAS points supported by substantial relevant work experience
Applicants must hold 5 GCSEs A-C including Maths and English or equivalent (reformed GCSEs grade 4 or above).
How to apply
Home/EU applicants
Mode
Duration
Start date
Application code
Application method

Mode

Apprenticeship

Duration

2 years (plus 3-6 months for EPA)

Start date

January; September

Application code

5411

Application method
An Apprenticeship Standard is comprised of a programme of study, an End Point Assessment and on-the-job learning. This means that in addition to meeting academic requirements, you'll need to be employed in a role related to your apprenticeship. The process of applying depends on whether you have an employer to sponsor (and support) you.
If you are employed and your employer has confirmed they will support your apprenticeship:
You are welcome to submit an application via our online application system. You'll need to provide details of your employment/employer as part of the application. You'll also need to ensure you and your employer meet the requirements – find out who can be an apprentice to see if you meet the entry requirements and employer commitments to find out more about your employer's role.
If you are not employed:
You will need to find a job role related to the apprenticeship you wish to apply for, with an employer who is happy to support you. If you would like to find an employer to support your apprenticeship with LSBU, you can search which employers are currently advertising Apprenticeships via the National Apprenticeship Service website searching for 'London South Bank University' as keywords.
If there are no search results, this means there are currently no vacancies. We update our vacancies regularly, so please do check back regularly.
Many employers advertise their apprenticeship vacancies on their websites or via other portals. You could search for 'find an apprenticeship' online.
When you're ready to apply, see the government's advice on how to write a winning apprenticeship application and make your application using our online application system.
Further information for apprentices
If you're a prospective apprentice, you can find out more about who can be an apprentice on our student pages.
Further information for employers
If you're an employer, you can find information about the employer commitments and further related information on the related pages for business.
See our admissions policy (PDF File 298 KB) and complaints policy (PDF File 448 KB).
Prepare to start
There are steps the apprentices, the employer and the University need to complete before you start your course. Take a look at the steps to be completed in the Enrolment section. Employers may also like to look at our steps to offering an apprenticeship.
Fees and funding
Funding
The cost of the apprenticeship is paid fully by the employer (sometimes part funded by the government) through apprenticeship levy. The apprenticeship levy is a pot of money some companies pay into, which all businesses have access to spend on the training costs of apprenticeships. Companies fall into two categories: levy-payers (who pay into the pot) and non-levy payers (who do not). You can find out more in our Levy and Funding section, specifically for employers
The apprentice does not contribute toward the cost of study.
Bands
Apprenticeship standards are all assigned a funding band by the Government – these funding bands are the maximum amount the Government will fund via the levy towards a given apprenticeship standard. There are currently 30 funding bands ranging from £1,000 to £27,000.
Incentives
Employers with less than 50 staff sending an apprentice aged 16-18 will have 100% of the training costs paid by the government. All employers who employ an apprentice aged 16-18 on the first day of teaching will receive a £1,000 incentive from the government. You can find out more in our Levy and Funding section, specifically for employers.
Cost
You can find out the funding band for an Apprenticeship Standard on the Government website. To find out how much we are charging, please get in touch with us at apprenticeships@lsbu.ac.uk
Field trips
Some modules include field with and site visits, which may be residential or outside the United Kingdom, ranging from three to five days. These are organised by the Division and students are required to contribute towards the cost. If there are any field trips or any course visits as part of your course, we will let you know in good time.
Contact information
Course Enquiries - UK
Tel: 020 7815 7815
Due to COVID-19, call waiting times may be longer than usual. Any questions? Use the green bubble on the bottom right hand corner to start a live chat with us
Get in touch