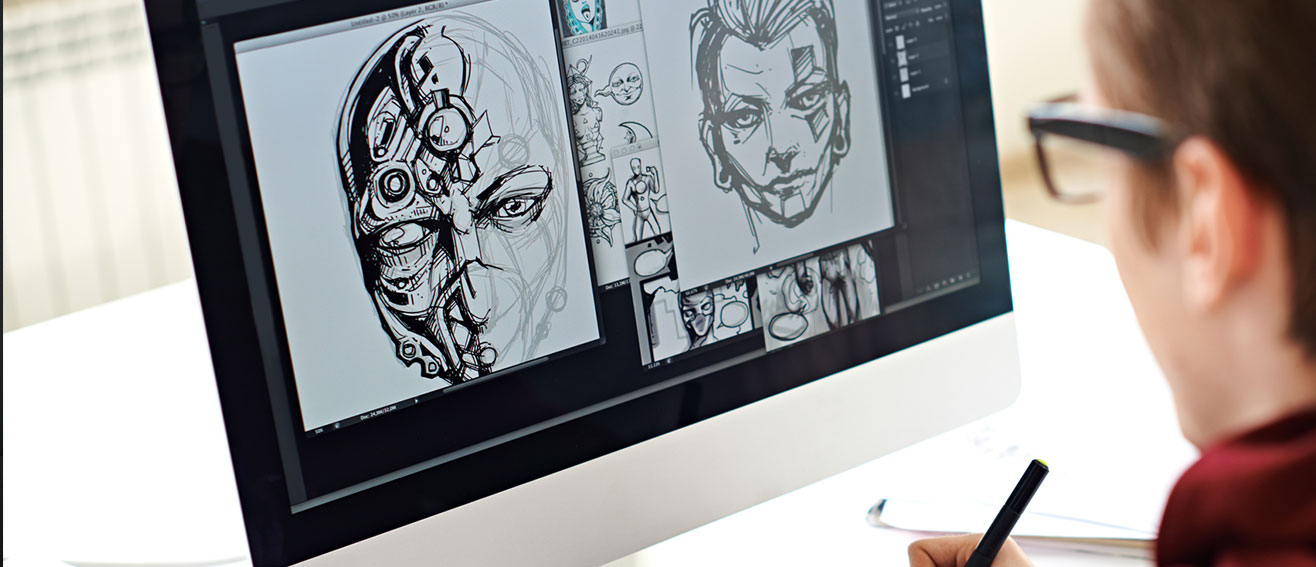 BA (Hons) Animation
Southwark Campus
Mode: Full-time
Overview
Creative and practical teaching
Please note: the first intake for this course will be September 2020.
This course is designed to provide creative and practical teaching on the production of computer-generated animation.
The main focus of the practice-based modules is to help you to develop your capability in 3D animation production. However, there are also opportunities for you to research and experiment in other forms of animation.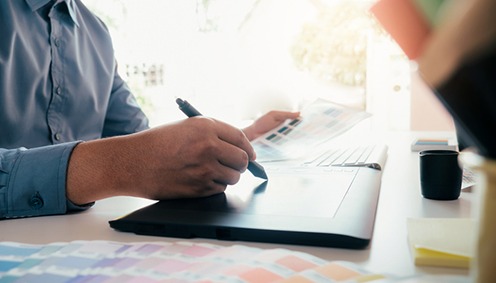 Why Animation at LSBU?
Shares some modules with BA (Hons) Media Production, allowing you to develop your skills more broadly as a producer of creative content.

Elephant Studios: multi-million pound studio facilities at the forefront of digital technologies and multimedia practice for creative students.

Soho is around the corner, where there a good opportunities for work experience in the animation industry.

This course focuses on character and creature animation.
Key course information - ordered by mode
Mode
Duration
Start date
Location

Mode

Full-time

Duration

3 years

Start Date

September

Location

Southwark Campus
Modules
Year 1
Animation workshop 1
Running across both semesters, this module provides time and space for you to work towards the completion of your credit-bearing work at Level 4. Supervised by tutors, you will be able to access the support you need to develop the skills and troubleshoot technical issues, on a regular basis, in order to complete their practice-based assignments.
Connected audiences
In this module you will gain insight and knowledge about the functionality of the Web as a means of distributing digital content to a connected global audience. Starting with a historical overview of the emergence of the internet, from Web 1.0, you will learn how the architecture of the web has rapidly evolved over time into the distribution networks and content delivery platforms that exist today.

This module will also explore the role of the contemporary audience and its expectations, compared to those of traditional film and broadcast media. Similarly, the module will cover the migration of traditional formats to the web and how these formats have been adapted to reach their intended audience and fanbase. The module will also explore the network effects associated with online audiences through their ability to connect directly with the media they consume, and interact with each other, through social media and chat.

The format for this module will involve a mix of lectures, seminars and group debates in order to investigate questions such as the above. The aim of this module is to provide you with the skills to research complex theories, in order to incubate, develop, critique and defend your own creative projects, in the future.
Principles of animation 1
This module introduces you to the Principles of Animation and how to apply them to your first practical animation exercises using 3D software. Starting with simple objects, you will practice how to convey basic attributes such as weight and elasticity through movements such as bouncing and rolling. You will further develop your skills in timing and overlapping actions. By the end of the module you will be able to bring simple characters to life that will appeal to an audience.
Principles of animation 2
In this module you will work on developing your character animation skills with a focus on creatures that either swim or fly. From a technical perspective, you will familiarise yourself with the principles of animating a character on a motion path, to further develop your 3D practical skills. From a creative perspective, you will be able to design and build a character such as a fish or a bird, and further apply the principles of animation to your character work.
Principles of animation 3
In this third animation module during the first year of study, you will develop their skills at bi-pedal character animation. From a technical perspective, you will be introduced to the use of inverse kinematics (IK) controls, for movements such as walking and for pushing or pulling objects. From a creative perspective, you will be able to apply the principles of animation to more complex characters with human characteristics and emotions.
Storyboarding
The aim of this module is to provide animators with a better understanding of how to visualise a sequence of shots through the art of storyboarding. You will participate in a series of acting workshops to learn how to understand and express the motivations of your characters. Through active discussion and improvisation, you will develop strategies for developing your performance skills. You will combine these techniques, with the traditional skills of storyboarding and shot design, in order to produce engaging visual narratives.
Web series
In this module you will work together in teams to develop a pitch package for a cross-platform episodic web series.

Throughout the development process, you will be required to pitch and present your ideas, and to give constructive peer-to-peer feedback, thus further developing your ability to express your own ideas clearly, as well as respond to the ideas of others in an informed manner. Through the use of case studies past and present, you will become familiar with the origins of various episodic formats and how these formats have evolved and adapted for cross-platform distribution via the web.

The taught elements of the module will help you to identify and produce the key elements that make up the pitch package, using additional case studies and examples. Production workshops in camera operation and editing will be offered to assist you in the creation of audio-visual materials related your pitch.

By the end of the module, you will have the relevant knowledge, to produce and present a completed audio-visual pitch package for a cross-platform episodic series, complete with a campaign strategy that connects and caters to a particular fanbase, through appropriate online channels.
Year 2
Animated performance
In this module, you will focus on delivering an animated performance based on a recorded piece of dialogue. This module requires you to employ your acting skills alongside their 3D skills in character animation and lip sync. Alongside the animation of the main character, you must incorporate the reaction of a secondary character within the scene.
Animation workshop 2
Running across both semesters, this module provides time and space for you to work towards the completion of you credit-bearing work at Level 5. Supervised by tutors, you will be able to access the support you need to develop the skills and troubleshoot technical issues, on a regular basis, in order to complete your practice-based assignments.
Concept art and design
In this module you will address the key aspects of character and environment design. This will provide you with an opportunity to develop your design skills using a variety of media, such as life drawing, sculpture, physical model making and photogrammetric analysis. Working iteratively, based off feedback, you will refine and develop your ideas over the duration of the module. By the end of the module you will have a portfolio of design work that can be exhibited in 2D, 3D or interactively within a game engine.
Independent project development
In this module, you are given the opportunity to research a topic of your own choosing. You are free to propose your project which must be agreed with your supervisor. This module supports you in identifying potential areas of interest to pursue further in your final year of study. The project may be predominantly either technical, creative or academic in nature, depending on the agreed objectives and outcomes of the project.
Previz and layout
This module will further develop your understanding of storytelling and screen grammar, thereby enabling you to better conceive of and propose compelling visual narratives, based on a script. Initially you will focus on further developing your skills as a storyboard artist, including the ability to visually represent shots and sequences using pencil and paper. Subsequently, working in teams, you will explore the use of digital technology to previsualise a filmed sequence of shots, using 3D software. You will employ the use of motion capture technology to block out scenes as well as photogrammetry to assist in preliminary set design. Additionally, you will explore the use of games engines and VR technology as an emerging previsualisation tool.
Technical animation
In this module you will focus on the animation tools and techniques required for technical animation related to feature film animation production. Over the course of the module, you will experiment with the simulations such as cloth, fur, hair, jiggle, muscles as well as particles and fluid dynamics. The aim of the module is to allow you familiarity with these tools, which you can choose to explore in more detail in your independent project in the final year.
Year 3
Animation production
In this module you will work as a team to deliver a completed animation project for screening at the end of the year. This module builds on the work done in the second year, during the Previz and Layout module. You will work collaboratively, under the supervision of a production supervisor, to complete a project that has already been previsualised. The aim of this module is to allow you to continue to improve and refine their technical and professional skills, in the context of a real production environment.
Animation research project (optional)
The project provides you with the platform to showcase your abilities and skills through a sustained piece of work relevant to the discipline of animation. The module is designed to allow you to immerse themselves in a particular area of their choice, allowing you the chance to shape your future career. You will manage your own learning under the guidance of your supervisor.
Animation workshop 3
Running across both semesters, this module provides time and space for you to work towards the completion of your credit-bearing work at Level 6. Supervised by tutors, you will be able to access the support you need to develop the skills and troubleshoot technical issues, on a regular basis, in order to complete your practice-based assignments.
Creative technologies research paper (optional)
Gives you the opportunity to conduct original research in an area of particular academic interest. You will manage your own learning under the guidance of an academic supervisor. Lectures will offer general advice and guidance on research methods and describe different ways of approaching and structuring the Research Paper. The way your own Research Paper is organised and structured is best decided in consultation with your supervisor.
Professional practice & portfolio
The module has been designed to assist the transition from university to employment. The focus will be on identifying current opportunities in their sector, through a combination of research, guest lecturers and visits to production facilities. You will have opportunities to further develop their CVs through either work placements or engagement as a freelancer during your final year of study, where possible. By the end of this module, you are expected to have completed a portfolio of work that you can show to potential employers.
Real time graphics
The aim of this module is to explore techniques that relate to the generation and exhibition of real-time graphics. You will explore the use of graphics in various aspects of the media and entertainment industry, such as live-streamed events or music festivals. You will explore contemporary tools used for visual performance and projection mapping projects. Working in teams, you will involve yourself in every aspect of the creative work and its realisation, with the expectation that the work will be exhibited upon completion.
Employability
Graduates from this course can be employed in a variety of specialisms, internationally and across the UK, including:
Feature/big budget animation through to independent animation projects
Games and film industry crossovers
Previsualisation
Content, apps and mobile
Roles such as Junior Animator, Technical Animator and motion graphics designer
Take a look at some potential careers on Prospects.
Employability Service
We are University of the Year for Graduate Employment for the second year in a row - The Times and Sunday Times Good University Guide 2018, 2019.
At LSBU, we want to set you up for a successful career. During your studies – and for two years after you graduate – you'll have access to our Employability Service, which includes:
An online board where you can see a wide range of placements: part-time, full-time or voluntary. You can also drop in to see our Job Shop advisers, who are always available to help you take the next step in your search.
Our Careers Gym offering group workshops on CVs, interview techniques and finding work experience, as well as regular presentations from employers across a range of sectors.
Our Student Enterprise team can also help you start your own business and develop valuable entrepreneurial skills.
Teaching and learning
The course is full-time with classes typically spread across two to three days per semester. Some modules may be delivered more intensively than others, within this delivery pattern.
Each scheduled session will be organised into activities that are appropriate to the relevant task. Independent learning outside of class is essential to cement the skills acquired in class. This will consist of reading and writing, as well as production tasks in preparation for classes and module assessments.
Students are expected, therefore, as part of the teaching and learning strategy, to be pro-active participants in their own personal development, with the support of the academic team.
Entry requirements
A Level BCC or;
BTEC National Diploma MMM or;
Access to HE qualifications with 9 Distinctions 36 Merits or;
Equivalent Level 3 qualifications worth 106 UCAS points
Applicants must hold 5 GCSEs A-C including Maths and English or equivalent (reformed GCSEs Grade 4 or above)
We welcome qualifications from around the world. English language qualifications for international students: IELTS score of 6.0 or Cambridge Proficiency or Advanced Grade C.
Direct entry to Levels 5 and Level 6
For direct entry into Level 5 of the course, applicants will be required to hold:
120 credits at Level 4 or above in a relevant subject
For direct entry into Level 6 of the course, applicants will be required to hold:
120 credits at Level 4 and 120 credits at Level 5 in the relevant subject area.
Access students and mature students
Access students and mature students over the age of 21 are encouraged to apply and will be considered based on their overall qualifications and work experience or engagement in the subject area.
Portfolio
A portfolio of recent work may form part of the application process. Interviews are encouraged, especially where an applicant may not strictly meet the relevant requirements listed above. Acceptance onto the course is at the discretion of the interviewer.
Advanced entry
If you have already completed some studies at another university, we may be able to consider you for advanced entry. Please see our advanced entry page for more information.
How to apply
International students
International (non Home/EU) applicants should follow our international how to apply guide.
Home/EU applicants
Mode
Duration
Start date
Application code
Application method

Mode

Full-time

Duration

3 years

Start date

September

Application code

W615

Application method
Please note: the first intake for this course will be September 2020.
For full-time courses, please send your applications through the Universities and Colleges Admissions Service (UCAS) using our code L75. UCAS is the organisation responsible for managing applications to higher education courses in the UK.
For part-time courses, you can apply directly to the University.
For more details on how to apply (full-time and part-time) see our how to apply page.
See our admissions policy (PDF File 544 KB) and complaints policy (PDF File 127 KB).
Accommodation
Once we have made you an offer, you can apply for accommodation. You can rent from LSBU and you'll deal directly with the university, not third party providers. That means we can guarantee you options to suit all budgets, with clear tenancy agreements and all-inclusive rents that include insurance for your personal belongings, internet access in each bedroom and on-site laundry facilities.
Or, if you'd rather rent privately, we can give you a list of landlords – just ask our Accommodation Service.
Read more about applying for accommodation at LSBU.
Finance
You don't need to wait for a confirmed place on a course to start applying for student finance. Read how to pay your fees as an undergraduate student.
Prepare to start
Applicant events
After you've received your offer we'll send you emails about events we run to help you prepare for your course.
Enrolment
Before you start your course we'll send you information on what you'll need to do before you arrive and during your first few days on campus. You can read about the process on our Enrolment pages.
Fees and funding
Fees are shown for new entrants to courses, for each individual year of a course, together with the total fee for all the years of a course. Continuing LSBU students should refer to the Finance section of our student portal, MyLSBU. Queries regarding fees should be directed to the Fees and Bursaries Team on: +44 (0)20 7815 6181.
UK/EU fee:

£9250

International fee:

£14470

AOS/LSBU code:

5491

Session code:

1FS00
Total course fee:
UK/EU
£27750
International
£43410
For more information, including how and when to pay, see our fees and funding section for undergraduate students.
Please check your fee status and whether you are considered a Home, EU or International student for fee-paying purposes and for our regulatory returns, by reading the UKCISA regulations.
See our Tuition Fees Regulations (PDF File 136 KB) and Refund Policy (PDF File 102 KB).
Possible fee changes
The University reserves the right to increase its fees in line with changes to legislation, regulation and any government guidance or decisions.
The fees for international students are reviewed annually and the University reserves the right to increase the tuition fees in line with the RPIX measure of inflation up to 4 per cent.
Scholarships
We offer several types of fee reduction through our scholarships and bursaries. Find the full list and other useful information on our scholarships page.