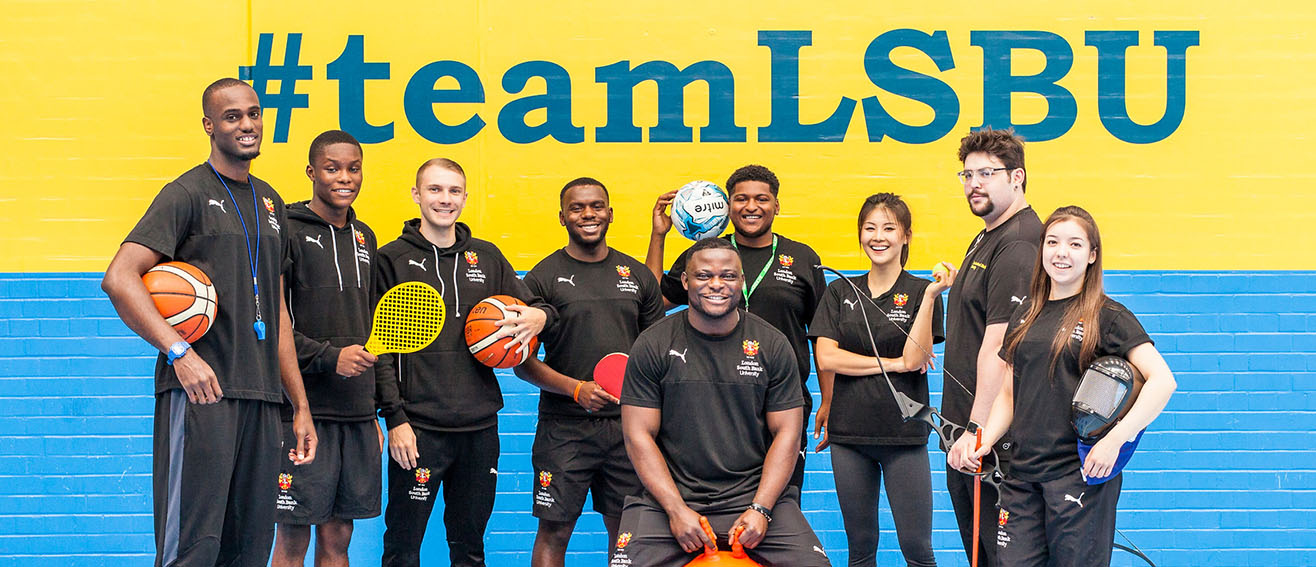 Student Sport
Sports scholarships support talented students to excel
Student Sport Clubs
There is a place for you in Team South Bank
Being a Sports Club member keeps you mentally and physically fit and healthy but the best bit of it all is that you become part of an environment to meet and keep new friendships, have tremendous fun, create lifelong memories of your student life, and of course, it doesn't do any harm for your career prospects and CV.

We have 11 sports clubs both competitive and non-competitive. We are believers in the idea everyone starts their sporting life somewhere, so why not start yours at LSBU?
Men's Rugby
Women's Rugby
Mixed Badminton
Cheerleading
Men's Football
Women's Football
Netball
Men's basketball
Women's basketball
Muay Thai
Just Play
Just Play is exactly what it says in the name – It's all about getting active, making friends and having fun.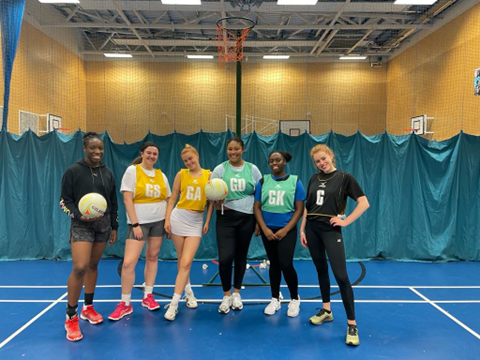 Just Play: offers a fantastic way to get involved with non-competitive sports sessions with no weekly commitment. Each session has a student sports ambassador to welcome you and answer any questions you may have! -Come down as an individual or grab a group of friends and get involved – it's an amazing way to try something different and meet new people whilst getting active and healthy at the same time!
Weekly timetable:
Just Play 2023-24 Timetable

Time

Session

Location

Monday

12-1pm

Just Play Badminton

LSBU Active Sports Hall

2-4pm

Just Play Table Tennis

LSBU Active Studio 1

Tuesday

7-9am

Just Play Basketball

LSBU Active Sports Hall

12-1pm

Just Play Dodgeball

LSBU Active Sports Hall

1-2pm

Just Play Indoor Cricket

LSBU Active Sports Hall

Wednesday

11am-1pm

Just Play Volleyball

LSBU Active Sports Hall

Thursday

11-12pm

Just Play Female Thursday

LSBU Active Sports Hall

12-2pm

Just Play Table Tennis

LSBU Active Studio 1

12-2pm

Just Play Football

LSBU Active Sports Hall

Friday

1-2pm

Just Play Badminton

LSBU Active Sports Hall

Club Training Timetable

Time

Session

Location

Monday

7-10am

Men's Basketball Training: All

LSBU Active Sports Hall, SE1 6LN

1-2pm

Women's Basketball Training

LSBU Active Sports Hall, SE1 6LN

4-6pm

Cheerleading Training

LSBU Active Studio 1, SE1 6LN

6-8pm

Men's Football Training: 1st Team

Southbank Unviersty Academy, SE17 2TP

6-8pm

Men's Rugby Training

Old Alleyians RFC, Dulwich Common, SE21 7HA

6-8pm

Women's Rugby Training

Old Alleyians RFC, Dulwich Common, SE21 7HA

8-10pm

Muay Thai Training

LSBU Active Studio 1, SE1 6LN

Tuesday

8-10am

Group PT for all clubs

LSBU Active Gym, SE1 6LN

9-11am

Netball Training

LSBU Active Sports Hall, SE1 6LN

5-6pm

Men's Basketball Training: 1st Team

LSBU Active Sports Hall, SE1 6LN

Wednesday

4-6pm

Cheerleading Training

LSBU Active Studio 1, SE1 6LN

6-8pm

Men's Football Training: 2nd Team

Southbank Unviersty Academy, SE17 2TP

7-8pm

Women's Basketball Training

LSBU Active Sports Hall, SE1 6LN

Thursday

9-11am

Badminton Training

LSBU Active Sports Hall, SE1 6LN

4-6pm

Netball Training

LSBU Active Sports Hall, SE1 6LN

Friday

4-6pm

Badminton Training

LSBU Active Sports Hall, SE1 6LN

4-6pm

Muay Thai Training

LSBU Active Studio 1, SE1 6LN

6-7:30pm

Women's Football Training

Geraldine Mary Harmsworth Park, SE1 6ER

6-8pm

Men's Basketball Training: All

LSBU Active Sports Hall, SE1 6LN