Sports Ambassador Scheme
We provide students and local people with the opportunity to deliver sports coaching, fitness and mentoring sessions across London
Our Sports Ambassador Scheme provides LSBU students and individuals the opportunity to volunteer or be employed by the University to deliver sports coaching, fitness and mentoring sessions across London and internationally.
Apply to be a Sport Ambassador
Book a Sports Ambassador for your event
What is the Sports Ambassador Scheme?
The Sports Ambassador Scheme is available for any LSBU students, regardless of experience. Through your commitment to the Sports Ambassador Scheme you will enhance your personal and professional development through volunteering, both locally and internationally, paid coaching work and training and development opportunities.

By joining the Sports Ambassador Scheme you could help schools meet the national activity level guidelines by supporting their in-house and extracurricular activities, and network with local community organisations who deliver meaningful projects for Southwark's community.
Engaging in sports and coaching opportunities while in higher education can also provide you with the skills employers are seeking.
Student's Confidence in being employed within six-months was highest for students who participated in both sport and gym, as well as those who were more active.

BUCS Active Students Survey, 2019-20
Engagement in sport provides a good career return on investment of around £4264 and £5616 per annum... compared to those that did not engage in sport.

Sport Industry Research Centre, Sheffield Hallam University

Why should you become a Sports Ambassador?
Develop your employability skills through enhancing your team work, leadership and organisational abilities.
Meet new people and make friends for life.
Network with local organisations and partners, gaining knowledge and increasing your employment prospects.
Develop your CV, making you stand out from the crowd.
Gain new qualifications through subsidised and FREE training courses.
Self assessments supporting your personal and professional development.
Gain paid work opportunities as a flexible job alongside your studies.
Look good wearing your FREE LSBU Active branded sports kit.
Hear from current ambassadors on our Testimonials page.
How do you become a Sports Ambassador?
Complete the online application below at any time to become part of the Sports Ambassador scheme or complete the application form on word here.
Your application will be reviewed by a member of our Sports Development Team and you will be invited in for an interview if your application is successful.
Interview Process
To maintain consistency, sports ambassador interviews take place on Thursday between 10.00am-11.00am and Wednesdays between 14.00pm-15.00pm.
Interviews will take place online unless stated otherwise by an individual, we will be more than happy to interview in person if this is the case.
Sports Ambassador Requirements
Before taking up opportunities as a Sports Ambassador, you are required to complete the following actions.
Complete a Sports Ambassador Self-Assessment survey
Bring in your passport and two other forms of ID: driving license, bill or bank statement from the past 3 months, ID card, birth certificate.
Complete an enhanced DBS – this is Free for all Sports Ambassadors.
You will be required to attend a Safeguarding and Protecting Children course on gaining your Sports Ambassador contract.
You will be required to complete compulsory Sports Ambassador training.
Sport Ambassador opportunities
Find out more about the vast array of opportunities open to you as one of our Sports Ambassadors.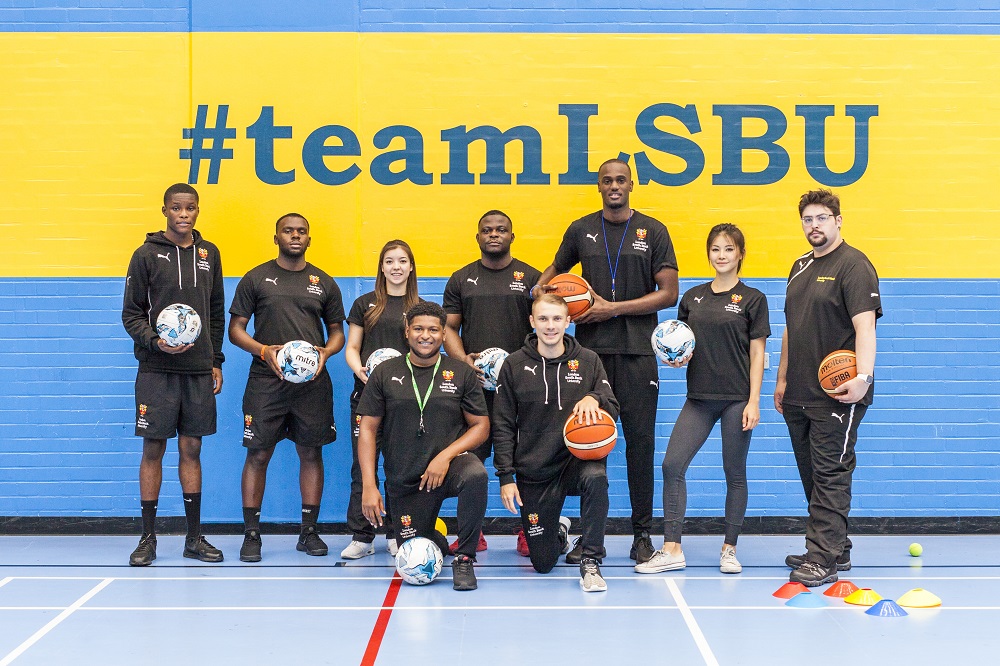 How to book a Sports Ambassador
The LSBU Sports Ambassadors can deliver a wide range of engaging sports and activities to individuals of all ages and abilities, whether you would like to book an ambassador to support with your school PE programme or community project.
All of the Ambassadors have an Enhanced Disclosure Barring Service (DBS) check, including barred lists, and a Safeguarding and Protecting Children qualification that is no older than the recommended best practice period of 3 years.
See the Sports Ambassador Code of Conduct (PDF File 3,015 KB) (PDF File 3,015 KB) for further advice.
The Sports Ambassadors have provided excellent guidance to the young people under their tutelage.

Young Hackney