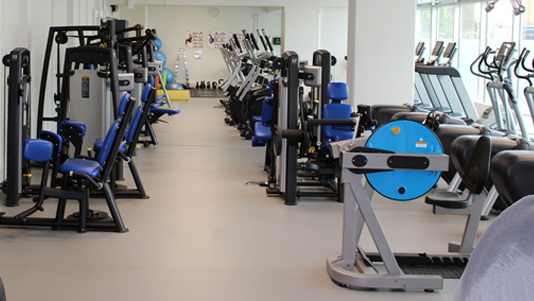 The Academy of Sport at LSBU is proud to house a wide range of facilities and equipment.
Virtual Tour
Take a tour of the Academy of Sport.
Fitness Suite
Our Fitness Suite has recently been refurbished and has all you need for a full body workout. It is fully equipped with over 40 cardio and resistance exercise stations supplied by four of the world's leading fitness manufacturers: Pulse Fitness, Techno Gym, Concept and Life Fitness. It is also equipped with SMART Centre Technology, so you can monitor your personal performance and keep up with your fitness goals. In addition, we have plenty of floor space for stretching or free weights
Our changing rooms have everything you need including showers, lockers and hair driers.
Inclusive Fitness Initiative registered
The Academy provides accessible facilities and has 'Registered' status in the Inclusive Fitness Initative (IFI) programme. We continuously work with the English Federation of Disability Sport (EFDS) to ensure disabled people can enjoy the benefits of physical activity.
Functional Training Zone
Our Functional Training Zone (FT zone) is dedicated to suspension training, a form of resistance training that uses body weight for exercises which develop physical strength by using functional movements and dynamic positions.
The FT zone is fully equipped with:
Suspension Trainer rails
Resistance cord/ Band fittings
Monkey bars
Pair of elite rings
Step-up plate
Battling ropes
Dip station
Vertical resistance slide system
Pull-up station
Snake legs
Four pairs of milo kit suspension trainers
The FTzone is only accessible during classes and free time sessions, as specified on the class timetable (PDF File 610 KB).
Hire the Functional Training Zone
The Functional Training Zone is available to hire for £50.00 per hour.
For more information and to make a booking contact the Academy of Sport reception on tel: + 44 (0) 207 815 7812 or email: sportscentre@lsbu.ac.uk
Dedicated free weights room
Our dedicated free weights training room is ideal if you're taking your strength and conditioning training to an extra level.
It is fully equipped with:
Three Olympic half rack lifting stations with adjustable benches
Olympic bars and plates
Dumbbells (1kg-50kg) and adjustable benches
Two e-z bars with preacher curl station
Smith Machine
Kettle bells (6kg-24kg)
Escape TBar Station
Opening days and times:
Monday to Friday: 7am to 10pm
Saturday to Sunday: 10am to 6pm
Sports Hall
Our Sports Hall is suitable for a range of activities including five-a-side football, tennis, badminton and basketball. It is the Sport England recommended size of 33m x 18m and is equipped with three ring areas for Taekwondo.
It hosted the French Olympic Judo and Wrestling teams while they trained in the final weeks leading up to the London 2012 Olympic Games.
The Sports Hall can accommodate - FH (Full Hall); SC (Single Court):
Five-a-side football (FH)
Netball (FH)
Basketball (FH)
Badminton (SC)
Cricket (FH)
Table tennis (SC)
Volley ball (FH)
Opening days and times:
Peak times
Monday to Friday: 4pm to 10pm
Off-peak times
Monday to Friday: 7am to 4pm
Saturday and Sunday: 10am to 6pm
Hire the Sports Hall
The hall is available to hire for events, workshops, training courses and children's parties. Please note all bookings are for 55 minutes
Sports Hall hourly hire charges

| Activity | Peak | Off-peak |
| --- | --- | --- |
| Full Hall | £90 | £60 |
| Half Hall | £45 | £30 |
| Single court | £16 | £12 |
Block bookings
The Sports Hall can also be block booked at £84.00 per hour.This cost is reflective of bookings over a seven day period and maybe subject to VAT.
Dance Studio
This sophisticated facility is spacious with full length mirrors, a ballet bar, full air conditioning, sprung flooring and a fully integrated music system. It accommodates a number of activities including:
Dance and exercise classes
Martial arts
Personal one-to-one training sessions
Relaxation classes
Workshops and training courses and after school activities
Opening days and times:
Monday to Friday: 7am to 10pm
Saturday to Sunday: 10am to 6pm
Hire the Dance Studio
The Dance Studio is available to hire:
Peak times: £30.00 per 55 minutes
Off-peak times: £25.00 per 55 minutes
To make a booking contact the Academy of Sport reception on tel: + 44 (0) 207 815 7812 or email: sportscentre@lsbu.ac.uk
---
Top of page