The Supercourse at Ryerson University, Canada
The Supercourse offers students the opportunity to work in international, interdisciplinary teams to develop a solution to a real-world problem by a client brief. This time around, our students worked to develop an installation for a magazine, in the quest to innovate through delivering factual content in more immersive, engaging and effective ways. Hear from Claudia Van-Nimwegen about the experience:
Stitched!
For my Research Project/Supercourse module, I worked with students across both LSBU and Ryerson University to create a live performance event inspired by journalistic practices at a central Toronto event space. I was joined by fellow LSBU student, Arthur Skinner, together forming the 'London Team'. From Ryerson University, Adam Chen, Elizabeth Colleran and Qudsiya Jabeen made up the 'Toronto Team'. Altogether, we were team 'Stitched!'.
Arriving in Toronto
After our initial prototype presentation in London (January 2019), myself and Arthur travelled to Toronto at the end of March, to spend 4 days creating the real event - the premiere of 'Stitched!' entitled "Who Let The Dogs Out?".
I had been to Toronto back in September 2017 as part of the 'Live Portal Project'; a team of internationally connected students producing a live window installation linking the cities of London and Toronto together. I had a great time in Toronto doing this and was excited to be back.
When I arrived in Toronto, we met with some of the Canadian team members and went for a meal in Koreatown, inspired by our piece. It was great to try a new cuisine and embrace the Korean culture (even if I was bad at using chopsticks - I tried!).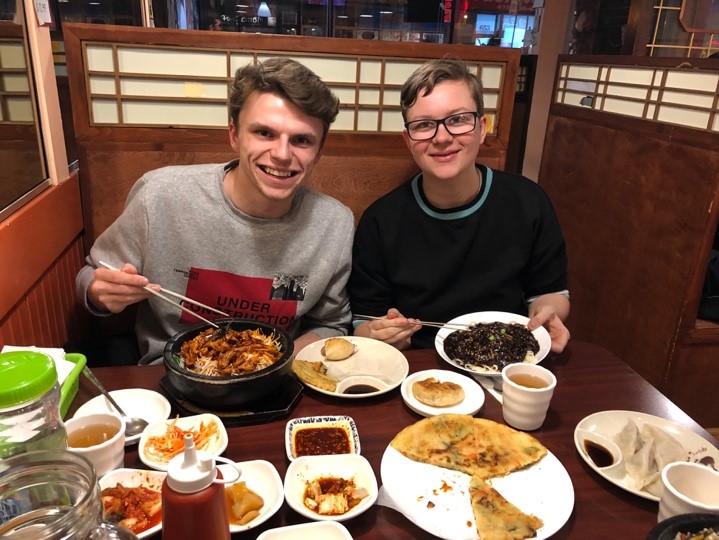 For the next 2 days, we set up, rehearsed and sourced all the equipment we needed. Pulling together to make the show a success, we used our skills and talents to produce a collaborative piece of live performance.
Creating a visceral experience
My role was as a Technical Director. However, due to my training in Journalism and my passion for Interactive Theatre, I also took on the role of Concept Designer to help the performance become a visceral experience for the audience.
It was a great opportunity to use my previous skills and gain an insight into the different processes of design that exist on the other side of the Atlantic.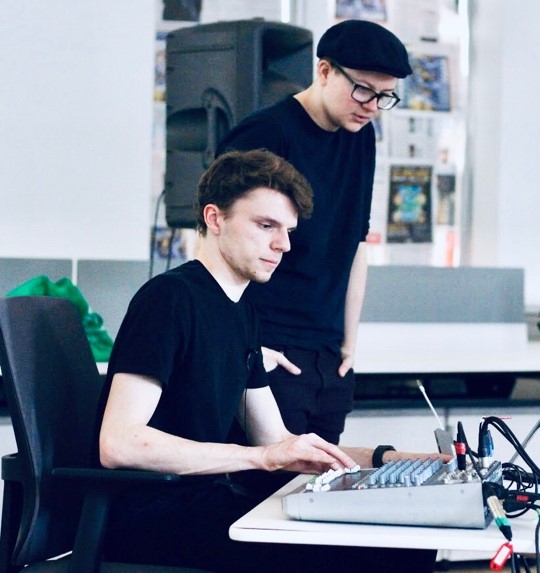 The show
The evening of the show came quickly. The audience filled the event space - with some even standing!
The performance went superbly. I was really proud of the work we had achieved with limited time and the technical drawbacks of the event space.
Feedback was extremely positive with the Dean of Ryerson University noting that our commitment and passion helped to bring the project to life, and it left many audience members feeling excited about their first experience of live-performance fused with journalism.
Downtime
On the final day, I had the opportunity to explore Toronto once more with an old friend who I worked with on the Live Portal Project. I finally got to try the famous Tim Hortons coffee and a Beavertail Waffle (with Maple Syrup of course!).
I highly recommend the Supercourse module. It gives students the chance to work not only as part of an international team, but on a live brief project for a real client. It looks great on your CV, and it's a great opportunity to network with global community of creatives.
This trip has inspired me to continue my passion for creative education and performance design by pursing a teaching degree for post-secondary students after I graduate from LSBU this summer.
It has been a wonderful adventure.
Tags