Shaping Southwark's Future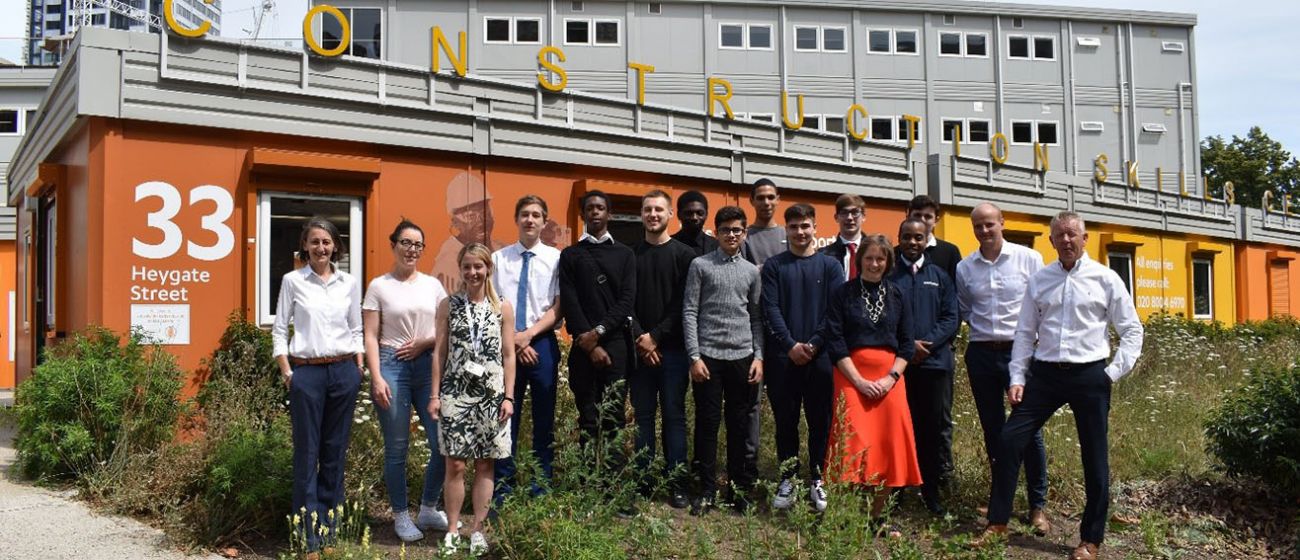 Since the Skills Centre began, they have had a relationship with Construction Youth Trust (CYT). This relationship has been further developed through Shaping Southwark's Future, as outlined below.
Shaping Southwark's Future
British Land, United St Saviour's Charity, Southwark Construction Skills Centre and Construction Youth Trust have come together to create Shaping Southwark's Future.
The aim of this project is to ensure that young Southwark residents benefit directly from the job, skills and career development opportunities created by the regeneration of their own local area, now and in the future, within the construction and built environment industry.
Budding Builders programme
This is an 8-day course aimed at NEET young people. By combining a range of practical construction activities with employability sessions, the course helps young people gain the skills and experience required to access employment opportunities in the construction industry. It also builds their confidence.
Participants work on a practical community project (building bat boxes for schools, benches for local parks or renovating community spaces) which introduces hands-on skills such as carpentry, tiling or painting and decorating.
Throughout the course participants engage with industry professionals, visiting a live construction site and developing their employability skills. An invigorating insight into construction, the course helps young people recognise their career options and full potential. At the end of the programme, participants took part in mock interviews with a number of construction employers.
For the July Budding Builders programme, the Skills Centre based in Southwark supported the programme by providing:
Site visit
Bricklaying masterclass
Level 1 Manual Handling qualification
Working alongside a current apprentice
Eleven young men attended the course, aged between 16 to 18 years old.
Barriers and challenges
Under 18's wanting to work in the construction sector face a number of barriers/challenges, some of which include:
Knowledge of local opportunities
Reluctance by the sector to employ under 18's and so less opportunities for them
Knowledge of range of construction careers
Learning styles – practical & vocational based
Overcoming challenges
How the Skills Centre helped overcome these challenges:
Knowledge of local opportunities: Based at a local construction site (Elephant Park) so direct link to open opportunities
Reluctance by the sector to recruit under 18's: This is an industry problem but Skills Centre and MCA LSBU are challenging the myths surrounding recruiting under 18's and seeking to promote companies that do recruit under 18's and showcase their success. Skills Centre themselves do recruit under 18 apprentices (practice what you preach) and so have a few openings for younger apprentices.
Knowledge of range of construction careers: Able to see range of careers on the construction site and gain an appreciation of all the different stages of a build and that not all roles involve working outside.
Learning styles, practical & vocational based: Able to go out into the training yard and practically work through manual handling rules rather than just watch a presentation. This increases their retention of the learning.
The results
10 out of 11 completed the challenge (91%).
50% made successful next steps. 30% into employment/apprenticeship and 20% onto construction courses. One into a Degree Apprenticeship in Building Surveying. One into a Carpentry Formwork Apprenticeship. One into employment, general labourer and the Trust is supporting him to make apprenticeship applications. One into construction courses at college.
3 are still engaging with the Trust to find employment, training and further education opportunities.
This demonstrates that under 18's can gain employment/apprenticeships in the construction sector. We wish them all success in their next steps and hope to hear of their progress in a few months.
Tags