Samuel Michael Cafferty, alumnus, English Studies and Sociology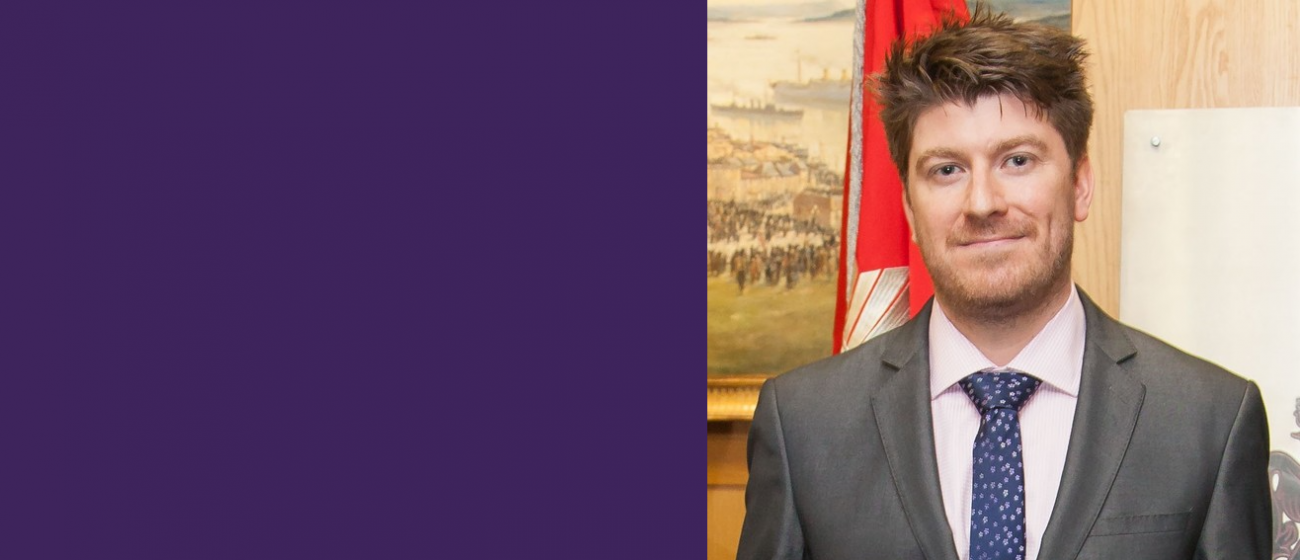 My family moved from London up to Manchester when I was 2 years old and, when I was old enough, I was determined to come back to London. So I decided to study English & Sociology at LSBU, as I was very interested in English during my A-level studies. My A-level English teacher studied English & Sociology and he inspired me to do the same.
I have particularly fond memories of two lecturers; Laurence Marlowe and Gill Foster. Laurence's lectures on Sociology and Criminology, alongside Gill's engaging and helpful lessons on English drama, particularly whilst studying English Renaissance theatre, guided me through my dissertation on the role of the Machiavel in Renaissance theatre.
I liked to keep myself busy
Whist studying at LSBU I was a full-time student. In addition, I was also a student assistant in a halls of residence (New Kent Road) in my final year and I also joined the Metropolitan Police Special Constabulary, which was a volunteer police officer role and a stepping stone to my current career. During the summer months, I worked for the university accommodation department, which involved cleaning the student halls after students had vacated and providing room service to the foreign summer students. I liked to keep myself busy and thoroughly enjoyed working in accommodation as we were paid an hourly wage, had free accommodation and were fed three meals a day so it was a good chance to save up over summer.
I was hoping to join the police full time, straight after I graduated, but there was a national police recruitment freeze. I worked again in student halls over summer and then looked for a job for a number of weeks before landing an administration job that I didn't really like. The job search was fairly daunting as I was essentially looking for a stop-gap job until I could join the police on a full-time basis. I continued my duties as a special constable after graduating in order to continue developing my policing experience.
My wait to join the police took a while and I worked for some time in a school as a teaching assistant (I got the job through a family friend). I then ended up working in the primary education sector for just over three years and I was even talked into doing a PGCE. However, this made me realise that my heart was still set on joining the police.
I love passing on my knowledge and experience
In my current role as a detective, I love passing on my knowledge and experience to new joiners. My biggest career achievement is becoming a detective in the police, which took nearly 2 years of work-based training and development to achieve. Safeguarding vulnerable people such as victims of domestic abuse and children and also prosecuting violent gang members and drug dealers brings me great satisfaction.
What keeps me motivated is knowing that I am doing a good thing and that my career is varied and interesting. My additional temporary role as a trainer is very removed from frontline policing but is fantastic for many different reasons including the fact that it equips me with more diverse skills such as public speaking and presenting.
I was a special constable for over 5 years and my supervisor at the time had a huge influence on me in terms of attitude and doing things correctly and doing the right thing. My partner also encourages me to talk about work when I'm stressed and not to bottle my feelings up. I was asked to head up a special investigation which I said 'yes' to despite having other work commitments. In the end, I could not complete what they were asking me to do so I pulled out and took time off work due to stress. I learned that sometimes, for your own health, you need to say 'no'. During periods of stress, I have doubted my own ability at work and second-guessed my decisions. I know this is just due to a temporary lack of confidence and recognise that I just need to continue to be resilient.
We are all living in an unusual time and my advice to anyone is to be proactive in learning and thinking of ways of developing your knowledge and skills. Keep in contact with friends and loved ones; I've been skyping family members and we have been doing lots of pub quizzes via online group video chats! It's been good fun! I'm still lucky enough to be working (mostly teaching/training via online video conferences) but in my downtime, I try to keep busy by doing odd jobs around the flat like putting up shelves, painting and I'm even doing some online learning courses.
Volunteer work in the industry
My advice to students is to have fun and socialise when the campus opens back up, but stay focused. Take it from me: I ended up repeating a year because of overindulgence and not concentrating on my studies. I would also highly recommend volunteer work in the industry which you would like to go into. I think this looks fantastic on the CV and will put you way ahead of other candidates who have no volunteer or work experience. When I volunteered as a special it also allowed me to focus on my LSBU studies.
Being LSBU alumnus means maintaining ties with the University and assisting with current students in any way I can. I currently volunteer with the charity Missing People and have also volunteered for Lowland Rescue (search and rescue). I think it is important to give back as I believe we have responsibilities as people and it is a way of helping others. I would like to continue my involvement with LSBU by getting involved with reunions, reconnecting with former students/friends, assisting with career advice if people are interested in becoming a police officer and/or a detective. I also want to contribute to talks at LSBU.
If you would like to know more about Samuel or contact him directly, check out his LinkedIn page.
We feature alumni each month who have had an interesting journey. To nominate someone email alumni@lsbu.ac.uk.
Tags