Mariam Katamadze, BA (Hons) Marketing with Public Relations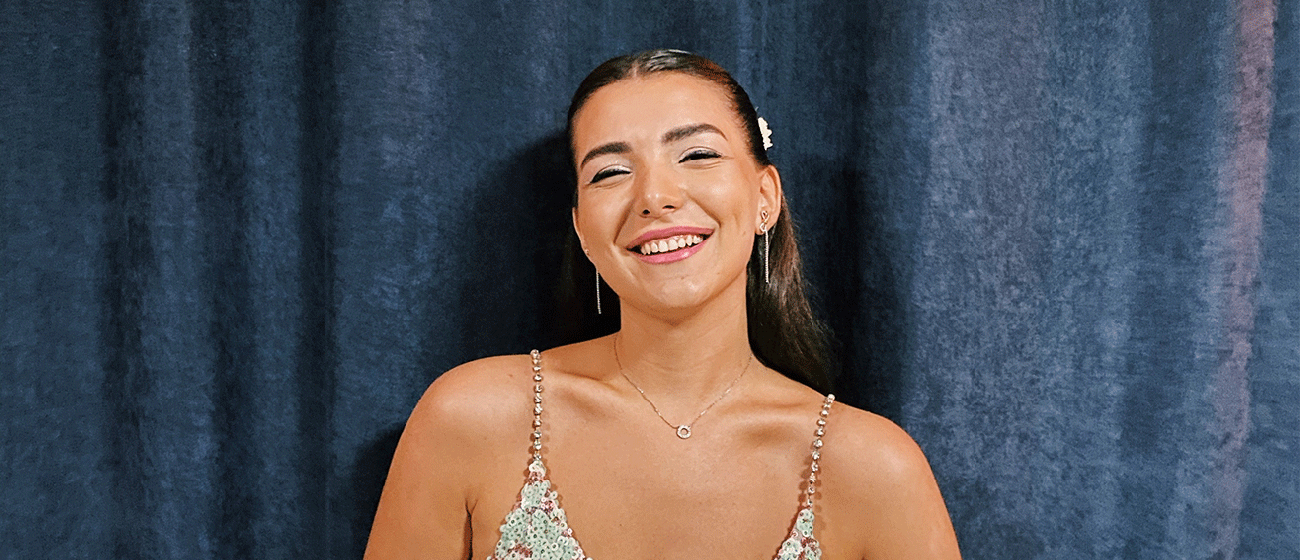 Mariam Katamadze, BA (Hons) Marketing with Public Relations student at LSBU Business School, knew that LSBU was the right fit for her when she found out about her course.
What drew you to LSBU?
I could never imagine what would have been ahead of me. One of the reasons I was drawn to LSBU was the location. I always loved and wanted to live in London. LSBU was also the only university which had a Marketing and PR course, and while reading the details about the course, I was sure that it was perfect fit not only for myself and my character, but also for my future.
What do you like about your course?
There are a lot of reasons why I like my course and university choice. Firstly, and most importantly, is my lecturers and the whole marketing staff around LSBU. They all made me feel welcome and made my time at LSBU enjoyable with their support and encouragement. They were extremely helpful throughout these years; they gave me motivation and courage to study and continue my journey. I love the structure of the whole course and modules were interesting as well. The whole course was well structured, and I found it very interesting. The course really prepared me to finish writing my final project and finish my degree.
From our first year, the University JobShop as well as LSBU Business School Commercial Experience and Employability Team were involved in teaching us how to write effective CV and resumes, how to apply for the jobs and how to be effective during interviews. Those kinds of sessions helped me to grow and learn how to stand out during recruitment.
'I love LSBU'
I love LSBU. It was a great 3 years for me. As an international student, I was afraid and frightened, but I met a lot of amazing people who made my studies much more enjoyable and interesting. LSBU has everything in one campus. You can do everything, while not leaving university campus. We were studying, eating, playing and joking together, which was unforgettable, and I will always be thankful for those memories. And my lecturers became my friends as well. Friendliness and their want to help us, made me realise how lucky I am to meet amazing and inspirational people every day and learn from them.
Working as a Student Ambassador and Course Rep
I worked as a Student Ambassador this year and it was an amazing experience. I also was a course rep, which gave me a chance to talk to course directors and listen to the thoughts of others on the course as well which was extremely helpful for both parts. Course Board always was taking our advice or thoughts in consideration, which was great.
Interning for Wissol Petroleum, Georgia
Last summer I completed 2 summer Internships with one of the big companies in Georgia, called Wissol Petroleum Georgia, which was great as it had been one of my dreams to work there. As part of my internships, I also did an internship in Georgia as a Marketing and Public Relations intern. My roles included:
Monitoring updates on social media platforms, communicating with consumers and solving their problems effectively and efficiently. Managing content and visuals to communicate with clients
Planning and organising the opening event, for the company's newest location center including important clientele
Getting involved and helping staff members to organise 5-day photo shoot trip around Georgia, for new services
Translating press releases from Georgian to English for company's official website
Writing new press releases and attending press conferences
Advice to a prospective student
Communication is key. Lecturers are always more than happy to help every student, so try to get as much information from them as possible. It's useful not only for your studies, but for your future as well.
Find out about our BA (Hons) Marketing course and Careers and Employability at LSBU Business School.
Tags