Glenn Elliott, honorary doctor of letters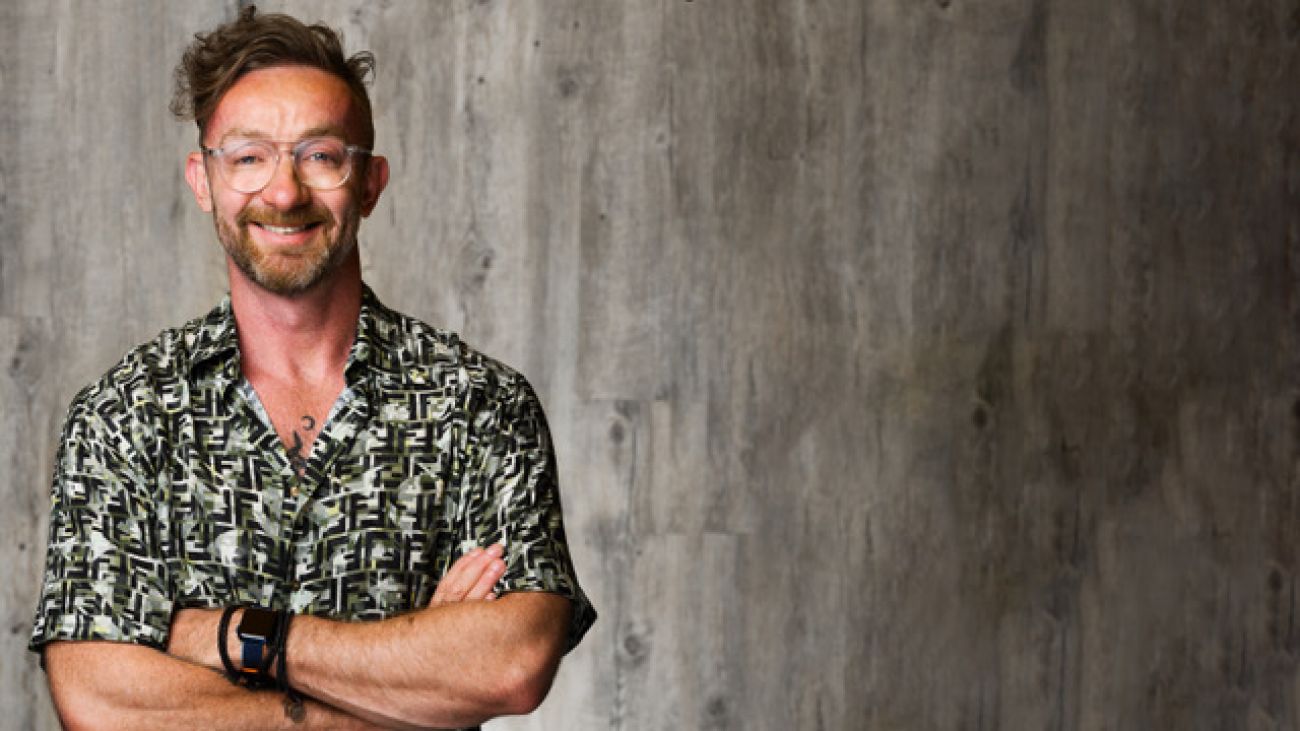 "It's fine to feel like you don't know what you're doing"
As founder and CEO of Reward Gateway, Glenn Elliott (BSc Computer Studies, 1995) built the company from scratch into a multi-million pound business with some 400 employees worldwide at the same time as developing his own theory of employee engagement, set out in his book Build It: The Rebel Playbook for World Class Employee Engagement (Wiley, 2018). Now, as Entrepreneur in Residence at Tenzing Private Equity and trustee of the RG Foundation, he is exploring new ways to share his experiences and give something back. He receives an honorary doctor of letters for his entrepreneurship and commitment to diversity and inclusion.
I always knew I wanted to be in tech, and I always knew I wanted to be an entrepreneur. I have no idea why! I didn't know anyone that ran their own business, but I can clearly remember sitting on the floor aged 12 designing logos for some imaginary company. I didn't even know what it sold, but I knew I wanted to build something myself.
I've been lucky to have some amazing teachers along the way. I think it's fair to describe my A-levels as a slow motion disaster. But my physics teacher, Ken Scaife, was incredible. He ran the school business enterprise scheme during break times. You'd write some terrible business plan and then he'd go with you to the Natwest Bank where some poor polite person would read it, then issue you with a giant chequebook and a £50 overdraft facility. I got my first three businesses – including a highly lucrative school sweet shop – off the ground that way.
My time at LSBU really opened my eyes. I loved the course, and I loved the diversity too. I was brought up in a small town in the north so to suddenly find myself there, among people from all over the world, was the most amazing experience. I had friends from Kurdistan, Iraq, Egypt – everywhere you can think of. It was like being on Noah's Ark.
I remember being so excited when I started on BT's graduate trainee scheme. I was full of ideas and energy, and I wanted to work hard and make things better. But I soon realised it's pretty hard to do that in a conventional corporate environment. The day I fell asleep at my desk and woke with a start, only to find my boss asleep next to me, was the day I realised I needed to make a change.
People always want to talk about success, but all the best changes come from failure. I had four attempts to set up a business post-BT, and none of them worked. But I learned such valuable lessons along the way – like how to make a business scalable, how to pitch and how to sell, and how to motivate your people. My last business was a marketing agency and what I learned from that is that there's limited mileage – and limited money! – in helping someone else sell their product. That's when I decided I wanted to be the one with the product.
If we'd known how much we didn't know, we would never have started Reward Gateway. Everyone said we'd fail. Even the industry magazine was reluctant to take money from us for our first ad because they thought we were doomed. We knew our product was better than the competition in terms of the benefits we were offering, but whereas a lot of our competitors were subsidising their programmes through advertising, we were asking HR directors to write us a cheque. It was a hard sell. But we kept ploughing on – that's what entrepreneurs do. One of our first clients was Kent County Council, with more than 40,000 employees. They're still with Reward Gateway now, over 15 years later.
Creative breakthroughs are often born out of a crisis. Well, they are for me, anyway. In about 2015, I was in our office in Sydney. We'd just acquired our biggest competitor, and we realised they were booked to deliver a keynote speech at this huge conference the following week. Suddenly, that slot was ours. We had to come up with something pretty damn quick – and that was when the idea of the Engagement Bridge™ was born. We delivered the presentation, and people absolutely loved it. It really seemed to resonate. I sometimes feel like a fraud talking about it, because the ideas in there are so simple. But perhaps that's why it works.
We called the book The Rebel Playbook because it involves chucking out a lot of the conventional wisdom about how you run things. Want to know how to engage people? Treat them better. Why bother? Because people who're engaged perform better. They're happier too. But it's still the case that a lot of companies operate in a way that seems like it's designed to make people feel disengaged, and then wonder why half their staff are phoning it in.
At Tenzing, my job is to help the companies in our portfolio to grow. A lot of the time I'm working with CEOs and managers who are very new to leadership, giving them the advice I wish I'd had first time round. Quite simply, we're all making it up. And it's fine to feel like you don't know what you're doing. There is no real training course for being a CEO. There can't be – the role changes all the time. You learn from experience.
With the RG Foundation, we're able to take a chance on people. Reward Gateway has been very successful and made a lot of people wealthy so it's important to give something back. I was working with a colleague, Rob Marsh, who took a sabbatical to go to India and work with a charity that helped women find employment once they were too old to work in the paddy fields. That was what inspired me to set up the Foundation. I put some of my stock into it and off we went. Because it's private money we don't have to set the barriers quite so high as some other grant-giving bodies. If someone's doing good work, even if it's in quite an informal way, we'll help. It's very rewarding.
When I did my alumni lecture at LSBU a few years back the sponsor, Hitesh Tailor, spoke to me at the end. He leaned close to me and said, "Glenn, don't pull up the ladder". Such simple words, but so powerful. They've really stayed with me and I think of them often. With Tenzing, helping develop the leaders of the future, and with the RG Foundation, finding ways to make people's lives a bit better in terms of health and access to education and employment, it's exactly what I'm trying to do.

Watch Glenn's LSBU lecture, ""Why Work Must Change" here.
Find out more about the work of the RG Foundation here.
Search stories
Categories