Blog: My experience of Welcome Week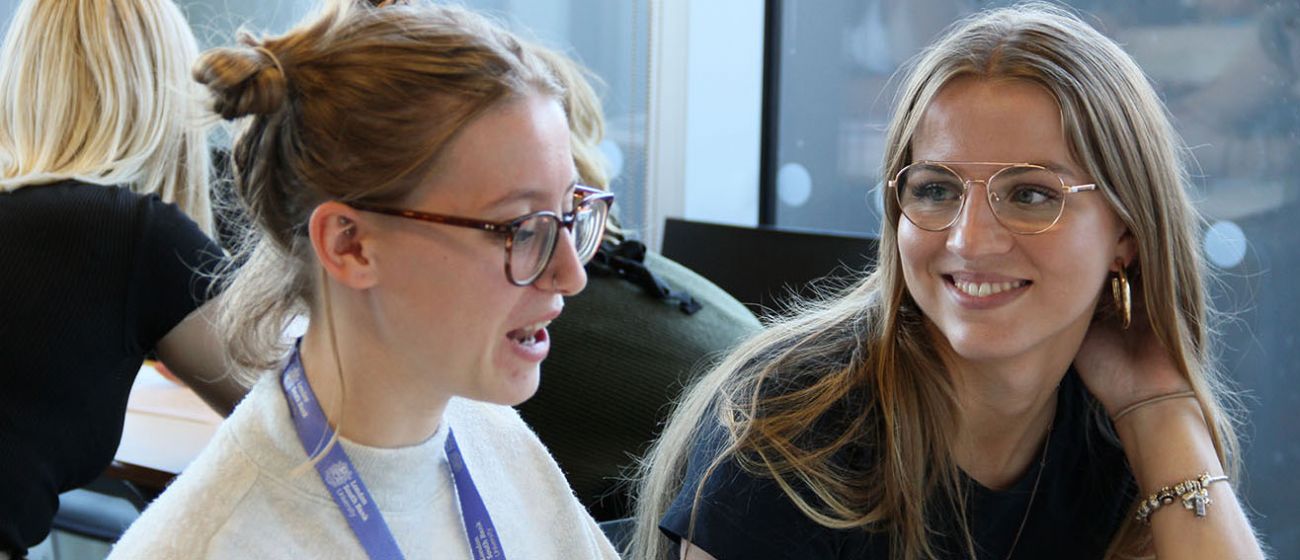 This blog about the School of Arts and Creative Industries' Welcome Week was written by Carlos Evans-Godoy, a recent LSBU graduate of BA/BSc in Games Design and Development.
Welcome Week 2019 has officially passed and the new students are settling into their very first week of their first-year courses. The yearly Welcome celebration was filled with students from every department having a blast as they went on field trips, had interesting classes with their new lecturers and even had a party or two to welcome them to the university. They worked hard and played hard and hopefully after this first week, they all have grown more accustomed to university life.
The students of the Arts and Creative Industries (ACI) have had an especially good year, as most of the facilities have been completely renovated. The University's iconic Elephant Studios, originally located in London Road, have since been moved into brand new facilities. The historic Borough Road building has been rebuilt to accommodate many different arts and creative courses, giving each one their own unique space to sit in including, but not limited to new studios (some of which were built for new courses), new cinemas for the film studies and practice courses, and even new equipment available to students.
There were also many lectures given during Welcome Week, which helped introduce the new students to their courses. For example, Isusko Garcia, a prolific film maker, visited the Film Practice course. In one class the students were exposed to the practical side of film making with a crash-course on composition. Stefania Marangoni, Editing Pathway Leader for BA Film Practice, noted that "the course is designed so that people have as much hands-on as possible."
Photography students ventured out to the National Photographer's Gallery and the Tate Modern, with the hopes that the students would grow their understanding of the photography scene as well as find inspiration. The course, which is built around the idea of diversity of skills and ideas, ensures that each student has a personal tutor to help them understand where they wish to be in the world of photography. This, as described by Adam Brown, Senior Lecturer in BA Photography "allows the students to feel supported and develop in the way they want to develop."
Photography students weren't the only ones to go on field trips, as the Journalism students also spent some of their week at the Southbank Centre – one of Europe's largest centres for the arts, housing the Hayward Gallery alongside three different event venues. The students focused on developing their story-hunting skills by finding stories which they would then report at the end of the day. This basic training seemed to be prepping the students for placements and a future career in journalism. Michael Kosmides, Course Director for BA Journalism, confirmed this: "By next week, students will start a placement at the local newspaper, South London Press, where they will learn all the things they need to know as journalists."
Film studies also took the time to develop their analytic skills, and spent part of their first week watching and analysing films. The students seemed enthusiastic as they flexed their brains to understand the hidden nuances of the films, their scripts, their camera works and the many different techniques used to invoke feelings.
Students of Fashion Promotion with Marketing spent part of their week learning Photoshop, in order help them build their understanding of the marketing side of fashion promotion. This, alongside a lecture or two focused on learning camerawork helped to increase the students' confidence, and understanding of the fashion world. In fact Ronke Fashola, course director in BA Fashion Promotion with marketing said that one of the more exciting aspects of the course is the "50/50 split of business theoretical aspects and also media practical aspects of teaching and learning,".
To finish the week, there was a University-wide party designed to welcome the students and get them more used to the new environment. There was drinks and food, and countless students enjoyed themselves during the end their week-long start to their new courses. The week is over and the welcomes have been said, now let's all wish these new students a bright and enjoyable future.
Find out more about our Arts and Creative Industries courses.
Tags