Arpit Sarupria, MSc International Business Management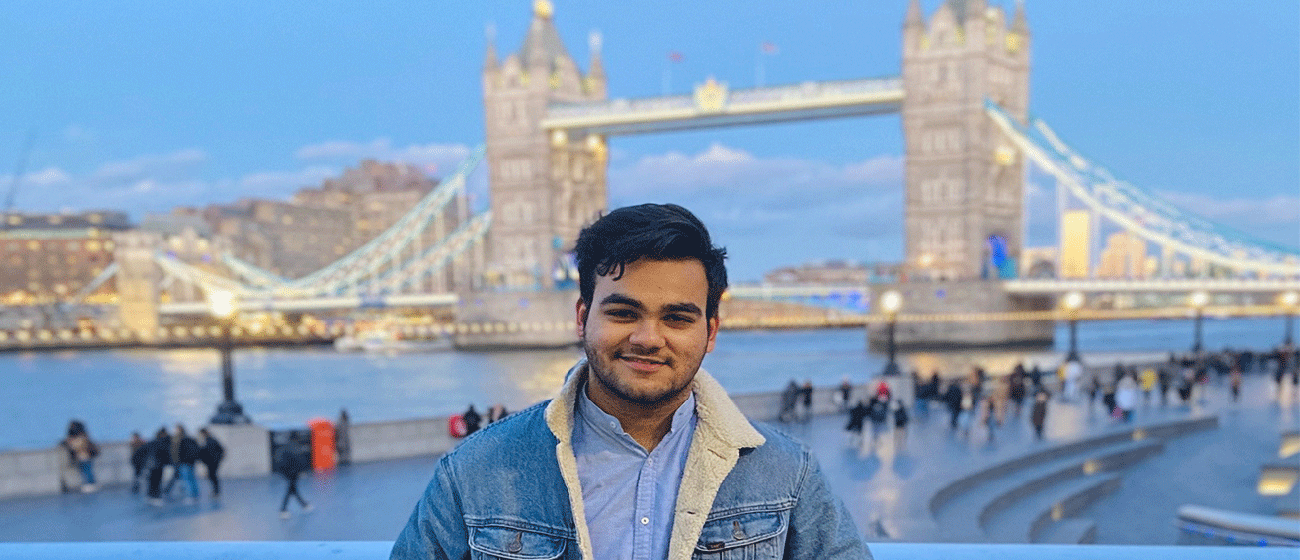 Arpit Sarupria, a MSc International Business Management student at LSBU Business School, decided to take on an Internship with Entrepreneur Rafael Dos Santos (MBA), working as a Social Media & Marketing Manager for the High Profile Club.
What drew you to the role with Rafael?
I have always been interested in social media in general and my previous experience of social media management drew me to work with Rafael as a trainee Social Media & Marketing Manager.
How did you find out about the role?
I found out about this role through the Graduate Teaching Assistant for Student Commercial Experience at LSBU Business School, Trudi Hamer; she introduced me to Rafael and that's how I applied for the position.
What was the application process for the internship?
The application process began through a video interview with Rafael and then I was assigned a task to complete in order to secure the internship. My task involved writing an attractive blog post with GIFs and upon its successful completion, I was selected by Rafael to work with him.
What was a typical day for you like as an intern?
Since I was appointed as a trainee Social Media and Marketing Manager, my job was to manage 5 interns and to check whether they have achieved their weekly targets (KPIs). Also, we had our weekly calls with Rafael where we provided him with the details of our work, accomplished tasks and other feedback.
What was your role?
My role includes a variety of tasks including:
Preparing weekly PR related blog post titles through extensive research and assigning them to the interns
Developing social media strategies to organically promote the blogs and increase website engagement
Coordinating with every intern and help them in achieving 100 unique views weekly
Analysing the reach of blog posts through Google Analytics and making sure that the article reaches its target audience in London
Increasing subscriptions to High Profile Club's free trial services
Coordinating with Rafael and communicating his feedbacks to all the interns and making sure that any necessary changes are done
Helping Rafael co-write two PR E-books for both health and tech entrepreneurs. (The E-books are available on Amazon)*
What did you learn in the internship?
Leadership and communication; these two words summarise my entire learning from this internship. It was my first experience of being a leader and the three-month internship definitely helped me enhance my leadership skills.
Secondly, communication skills. My communication skills improved dramatically as I worked with people from different cultures and walks of life. I managed interns from Spain, Hong-Kong, UK, India and Albania. Our mutual co-operation meant we communicated well and resolved any challenges we had. The support from each other and Rafael made this entire process a smooth experience.
Did your course help you with the role?
100% - my course helped me understand how the UK business market works, and also gave me a deeper insight of the ethics that people follow. In a nutshell, the course helped me in implementing my theoretical knowledge in a practical manner.
I hear you were responsible for Social Media and later selected to be Marketing Manager- can you tell me about how this happened and what was different about your role to the others?
To answer your first question, marketing is my forte and its one of the things that I believe I am good with. Grabbing this opportunity was a no brainier for me, I knew I had to do it. Secondly, my role was of a manager which meant managing all the interns, delegating them the tasks and also helping them in achieving it. It also made me realise that a Manager's role is not as easy as it seems!
Did the internship help with your course?
It's a two-way street. Each benefit the other; my course helped with my internship, and my internship helped with my course. Where the skills I've learnt and the practical application I've had overlap, I feel I've gained a strong combination of practical and theoretical knowledge. Both of these are equally imperative for securing a successful career in the future.
How do you feel about your involvement with the Amazon published book?
Co-writing the E-book was one of the best decisions I ever made, and it is one thing that I can check off my bucket list. To be honest, I was a bit hesitant in writing the book, but when I agreed to do it, I enjoyed the entire process thoroughly and having your name as a co-author on Amazon is one of the best feelings in the world.
What is your goal following the end of your degree?
The end goal is to have a really successful career by getting some good work experience in London under the guidance of effective leaders like Rafael and finally starting off my own venture.
Do you have any advice for students just starting out/ thinking about a postgrad degree?
My advice for them is to stop thinking and get enrolled in LSBU's master's program. The teachers and staff members help the students by going out of their way and help in shaping a better future for students. Also, work hard, and secure an internship. It basically gives you a head-start compared to other students and get you prepared for the business world from very early on.
*Amazon books - Guided PR for Health Professionals: Become more visible, more credible and more influential
Tags