MSc International Marketing student, Aroa Fernandez, Marketing Intern for LSBU Croydon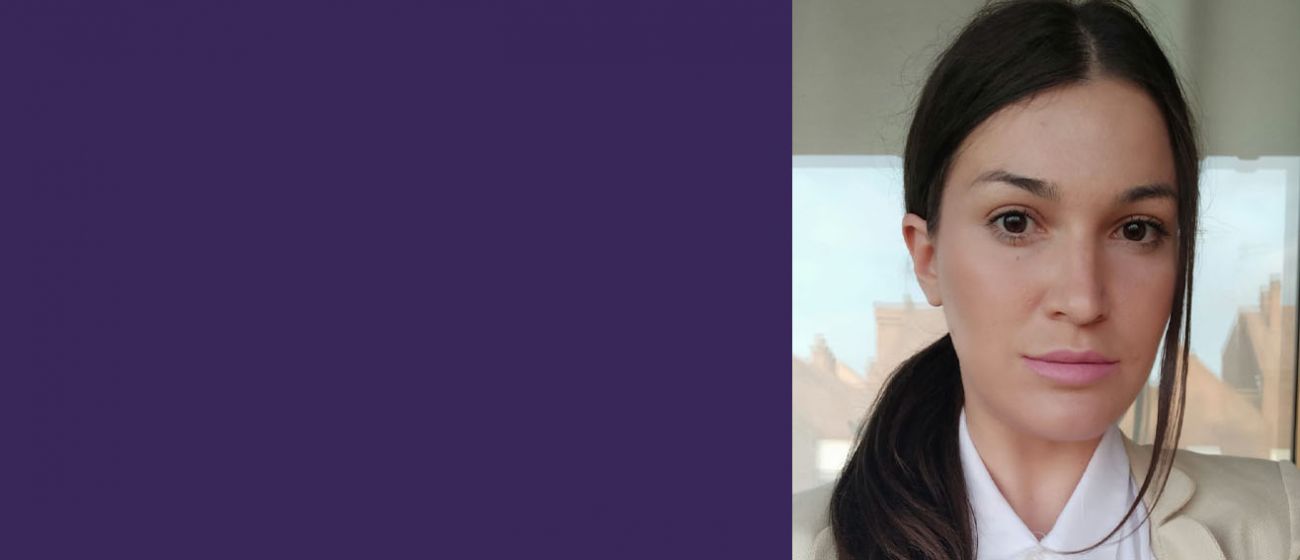 MSc International Marketing student, Aroa Fernandez, shares her experience of studying at LSBU and working as a Marketing Intern for LSBU Croydon.
What drew you to LSBU?
I remember that when I was finishing my BSc in Psychology, I loved the consumer behavior and marketing modules, so I decided that I wanted to study a postgraduate degree in a related area. I am Spanish and was living in Spain at the time but looked to London because it would give me many opportunities. I came to London for 4 months to improve my English skills and to select the university that fitted my needs: it was LSBU! What drew me to LSBU was its central location near to London Bridge, good prospects for graduate employment, and support for entrepreneurs.
I decided to study the MSc International Marketing at LSBU to get me closer to my dream of becoming a future Marketing Manager in a multinational company in London. This course provided me with the knowledge and understanding to implement my learning and knowledge to make good marketing decisions for a company in the international arena.
What did you enjoy about your course?
What I liked most about my course was how the academics were engaged with us with an innovative educational approach of "can do, do go". All our modules were divided into 2 hours of theoretical work and 2 hours of practical experience, giving us the opportunity to apply our learning. It helps me to better understand marketing principles rooted in real-world scenarios.
What was life at LSBU like for you?
Life at LSBU was exciting and dynamic. During my experience at LSBU I met many international young professionals studying marketing or business. There were so many opportunities available. I gained a lot of experience with networking and attended some awesome business events. Also, LSBU offered me a variety of work experience while I was studying my MSc International Marketing degree. I supported marketing campaigns for start-ups in a summer internship program, helped at LSBU events as a Student Ambassador and now as a Marketing Intern with the launch of the new LSBU campus in Croydon.
Did you participate in any extracurricular activities at LSBU?
As a Student Ambassador, I participated and supported in the organization of many events and projects offered by LSBU such as Open Days, Offer Holder events, Conferences, and the Sustainability event series in 2020. I also assisted in a variety of events that LSBU Enterprise offered. I was also part of the Idea Hack programme offered by the Enterprise Team, through which I am able to develop my start-up. I am grateful to them because without LSBU's help none of this would have been possible.
How did you find out about the Marketing Internship at LSBU Croydon?
I remember when I came for the Open Day at LSBU in April 2018. I didn't know that I would be working with LSBU in that variety of positions. However, my mindset was to take all the opportunities that came to me.
LSBU offers huge support to students who are searching for a job. There are many job opportunities within the university too which are available on the LSBU Employment portal. I am grateful LSBU accepted and considered me for the summer internships in 2019 as it was my first experience in London and crucial in my career to get my current success.
I started my career at LSBU in 2019 when I decide to send an application for the summer internships offered by the university. I was a successful candidate for this position. Then, I was hired in the Business Solutions Centre as a Marketing Assistant for an SME called Fit 2 Trip.
All these positive experiences in LSBU encouraged me to apply to become a Student Ambassador. It was an amazing opportunity for me because I collaborated with the marketing and communications department from LSBU.
I think that being involved in LSBU from the first moment I started my course was an important factor to get my current roles as Marketing Intern at LSBU Croydon. I found this position in the LSBU employment portal. There you can find a variety of entry-level positions and they give preference to LSBU students and alumni.
What does your role involve?
During my job at LSBU as Marketing Intern, I was involved in a variety of projects. I supported the Marketing Manager with the launch of LSBU Croydon Campus with the other interns by gathering information and doing market research. As part of my project as an intern for London South Bank University, my team and organised an online event for people interested in studying at the LSBU Croydon Campus. This internship gave me the opportunity to apply theoretical frameworks and principles that I learned as part of my course to the practical work environment.
What advice would you give a prospective student?
The advice that I would give future students from LSBU is to use all the resources given by Careers Hub, like CV building sessions and mock-up interviews to practice. Also, apply for internships as soon you can as it is going to play an important role in your future success. I graduated in August 2020 and I've been able to get a job in the middle of this crisis: this was thanks to the variety of job experiences that LSBU provided me during my course.
Find out more about MSc International Marketing.
Search stories
Categories