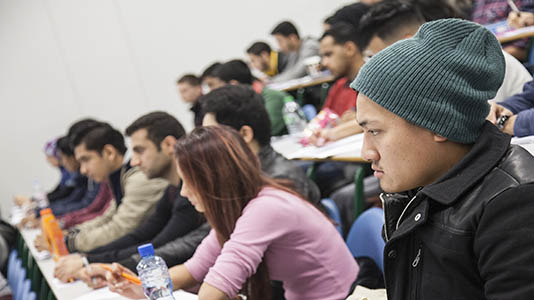 The Advisory Board provides invaluable support and advice to the School. Board members help to ensure that the School's courses and activities are informed by best practice and aligned with the interests and needs of students. Members act as national and international ambassadors for the School, sharing opportunities for external engagement and support to facilitate the achievement of the School's strategic aims.
The Board is comprised of independent members, all of whom have significant standing in the business community. They are able to demonstrate a commitment to using their expertise, influence and experience to further the strategic aims of the School of Business. The Board normally meets twice a year.
Steve Balmont (Chair)
Steve is a chartered accountant and has been involved with pensions in a number of capacities since the late 1980s. He worked at an international City bank with various pension responsibilities, and established a successful pension audit practice at Moore Stephens where he also had responsibility for national pensions training and technical issues and was a trustee of the firm's own pension scheme. He has chaired PLSA training courses, spoken at conferences and written about pension risk. He is a governor of London South Bank University.

Chris Jessop
Chris is a highly experienced CEO and board director, with both operational and investment experience across multiple sectors and geographies. He is currently CEO of Expert 24, an international health IT business, and Chairman of Viavi, an international health management company. He also acts as an advisor to early stage businesses. Chris has previously been recognised as UK Healthcare Entrepreneur of the Year.

Peter Mantell
Peter is a Solicitor in private practice specialising in non-contentious property work; based in Southwark since 2001 he is also a Notary Public dealing with private international law matters for corporate and private clients. Newly elected as chairman of Southwark Chamber of Commerce Peter sits on various committees with charitable or public service purposes. He is active in the civic life of the City of London as a liveryman of the Worshipful Company of Carmen and past chairman of Coleman Street Ward Club.

Liam Snelling
Liam is Operations Director at Digital Detox, a digital development company based in Brixton, South London. Digital Detox specialises in making beautiful digital things that people love to use and has a wealth of skills and experience in prototyping, user experience, web design and full stack web development. Liam looks after all their projects, clients and staff and ensures that people love to work with and for Digital Detox.

Mick Jarvis
Mick is an independent energy consultant based in London, UK. From August 2012 until his retirement in October 2014 he was providing negotiations strategy support to ConocoPhillips' portfolio rationalisation program, based in the UK. Mick is a founder member of the AIPN Negotiations Skills Workshop and since its inception in 2006 has trained over 500 delegates in this workshop. He has also provided negotiations skills training, instruction on Joint Venture development and operations, and on governance in major companies.

Simon Osborne
Simon is Chief Executive and a Fellow of ICSA. He qualified first as a solicitor in 1973.
Before taking up his current role, Simon was a freelance governance consultant. In that capacity he acted as the Joint Head of ICSA Board Evaluation, working with companies, UK regulators and other organisations. He is a member of the International Corporate Governance Network and chairs its Bylaws & Procedures Committee. He is a NED of two small media companies and deputy chair of a charity.

Kim Duong
Kim is CFO of the Churchill Capital group, a global securities broker and investment advisor to institutional investors. She works with the executive management team to create and execute on strategic initiatives. Kim was instrumental in the organic expansion of the Churchill Capital group when she was first appointed in 2006, taking responsibility for the establishment of subsidiaries in Singapore and New York. Kim is also a Trustee on the board of Home-Start Lambeth, a charity with a mission to promote the welfare of families with young children.

Roland Kaye
Roland is an experienced academic having held two chairs: Royal Insurance Professor of Information Management at the Open University which reflected research, consulting and teaching expertise in information systems and their application to management; and Professor of Management Accounting at University of East Anglia which reflected research and teaching expertise in performance management and strategic information to support boards. He has a wide range of professional and board experience.

Jason Choy
In 2003, Jason founded his company, Welcome Gate, delivering security solutions to the property, manufacturing, government and defence sectors. It currently serves some of the country's largest organisations and was involved with delivering security solutions to London 2012 Olympics. Jason was elected Chairman of the Institute of Directors' Central London Branch in 2011, representing over 5,000 Directors. Even having served his 3-year term as Chairman, he continues to encourage and support young entrepreneurs, particularly through the IoD Student Membership programme.

Sarah Trouten
Sarah is currently the Chief Executive at IoEE, working with national and international partners to ensure that the continued strength and growth of SME's in the UK becomes a reality. Prior to her taking over as CEO of IOEE, Sarah was Head of Operations at SFEDI Group, the Sector Skills Body for Enterprise and Enterprise Support. Sarah has also successfully led many mentoring projects including Get Mentoring, and contributes to a range of national and international working groups all committed to raising the standard of enterprise education within Schools, Colleges and Higher Education.

Stephen Isherwood
Stephen was appointed Chief Executive of AGR in June 2013 following seven years as Head of UK & Ireland Graduate Recruitment at Ernst & Young. In addition to his current role Stephen sits on a number of steering groups related to higher education and employment including the HEAR Advisory Committee, the Plotr Advisory Council and the GPA Advisory Group. He has presented to various committees in the Houses of Parliament and often appears in national and local media.

Richard Kalmar
Richard Kalmar runs two active firms of Property Agents which have been based by Tower Bridge in Shad Thames since 1986 and is now currently approaching its 50th year. He currently chairs Southwark Chamber of Commerce, organizes South London Industrial and Commercial Agents, is a member of the office and Industrial Agents Society, is a Freeman of the City of London and a Member of the Chartered Surveyors Livery Company.

Ian Myson
As Director of HE Partnerships and Product Management at CMI, Ian is responsible for Higher Education and Professional Body partnership development as well as product development across the product/service portfolio (qualifications/accreditations, employer services, content, membership services). He is also a Chartered Accountant (a product of spending the 1980s working for Arthur Andersen's tax department), as well as being a Chartered Manager. He has an MA and PGCE from Oxford University.

Dorothy Francis
Dorothy is Chief Executive of the Co-operative and Social Enterprise Development Agency (CASE) and holds responsibility for all aspects of strategic and operational management within the business. She has held the post of Chief Executive for 17 years and leads contracts with wide ranging organisations including The University of Leicester, Plunkett Foundation and the Royal Bank of Scotland.

Deepa Shah
Deepa is the CFO for Hall & Partners, a leading global brand and communications research agency, with responsibility for its European headquarters and Asia. She is a business partner who provides financial and commercial advice to support a fast growing business. Deepa won the Asian Women of Achievement Awards in the 'Business' category in 2016. She is an active ambassador for the Women of the Future organisation and she also mentors young women in business. Deepa was previously Chair of Lives not Knives, a UK charity focused on education and knife crime. She is also a committee member of Omniwomen, an initiative to champion women within her holding company, Omnicom Group Inc.
Top of page