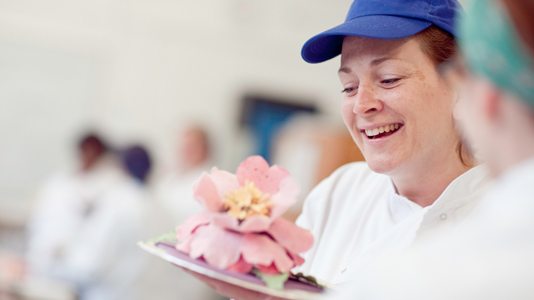 As a dynamic and influential School with an international reputation for industry-informed courses, our students are well placed to benefit from both our fantastic sophisticated facilities and our extensive industrial networks.
Professional equipment
The National Bakery School has places for 60 undergraduate students, who spend a minimum of 50% of their course in practical learning environments.
Our Bakery School, complete with brand new facilities, promotes the best learning, and focuses on employability for the future:
Two bakery rooms with proving ovens, baking ovens, mixers, work benches and pastry brake – a specialist device with contra-rotating rollers that works pastry and reduces its thickness
A practical study room dedicated to the production of fermented goods
A practical study room for the delicate process of chocolate making and tempering machines to keep the chocolate at a perfect temperature for handling
A practical study room for confectionary making, the production of gateaux and the opportunity for students to practise finishing techniques
A multi-media lecture theatre
Experienced staff
With their vast experience, the National Bakery School's staff are a major asset. All practice specialists, they enrich student experience as they deliver course content which is exciting, relevant and in demand by the industry.
Building a career
Students gain an understanding of the science and safety of baking, and the significance of technology. As well as developing bakery skills, students gain an understanding of business management.
Opportunities are wide and varied: they range from multi-national companies with a structured career progression, through to the increasing presence of artisan bakeries with their loyal client following.
Access guide
LSBU is committed to equal access across campus. Read our National Bakery School access guide on DisabledGo to see a summary of the School's accessibility and key features.
Top of page