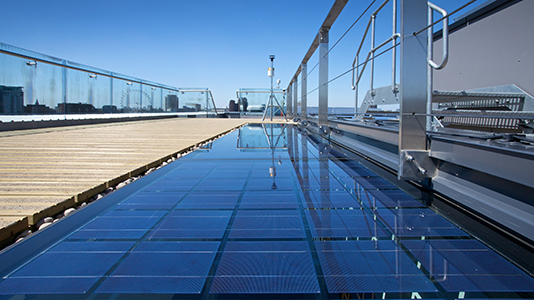 The Balanced Energy Network (BEN) at London South Bank University was an Innovate UK funded research project which ran from May 2016 to May 2018. BEN combined next generation heat networks with smart-grid technology to balance the production of heating, cooling, and electricity in a way that minimised costs and carbon emissions.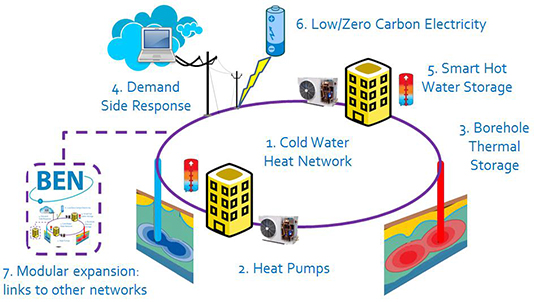 How it works
BEN seeks to answer the UK's energy trilemma: delivering secure, affordable, and sustainable energy. Using a 'Cold Water Heat Network' (ICAX) to move and store energy, linked with heat pumps and borehole thermal storage (TFGI), BEN provides the efficiency benefits of a heat network without the added pollution of energy centres in dense urban areas. BEN allows us to completely rethink how we provide heating and cooling services, simply moving heat away from a place that needs cooling, towards a place that needs heating. No combustion - just efficient energy management.
That management is enabled by a cloud based aggregator that delivers a Virtual Energy Storage (Upside). This set of algorithms tells BEN systems when to turn on and off, when to store electricity as heat, or when to deliver cooling by moving heat to storage. In short, it provides heating, cooling, and electricity at optimal times to create the world's first Balanced Energy Network.
BEN also creates an enabling infrastructure for a host of new technologies to make the grid electricity supply more robust and efficient. For example, Mixergy hot water tanks create a 'smart storage' solution that both links with the Upside aggregator and improves the efficiency of heat pumps. Origen Power and Cranfield University have created a unique fuel cell that creates carbon negative electricity for BEN by actively removing CO2 from the atmosphere. The demonstration project at LSBU can also be linked to future buildings and energy technologies.
The benefits
The UK energy system is on the cusp of changes on a scale that we have not seen since the creation of the national grid in the 1930s. The implications for BEN are considerable. At the building scale, it benefits clients by creating a heat sharing dividend. Managing the use of available energy can potentially be far cheaper than purchasing utility gas and electricity.
At the urban scale, BEN infrastructure could allow heat networks to be delivered in small increments and expanded over time, avoiding many of the barriers that currently hinder them. At the national scale, any building or system linked to a BEN style network becomes a distributed storage device, and offers a low cost balancing service to the National Grid. This helps to address many capacity challenges that National Grid faces as fossil fuel plants are replaced with more intermittent renewables.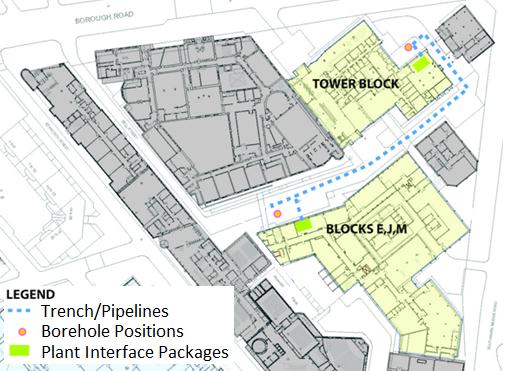 Funding
BEN is a £4M project, of which £2.9M is funded through an Innovate UK Integrated Supply Chains for Energy Systems Grant.
Top of page