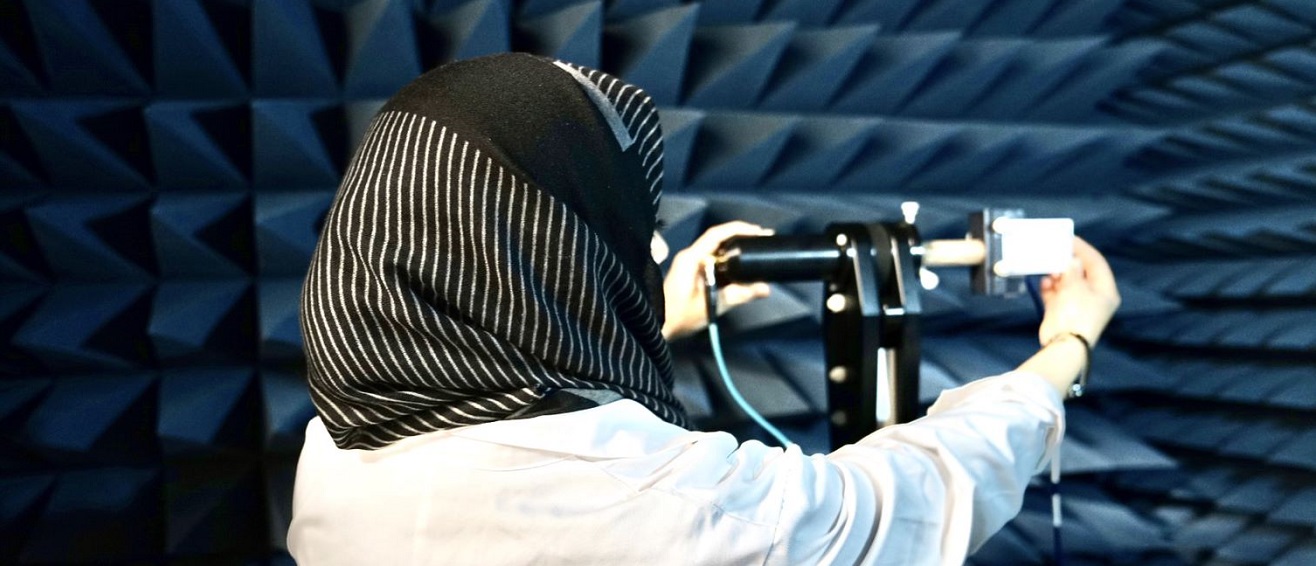 Centre for Biomedical Engineering and Communications (BiMEC)
We conduct advanced research on a broad range of biomedical engineering, energy, wireless communications, imaging and information technologies
Centre for Biomedical Engineering and Communications (BiMEC)
BiMEC, founded in January 2011, provides advanced research and training in a wide range of areas including: energy consumption reduction techniques using radar and wireless sensor networks; biomedical applications with an understanding for smart city considerations; open-based networking and media/content convergence; and skin bioengineering and non-intrusive monitoring using ultra wideband (UWB) technology.
Investigated topics
assistive technology for the elderly and/or disabled using UWB devices
digital signal processing for hearing aid development
adaptive signal processing and prediction for chaotic real data
noise cancellation in telecommunications radio channels
breast and skin cancer detection and therapy using UWB image processing for medical applications
wireless communications using UWB
Wi-Fi, Bluetooth and ZigBee wireless technologies
indoor radar – location sensing and tracking
self-organising networks
micro-loud systems
wireless technologies for vegetation health testing
big data mining and processing
skin biotechnology using optical and capacitive sensors
Current projects
H2020-MSCA-IF (793449) UWB wearable apparatus for bone fracture imaging and recovering monitoring, £180K (2018-2020).
Innovate UK Eartex, December 2017 £100K.
KTP Innovate UK and Eartex 2 years, £100K.
EPSRC grant: Modelling the MEchanics of Animal Whiskers (MMEAW), total grant: £460,715, LSBU: £304K.
Key facilities
Radio Frequency (RF) Shielded Anechoic Chamber
In 2012, BiMEC acquired a large RF anechoic chamber (outer dimensions of the chamber are 4.93 m x 2.79 m x 2.79 m) calibrated for uninterrupted use between 20MHz and 26GHz. This facility enables the team to characterise antennas and wireless/non-wireless systems used in our research and teaching as well as assisting and collaborating with other faculties and industry.
Lasers and detectors
Er:YAG laser, Nd:YAG laser, OPO laser, He -Ne laser, Nitrogen laser, MCT detectors, laser energy monitor, optical tables/benches, HP Digital Oscilloscopes, Picoscopes, HR Proscopes, multimeters, signal generators, IBM x3400 servers, Fingerprint sensors.
Additional equipment
TimeDomain's PulsON 400 (x3) PulsON 410 (x20) Impulse Radio Ultra Wideband IR-UWB ranging, communication and radar modules
Vector Network Analyser (VNA), Vector Signal Analyser (VSA), Spectrum and Impedance Analyser
Precise LCR components Analyser
PCB Prototyping machine
The founder and leader of BiMEC, Prof Mohammad Ghavami, has been very successful in developing its multi-disciplinary proficiency. His expertise lies in the areas of UWB technology, adaptive and smart antenna, wireless sensor networks, telecommunication systems for healthcare applications. He has published over 150 papers, two books and 3 US patents on various areas of UWB systems, smart antennas, wireless technologies and tele-health applications.
Our members have attracted millions of pounds of recent funding from bodies such as InnovateUK and the Engineering and Physical Sciences Research Council (EPSRC).
Research staff
Dr Dr Gianluigi Tiberi (EU MC)
Dr Hafeez Siddiqui (EPSRC)
Dr Mounir Adjrad and Dr Navid Ghavami (Innovate NPL)
Dr Thomas Maltby (EPSRC)
Postgraduate research students
Santos Bunga
Ridouan Chaouki
Omar AL Hashimi
Wei Pan
Xu Zhang
Shwan Dyllon
Elena Chirikhina
Christos Bontozoglou
Saqib Ullah
Dana Jamal
Hellema Ibrahim
Maitreyee Dey
Soumya Rana
Muy Oladimeji
Muzammil Saeed
Vassilios Tsakanikas
Utku Bulkan
Mahreen Riaz
Behnaz Sohani
Banafsheh Khalesi
Robert Brown
Over the past few years, BiMEC has been involved in joint research and training with several national and international institutions and industrial partners to carry out applied collaborative research in various areas of biomedical engineering, energy, wireless communications, imaging and information. These collaborative activities have led to over 1 million pounds of funding, research visits and joint publications.
BiMEC partners
Keio University, Japan: Joint PhD supervision, joint publication, research visits
University of Kaiserslautern, Germany: Research visits, Erasmus exchange scheme.
University of Essex: Joint EPSRC funding (£1.6M total)
University of Perugia, Italy: Research fellowship based on EU MSCA-IF grant (£180K)
Eartex, UK: KTP Innovate UK grant (£100K)
Fundsurfer, UK: KTP grant (£109K)
BiMEC academic collaborators
Prof Y. Sanada, Keio University, Japan
Prof R. Russo, University of Essex
Prof Ryuji Kohno, Yokohama National University
Dr Majella Lane, UCL School of Pharmacy
Key funded projects
H2020-MSCA-IF (793449) UWB wearable apparatus for bone fracture imaging and recovering monitoring, £180K (2018-2020).
Innovate UK Eartex, December 2017 £100K.
KTP Innovate UK and Eartex 2 years, £100K.
EPSRC grant: Modelling the MEchanics of Animal Whiskers (MMEAW), total grant: £460,715, LSBU: £304K.
TSB grant: partners National Physical Laboratory, Marks and Spencer. UWB inspection of crop quality; PI (Academic): 100K to LSBU (October 2017).
EPSRC (EP/K002473/1) Energy Efficiency in Buildings programme: DANCER (Digital Agent Networking for Customer Energy Reduction) received a budget of £911K for LSBU over 5 years (2012-2017).
EPSRC/TSB funded project, "Energy Management and Analysis Exploiting Existing Building Management Systems Infrastructure and Data", EP/M506734/1 started in 2014. Total budget of £633K (about £250K LSBU share).
EPSRC grant with UCL (LSBU part £230K) to electrospin novel piezo detectors.
KTP, Machine Learning Based Platform to Improve Investment Readiness of Businesses Seeking for Funds, funded by Innovate UK and Fundsurfer Ltd, £109K, 2018.
Consultancy, Machine-based Learning for Automatic Construction Cost Indexing, funded by the Royal Institution of Charted Surveyors, £75K, 2017.
KTP, M&E Cost Life-cycle & Analytics, funded by Innovate UK and RICS, £151K, Academic supervisor, 2017.
Skin bioengineering projects: Continuous Mean Arterial Pressure (cMAP), measurements, epiTherm Ltd, UK, Mobile skin measurement device, Biox Systems Ltd, UK, Digital spiky neuron network, Silicon Thoughts, UK, Capacitive skin imaging, Biox Systems Ltd, UK.
---
---
---
---
---
---
---
---
---
---