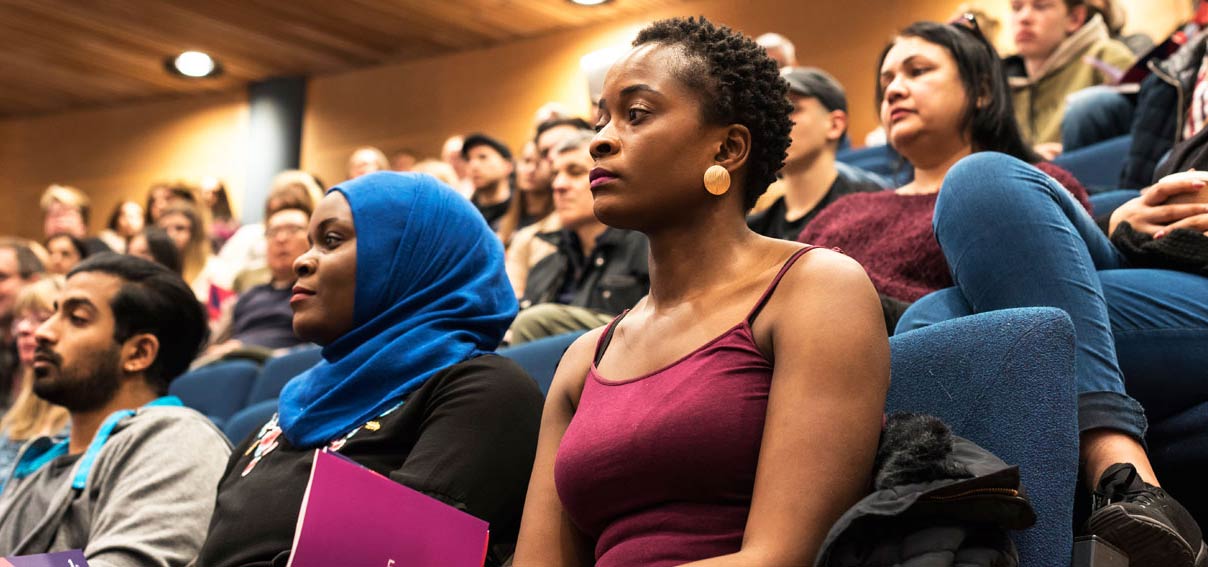 Centre for Applied Research in Improvement and Innovation in Health and Social Care
We conduct transformational research to improve the health and wellbeing of service users and the general population and make a difference to the ways that health and social care is delivered
Centre for Applied Research in Improvement and Innovation in Health and Social Care
The work of CApRII seeks to understand experiences of illness, health, disability and disadvantage across the life course through a user-centred, integrated programme of research, service evaluation and needs assessment and consultation.
We focus on the development and evaluation of novel approaches to service delivery, and we investigate innovation in health and social care roles and the ways we deliver education to the health and social care workforce at all levels.
Our expertise
The Centre has expertise in:
The identification and management of long term conditions and pain
The use of assistive technology in rehabilitation
Mental health and learning disability
The needs of marginalised and under-served groups
The decision making, judgement and assessment of risk in health and social care practice
Methods of patient involvement and co-production
The education and development of health care professionals
Workforce modelling and new clinical roles

Current projects

Examples of current projects include:

Guys and St Thomas' Charity: identification and support individuals with autism and intellectual disabilities through the criminal justice system £675k

Big Lottery Fund: Peer support for people with learning disabilities (£115k)

Burdett Trust for Nursing: The long term effects of COVID-19

Several studies improving care of those with chronic kidney disease to reduce unnecessary out-patient appointments, evaluate the feasibility of home urine testing using smartphone technology (£100k)

Health Education England: Evaluating 'making every contact count' £54k

Several studies modelling the health care workforce in cancer ( 155k), the Impact of Advanced Practice into Northern Ireland for the CNO Northern Ireland (£60k), the diabetes specialist workforce in South West London (£30k), the ophthalmic workforce Moorfields/HEE (£80k).

Key publications

Hamm J, Money A, Atwal A (2017). Fall Prevention Self-Assessments Via Mobile 3D Visualization Technologies: Community Dwelling Older Adults' Perceptions of Opportunities and Challenges, JMIR Hum Factors 4(2):e15
Chaplin, E and McCarthy, J and Underwood, L and Forrester, A and Hayward, H and Sabet, J and Mills, R and Young, S and Asherson, P and Murphy, D. Characteristics of prisoners with intellectual disabilities, Journal of Intellectual Disability Research, 61. 1185-1195
Begum, F, Mutsatsa, S, Gul, N, Thomas, B and Flood, C (2020). Antipsychotic medication side effects knowledge amongst registered mental health nurses in England: A national survey. Journal of psychiatric and mental health nursing. 27 (5), pp. 521-532.
Kelly, M, Wills, JD and Sykes, SM (2017). Do nurses' personal health behaviours impact on their health promotion practice: a systematic review. International Journal of Nursing Studies. 76, pp. 62-77.
Mansfield, M., Smith, T., Spahr, Nicolas and Thacker, Mick (2020). Cervical spine radiculopathy epidemiology: A systematic review. Musculoskeletal Care. 18 (4), pp. 555-567.
Leary A, Cook R, Jones S, et al. Mining routinely collected acute data to reveal non-linear relationships between nurse staffing levels and outcomes, BMJOpen 2016;6:e011177
Thomas, NM and Baillie, LJ (2017) How does the length of day shift affect patient care on older people's wards? A mixed method study, International Journal of Nursing Studies
Hull, S, Rajabzadeh, V, Thomas, N, Hoong, S, Dreyer, G, Rainey, H and Ashman, N (2019). Improving coding and primary care management for people with Chronic Kidney Disease: an observational controlled study in east London. British Journal of General Practice.69(684)
Terry, L (2017) A moral profession, Nursing Ethics
Whittaker, A, Densley, J, Cheston, L, Tyrell, T, Higgins, M, Felix-Baptiste, C and Havard, T (2019). Reluctant Gangsters Revisited: The Evolution of Gangs from Postcodes to Profits. European Journal on Criminal Policy and Research.
Our people
The Centre is led by Professor Jane Wills. There are four research group leads who provide hubs within the School of Health and Social Care for the development of staff in research interests and capability. Through its close links with health and social care, the Centre attracts several visiting clinical researchers.
Dr Anita Atwal
Dr Chris Flood
Prof. Mick Thacker
Prof. Ben Thomas
Visiting researchers
Prof. Paul Fish, Royal National Orthopedic Hospital
Prof. Faith Gibson, University of Surrey
Dr. Jane McCarthy, University of Auckland
Dr Roger Newham, University of Birmingham
Prof. Nicola Robinson [emeritus]
Prof. Brian Taylor, Ulster University
Prof. David Wareing, University College London Hospitals
Collaborations and partnerships
CApRII works with a range of national and international academic partners through multi-centre research projects e.g. the intensive care national audit and research centre (ICNARC), the ASSIST-CKD national kidney project and with organisations, a European Cooperation in Science and Technology (COST) project in maternity care for migrant women and professional bodies and charities
Other partnerships
Several staff have honorary posts at international universities, including:
Prof. Jane Wills at Southeast University, Nanjing, China
Prof. Alison Leary, University of South-Eastern Norway
Dr Louise Terry, University of Washington
Local government partners
Dr Susie Sykes leads the Public Health Responsive Studies Team (PHIRST London), a multidisciplinary group across the university that evaluates national public health projects.
Clinical partners
Prof. Nicki Thomas is honorary nurse consultant at Barts Health
Prof. Suzanne Bench has a joint appointment with Royal National Orthopaedic Hospital
Dr. Sarah Church, Associate Professor in Midwifery has a joint appointment with Barts Health.
Prof. Becky Malby runs the Next Generation Health Systems Innovation Lab, a network designed to enable spread of great innovations in health and social care, working with partners in the UK and internationally.
Our achievements
Applied research and impact underpins all our research informed and driven by close partnerships with services.
It has had an impact on:
Policy: Dr Andrew Whittaker's study on gangs has prompted a local council to invest in drug prevention programmes; Professor Jane Wills' work on the health of nurses prompted a review of the hydration policies in hospitals;
Service Delivery: Prof. Eddie Chaplin's work is changing the ways in which the criminal justice system addresses the needs of people with neuro-developmental disorders. Prof. Nicki Thomas' work on chronic kidney disease has led to the earlier identification of CKD in primary care .
Innovations in health care: Profs. Thomas and Leary and Dr. Flood are evaluating the use of AI to improve service delivery.
New workforces: Prof. Leary and Dr Stewart Lord are reviewing advanced practice in allied health roles.
Our staff are highly recognised in their areas of practice: Professor Alison Leary has been named one of the most influential people in Nursing today and Professor Nicola Thomas has been recognised by the British Renal Society. Professor Suzanne Bench is one of the 70@70 NHS research leaders.
Our staff are highly esteemed in their fields, editing international journals, being members of NICE clinical guideline development groups, being research grant reviewers and several hold joint clinical appointments.
Postgraduate research students
There are currently 36 registered Postgraduate Research students including four funded scholarships.
---
---
---
---
---
---
---
---
---
---
---
---
---
---
---