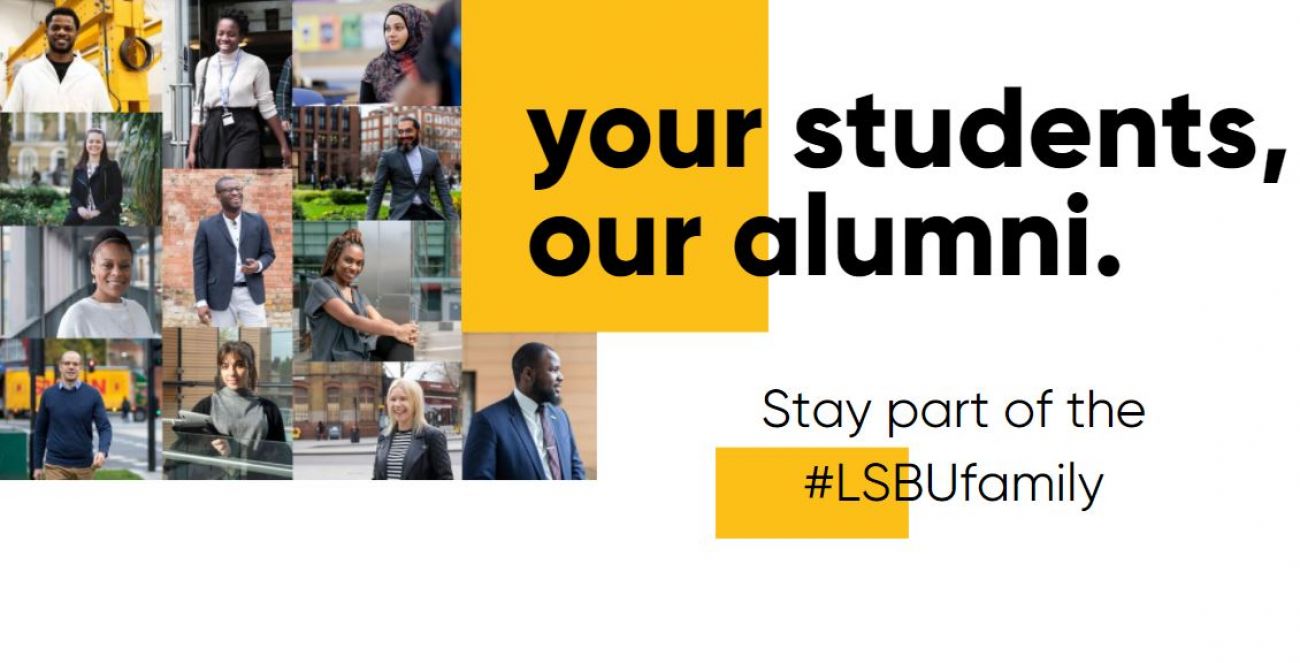 LSBU Alumni
Help students and graduates stay connected to LSBU with LSBU Alumni

We have published a range of collateral to support you in conveying the message of LSBU Alumni to your current students and any recent graduates you are still in touch with. Only where we have marketing consent will alumni receive ongoing communications about employability support, Graduate Outcomes survey, volunteering and giving back to LSBU.

Part of the purpose of this is to establish an awareness of LSBU Alumni amongst students, staff and recent graduates. If we get this right we will have students and recent graduates registering with LSBU Alumni to keep in touch. This is important as only through keeping in touch with us and talking to us about where they are in their journey can we then better support them and help improve their real-world experience with employability services.

Building on your existing relationships with recent graduates and students is key for us to ensure we maximise alumni sign up so they get the benefits of our offer and the support they are entitled to. Engaged alumni can help inform courses and provide real-world knowledge to students.

This is where Graduate Outcomes comes in, the biggest UK annual social survey that captures the perspectives and current status of recent graduates. Grads receive an invitation to survey 15 months after completing their studies to influence the future of education. These responses directly impact our position in the league table. Survey response rate is a problem for us, but we can improve this if we have accurate alumni data from graduates registering with LSBU Alumni.

We are asking that you use the below materials in your communication with final year students and recent graduates so they know what LSBU Alumni is, how to register and what the alumni community looks like.

If you have ideas for additional items, please get in touch at alumni@lsbu.ac.uk
For easy page navigation, click the links below for the collateral item you need:
Vital promotional periods
Keep in mind, there are some key times that you can maximise in slipping LSBU Alumni into comms in front of students, few suggestions:
Anytime time during final year of study
During the student's exam weeks
In-line with graduation notifications
During the National Student Survey period
Academic references for graduates
If you keep in touch with grads you can embed into any post-graduation communications
Who are the team
Firstly, it might be useful if you knew who the alumni and development team is. We are small but mighty and making strides in alumni engagement and fundraising. If you don't know who we are and what we do, download this image and put faces to names and job titles. We would be welcome to come and talk to colleagues or large groups of students about our work.
LSBU Alumni website

Why not visit the dedicated LSBU Alumni website and familiarise yourself with our offer! This is an alumni facing site sharing key information on membership benefits, campus access and ways to volunteer and stay in touch. You can direct current students and recent graduates to register here: alumni.lsbu.ac.uk
Presentation slides
These presentation slides are easy to slip into any final year presentation. The language you use when speaking to students should have the tone that joining LSBU Alumni is a requirement rather than an option. (Although we know that's not the case).

'Congratulations, welcome to your alumni community'

We have created a couple of slides that you can drop into any presentation for your final year students. It lists the access and benefits they receive when they sign up and what continued support looks like once they graduate.
'Your LSBU Alumni'

This presentation is suitable for all students regardless of year of study as we welcome first year student engagement. This presentation introduces them to LSBU Alumni, the network and how alumni can benefit them in their student journey.
Promotional items
A number of promotional tools have been created that can be used in lots of different ways and gives you the flexibility in communicating the LSBU Alumni message. From social media posts, to dropping in emails or presentations.

Graphics

These images are eye-catching but don't provide significant detail but key information about LSBU Alumni.
These images are easy to slip into a presentation, add to an email or drop into any end of year collateral you may produce.
Use images with your social posts to shine the spotlight on your content!

Benefits



Four graphics highlighting the top level benefits of LSBU Alumni.

Stay part of the family



Simple images with a simple message to stay part of the LSBU Family.

Images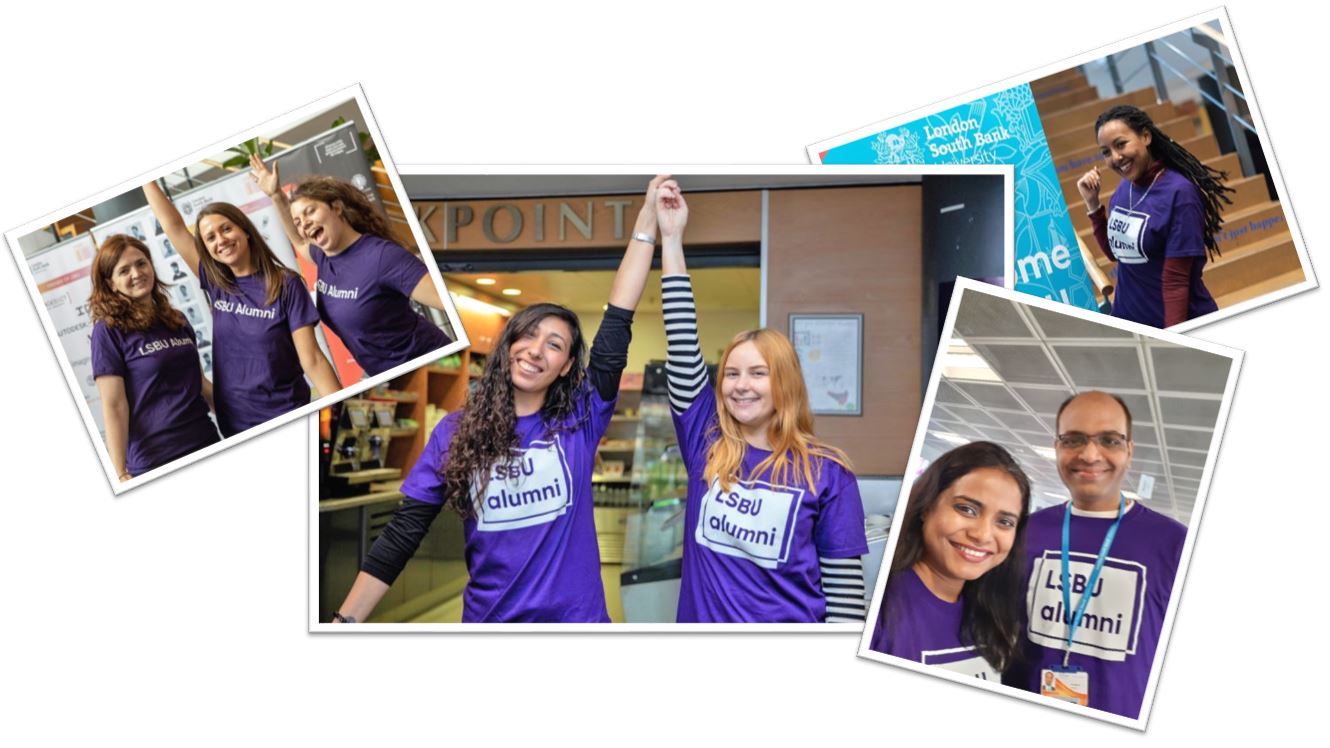 We have a handful of images of our alumni you can use, in their t-shirts volunteering and showing LSBU Alumni as an active and giving community.

This collage really shows the faces of the LSBU Alumni community, the diversity, the professionalism of ex LSBU students out in the world.
Landscape promotion

Three images can be used in presentations, digital screens or be printed.
Infographic
We have two infographics that are colourful, engaging and depict two journeys.
First, the student journey from application to graduation. It doesn't end with graduation. Then the active alum journey, listing all the ways you can be engaged with LSBU as an alum after competing your studies.
Social posts
Not sure how to write about alumni and want to increase your message reach. Posting something on your own personal (or School specific) social channels is a great way to reach all those graduates, old and recent, who follow. If you can champion joining LSBU Alumni personally, we are sure they will follow suit. We've created a series of posts that you can copy and paste, maybe make some minor edits to suit you, and share in your own networks amongst graduates.

Social post examples...
Joining your LSBU Alumni community is the easiest way to give back and volunteer. Not only do we want to know what you're up to after you complete your studies but we want you to come back and share your knowledge and experience with students. @lsbualumni
Want to stay in the know? LSBU Alumni members are always in the loop. Employability support and industry relevant events are just two reasons to join. Join today and find out the other reasons. @lsbualumni
#yourvoice and #yourexperience is so important to us. We can't improve our offer if we can't ask you what your experience at LSBU was like, keeping in touch with us with LSBU Alumni means you'll get the chance to be part of the UK's biggest annual social survey. @lsbualumni
Expand your professional network by joining LSBU Alumni. #GraduateSuccess Develop the connections that will enhance your career prospects. @lsbualumni
#KeepLearning with LSBU Alumni and get exclusive access to Employability support that will help you develop those soft skills needed for the workplace or get help actually securing that dream job #Employment @lsbualumni
Share LSBU Alumni social channels...
Encourage social sharing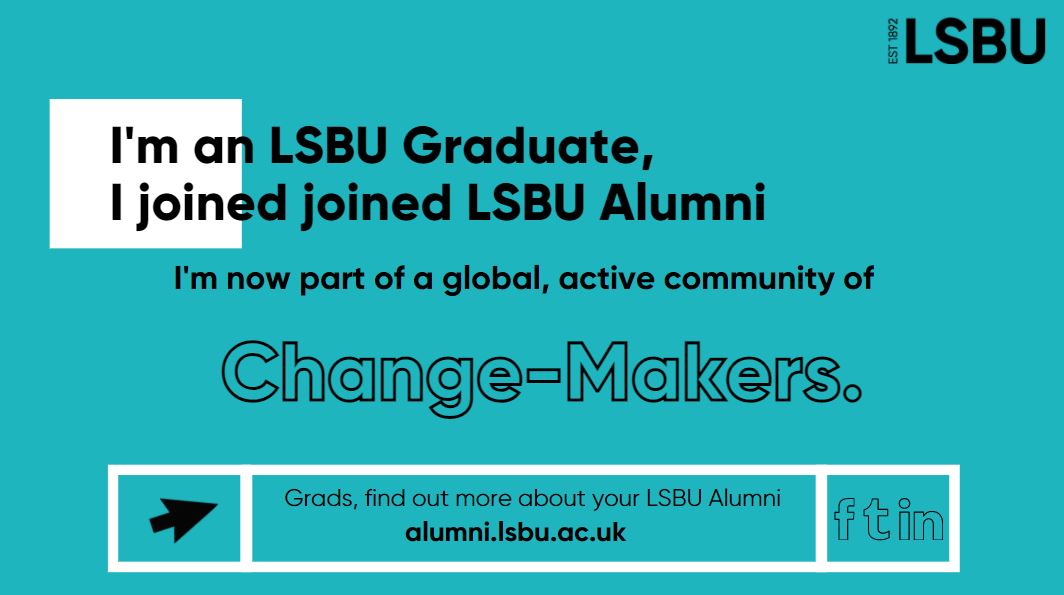 We know the influence peers have on each other – especially on social media. To encourage graduates to engage with each other, we've created a set of simple social share images telling others they've joined LSBU Alumni and encourage conversation and engagement.

The idea is, graduates will share these images on their favourite social media channels to help us get the message out. It's sized for twitter but can be easily resized for facebook. We've also included a LinkedIn graphic that graduates can post and encourage their follows to engage with them and further post about their experience and journey.

Instruction: Simply save the image, choose your channel, upload it and include #itswhatyoudo and / or mention us @LSBUalumni in your message.
Leaflet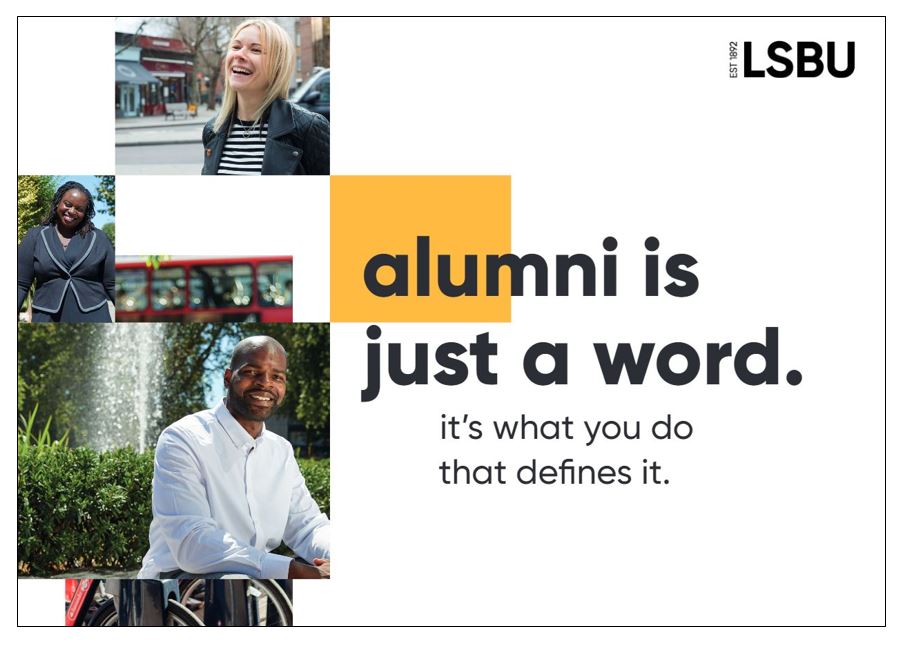 This leaflet gives students the highlight information and all they need to know about what LSBU Alumni is, what joining means and the access, support and opportunities available to them. You could email to students as a pdf attachment, slip it into a presentation. For future classes, request a print run from us.
Mapping Alumni 2021

LSBU Alumni is a global community and this map shows the top 10 countries our alumni reside. We have two versions of this map for you, portrait and landscape that makes it easy for you to use in different ways. This gives a great visual as to how international the community really is and gives students a sense of belonging to something big.
Email signature image

A simple an easy way to promote LSBU Alumni. Add this little image to your signature. We have two versions here for you, static and animated.

A static image with our strapline and web address that will be visible on any platform.
An animated signature that is visible on all web based email accounts. i.e, desktop Outlook does not support animation.
How to add images to your signature: Go to your 'email settings', search and click 'email signature', click 'Compose and reply', you should see your current signature details that you can edit, click the image icon to 'insert image' and click the signature you have downloaded, click 'open' and it should appear in your signature box, if it's large you can click the corner of the image/animation to resize, click 'save' and you are done.
How to tutorials
These click-through tutorials are very handy to showing students and recent graduates how to join alumni and connect with others on LinkedIn. Share the below links in your communications so you don't have to spell out each step it takes to register, join and connect.
Posters or Single page editorial spread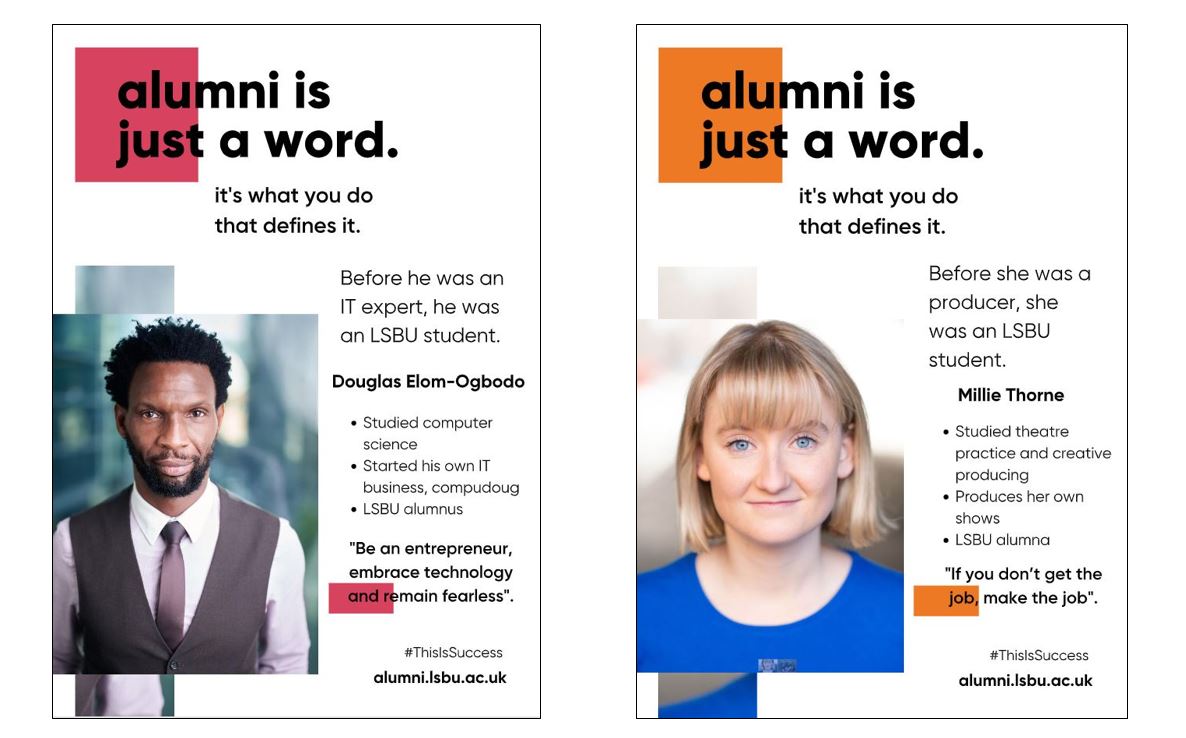 Showing the names and faces of our alumni in a very brief but impactful way. Use these in a presentation, editorial print or add them to collateral within your school communications. If you want an alum from a specific course please let us know.
Alumni Postcards

These postcards again are great for current student engagement or even prospective students. these flexible postcards can be used in presentations or printed collateral, take your pick.