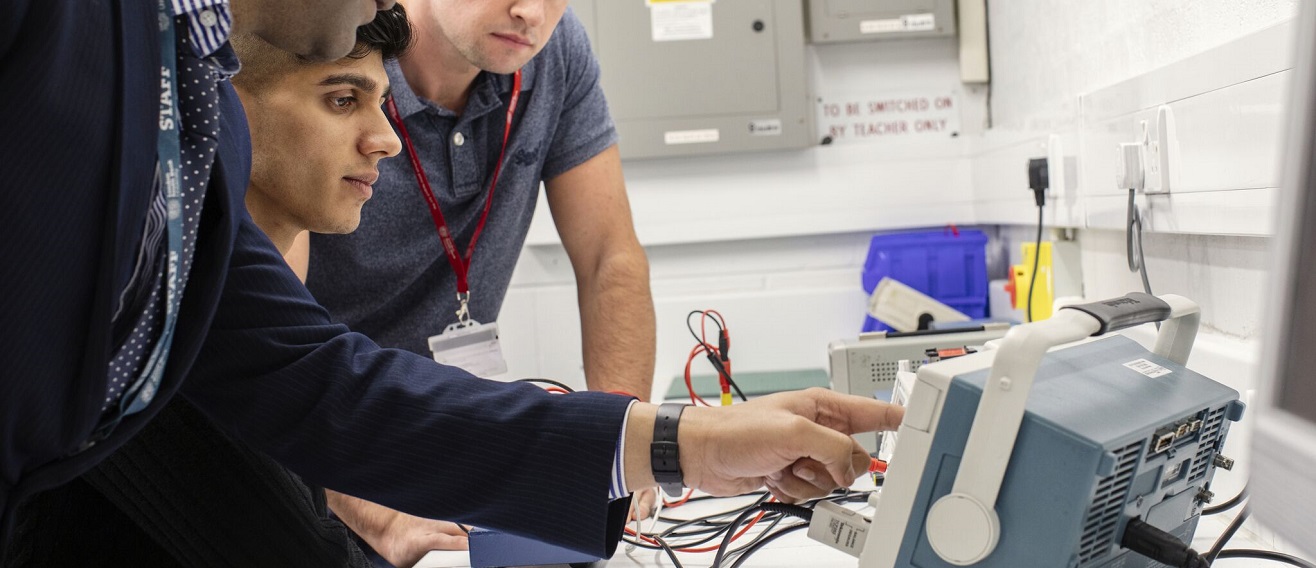 About the School
Bring new ideas to life, here and now, with our innovative, future-facing approach
We've been educating professional engineers for more than 125 years. That history lays a rock-solid foundation for today's School of Engineering, where amazing facilities, academic excellence and cutting edge research combine to create an exciting, dynamic environment.
Make a difference
Today, we have a 21st century focus. Our key areas of research include health, bioengineering and energy, with a focus on vital sustainable energy. Early in 2020, in partnership with Islington Council and Transport for London, we launched a revolutionary smart energy grid, GreenSCIES, which aims to deliver affordable, low carbon energy by connecting flexible electricity demands to intermittent renewable energy sources.
The School of Engineering is where you can make a difference. Our innovative, future-facing approach encourages our students to develop new ideas and bring these to life here and now. With prestigious competitions taking place in the city throughout the year, you'll have the opportunity to take part in challenges and develop your confidence. Our students consistently excel in competitions both in London and further afield, achieving significant success against more traditional universities.
Learn from real-world scenarios
Our focus is on work-based learning. Our courses are developed with industry experts and professionally accredited, with live briefs and applied assessments giving you real-world scenarios in which to learn.
Working with employers is key to us. Our flexible ways of learning benefit organisations across the industry, whether that's through bespoke training modules designed to upskill employees, employer-sponsored study or apprenticeships.
Gain specialist knowledge
Employer-sponsored study allows businesses to nurture talented individuals, bring specialist engineering knowledge into their organisation and help deliver strategic objectives. Earning while learning eases the financial pressure that can come with further education. It also leaves you with valuable transferrable skills, teaching you how to organise and present ideas, as well as juggle priorities and meet deadlines. There's also huge benefit in being mentored by a senior colleague within the workplace.
Our higher and degree level apprenticeships are similarly beneficial. As an apprentice, you'll combine learning in the workplace with formal off-the-job training and have the opportunity to practise your newly learnt skills in a real work environment.
Experience extensive facilities
At the School of Engineering, our facilities are extensive, with 600m2 of specialist laboratories covering almost every discipline. They include a model-making workshop, a fabrication workshop and a £1.4 million 3D Virtual Engineering Lab, featuring a virtual reality auditorium, a project-based learning lab, a rapid prototyping and post-production suite, a digital factory and a head-mounted-display suite, where students can use virtual reality headsets to navigate their engineering projects in 3D.