BSc (Hons) Sports Coaching and Analysis
Southwark Campus
Mode: Full-time
Sports Coaching and Analysis - BSc (Hons)
Overview
Your game plan
Do you dream of coaching athletes? Would you like to be a qualified and accredited graduate, already experienced and ready for the job market? Are you keen to support athletes at a range of performance levels? Then our BSc (Hons) Sports Coaching and Analysis is for you. You'll also have the opportunity to become a qualified Level 3 Personal Trainer by taking an optional module.
A group of students recently visited St. George's Park, home of the FA, to experience how the content of their degree programmes is used in an applied environment. Read more about their trip.
We offer the opportunity for all undergraduate Home/EU students to undertake a work placement, internship or work experience while studying a full-time course starting in September 2021.
Why Sport Coaching and Analysis at LSBU?
Become a qualified Personal Trainer while you study - take an additional optional module to receive a Level 3 Personal Trainer award.

No.3 in the UK for Learning Community in Sport & Exercise Science (National Student Survey 2020)

Ranked Joint 7th in the UK and joint 2nd in London for Graduate Prospects in Sports Science (Complete University Guide 2021)

Our excellent staff focus on helping students develop the skill, knowledge and competencies to become a sports coach.

LSBU's Academy of Sport has a customer satisfaction rate of 84.5% (UKCSI Business Benchmark Survey).

The Sport and Exercise Science Research Centre forms part of our dedicated facilities – you'll get access to sophisticated equipment to enhance your research activities.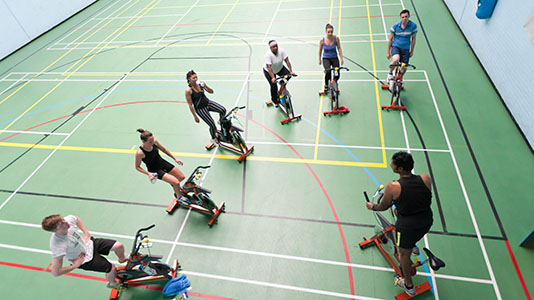 Accreditations
Key course information - ordered by mode
Mode
Duration
Start date
Location

Mode

Full-time

Duration

3 Years

Start Date

September

Location

Southwark Campus

Mode

Part-time

Duration

5 years

Start Date

September

Location

Southwark Campus
Modules
During the course, you'll focus on the principles and methods of sports coaching and the analysis of performance. You'll also study the scientific principles and theories embedded in the key scientific subject areas (physiology, nutrition, psychology and biomechanics) that underpin sport and exercise.
Year 1
Anatomy and physiology
This module will develop your knowledge and understanding in anatomical language and human anatomy of the musculoskeletal system, as well as the physical and chemical principles that underlie physiological functions and metabolic processes. The concept of integration and control in physiology will be developed, beginning with the study of cell membrane function and leading to an appreciation of human physiology through an understanding of systems. Assessment method: 100% coursework.
Perception and action 1
This module is intended to introduce you to the main topic areas in perceptual-motor control, development, learning and performance. It will provide you with the opportunity to gain practical experience in exercise, sport coaching and exercise settings, and gain an understanding of how the sport sciences can be applied to practical activities. This module also aims to introduce you to effective reflective practice techniques. Assessment method: 100% coursework.
Scientific skills
This module will provide you with a foundation for the study of science at undergraduate level. The basis for the module will be the context, planning and execution of experimental work, along with analysis and presentation of experimental data. A substantial component of study will involve activities in effective written communication and the writing of laboratory reports in particular. Assessment method: 100% coursework.
Sport psychology 1
This module will introduce different approaches of psychology and the study of the psychological aspects in exercise and performance. It will cover some theoretical approaches and methods of scientific enquiry. It will also include the application of psychological methods in the development and optimisation of sports performance and exercise participation. This module will provide you with many examples of sport and exercise psychology in action. Assessment method: 100% exam.
Nutrition, health and disease
This module will familiarise you with the fundamental principles of human nutrition as a multidisciplinary perspective relating to human health and well-being. You'll explore key concepts of nutritional requirements, food chemistry, macro and micro-nutrient functions. You'll also explore the relationship of diet to health, with special reference to over and under nutrition states. You'll examine dietary recommendations for the maintenance of health and well-being, and you'll consider the assessment of food intake in this context. You'll review the factors determining food choice, and you'll explore the role of nutrition in the context of physical activity. Assessment method: 100% coursework.
Biomechanics
This module will extend your knowledge of human anatomy and the musculoskeletal system, whilst introducing the basic biomechanical concepts and terminology required to analyse skilled and common movement patterns. This module will provide a clear understanding of the internal and external forces that act on the body, which you use to develop a comprehensive understanding of performance determinants. Assessment method: 100% coursework.
Year 2
Placement
The nature of the work carried out at individual placements will vary greatly. In some cases, you'll be exposed to numerous work situations to have an overall appreciation of the total operation of the employer. In other cases, you may be assigned to a singular role. Nonetheless, the learning outcomes will apply to all placements. Assessment method: 100% coursework.
Strength and conditioning theory
This module will develop your knowledge and understanding of training theory and training programme design. It will focus on the responses and adaptations of the physiological, metabolic, endocrine and muscular systems to exercise training. You'll develop a thorough understanding of the theory and principles used in the design of conditioning programmes to develop physiological, metabolic, endocrine and muscular strength, and you'll put theory into practice through practical sessions. Assessment method: 100% coursework.
Sport psychology 2
This module is intended to develop your understanding of sport and exercise psychology. The module has been designed to advance your knowledge of theory and practice in the psychological preparation of sport performers, and as such will integrate the notions of research informing practice and practical experience informing research. Assessment method: 100% coursework.
Sports biomechanics and analysis
This module has been designed to introduce you to the variety of equipment and methods available to analyse sporting performance. At the end of this module, you'll have a basis for optimisation of sporting performance or for advising on the optimisation of such performance. Assessment method: 100% exam.
Research methods
This module is intended to develop your understanding of the research process in the area of applied human sciences. It will provide you with knowledge about main research principles and methodologies for data collection and analysis. You'll gain practical experience in developing a research proposal and analysing data with parametric and non-parametric statistical methods, using both MS Excel and IBM Statistical Package for the Social Sciences (SPSS). Assessment method: 100% coursework.
Sport and exercise nutrition
This module will develop your knowledge and understanding of the nutritional requirements of athletes and the metabolic responses and adaptations to acute and chronic exercise. In particular, it will focus on fuel utilisation during endurance, and explore the nutritional requirements of different 'athlete types'. The module will also reference evidence supporting the use of nutritional strategies in optimising performance and training. Assessment method: 100% coursework.
Year 3
Research project
This module will provide you with an opportunity to plan, carry out and report an extended piece of research in sport or exercise science. You'll be assigned a research topic from a list supplied by members of academic staff, according to preferences that you specify. The topic list will cover the major areas in sport and exercise science, sports coaching and sports analysis. You may also have the chance to carry out a project that you'll propose yourself, subject to appropriate forward planning and supervisory support. Assessment method: 100% coursework.
Notational and performance analysis
This module has been designed to introduce you to working with industry-standard performance analysis software (Dartfish). It will primarily develop your awareness of the use and development of analytical indicators that can be applied to identify and optimise individual and team performance, and will involve training in and critique of methods for data analysis and presentation. Assessment methods: 40% coursework, 60% exam.
Sports populations and coaching groups
This module examines the phenomena of sport and exercise from the perspective of collections of individuals and the extent to which such a perspective fosters an understanding of relationships and the planning and practice of a variety of physical activities. Issues relating to the training of particular groups of individuals (e.g. the younger and older, males and females, ability and disability) will be covered, followed by consideration of talent identification, performance profiling and long-term development of athletes to elite level. Assessment method: 100% coursework.
Applied sport psychology for coaching
This module will help extending theory and research into the field to apply sport psychology principles into coaching practice. It will enable you to study and apply psychological principles of human performance in helping athletes to perform consistently in the upper range of their capabilities and more thoroughly enjoy the sport performance process. Assessment method: 100% coursework.
Advanced strength and conditioning practices
This module is designed to advance your understanding of strength and conditioning. It includes selection, administration and interpretation of exercise tests. The module will develop the theory of periodisation and approaches to programme design to include sport and athlete performance profiling. It will also evaluate recovery strategies and the issue of over training. Technological aids in optimising performance, such as hypoxia and vibration training, will be addressed, as will the challenges of certain environmental factors in order to support athletes in optimising their approaches to training and performance. Assessment method: 100% coursework.
Employability
You'll have the opportunity to obtain coaching qualifications as you study. Where possible, qualifications will be embedded within modules - and you can progress your level of coaching award throughout your degree. You'll also get the chance to work in a broad range of coaching, teaching and sports science placements, where you'll be supported and mentored by staff and industry professionals to maximise your employability.
Here are some of the roles you might choose after you graduate:
Sports coaching in clubs and schools;
Coaching within private sports organisations;
Sport programme co-ordinators;
Local authority coaching program staff, leisure services department staff and community sports coaching programme staff;
Performance coaching of higher level athletes;
National Governing Body development officers;
Sport and recreation officers.
As well as this, you'll have opportunities for further study, including:
Post graduate teacher training;
Master's degree study in Sports Coaching; Analysis or Sports Science.
Employability Service
We are University of the Year for Graduate Employment for the second year in a row - The Times and Sunday Times Good University Guide 2018, 2019.
At LSBU, we want to set you up for a successful career. During your studies – and for two years after you graduate – you'll have access to our Employability Service, which includes:
An online board where you can see a wide range of placements: part-time, full-time or voluntary. You can also drop in to see our Job Shop advisers, who are always available to help you take the next step in your search.
Our Careers Gym offering group workshops on CVs, interview techniques and finding work experience, as well as regular presentations from employers across a range of sectors.
Our Student Enterprise team can also help you start your own business and develop valuable entrepreneurial skills.
Professional links
We work with leading partners, including Greenhouse Sports, England Rugby and London FA.
Through our Academy of Sport there are many opportunities to gain relevant work experience or internships, either internally or with one of the external partners that form the Academy. We partner with ProActive London, who work with a range of organisations across the capital to support sport initiatives and provide coaching opportunities.
Our undergraduate degrees are endorsed by the Register of Exercise Professionals (REPs). By opting to take an additional non-credit bearing module, you can become a qualified Level 3 Personal Trainer.
---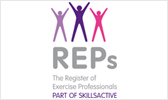 The Register of Exercise Professionals (REPs) is an independent public register which recognises the qualifications and expertise of health-enhancing exercise instructors in the UK.
Placements
You'll carry out a placement during your second year, and in an appropriate coaching environment. This could be one where you are already an active coach. We can offer you a range of options via our partners, who include:
Give it a try
Handball projects (Lambeth)
Facilities
Sport and Exercise Science Research Centre (SESRC)
The Sport and Exercise Science Research Centre (SESRC) has access to sophisticated equipment which enhances research activities, and is where some of your classes will take place. You can take a virtual tour below.
Academy of Sport
You'll have access to a range of facilities and equipment within the Academy of Sport at LSBU, including a fully equipped fitness suite with SMART Centre Technology, a Functional Training Zone, Free Weights Room and Sports Hall.
The Academy of Sport has been recognised nationally for its high standards of excellence, receiving a customer satisfaction rate of 84.5%, from the UKCSI Business Benchmark Survey.
You can take a virtual tour below, or visit our Academy of Sport pages for more information.
Teaching and learning
You'll be learning through a mixture of classes (around 15 hours a week in Year 1) plus individual tutorials and independent study. Teaching is informed by current, cutting-edge research and, because we have a focus on applied research, you'll apply your learning to real world settings.
We're here to support you. You'll have access to the virtual learning environment, Moodle, so materials and online support are available when you need them. We provide one-to-one support via our professional tutoring system. Your tutor will help you to understand coursework feedback, offer guidance as you plan your career and advise you on appropriate work experience. Teaching is also supported through seminars, online learning environments and specialist advice sessions for topics such as statistics and research methods.
Percentage of time spent in different learning activities

| | Time spent in lectures, seminars and practical study | Self-directed learning |
| --- | --- | --- |
| Year 1 | 29% | 71% |
| Year 2 | 26% | 74% |
| Year 3 | 24% | 76% |
Personal Tutoring
As an undergraduate Applied Sciences student, you will be allocated a named tutor during your first three weeks at LSBU. The role of your tutor is to be your primary contact for academic and professional development support.
Your tutor will support you to get the most of your time at LSBU, providing advice and signposting to other sources of support in the University.
Your tutor should be the first person at the university that you speak to if you are having any difficulties that are affecting your work. These could be academic, financial, health-related or another type of problem.
In your first semester you will attend a series of weekly personal tutor group sessions to introduce you to elements such as the module structure and the Moodle site, as well as workshops on assessment expectations. After the first semester you will have a minimum of 2 personal tutor meetings per semester and there will also be weekly drop in sessions/assessment tutorial appointments.
Entry requirements
2018 Entry
A Level CCD or;
BTEC National Diploma MMM or;
Access to HE qualifications with 39 Merits and 6 Passes or;
Equivalent level 3 qualifications worth 96 UCAS points
Level 3 qualifications must include Maths, Science or Sport
Applicants must hold 5 GCSEs A-C including Maths and English or equivalent (reformed GCSEs grade 4 or above).
We welcome qualifications from around the world. English language qualifications for international students: IELTS score of 6.0 or Cambridge Proficiency or Advanced Grade C.
Advanced entry
If you have already completed some studies at another university, we may be able to consider you for advanced entry. Please see our advanced entry page for more information.
How to apply
International students
International (non Home/EU) applicants should follow our international how to apply guide.
Home/EU applicants
Mode
Duration
Start date
Application code
Application method

Mode

Full-time

Duration

3 Years

Start date

September

Application code

C610

Application method

Mode

Part-time

Duration

5 years

Start date

September

Application code

C610

Application method
Accommodation
Once we have made you an offer, you can apply for accommodation. You can rent from LSBU and you'll deal directly with the university, not third party providers. That means we can guarantee you options to suit all budgets, with clear tenancy agreements and all-inclusive rents that include insurance for your personal belongings, internet access in each bedroom and on-site laundry facilities.
Or, if you'd rather rent privately, we can give you a list of landlords – just ask our Accommodation Service.
Read more about applying for accommodation at LSBU.
Finance
You don't need to wait for a confirmed place on a course to start applying for student finance. Read how to pay your fees as an undergraduate student.
Prepare to start
Applicant events
After you've received your offer we'll send you emails about events we run to help you prepare for your course.
Enrolment
Before you start your course we'll send you information on what you'll need to do before you arrive and during your first few days on campus. You can read about the process on our Enrolment pages.
Fees and funding
Fees are shown for new entrants to courses, for each individual year of a course, together with the total fee for all the years of a course. Continuing LSBU students should refer to the Finance section of our student portal, MyLSBU. Queries regarding fees should be directed to the Fees and Bursaries Team on: +44 (0)20 7815 6181.
UK/EU fee:

£9250

International fee:

£14470

AOS/LSBU code:

4162

Session code:

1FS00
Total course fee:
UK/EU
£27750
International
£43410
UK/EU fee:

£5550

International fee:

£8682

AOS/LSBU code:

5251

Session code:

1PS00
Total course fee:
UK/EU
£27750
International
£43410
For more information, including how and when to pay, see our fees and funding section for undergraduate students.
Please check your fee status and whether you are considered a Home, EU or International student for fee-paying purposes and for our regulatory returns, by reading the UKCISA regulations.
See our Tuition Fees Regulations (PDF File 160 KB) and Refund Policy (PDF File 102 KB).
Possible fee changes
The University reserves the right to increase its fees in line with changes to legislation, regulation and any government guidance or decisions.
The fees for international students are reviewed annually and the University reserves the right to increase the tuition fees in line with the RPIX measure of inflation up to 4 per cent.
Scholarships
We offer several types of fee reduction through our scholarships and bursaries. Find the full list and other useful information on our scholarships page.
Contact information
Course Enquiries - UK
Tel: 020 7815 7815
Due to COVID-19, call waiting times may be longer than usual. Any questions? Use the green bubble on the bottom right hand corner to start a live chat with us
Get in touch
KIS Data