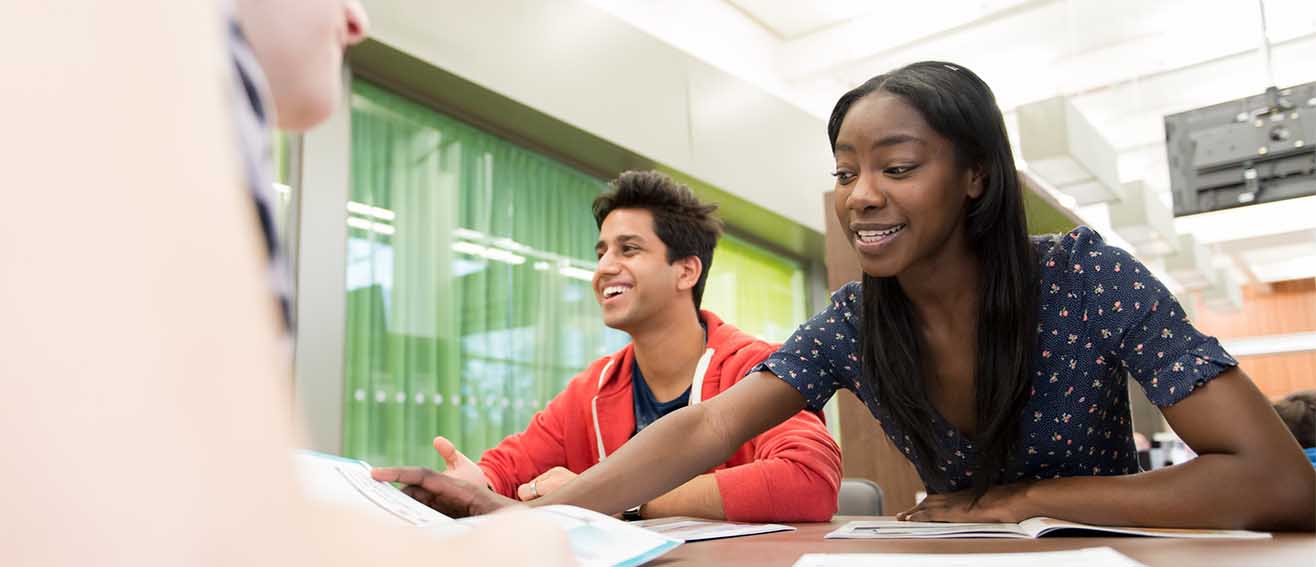 BSc (Hons) Sociology
Southwark Campus
Mode: Full-time
Overview
Exploring behaviour
In a world where mobile phones are connecting everyone, why do people feel further apart from each other? Why is it that in a world with more diversity, conservative attitudes are on the rise? Cities are becoming more and more important – but who are going to be the winners and losers in living in and using these cities? Artificial intelligence offers many improvements in life, but what is it doing to how we consume, vote, work, and even maintain relationships? Sociology at LSBU provides you with the opportunity to engage with these, and many other contemporary issues such as globalisation, gender, religion, sexuality, identity formation, nationalism and more.
Here at LSBU, we will help you focus on your future by offering the opportunity to do a work placement that matches your interests. We will develop your abilities as investigators of social life in London and beyond by using everything from interviews to videos, and we will develop your skills and confidence in key areas to help you turn your degree into an excellent career.
By the end of your time at LSBU you will have a balance of theory, practice and experience, which will deepen your understanding of yourself and the world, and, what is more, give you the tools to be active agents in that world.
We offer the opportunity for all undergraduate Home/EU students to undertake a work placement, internship or work experience while studying a full-time course starting in September 2021.
Why Sociology at LSBU?
Recent graduates are now research assistants, school student mentors and charity workers - careers are likely in teaching, social work, marketing, public administration, the voluntary sector, social research, journalism and programme research.

2nd London Modern for graduate prospects in Sociology (Complete University Guide League Tables 2019).

You can become part of an academic community dedicated to social justice and global responsibility - with an inspiring schedule of guest speakers, events, volunteering opportunities and exchange of ideas.

Enrich your CV and awareness of working practice with a voluntary placement opportunities.

Ranked 2nd for Organisation and Management amongst London competitors in Sociology (National Student Survey 2020) and top 5 for student experience in Sociology in London (Sunday Times League Tables 2020).
Key course information - ordered by mode
Mode
Duration
Start date
Location

Mode

Full-time

Duration

3 years

Start Date

September

Location

Southwark Campus
Modules
This course provides you with valuable knowledge and the ability to think critically about a range of topics within Sociology. You will also gain transferable skills, which will provide you with a solid background to starting your career in different fields.
We use a range of assessments that include essay writing, critical analyses of websites, blogs and presentations. The Sociology degree incorporates formative assessments in the form of a quizzes, peer assessed presentations and annotated bibliographies. About 75-90% of your assessment will be coursework depending on your year of study and option choices.
Year 1
Semester 1
Global issues in sociology
This module provides students with a grounding in key issues in contemporary society, with a particular emphasis on the societal effects of globalization. These effects are dynamic and global in nature and impact on the key themes addressed in the module. These include: migration and 'race', gender, class, the changing nature of citizenship, sexualities, religion and the mass media. An important focus throughout the module is on how inequalities are reinforced but may be challenged via active citizenship and civic engagement around social justice issues.
Power and inequality in contemporary society
In this module we will explore a series of problems related through the general ideas of power and inequality. We will explore how power and inequality are related through a series of case studies. We will examine both how these issues are contested and the implications of these problems for society and for politics. Seminars and workshops will be used to develop students understanding of these related problems in a way that will help develop both analytical and practical skills for learning.
Revolutions, wars and the making of the modern world
This module is an introduction to some of the major themes and events in modern world history. It begins with an examination of the Enlightenment and the French Revolution. It moves on to look at the Industrial Revolution, national unification movements in Italy and Germany in the nineteenth century, Empire, the First World War and the ideologies of Fascism, Nazism and Soviet Communism. It looks at the impact of key historical figures such as Lenin, Stalin, Mussolini and Hitler and their impact on the shape of the modern world.
Semester 2
Social justice in action
This module develops students' understanding of the concept of social justice (as a goal and a process) and its wider implications. The module also encourages students to focus on their interests, motivations, skills and abilities in employability terms and make connections between their studies and their future careers. Central to the module is a career and networking event. This event will provide students with the opportunity to meet and speak with individuals working in organisations concerned with social justice, particularly individuals who have themselves overcome challenges relating to their gender, race, class, age, sexuality, religion etc. Front line staff such as police officers, probation officers, social workers; activists, campaign work, researchers to voluntary sector representatives will be involved. Alumni will also contribute to the event.
Researching London life
How does sociology actually do research? In this module you will learn some of the major qualitative methods used by sociologists and others. You will develop your understanding of, and skills for, interviews, focus groups and visual contents analysis. We'll do this through lots of activities from running your own focus group to visiting London city spaces and taking photos. This will not only help develop your methods skills in a really practical and interesting way, but will also set you up with some key employability skills. We will use London as our laboratory!
The sociological imagination: from revolutions to big data
Students will be introduced to some of the main questions raised about human societies. The module invites students to explore significant aspects of the origins and development of sociological inquiry within a historical context. They will be encouraged to read specifically selected pieces about key concepts and approaches to the study of social action in our societies.
Year 2
Semester 1
Exploring British attitudes: quantitative methods in social research
In the first half of this module students are introduced to basic issues in research design and methodology. Topics covered include experimental design and random assignment, formulating research questions sampling and measurement. In the second half of the module they learn the basics of statistical analysis and how to use SPSS. Throughout the module students will be introduced to empirical examples from the British Social Attitudes survey and other nationally representative material.
Gender, sexualities and society
This module focuses on sociological understandings of the related concepts, gender and sexuality. It offers comprehensive theoretical overviews of gender and sexuality. It challenges the binary distinction of gender construction by exploring alternatives such as transgender and gender fluidity. The module explores the intersections of gender and sexuality with race, ethnicity, social class and geographic location and how they can reproduce inequalities. An in-depth approach to the study of gender and sexuality is provided by covering the following areas: masculinities, femininities, bodies and sexualities: homosexuality, heterosexuality, bisexuality and their historical, cultural, social and political dimensions.
Optional modules
Policing and society
The module will seek to create a critical understanding of historical, social and contemporary problems and debates in the development of modern policing, with specific reference to England and Wales. Within this framework a range of theoretical and practical topics will be addressed, including, legitimacy, accountability and representation, in relation to significant policies and programs. An analysis of police culture and ideology, in the context of human rights, democracy, and governance, will be undertaken as part of this. Also discussed will be the impact upon police strategies and practices of globalisation, consumerism, politicisation, and the New Public Management.
The making of modern society: the dark and the light
Modern societies see themselves as beacons of light and 'goodness'. But is there darkness, danger and harm built in to being modern? This is the fundamental question of this module. Along the way we will also ask: How did societies become modern? What does being modern mean? Have modern societies lived up to their own ideals of liberty, opportunity and respect for the individual?
Semester 2
Interpreting society: qualitative methods in social research
This module introduces students to the basics of qualitative research methodologies. Students learn about central philosophical questions in the philosophy of the social sciences and how they relate to the qualitative/quantitative distinction. Students are taught a range of qualitative data collection techniques ranging from interviews to archival research. They are also introduced to different qualitative analytic techniques. Finally they are made aware of the ethical issues that are specific to qualitative research. Students are taught through lectures and workshops where they apply the principles to specific research questions.
Making identities: citizenship, race and nation
This module aims to examine the processes that have shaped key facets of identity in contemporary societies: citizenship, race and nation. By examining their inter-relationship, key sociological debates will be used to understand social and political identities. The module explores important theoretical questions and analyses specific historical processes and contemporary situations. The module encourages students to think across the boundaries of race and nation, gender and sexuality, as well as locality or environment (including animal welfare) in order to understand the different interrelationships between these forms of identity formation and citizenship in the modern world.
Optional modules
London: crime and social exclusion
This module uses London as a case study for a discussion of the cultural, social, and spatial effects of crime and social exclusion. Using both historical and contemporary examples the course will discuss the following themes: poverty & crime, spatial stigma, race & policing, gender, sexuality & crime, security and urban design, the city at night, cultural representations of criminal London. Through these themes the course will explore how social difference and criminalisation interact to produce the city. Students will develop the capacity to relate debates surrounding crime and criminology to the spatial & social politics of urban space.
The environment, sustainability and climate change
This module addresses the social and political dimensions of ecology. It examines defining features of the concept of (environmental) sustainability, introducing various political perspectives. We will see how local and global environmental risks demand new forms of urban, national and international governmentality. The module will discuss how societies affect and are affected by changes in the natural environment. Finally, we will engage with how climate change impacts on our understanding of time, including how we imagine the end of the world. Throughout the module, we will research and look at the activities of organisations and movements involved in environmental sustainability.
Work placement
This module provides an opportunity for students to work in settings related to their studies and, more generally, gain meaningful workplace experience in which to apply their social scientific learning. It will also reinforce their studies through the application and integration of relevant workplace experience into the academic context. Voluntary and community sector organisations, charities and most political organisations are particularly suitable for work placements, although much can also be learned from placements in commercial settings. Students are required to consult with the module coordinator to identify an appropriate organisation in which to carry out their work placement.
Youth, crime and delinquency
This module provides an overview of the development of youth crime as a specific area of criminological inquiry and a distinct jurisdiction within the criminal justice system. The Module considers the development of 'delinquency' as a specific field of intervention and investigation. It gives particular attention to the evolution of youth justice policies and examines current literature in relation to the strengths and limitations of the contemporary youth justice system.
Year 3
Semester 1
Research project
This level six double module covers two semesters and consists of the research for and completion of an academic project with a 9000-word limit. Each student chooses a subject relevant to the study of Sociology or Criminology in which they wish to specialize, and then uses the skills and knowledge that they have accumulated and developed through modules studied at previous levels to undertake and complete the project. During the whole process, from choice of subject to final submission, each student will have the support and guidance of a supervisor allocated for this purpose.
Sociology for the 21st century: from networks to artificial intelligence
The world is changing. Huge advances in areas such as information technology, computing, communications, mobile devices, transport, and building techniques are changing the way we interact, do business, work, organise cities, and go about our daily lives. How do the theories that have dominated sociological thinking relate to and comprehend these changes? Do we need new theories? This module will look at the latest sociological theories that are trying to understand what these changes are, how they affect society, and how sociology itself might have to change.
Race, culture and identity
This module addresses the centrality of race and ethnicity (including whiteness) to social relations. It provides an analysis of race and ethnicity within a changing scholarship and within their historical, cultural, political and theoretical contexts. Theoretical understandings of the intersectionality of race, gender and sexuality will also be explored, highlighting their impact on all aspects of people's lives. The complexities of analysing race, gender and sexuality are applied to representations in cultural forms, such as media and film. The module also demonstrates how the concepts covered have been influential in shaping public policy.
Optional modules
Contextualising education globally
Deconstructing the education system enables learners to gain greater understanding of the complexities of how the education system works and how the parts of a system are related to one another and to society. This module builds on the year one module 'What is education?' by exploring policy, practice and curriculum across the globe. Through learning about education systems in other countries and making a comparison with their own, learners will be able to analyse educational issues systematically. This will give learners opportunities to accommodate new knowledge and principles which can then be applied across education systems.
Black history: concepts and debates
This module explores the concept of black history within British historiography, engaging in debates around its definition and representation. You'll critically examine concepts relating to the construction of race including theories of 'political blackness', the 'Black Atlantic', 'Pan-Africanism', 'multiculturalism' and 'decolonisation'. You'll explore the rich histories of black Britons in the eighteenth, nineteenth and twentieth century. Films, documentaries, music and art will be analysed. You'll visit libraries and archives including the Black Cultural Archive and Autograph ABP. Taught through lectures, workshops, group work, visits. Assessment: 1000-word provocation (30%) and Short Film and Narrative (70%) reflecting an aspect of black history.
Unfinished business: the fight for social justice
This module critiques the role of the state in promoting social justice and looks at the role of charities and civil society in holding government to account and working for social justice. It includes an examination of the key concepts in and development of contemporary welfare to provide historical context to contemporary social justice issues. Students will interrogate the role of the state in social justice through a series of historical and contemporary social policy debates and case studies such as in-work poverty, homelessness, 'problem families' and the 'hostile environment'.
Semester 2
Research project
Religion and society
This module will introduce students to core concepts and debates in the sociology of religion. Students will develop an understanding of classical theories of religion, the origins of religions, religious demographics, secularisation, new religious movements and religious extremism. The module will examine a range of historical and classic evidence drawn from across the world that will allow students to evaluate claims made by sociologists of religion. Students will also develop skills permitting them to collect their own data and to manage key secondary sources typically used in the sociological study of religion.
Optional modules
Crimes of the powerful: states, corporations and human rights
This module explores the phenomena of state crime, corporate crime and the involvement of powerful social forces in human rights abuses. It examines the problems involved in conceptualising state crimes and human rights and looks at contemporary crimes against humanity, including in the area of environmental rights. The module also explores the problems involved in regulating and controlling state crime and human rights atrocities in which states and state officials play a key role. The critical engagement with globalization provides a framework within which students explore significant contemporary debates and developments.
Politics and protest
This module will examine forms of social and political conflict characteristic of contemporary western societies. The main focus will be on understanding social movements and forms of political contention in the changing social structure of these societies. Although it has a contemporary western focus the course will situate discussion also in the context of historical and comparative material on social movements. The emphasis throughout however will be on examining the ability of social and political theory to understand the nature of political identity and its expression in social movements.
Employability
Career opportunities
A sociology degree gives you the freedom to choose any number of career paths, including, and media-related work, including journalism.
Our courses –prepare you for a range of careers in the media, education, local government, the civil service, research, public relations, advertising, management, marketing, teaching, social work, public administration, the voluntary sector and more. Enhance your employability by taking part in our employability events and choosing a work placement module in Year 2.
Our graduates have forged exciting careers in research, public relations, teaching, advertising, retail, management and the civil service. Others have continued their studies with Master programmes including but not limited to MSc Development Studies and MSc Refugee Studies.
Improving your employability
We'll enhance your employability through our thriving volunteering project, where students can work for the police service, the prison service, legal advice, victim support, domestic violence and child abuse agencies, as well as for youth offending and youth mentoring schemes.
Recent graduates from this course have become Research Assistants, School Teachers, School Student Mentors, Charity Workers and Marketing Assistants.
Career progression
If you graduate from this course, you'll be able to apply for further study at postgraduate level, including for a place on our full-time or part-time MSc Refugee Studies.
The academic strength of this course means that you can also consider entering the field of academic research.
Employability Service
We are University of the Year for Graduate Employment for the second year in a row - The Times and Sunday Times Good University Guide 2018, 2019.
At LSBU, we want to set you up for a successful career. During your studies – and for two years after you graduate – you'll have access to our Employability Service, which includes:
An online board where you can see a wide range of placements: part-time, full-time or voluntary. You can also drop in to see our Job Shop advisers, who are always available to help you take the next step in your search.
Our Careers Gym offering group workshops on CVs, interview techniques and finding work experience, as well as regular presentations from employers across a range of sectors.
Our Student Enterprise team can also help you start your own business and develop valuable entrepreneurial skills.
Professional links
Our academic staff actively network with external organisations to enable placement opportunities. We hold relationships with MP constituency offices and parliamentary offices, as well as various voluntary organisations. Relationships are being built with the likes of Lambeth Council and Race on the Agenda (ROTA).
Voluntary work placement scheme
Students can choose a Work Placement module as part of their second year. In the past, our students have volunteered with charities, local authorities to international corporations. Through these, students contribute to real world situations linked to their subject of interest. Placements ground a student's experience, provide confidence and bolster a CV immeasurably.
Our students have taken up work placements at:
Chance UK – a unique early intervention mentoring organisation who provide adult volunteer mentors to work with children aged 5-11 years at risk of developing anti-social behaviour in later life.
Kairos in Soho – a pan-London LGBT Community Development Organisation.
The Naz project London – a sexual health organisation that works to mobilise Black and Minority Ethnic (BME) communities in relation to HIV and other sexual health concerns.
Richmond Advice and Information on Disability (RAID)
Women's Royal Voluntary Service (WRVS)
Teaching and learning
Study hours
Year 1 class contact time is typically 9 hours per week. In addition, you'll be expected to devote time to independent study and attend personal tutorials.
Brief assessment outline
All modules are assessed by a combination of coursework, essays, exams, presentations, reports, case-studies, reviews and final year dissertation. About 75-90% of your assessment will be coursework depending on your year of study and option choices.
Research active academics and Open Research Groups
You'll be taught by research active academics whose work is internationally recognised and informs the course curriculum. Recent work includes work on identity, race and gender, and an investigation of the British Aristocracy that has had national media attention: https://inews.co.uk/news/long-reads/aristocrat-uk-britain-families-double-wealth-empire-exclusive-study-498179
You'll be encouraged to attend and participate in the research seminars and events organized by various different research groups including;
Race, gender and sexualities
Space, place and society
Crime and justice
Critical autism/disability studies
Sustainability: policy, practice and pedagogy
Law and access to justice
Education and social justice
Sociology staff are actively engaged in research and organise research events, conferences and seminars at LSBU and other universities throughout the year. There are several research groups regular research discussion, and occasionally larger events open to the public. Over the past two years we have welcomed Prof. Alex Vitale from New York as a visiting professor and held a public event with Prof. Alex Vitale and Gary Younge, editor-at-large for The Guardian newspaper.
Online learning resources
We also provide extensive virtual learning resources with access to core texts whenever you need it. You'll be assigned a personal tutor to help you settle in, and a wide range of support is available through LSBU's student services.
Personal Academic Tutoring
As an undergraduate Law and Social Science student, you will be allocated a named tutor during your first semester at LSBU. The role of your tutor is to be your primary contact for academic and professional development support.
Your tutor will support you to get the most of your time at LSBU, providing advice and signposting to other sources of support in the University. They should be the first person at the university that you speak to if you are having any difficulties that are affecting your work. These could be academic, financial, health-related or another type of problem.
You will have appointments with your personal academic tutor at least three times a year for 15 minutes throughout your course. You can contact your tutor for additional support by email or sign up for an appointment slots advertised outside your tutor's office.
Entry requirements
A Level BCC or:
BTEC National Diploma MMM or:
Access to HE qualifications with 9 Distinctions and 36 Merits or:
Equivalent Level 3 qualifications worth 106 UCAS points
Applicants must hold 5 GCSEs A-C including Maths and English, or equivalent (reformed GCSEs grade 4 or above).
We welcome qualifications from around the world. English language qualifications for international students: IELTS score of 6.0 or Cambridge Proficiency or Advanced Grade C.
Advanced entry
If you have already completed some studies at another university, we may be able to consider you for advanced entry. Please see our advanced entry page for more information.
How to apply
International students
International (non Home/EU) applicants should follow our international how to apply guide.
Home/EU applicants
Mode
Duration
Start date
Application code
Application method

Mode

Full-time

Duration

3 years

Start date

September

Application code

L300

Application method
Accommodation
Once we have made you an offer, you can apply for accommodation. You can rent from LSBU and you'll deal directly with the university, not third party providers. That means we can guarantee you options to suit all budgets, with clear tenancy agreements and all-inclusive rents that include insurance for your personal belongings, internet access in each bedroom and on-site laundry facilities.
Or, if you'd rather rent privately, we can give you a list of landlords – just ask our Accommodation Service.
Read more about applying for accommodation at LSBU.
Finance
You don't need to wait for a confirmed place on a course to start applying for student finance. Read how to pay your fees as an undergraduate student.
Prepare to start
Applicant events
After you've received your offer we'll send you emails about events we run to help you prepare for your course.
Welcome Week
Before you start your course we'll send you information on what you'll need to do before you arrive and during your first few days on campus. You can read about the process on our Welcome Week pages.
Suggested reading list
It is valuable to do some preparatory reading for the course, we suggest:
Macionis, J. and K. Plummer (2011) (5th edition)Sociology: a global introduction, Harlow: Prentice Hall.
Fulcher, J. and J. Scott (2007) Sociology, Oxford: Oxford University Press.
Giddens, A. (2009) (6th edition) Sociology, Cambridge: Polity Press
Fees and funding
Fees are shown for new entrants to courses, for each individual year of a course, together with the total fee for all the years of a course. Continuing LSBU students should refer to the Finance section of our student portal, MyLSBU. Queries regarding fees should be directed to the Fees and Bursaries Team on: +44 (0)20 7815 6181.
UK/EU fee:

£9250

International fee:

£14470

AOS/LSBU code:

4092

Session code:

1FS00
Total course fee:
UK/EU
£27750
International
£43410
For more information, including how and when to pay, see our fees and funding section for undergraduate students.
Please check your fee status and whether you are considered a Home, EU or International student for fee-paying purposes and for our regulatory returns, by reading the UKCISA regulations.
See our Tuition Fees Regulations (PDF File 160 KB) and Refund Policy (PDF File 102 KB).
Possible fee changes
The University reserves the right to increase its fees in line with changes to legislation, regulation and any government guidance or decisions.
The fees for international students are reviewed annually and the University reserves the right to increase the tuition fees in line with the RPIX measure of inflation up to 4 per cent.
Scholarships
We offer several types of fee reduction through our scholarships and bursaries. Find the full list and other useful information on our scholarships page.
Contact information
Course Enquiries - UK
Tel: 020 7815 7815
Due to COVID-19, call waiting times may be longer than usual. Any questions? Use the green bubble on the bottom right hand corner to start a live chat with us
Get in touch
KIS Data