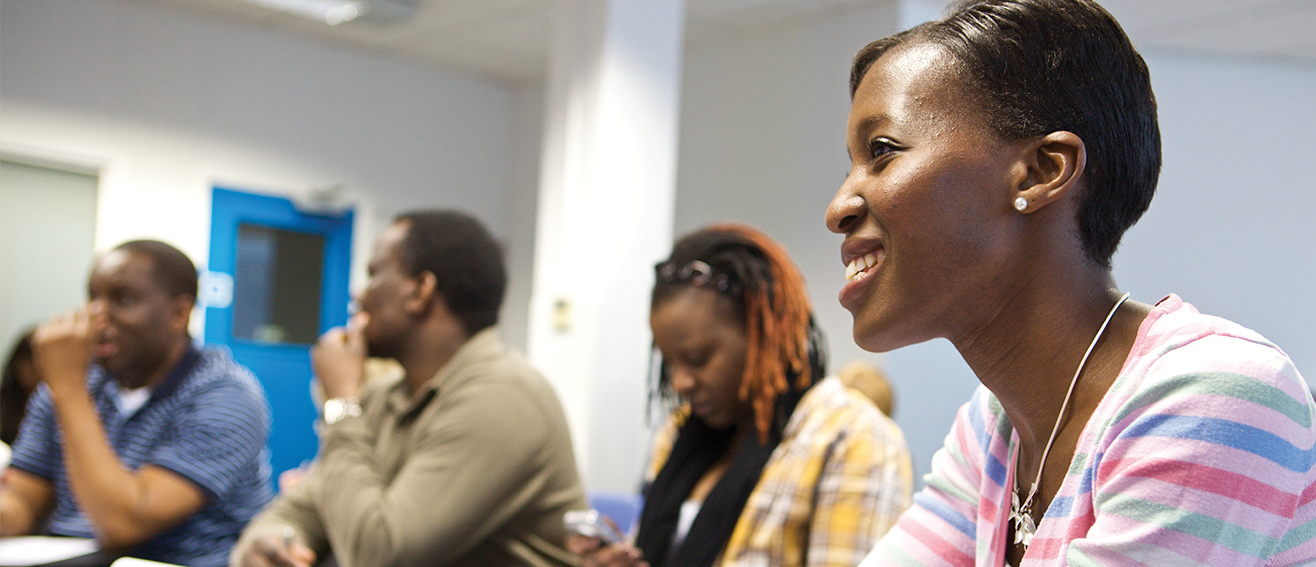 BA (Hons) Social Work
Southwark Campus
Mode: Full-time
Overview
Building relationships
Social work is a broad ranging career, providing assistance and support to a variety of people in society. It involves working with those on the margins of society and across the spectrum in terms of age, gender, ethnicity and, to some extent, class. Social workers are found in a variety of settings from hospitals, local authorities and voluntary organisations.
In the BA programme, there is a strong emphasis on critical reflection and problem solving with the full involvement of service users and practitioners from a variety of backgrounds and traditions. The programme prepares students for the realities of social work practice, which can be both challenging and demanding, as well as stimulating and exciting.
This course combines formal university teaching and practical experience gained from both two placements in social care settings together and 30 skills days in the university. The programme is both academic and vocational and meets the requirements of Social Word England. Success in this course can lead to registration with Social Work England as a social worker.
We offer the opportunity for all undergraduate Home/EU students to undertake a work placement, internship or work experience while studying a full-time course starting in September 2021.
Why Social Work at LSBU?
The course is approved by Social Work England.

Ranked 1st amongst London competitors for Overall Score in Social Work (Complete University Guide 2021).

We're industry relevant - and aim to produce reflective social work practitioners who are ready to practice in the rapidly changing and developing world of social work.

Ranked 1st for overall score in London (Guardian League Table 2020).

Work experience: You will complete two placements, at suitable settings from a variety of social work sectors.

Strong alumni network: Become part of an 80,000-strong LSBU alumni network.

1st in London for learning opportunities (National Student Survey 2019).
Accreditations
Key course information - ordered by mode
Mode
Duration
Start date
Location

Mode

Full-time

Duration

3 years

Start Date

September

Location

Southwark Campus
Modules
Our Social Work programme is inter-professional, collaborative and participatory. We aim to produce reflective social work practitioners who are ready to practice in the rapidly changing and developing world of social work. The course covers communication skills, human growth and development, sociology, ethics, welfare, policy and law, advocacy and partnership, professional practice.
Some compulsory skills sessions may take place in the evening.
Year 1
Methods and theories for social work practice
This first year module introduces key theoretical approaches used in social work to inform practice. A blended learning approach will allow you to develop skills in IT and information literacy.
Readiness for direct practice
This module develops practice skills and awareness of the social work role and responsibilities. It will ensure you are ready for the initial period of direct practice and provide you with a foundation for skills development throughout the programme. Service users, carers and practitioners will be involved in the development, delivery and assessments of the module.
Human growth and development
This module explores a range of human growth and development theories across the lifespan. It facilitates understanding of ordinary development and the impact of life events, disability, abuse, mental health problems, and drug/alcohol misuse on development throughout life. You will be assessed on your knowledge of psychological and sociological theories across the life course from infancy to later life. This will include key concepts, e.g. critical periods, transition; change and continuity; strengths, resources and resilience; adversity, vulnerability, risk and accumulation of risk (College of Social Work curriculum guide, 2012).
Sociology for social work
This module seeks to introduce themes and perspectives which constitute sociological thinking. You will be offered the opportunity of linking these themes to aspects of social work practice. This module examines the purpose of social work in society its role and function it also considers the nature of social problems that social workers may encounter.
Value and ethics in social work
Focusing on the most complex and contested areas of social work practice, the module introduces and addresses conflicting values by providing you with distinct ethical frameworks to consider these in the context of modern social work practice.
Concepts of interprofessional and collaborative practice
This module introduces students to the place and value of interprofessional and collaborative working in health and social care delivery. The module aims to support the development of the necessary communication, personal, partnership working and reflective practice skills required to meet the needs of clients/carers and diverse populations who are at the centre of interprofessional health and social care delivery. Students will work collaboratively on-line to explore and develop understanding of the purpose, scope and range of interprofessional and collaborative working.
Year 2
Social policy for social work
This module brings together selected key areas of social policy relevant to social work. There will be a strong emphasis on the use of social policy to illuminate the challenges facing social work in contemporary British society. Using a critical analysis of the impact of neo-liberalism and globalisation the module will be a focus on the dimensions of decision making and practice delivery of policy.
Law for social work
The module introduces students to the key legislative and regulative framework within which social work practice is conducted in England. Students will be familiarised with the basic principles of English law and the systems through which the legal process operates. They will be enabled to develop a sound understanding of the key legislation relevant to professional practice.
Communication and collaborative working
This module explores the values, knowledge and skills required for effective communication, intervention and collaborative working and provides a theoretical context for further skills development in the second year via practice placement and skills days. It builds upon Readiness for Direct Practice in year one. The module enables students to engage with the values and concepts of collaborative working with service users, carers and other professionals and agencies.
Appraising evidence for research informed practice
This module extends students' understanding of the concept of evidence based practice and research in practice. The module equips students with the core skills and understanding to appraise evidence and assess its appropriateness to be implemented into practice.
Practice learning opportunity 1
70 days practice learning in practice placement.
Year 3
Social work with children, young people and families
This module and the module Social Work with Adults are designed to complement one another and enable students to gain a holistic understanding of contemporary social work practice as well as develop their expertise and identity as social workers in working with a range of service users and their families within and across organisational and professional boundaries. The module aims to develop students understanding of and ability to work with the complex issues experienced by children, young people and families using social work services. It will have a particular focus on report writing as a core social work skill.
Social work with adults
This module and the module Social Work with Children are designed to complement one another and enable students to gain an holistic understanding of contemporary social work practice as well as develop their expertise and identity as social workers in working with a range of service users and their families within and across organisational and professional boundaries. The module aims to develop students understanding of and ability to work with the complex issues experienced by adults using social work services. It will have a particular focus on report writing as a core social work skill.
Risk, resilience and decision making in social work
Social workers must make difficult decisions in real life circumstances that often involve limited knowledge, uncertainty, conflicting values, time pressures and powerful emotions. These circumstances can pose a significant challenge to reasoning skills, especially when the cost of errors and poor judgment can be unacceptably high. This module aims to equip students with the intellectual tools and practical skills to understand and assess risk, to make high quality decisions and to remain resilient in challenging practice settings. It will integrate current research findings from the LSBU Risk, Resilience and Expert Decision making (RRED) research group.
Social work literature review
This final year module will enable students to develop a critical understanding and appreciation of research and its relationship to social work. The module provides skills to develop the capacity for autonomous learning and to provide an opportunity to develop applied research skills. Students will develop an understanding of research methodology and be able to evaluate research and disseminate research findings to their practice. Studying this will enable students to develop as research literate social work practitioners and be able to gain the skills and confidence to locate and critically appraise relevant research findings to underpin social work interventions.
Practice learning opportunity 2
100 days practice learning in practice placement.
Employability
If you're interested in social work as a career, you would normally specialise in a certain group of society, such as children. Much of the work is around helping decide the level of support or protection required, responding to requests for help and working with other agencies and professionals for the best outcomes. Most opportunities are with local authorities. However, there are also opportunities available at private care homes, charities and NHS Trusts.
Students who have graduated from this course recently have gone on to work in a variety of settings, including local authority children and adult services departments, as well as in the voluntary sector.
You'll need a patient, non-judgemental mind-set, and be able to communicate effectively with a host of different people and gain their trust. The work demands a level of resilience and a genuine desire to help people, as some cases may be disturbing, and some people won't want your help. As a graduate from this course you'll also be able to apply for further study at postgraduate level. You can find out more about our professional development portfolio through our online CPPD prospectus.
Employability Service
We are University of the Year for Graduate Employment for the second year in a row - The Times and Sunday Times Good University Guide 2018, 2019.
At LSBU, we want to set you up for a successful career. During your studies – and for two years after you graduate – you'll have access to our Employability Service, which includes:
An online board where you can see a wide range of placements: part-time, full-time or voluntary. You can also drop in to see our Job Shop advisers, who are always available to help you take the next step in your search.
Our Careers Gym offering group workshops on CVs, interview techniques and finding work experience, as well as regular presentations from employers across a range of sectors.
Our Student Enterprise team can also help you start your own business and develop valuable entrepreneurial skills.
Professional links
We work in partnership with several London boroughs, other organisations in both the public and private sector, along with many service users and carers. This is both an academic and a professional qualification.
The course is approved by Social Work England.
---
​Social Work England is a specialist body taking a new approach to regulating social workers in their vital roles.​ ​
---
Placements
We work in partnership with several London boroughs, other organisations in both the public and private sector, along with many service users and carers. This is both an academic and a professional qualification. The course is approved by the Health and Care Professions Council (HCPC), a statutory regulator of 308,000 health and care professionals from 16 professions in the United Kingdom.
When it comes to placements, you'll spend some of your time involved in academic study and the rest in practice within a broad variety of primary and social care settings. A practice placement allows you to put theory into practice by working with a range of primary and social care professionals to develop the skills, knowledge and experience required to become a competent social work practitioner. Although sometimes initially challenging, practice learning is one of the most interesting and exciting aspects of learning to be a social worker. You'll complete two placements throughout the course: the first placement is 70 days and the second is 100 days.
At LSBU we work closely with a number of primary and social care organisations to provide a wide range of suitable placements. These placements take place across a variety of settings from all sectors including local authorities, private, voluntary and independent sectors. The providers offer placements across the required service user communities; children and families, adults, learning disabilities and mental health.
Examples of placements include:
· Traditional local authority services
· Hestia Supported housing services including mental health and domestic violence
· St Mungos
· Victim Support
· Schools
· Mind
· Age UK
· Carers organisations
· Prison placements through PACT and Spurgeons
70 day placement
During the first practice placement, you will be expected to practice as trainee professionals being responsible of cases under close supervision and undertaking social work interventions in less complex situations and operating as a member of the inter-professional team. You will demonstrate knowledge, skills and commitment to core values of social work as well as capacity to work with people and situations where decisions are not always clear-cut. You will be encouraged to develop oral and written communication skills, negotiating skills, IT skills and presentation skills. You are actively encouraged to use this opportunity to test out your new knowledge base and to try different social work methods and approaches.
The 70 day placement will usually be within the private, voluntary and independent sectors or occasionally within a local authority setting. You will be placed with a Practice Educator who will be responsible for you whilst on placement and will act as a mentor throughout your time on placement as well as offer guidance and feedback.
100 day placement
The final practice placement will prepare you for the statutory aspects of social work. You'll demonstrate engagement with formal assessment processes (observation, gathering information, analysis, reporting, use of evidence base, development of clear recommendations). These include considering risk and/or safeguarding for child protection, for mental health or with vulnerable adults. You'll have the opportunity to reflect on, discuss and analyse appropriate use of authority and formal agency recording for assessment/risk.
You will also apply and understand legal frameworks relevant for social work, practice and organisational policies and decisions, as well as their impact on service delivery. You will present outcomes for formal assessment processes, including analysis of risk/recommendations in line with organisational policy/procedure at e.g. panels/meetings/courts, as well as meet the demands of a high pressured environment where time and competing interests have to be managed effectively.
Find out more about social work placements by reading through our case studies.
Teaching and learning
We have a practice-based learning approach that's complemented by teaching and learning by our teaching staff, all of whom are registered Social Workers. The teaching includes lectures, seminars and e-learning, debates, group work, group discussion, research projects, problem-based learning, reports and presentations, videos and computer simulations and workshops.
The programme features a range of assessment methods, including essays, presentations, case studies and exams. As part of the course you'll also undertake: a five-hour child observation at the start of the course, and two placements in Years 2 and 3.
Percentage of time spent in different learning activities
| | Lectures and seminars | Self-directed study | Work-based placements |
| --- | --- | --- | --- |
| Year 1 | 28% | 72% | 0% |
| Year 2 | 18% | 52% | 30% |
| Year 3 | 8% | 54% | 38% |
Entry requirements
A Level BBB or;
BTEC National Diploma DDM or;
Access to HE Diploma in Nursing or similar with 24 Distinctions and 21 Merits or;
Equivalent level 3 qualifications worth 122 UCAS points
Applicants must hold 5 GCSEs A-C including Maths and English or equivalent (reformed GCSEs grade 4 or above).
All offers are conditional and subject to satisfactory completion of a Disclosure Barring Service (DBS) check and references. You will be expected to have gained some direct experience of working in social care, either in a paid capacity or as a volunteer.
We welcome qualifications from around the world. Those whom English is not their first language must achieve a minimum score of 7.0 overall or equivalent with not less than 7.0 in the listening and reading sections and not less than 7.0 in the writing and speaking sections for the International English Language Test Score (IELTS) at the time of application.
Foundation Year
Been out of study for a long time? Or maybe you haven't met the entry requirements of your chosen degree? Our entry year acts as a bridge to degree-level studies.
Advanced entry
If you have already completed some studies at another university, we may be able to consider you for advanced entry. Please see our advanced entry page for more information.
How to apply
2020 entry
Home/EU applicants
Mode
Duration
Start date
Application code
Application method

Mode

Full-time

Duration

3 years

Start date

September

Application code

L500

Application method
This course is not open to international students.
Accommodation
Once we have made you an offer, you can apply for accommodation. You can rent from LSBU and you'll deal directly with the university, not third party providers. That means we can guarantee you options to suit all budgets, with clear tenancy agreements and all-inclusive rents that include insurance for your personal belongings, internet access in each bedroom and on-site laundry facilities.
Or, if you'd rather rent privately, we can give you a list of landlords – just ask our Accommodation Service.
Read more about applying for accommodation at LSBU.
Finance
You don't need to wait for a confirmed place on a course to start applying for student finance. Read how to pay your fees as an undergraduate student.
Personal Statements
Remember the personal statement on your application is extremely important. This is essentially a selling tool on why you are right for the course. The personal statement is taken into consideration when shortlisting applicants for interview. Download our personal statements guidance (PDF File 91 KB) to help you write your personal statement.
Interviews
If you have been successful in your application, you will be invited to an interview where we will discuss your ambitions to work in social care.
There is no parking available at the University, please use public transport to make your journey to the campus.
Prepare to start
Disclosure Barring Service (DBS)
All pre-registration students need to be DBS cleared before going on placement. You'll need to have an enhanced DBS check even if you have had one before and will not be able to go on placement until this is complete.
The DBS process is not difficult but can take some time so it's best to get started as soon as you receive your email. You will receive the email during Summer 2021.
DBS update service
If you're part of the DBS update service, your subscription is up to date and you already have a DBS certificate, please bring in your original green DBS certificate for the document check. To take advantage of the update service, your certificate needs to be classified as 'Enhanced' and workforce must be listed as 'Adult and Child'. If you have any queries, please email us at hscdbsoh@lsbu.ac.uk.
How to complete your DBS
Our DBS supplier, Verifile, will send you an email with all the details you need to complete your DBS.
Verifile will give you instructions to log into their system and complete your personal details and information. To complete the process, you'll need your passport or driving licence and 5-year address history including dates when you moved in/out.
You can use your application number to track the progress of your DBS.
When you've finished, your Disclosure Statement will be mailed to the most recent address in your submission, so please make sure it's correct. We don't automatically receive a copy of this Statement, which is why we need you to bring it in as part of the next step.
Frequently asked questions
My Social Work friends said they need to pay. Do I need to pay?
Only Social Work applicants need to pay for their DBS. It costs £46 and can be purchased on our online store.
What do I need to declare on my DBS?
Please include any and all major and minor, spent and unspent convictions, cautions, warning and reprimands, even if they relate to juvenile offences or seem trivial or unimportant. Some minor offences will not prevent you from going on placement or being offered a place on your course, but still need to be reviewed so it's best to be honest and include everything. Also, the more information you include about any offences can help reduce the time it takes to assess them.
I've applied for/had a DBS in past. Do I need to do it again?
Yes, you do. You need to have an up-to-date DBS. Once you have received the email from our DBS supplier make sure you start the process straight away. All details of how to do this will be outlined in the email. If you don't complete your DBS in the timeframe given, we may withdraw your offer even if term has already started. So it's important that you get started as soon as you receive the email.
Why do I need an enhanced DBS check?
Government legislation requires all Higher Education Institutions who offer courses where students may come into unsupervised contact with children or vulnerable adults to have this check. These checks also help us to ensure duty of care to our students, and create a safer environment for patients seen by our students.
Who reviews my DBS?
As part of the University's admissions process, declarations of any offence may be referred to a virtual panel made up of senior managers from partner NHS Trusts and/or other sectors within Health and Social Care. Any DBS that is considered by the panel will be anonymised. The panel members then deliberate and make a recommendation whether the application be rejected, accepted or request further information or documents.
When will I hear back from the panel about my DBS?
If you have declared an offence, we might ask for more information from you in writing which will help the panel make a decision. Once your declaration has been referred to the panel it can take up to 28 working days to be processed.
Which address do I use?
You need to put your current address on your DBS application because this is where your Statement will be mailed. If you've moved house between submitting and receiving your DBS, make sure you have mail forwarding set up so that you'll receive your statement. If you've moved recently, make sure you have proof of your new address (such as a new bank statement) to bring for your document checks.
I've lost my statement. What do I do?
If you've lost your statement you will need to pay £46 to purchase a new one.
I've had my application rejected due to my DBS declaration/disclosure. Can I appeal the decision?
Yes. If your application has been rejected due to your DSB declaration/discloser, you will be sent a letter to confirm this. There will be instructions in the letter about how you can appeal and which supporting information you need to provide. Once a decision has been made you will receive a letter from the School Executive Team.
Document check
Once you have completed the online part of the DBS process, you will need to produce three accepted documents from this list to be verified.
Providing documents whilst campus is closed due to COVID-19
LSBU help desks are currently closed due to the COVID-19 pandemic. We are temporarily accepting ID documents and DBS certificates for Update Service checks by email. Documents should be clear and legible; DBS certificates should include all pages. Please send your documents to hscdbsoh@lsbu.ac.uk.
Document check on campus
Southwark: Southwark Student Help Desk in the K2 building Monday – Friday between 9am-11am or 1pm-4pm
Havering: come to reception at Havering Monday – Friday between 8:30-10:30am, 12-2pm, 4-5pm
Document check at the Post Office
If you're not able to come to campus, you can get your documents checked and certified at the Post Office for a fee of £10.50. To do this, make photocopies of your three accepted ID documents and take your DBS form, copies and originals of your documents to the Post Office. The Post Office will stamp the form and photocopies and given them back to you. Email your post office receipt, stamped form and stamped documents to hscdbsoh@lsbu.ac.uk.
Enrolment and Welcome Week
Before you start your course we'll send you information on what you'll need to do before you arrive and during your first few days on campus. You can read about the process on our new students pages.
Holidays
Your holiday periods will not follow the normal University timetable because of placements. You'll receive more details once you start your course.
Practice placements
Most health and social care courses' practice placements will operate outside normal working hours e.g. evenings, nights, weekends and bank holidays.
Fees and funding
Fees are shown for new entrants to courses, for each individual year of a course, together with the total fee for all the years of a course. Continuing LSBU students should refer to the Finance section of our student portal, MyLSBU. Queries regarding fees should be directed to the Fees and Bursaries Team on: +44 (0)20 7815 6181.
UK/EU fee:

£9250

International fee:

£0

AOS/LSBU code:

4355

Session code:

1FS00
Total course fee:
UK/EU
£27750
International
£0
The international fee for this course shows as "£0" because this course is not open to international students.
For more information, including how and when to pay, see our fees and funding section for undergraduate students.
Please check your fee status and whether you are considered a Home, EU or International student for fee-paying purposes and for our regulatory returns, by reading the UKCISA regulations.
See our Tuition Fees Regulations (PDF File 160 KB) and Refund Policy (PDF File 102 KB).
Possible fee changes
The University reserves the right to increase its fees in line with changes to legislation, regulation and any government guidance or decisions.
The fees for international students are reviewed annually and the University reserves the right to increase the tuition fees in line with the RPIX measure of inflation up to 4 per cent.
Scholarships
We offer several types of fee reduction through our scholarships and bursaries. Find the full list and other useful information on our scholarships page.
Social Work Bursary Scheme
If you are applying to a Social Work course you may be eligible to receive a non-income assessed basic bursary awarded by the NHS Business Services Authority .This is dependent on where you study and whether you study full-time or part-time. The amount of the basic bursary for undergraduate students is dependent on whether you are subject to variable tuition fees.
In April 2013 the Department of Health announced new arrangements for the Social Work Bursary Scheme.
In summary the new arrangements are:
There will be a cap of numbers of bursaries at undergraduate level, which means there is no guarantee of a bursary for those applying for a Social Work course at university
The undergraduate bursary will be retained in years two and three. This means no new undergraduates in 2013 will receive a bursary in their first year of study. The bursary in years two and three will include the basic bursary and indicative travel expenses for placements. LSBU will make decisions on who is awarded the bursaries at the end of year one
Undergraduate students can apply for tuition fee loans and maintenance loans from Student Finance England (subject to eligibility criteria) to help cover the costs of the course during their studies
Practice placements travel expenses will continue to be paid to those who do not receive a bursary but would have under the previous scheme
For further information on the Social Work Bursary Scheme and Bursary changes to Social Work courses please refer to the NHS Business Services Authority website.
Contact information
Course Enquiries - UK
Tel: 020 7815 7815
Due to COVID-19, call waiting times may be longer than usual. Any questions? Use the green bubble on the bottom right hand corner to start a live chat with us
Get in touch
KIS Data