Overview
A deeper understanding
An exceptionally versatile degree, we'll provide you with a rich understanding of human behaviour and the processes that underlie learning, memory, social interactions, feelings, thinking and communication.
We're amongst the first in the UK to teach the core curriculum in an integrated manner, where a concept is explored from multiple perspectives in the same module.
This course is accredited by the British Psychological Society (BPS) and satisfies the requirements for the Graduate Basis of Chartership in just one year; a vital step in your journey towards becoming a professional psychologist. Previous study of psychology is not required.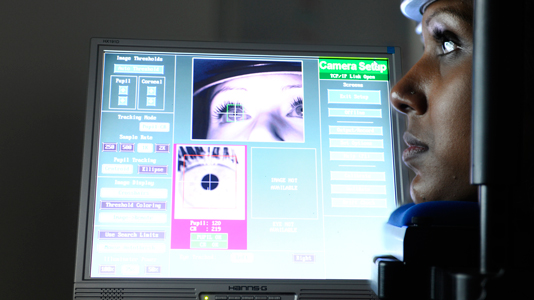 Why Psychology at LSBU?
Industry relevance – the course structure stems from best practice recommendations made by The British Psychological Society.

Professional accreditation – the course is accredited by The British Psychological Society.

Dedicated facilities – our lab complex includes an eye-tracking facility and observation room.

Previous study of psychology is not required.
Accreditations
Key course information - ordered by mode
Mode
Duration
Start date
Location

Mode

Full-time

Duration

1 year

Start Date

September

Location

Southwark Campus

Mode

Part-time

Duration

2 years

Start Date

September

Location

Southwark Campus
Modules
Modules cover an array of topics, including emotion and human behaviour, social behaviour and perception, attention and memory. We use a range of assessment methods within modules, including essays, research reports, case studies, posters and presentations.
Emotion and human behaviour
This module provides the opportunity to explore the interdependence between feelings and human behaviour. It is organised into different themes (e.g. relationships, mood and sensations). Introductory sessions will be used to provide a knowledge base upon which the rest of the module will build. Then, within each theme a range of topics will be explored, drawing on theory and research from different prospectives (e.g. biological, developmental, evolutionary, cross-cultural, cognitive, differential, and atypical psychology).
Perception, attention and memory
This module explores three themes, considering them in their own right and also in the light of their development from infancy through to adulthood. Firstly, how we gather and process information from the world around us, covering perception and attention processes. Secondly, how we use this information to act in the world, highlighting the ways in which we learn from the information that we have gathered from our environment. Thirdly, how we remember what we have experienced, covering the cognitive and biological machinery underlying short-term and long-term memory structures and how our socio-cultural milieu influences these processes.
The module will be taught with both undergraduate and postgraduate level content, supporting your developing knowledge base to critically and creatively deal with the complex issues involved.
Social behaviour
This module provides the opportunity to explore a number of the major concepts, theories and methods encountered in understanding how and why we behave in the ways we do when in the presence of other humans. The focus of this module is to understand how our social behaviours may change according to the real, imagined or implied presence of other individuals. The module focuses on a variety of approaches to examine a number of questions. For example: a) whether we are social beings and why, b) what the 'social' brain looks like, c) how social behaviours develop across the lifespan, d) which mechanisms have been used to explain how we interact with the implied, real or imagined presence of others, e) how culture affects our social interactions, and f) how group membership affects our social behaviours.
Thinking, intelligence and communication
This module provides the opportunity to explore a number of the major concepts, theories and methods encountered in understanding how we communicate with others, solve problems and make decisions. This module will help you understand the development of human communication, both cognitive and social. You'll learn what different psychologists think intelligence is, how it develops, and how it can be measured. You'll explore internal and external influences on the development of reasoning and decision making, and whether innate mechanisms underlie these capacities or whether they develop over time.
Psychological Research Methods 1+2
We keep the mathematics to a minimum as we introduce you to a range of quantitative and qualitative research methods used by psychologists. You'll consider the ethical principles and issues that surround psychological research and the historical and theoretical concepts that have shaped psychology as it is today.
Seminars and workshops will allow you to put your new skills into practice using the statistical software SPSS.
Masters Empirical Research Project
You'll have the opportunity to develop your own original piece of independent research under the supervision of an established member of staff. Some projects may end up being published in peer-reviewed academic journals.
Employability
This conversion course is the gateway to a career in clinical, counselling, forensic, health, educational, or occupational psychology.
We'll teach you excellent written, analytical and numerical skills to enable you to pursue a wide range of careers in areas such as counselling, teaching, the probation and court services, market research, human resources and business.
Careers support
Our department provides careers support and advice for the time our students study with us and beyond. We organise various careers activities such as talks and seminars, and have arranged work placements in collaboration with many organisations. For example:
NHS clinics and hospital units (psychosexual, forensic and clinical psychology units)
brain damage units
addiction rehabilitation units
charitable organisations working with stroke patients
children with disabilities
young offenders
We also regularly hold a careers fair for all our students and work closely with London South Bank University alumni who have gone on to successful careers in Psychology.
Career progression
Recent graduates have gone onto roles such as Assistant Psychologist (Clinical), Research Assistant, Social Worker, Mental Health Support Worker, and Mental Health Nurse.
If you graduate from this course, you'll be able to apply for further study at postgraduate level. You can also enter the field of academic research (e.g. a recent student has just started studying for a PhD).
If you gain significant professional practice experience you would be able to consider a practitioner MSc course such as our part-time MSc Addiction Psychology and Counselling.
Employability Service
We are University of the Year for Graduate Employment for the second year in a row - The Times and Sunday Times Good University Guide 2018, 2019.
At LSBU, we want to set you up for a successful career. During your studies – and for two years after you graduate – you'll have access to our Employability Service, which includes:
An online board where you can see a wide range of placements: part-time, full-time or voluntary. You can also drop in to see our Job Shop advisers, who are always available to help you take the next step in your search.
Our Careers Gym offering group workshops on CVs, interview techniques and finding work experience, as well as regular presentations from employers across a range of sectors.
Our Student Enterprise team can also help you start your own business and develop valuable entrepreneurial skills.
Professional links
This course is accredited by the British Psychological Society (BPS) and satisfies the requirements for the Graduate Basis of Chartership in just one year; a vital step in your journey towards becoming a professional psychologist.
---
Established for 110 years The British Psychological Society promotes excellence and ethical practice in the science, education and practical application of psychology.
Facilities
Teaching and learning
Class contact time is typically 12 hours per week plus individual tutorial and independent study.
Professional tutoring
As an Applied Sciences student, you will be allocated a named tutor during your first three weeks at LSBU. The role of your tutor is to be your primary contact for academic and professional development support.
Your tutor will support you to get the most of your time at LSBU, providing advice and signposting to other sources of support in the University.
Your tutor should be the first person at the university that you speak to if you are having any difficulties that are affecting your work. These could be academic, financial, health-related or another type of problem.
You will have appointments with your professional tutor a minimum of once per semester for 30 minutes throughout your course. This is often supplemented with additional meetings arranged via email as and when students need support. In addition to this Learning Support hours for all teaching staff will be advertised and available for you to book additional time for support related to a specific teaching session.
Entry requirements
The normal entry requirement is a recognised Honours degree with a minimum classification of 2:2.
Applicants should be able to demonstrate a strong interest in psychology as an academic discipline and provide a clear rational for why they want to take the course.
Fees and funding
Fees are shown for new entrants to courses, for each individual year of a course, together with the total fee for all the years of a course. Continuing LSBU students should refer to the Finance section of our student portal, MyLSBU. Queries regarding fees should be directed to the Fees and Bursaries Team on: +44 (0)20 7815 6181.
UK/EU fee:

£9135

International fee:

£13780

AOS/LSBU code:

4887

Session code:

1FS00
UK/EU fee:

£4060

International fee:

£6124.44

AOS/LSBU code:

4888

Session code:

1PS00
Total course fee:
UK/EU
£9135
International
£13780
For more information, including how and when to pay, see our fees and funding section for postgraduate students.
See our Tuition Fees Regulations (PDF File 177 KB) and Refund Policy (PDF File 102 KB).
Possible fee changes
The University reserves the right to increase its fees in line with changes to legislation, regulation and any government guidance or decisions.
The fees for international students are reviewed annually and the University reserves the right to increase the tuition fees in line with the RPIX measure of inflation up to 4 per cent.
Postgraduate loan (PGL) for Masters study
If you are starting a Masters course, studying either full- or part-time, you may be entitled to apply for a postgraduate study loan. Find out more at our postgraduate fees and funding section.
Scholarships
We offer several types of fee reduction through our scholarships and bursaries. Find the full list and other useful information on funding your studies on the scholarships and fee discounts page.
Fee status
Please check your fee status and whether you are considered a Home, EU or International student for fee-paying purposes and for our regulatory returns, by reading the UKCISA regulations.
Stories
Select a story and read about practical project work, students' placement experiences, research projects, alumni career achievements and what it's really like to study here from the student perspective.
Prepare to start
We help our students prepare for university even before the semester starts. To find out when you should apply for your LSBU accommodation or student finance read the How to apply tab for this course.
Welcome Week
Before you start your course we'll send you information on what you'll need to do before you arrive and during your first few days on campus. You can read about the process on our Welcome Week pages.
Top of page