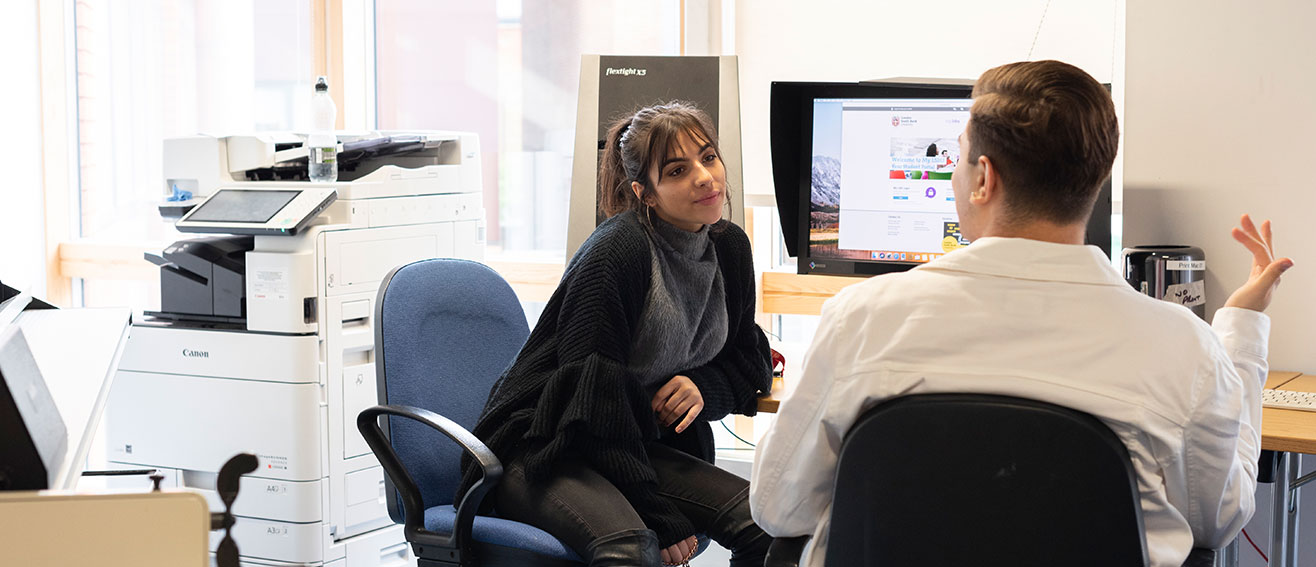 BSc (Hons) Psychological Counselling
Southwark Campus
Mode: Full-time; Part-time
Psychological Counselling - BSc (Hons)
Overview
Let's talk
Want to become a counsellor? This course is the only one in the country to combine accreditation by the British Psychological Society with modules recognised by the Counselling and Psychotherapy Central Awarding Body (CPCAB).
We'll cover ethics and theoretical approaches as well as applied modules to provide you with the skills to make a difference in people's lives. Learning by doing increases self-awareness – that's why learning through role play and group work is so effective.
We offer the opportunity for all undergraduate Home/EU students to undertake a work placement, internship or work experience while studying a full-time course starting in September 2021.
Why study Psychological Counselling at LSBU?
Pioneering: LSBU are one of the first universities in the UK to deliver courses that integrate core areas of psychological knowledge.

Our staff are experts, with a great deal to share.

Professional accredited by the British Psychological Society and recognised Counselling and Psychotherapy Central Awarding Body.

Access our psychology lab complex – home to an eye-tracking facility, observation room and unique Pub Lab, which featured in BBC 1 documentary 'The Truth About Alcohol'.

Top 15 in the UK and 1st in London for Graduate Prospects in Psychology (Complete University Guide 2021)
We also offer a variety of specialist psychology degrees:
Accreditations
Key course information - ordered by mode
Mode
Duration
Start date
Location

Mode

Full-time

Duration

3 years

Start Date

September

Location

Mode

Part-time

Duration

4.5 years, 6 years

Start Date

September

Location
Modules
You can expect to learn through both traditional methods and experiential learning, i.e. learning through action, which will enhance your self-awareness. How we feel, behave, think, learn, communicate and remember – we'll cover all aspects of being human. As well as dedicated modules to develop your counselling skills and psychological research methods. If you want to make a difference to people's lives through counselling, this course gives you an excellent foundation.
Year 1
Semester 1:
Counselling skills 1
This module focuses on the development of specific communication skills; listening, questioning and reflective feedback. From this the focus moves onto using the skills ethically and safely whilst establishing boundaries, identifying the client's needs and developing one's own self-awareness.
Psychological research methods 1
This module provides an introduction to the study of Psychology as a science. It does this via the study of some of the key conceptual, methodological, and statistical issues that psychologists face when studying human behaviour. As well as issues surrounding experimental design and ethical principles in psychological research, the module also gives an introduction to the ways in which descriptive and inferential statistics can be used to analyse and make sense of experimental data.
Introducing psychological approaches
This module introduces the study of psychology, first by discussing its conceptual underpinnings and historical development, then topics related to living in the world as biological, learning and feeling beings. Block 1 focuses on the philosophical foundations of Psychology, its status as a science and current identity, while Block 2 deals with evolutionary theory and the relationship of the brain to behaviour. Block 3 considers learning and Block 4 emotions from biological, psychological and social perspectives. The module provides the knowledge-base necessary for advanced study at level 5 and also the development of skills relating to factual learning, i.e. accessing, organising, assimilating and revising information.
Semester 2:
Counselling skills 2
This module continues to develop the skills learnt in Counselling skills 1; with a greater focus on more advanced questioning skills, the use of silence, increased self-awareness, managing endings, and giving constructive feedback to peers.
Psychological research methods 2
This module builds and expands upon the descriptive and simple inferential statistical methods introduced in Psychological research methods 1. Lectures and seminars consider more advanced principles of research design, qualitative data analysis, and statistical analysis using SPSS.
Exploring psychological approaches
This module introduces topics related to living in the world as a developing, thinking, social and individual being. Topics will include memory, perception, attention, cognitive development, interpersonal behaviour, group behaviour, intelligence, personality and aspects of atypical behaviour. Study in each of these will provide a framework for advanced study at level 5. In addition to knowledge, the module will provide the opportunity to develop skills relating to accessing, assimilating and communicating information as well as to being introduced to a variety of assessment techniques that will be encountered on the course.
Year 2
Semester 1:
Psychological research methods 3
This module begins with an introduction to conceptual and historical issues in research methods before moving on to the design and analysis of single factor experiments, simple and complex factorial designs and single case methods, both investigative and interventional. Lectures provide the conceptual framework required for an understanding of research methodology and their supporting statistical tests. Lectures are supported by seminars which help you learn design analysis, data analysis using SPSS, and the interpretation of the results of experiments taken from the psychology literature. The module also provides the opportunity to design, execute, analyse and report the results of two pieces of practical work.
Psychology of learning and memory
During this module you'll explore three themes, considering them in their own right and also in the light of their development from infancy through to adulthood. Firstly, how we gather and process information from the world around us, covering perception and attention processes. Secondly, how we use this information to act in the world, highlighting the ways in which we learn from the information that we have gathered from our environment. Thirdly, how we remember what we have experienced, covering the cognitive and biological machinery underlying short-term and long-term memory structures and how our socio-cultural milieu influences these processes.
Psychology of feelings
This module provides the opportunity to explore the interdependence between feelings and human behaviour. The module is organised into three distinct themes; relationships, mood and sensations. Two introductory sessions will be used to recap and consolidate earlier material and provide a knowledge base upon which the rest of the module will build. Then, within each theme a range of topics will be explored, drawing on theory and research from biological, developmental, evolutionary, cross-cultural, cognitive and atypical psychology. Individual differences will be a key perspective in this module.
Semester 2:
Psychological research methods 4
The first component of this module develops knowledge of thematic analysis, and allows you to carry out and report a study using this method. You'll also be introduced to multivariate research designs, and will conduct and report a piece of research using multiple regression. You'll then be allocated to a specialist research methods stream. This component will give you an opportunity to gain a more in depth understanding of a specific complex research methodology and its practical application. Finally, in consultation with your final year empirical project supervisor, you'll be required to produce a proposal which may form the basis of your empirical project.
The psychology of behaviour with others
This module provides the opportunity to explore a number of the major concepts, theories and methods encountered in understanding how and why we behave in the ways we do when in the presence of other humans. The focus of this module is to understand what psychologists have contributed to understanding our social behaviours according to the real, imagined or implied presence of other individuals. The module focuses on those approaches that have been used to examine a) whether we are social beings and why, b) what the 'social' brain looks like, c) how social behaviours develop across the lifespan, d) which mechanisms have been used to explain how we interact with the implied, real or imagined presence of others, e) how culture affects our social interactions, and f) how group membership affects our social behaviours.
The psychology of thinking and communication
This module provides the opportunity to explore a number of the major concepts, theories and methods encountered in understanding how we communicate with others, solve problems and make decisions. This module will help you to understand the development of human communication, both cognitive and social. You'll learn what different psychologists think intelligence is, how it develops, and how it can be measured. The module will explore the internal and external influences on the development of reasoning and decision making. The module will also explore whether innate mechanisms underlie these capacities or whether they develop over time.
Year 3
Semester 1:
Counselling studies 1
This module focuses on client assessment, developing the counselling/therapeutic relationship, applying a user-centred approach, agenda setting, and difference/diversity within the counselling relationship.
Plus one optional module from:
Development of brain and behaviour in infancy
This module focuses on infancy, a period of rapid development, and examines the emergence of perceptual, cognitive, and early social skills during the first year of life. Emerging behaviours will also be related to brain development to facilitate a more thorough investigation of what happens during development. Traditional and more recent methods used to assess both brain and behaviour in infants will also be considered. This module will offer you the opportunity to consider a dominant theoretical debate in developmental psychology, that of the relative contributions of nature and nurture to development. The first part of the module will focus on typical development, while the second part will look at instances where development is atypical, such as in the case of developmental disorders (e.g. autism and Down syndrome) or the case of extreme environments (e.g. visual and environmental deprivation). Assessment method: 100% coursework.
Psychology of addictive behaviours
This module will introduce you to theories of addictive behaviour. You'll address conceptual issues surrounding the utility of theories, and you'll discuss the empirical evidence for or against each theory. You'll have the opportunity to consider recent theories that attempt to synthesise extant models into a comprehensive account of addiction. You'll also have the opportunity to apply and critically evaluate several theories in regards to their ability to explain alcoholism, both during seminars and in your coursework assignment. Finally, you'll examine various treatment and preventative approaches, and the evidence for and against each. Assessment method: 100% coursework.
Psychopharmacology
This module focuses on the scientific study of how drugs affect brain function and how such research furthers our understanding of the biological mechanisms underlying behaviour. Topics covered in this module include recreational and abusive use of drugs, cognitive enhancing drugs, the cannabinoid system and the therapeutic potential of cannabis, and in-depth coverage of the drugs used to treat schizophrenia, anxiety and mood disorders. In the last three lectures, we'll look at the use of animals in drug development in clinical psychopharmacology and discuss future avenues of research to develop more acceptable medications for mental health problems. Assessment methods: 50% coursework, 50% exam.
Psychology of Inter and Intra group processes
This module will outline key issues in the study of inter-group and intra-group psychology and will explore social identity approaches. The module will then consider how groups interact with one another (inter-group processes) and also how group members function within the group (intra-group processes). The module combines theory with real social applications. Seminars will provide an opportunity to explore issues and research in more depth, and apply theory to real life situations. Assessment methods: 50% coursework, 50% exam.
Professional placement in psychology
This module will provide you with the opportunity to complete a work placement within an organisation whose work is relevant to the discipline of psychology. You'll be expected to complete a minimum of 24 hours in an approved placement, and will complete a written portfolio related to this experience. The assessment for this module will help you develop your reflective thinking skills, as well as your understanding of the utility of psychological research and theory in real world settings. Assessment method: 100% coursework.
Semester 2:
Counselling studies 2
This module focuses on the use of counselling theory to increase self-awareness, and to understand client difficulties and mental health. The understanding and use of supervision is an integral aspect of this module.
Plus one optional module from:
Thinking: past, present and future
Cognitive science is the scientific study of thought. This module will provide you with the opportunity to explore some of the key theoretical debates in contemporary cognitive science, adopting a multidisciplinary approach to understanding the nature of thought and challenging assumptions concerning what it is to be human. The module will address the nature of the human mind in the past, present, and future, frequently using comparative psychology to identify those abilities that make us uniquely human and which mark us out from non-human animals and synthetic organisms. Assessment methods: 40% coursework, 60% exam.
Applied psychometrics
This module will begin by explaining test construction and validation in detail. The module will then go on to consider a wide variety of psychometric tests available and their appropriateness for use in occupational, clinical and research psychology. Ethical and legal issues surrounding psychometric test use will also be covered. You'll gain practical experience of psychometric test use. Assessment method: 100% exam.
Neuropsychology
This module begins with an introduction to the history of neuropsychology and its methods designed to lay foundations for the following content. Of particular importance is the relationship between normal and impaired functioning and the goal of deriving theories that explain both. The content areas examine different types of neuropsychological impairment, from traumatic brain injury, as found in amnesic syndrome, through the effects of strokes found in unilateral neglect, to the pervasive effects of degenerative conditions such as Alzheimer's disease. An important part of the module is an appraisal of the likelihood of recovery and efficacy of rehabilitation. Assessment methods: 40% coursework, 60% exam.
Professional placement in psychology
This module will provide you with the opportunity to complete a work placement within an organisation whose work is relevant to the discipline of psychology. You'll be expected to complete a minimum of 24 hours in an approved placement, and will complete a written portfolio related to this experience. The assessment for this module will help you develop your reflective thinking skills, as well as your understanding of the utility of psychological research and theory in real world settings. Assessment method: 100% coursework.
Health psychology
Morbidity and mortality have been shown to be influenced significantly by various socio-demographic factors like age, social class and education. Which factors create the link between these inputs and health-related outputs is less clear. This module will explore theoretically-based psychological processes and mechanisms (e.g. cognitive dispositions and beliefs, social support, etc.) that have been shown to relate social inputs with health outcomes. In early sessions you'll explore social inequalities in health. During later sessions a number of models used by health psychologists to study related decision making and behaviour will be explored. Throughout all sessions you'll be exposed to applied implications and evidence derived from basic theoretical principles. Assessment methods: 60% coursework, 40% exam.
Lifespan development
This module extends the usual focus of developmental psychology on infancy and childhood to consider a range of factors in development over the lifespan. Issues relating to social, emotional, and cognitive development through childhood and into adolescence will be considered, as will the transition from adolescence into early adulthood. Factors surrounding relationships between children's drawing and cognitive development will be addressed, together with moral development. The continued impact of developmental disorders (such as dyslexia) in adulthood will be considered, linking these to cognitive function in everyday life (such as educational and employment settings). Typical ageing and neurodegenerative disorders (such as Alzheimer's disease and Parkinson's disease) will be considered from both social and cognitive perspectives.
Psychology of the workplace
The Psychology in the Workplace module will cover a range of different topics related to work (or industrial) psychology, cognitive ergonomics, and behaviour in organisational settings. In broad terms, the module will cover issues relating to organisations, individual workers, and inclusive practices It will address such topics as organisational change, the challenge of an ageing workforce, human-machine interaction, stress and work, human error and accident prevention, and designing workplaces and tools for workers with additional needs or in different cultures.
Semester 1 and 2:
Empirical project
The module requires you to design and implement a substantial piece of independent psychological research and to produce an extensive report on the project. All students are supervised by a permanent member of academic staff.
All modules are assessed by a combination of academic posters, case reports, essays, examinations, group presentations, and research proposals.
Employability
Completing this course doesn't qualify you to practice as a trained counsellor, it does however set you on this path. Having recognised certificates in counselling skills and studies are the first step to a career in counselling and psychotherapy. Or you could follow a career in clinical, forensic, educational or occupational psychology.
Take a look at some potential careers, including counselling, on Prospects.
Psychology is all about understanding people – that's a pretty fundamental skill-set, crossing every sector and industry you can think of. Many psychology graduates put their psychology skills to work in human resources, in marketing and market research, in teaching and publishing. Well-defined skills in literacy and numeracy skills make Psychology graduates attractive to lots of employers and professions, including the Civil Service.
Employability Service
We are University of the Year for Graduate Employment for the second year in a row - The Times and Sunday Times Good University Guide 2018, 2019.
At LSBU, we want to set you up for a successful career. During your studies – and for two years after you graduate – you'll have access to our Employability Service, which includes:
An online board where you can see a wide range of placements: part-time, full-time or voluntary. You can also drop in to see our Job Shop advisers, who are always available to help you take the next step in your search.
Our Careers Gym offering group workshops on CVs, interview techniques and finding work experience, as well as regular presentations from employers across a range of sectors.
Our Student Enterprise team can also help you start your own business and develop valuable entrepreneurial skills.
Professional links
We organise work placements, talks and seminars in partnership with organisations like the Metropolitan Police, the NHS and The British Psychological Society, giving you valuable experience that makes you extremely employable.
We have research talks taking place on campus; as well as our Annual Psychology Lecture. All undergraduate students are invited to attend.
Here's an example, 'Psychedelics & the 1960s mind'. In this talk Imperial College's Professor David Nutt asks whether psychoactive drugs have a therapeutic effect on the human brain. He covered his latest applied research trials, including investigating the effect of LSD and Ketamine on human brainwave patterns.
This course is accredited by the British Psychology Society, as meeting their requirements for Graduate Basis for Registration (GBR). This means your first step to becoming a Chartered (i.e. professional) Psychologist – is to study on an accredited course, like this one.
The course is also recognised by the Counselling and Psychotherapy Central Awarding Body (CPCAB), the only awarding body in Europe to specialise in the field of counselling.
Established for 110 years The British Psychological Society promotes excellence and ethical practice in the science, education and practical application of psychology. BSc Psychological Counselling is also recognised as a provider of counselling skills and studies by the Counselling and Psychotherapy Central Awarding Body (CPCAB). Completion of certificates in counselling skills and studies is often required before training as a counsellor or psychotherapist

CPCAB (Counselling & Psychotherapy Central Awarding Body) is a UK awarding body that is managed by professional counsellors, trainers and supervisors. Now in their 21st year of operation, they are the only awarding body in Europe to specialise in the field of counselling
Teaching and learning
Your Lecturers are leading practitioners in their fields, so everything we do is industry relevant.
Assessment
We use a range of assessment methods, and train you in these methods as you advance through your studies. The methods used are:
Essays
Practical reports
Unseen exams
Multiple choice questions
Scenario-based reports
Case studies
Posters
Executive reports
Portfolios
Group work folders.
Support
We aim to support you throughout your studies in many ways. We provide one-to-one support via our academic tutoring system. Your academic tutor will help you understand coursework feedback, offer guidance as you plan your career, and advise you on work experience to ensure you get the most out of the course. Teaching is also supported through seminars, online learning environments and specialist advice sessions for topics such as statistics and research methods. In addition to the facilities provided by the university, the psychology laboratory has dedicated computing and experimental equipment.
Percentage of time spent in different learning activities

| | Time spent in lectures, seminars and practical study | Self-directed learning |
| --- | --- | --- |
| Year 1 | 20% | 80% |
| Year 2 | 22% | 78% |
| Year 3 | 14% | 86% |
Academic tutoring
As an Applied Sciences student, you will be allocated a named academic tutor during your first three weeks at LSBU. The role of your academic tutor is to be your primary contact for academic and professional development support.
Your academic tutor will support you to get the most of your time at LSBU, providing advice and signposting to other sources of support in the University.
Your academic tutor should be the first person at the university that you speak to if you are having any difficulties that are affecting your work. These could be academic, financial, health-related or another type of problem.
You will have appointments with your academic tutor a minimum of once per semester for 30 minutes throughout your course. This is often supplemented with additional meetings arranged via email as and when students need support. In addition to this Learning Support hours for all teaching staff will be advertised and available for you to book additional time for support related to a specific teaching session.
Entry requirements
A Level BBB or;
BTEC National Diploma DMM or;
Access to HE qualifications with 24 Distinctions and 21 Merits or;
Equivalent level 3 qualifications worth 120 UCAS points
Applicants must hold 5 GCSEs A-C including Maths and English or equivalent (reformed GCSEs grade 4 or above).
We welcome qualifications from around the world. English language qualifications for international students: IELTS score of 6.0 or Cambridge Proficiency or Advanced Grade C.
Advanced entry
If you have already completed some studies at another university, we may be able to consider you for advanced entry. Please see our advanced entry page for more information.
How to apply
International students
International (non Home/EU) applicants should follow our international how to apply guide.
Home/EU applicants
Mode
Duration
Start date
Application code
Application method

Mode

Full-time

Duration

3 years

Start date

September

Application code

C8B9

Application method

Mode

Part-time

Duration

4.5 years, 6 years

Start date

September

Application code

4434

Application method
Accommodation
Once we have made you an offer, you can apply for accommodation. You can rent from LSBU and you'll deal directly with the university, not third party providers. That means we can guarantee you options to suit all budgets, with clear tenancy agreements and all-inclusive rents that include insurance for your personal belongings, internet access in each bedroom and on-site laundry facilities.
Or, if you'd rather rent privately, we can give you a list of landlords – just ask our Accommodation Service.
Read more about applying for accommodation at LSBU.
Finance
You don't need to wait for a confirmed place on a course to start applying for student finance. Read how to pay your fees as an undergraduate student.
Prepare to start
Applicant events
After you've received your offer we'll send you emails about events we run to help you prepare for your course.
Enrolment
Before you start your course we'll send you information on what you'll need to do before you arrive and during your first few days on campus. You can read about the process on our Enrolment pages.
Fees and funding
Fees are shown for new entrants to courses, for each individual year of a course, together with the total fee for all the years of a course. Continuing LSBU students should refer to the Finance section of our student portal, MyLSBU. Queries regarding fees should be directed to the Fees and Bursaries Team on: +44 (0)20 7815 6181.
UK/EU fee:

£9250

International fee:

£14470

AOS/LSBU code:

4433

Session code:

1FS00
Total course fee:
UK/EU
£27750
International
£43410
Year 1 PT Southwark SEPT (Fast_Track)
UK/EU fee:

£5550

International fee:

£8682

AOS/LSBU code:

4434

Session code:

1PS00
Total course fee:
UK/EU
£27750
International
£43410
Year 1 PT Southwark SEPT (Slow_Track)
UK/EU fee:

£4625

International fee:

£7235

AOS/LSBU code:

4434

Session code:

1PS01
Total course fee:
UK/EU
£27750
International
£43410
For more information, including how and when to pay, see our fees and funding section for undergraduate students.
Please check your fee status and whether you are considered a Home, EU or International student for fee-paying purposes and for our regulatory returns, by reading the UKCISA regulations.
See our Tuition Fees Regulations (PDF File 160 KB) and Refund Policy (PDF File 102 KB).
Possible fee changes
The University reserves the right to increase its fees in line with changes to legislation, regulation and any government guidance or decisions.
The fees for international students are reviewed annually and the University reserves the right to increase the tuition fees in line with the RPIX measure of inflation up to 4 per cent.
Scholarships
We offer several types of fee reduction through our scholarships and bursaries. Find the full list and other useful information on our scholarships page.
Contact information
Course Enquiries - UK
Tel: 020 7815 7815
Due to COVID-19, call waiting times may be longer than usual. Any questions? Use the green bubble on the bottom right hand corner to start a live chat with us
Get in touch
KIS Data