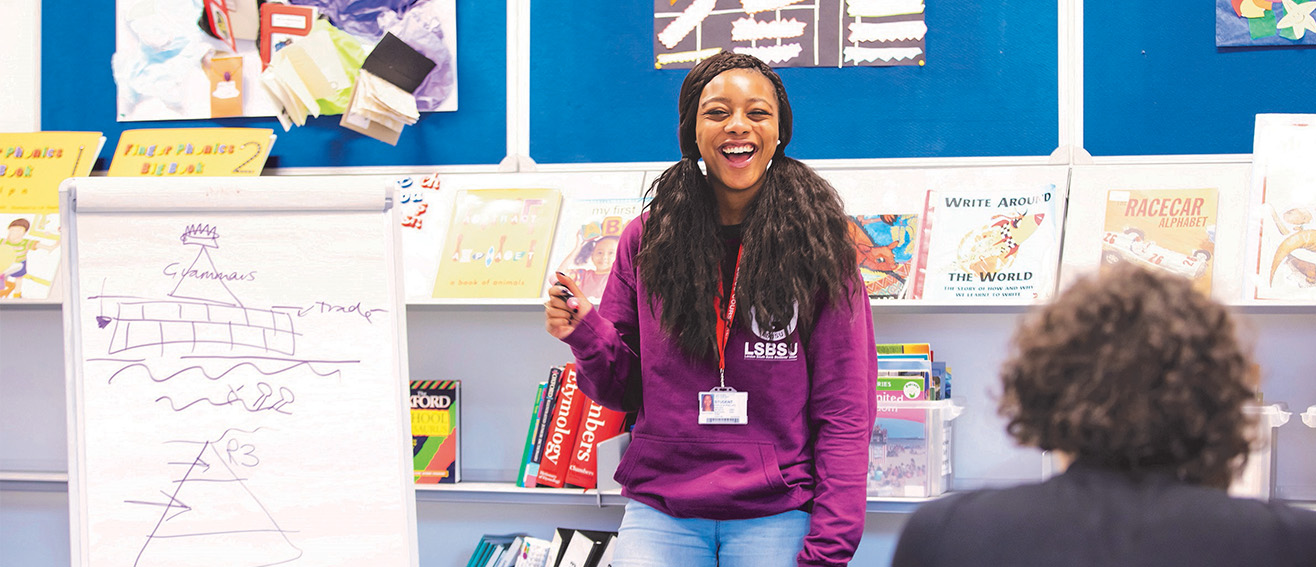 PGCE Primary
Southwark Campus
Mode: Full-time
Overview
Encouraging equality
Due to exceptionally high demand, this course is no longer recruiting for September 2020
Our programme will give you an in-depth understanding of inclusive practice, equality and diversity to prepare you for a aspiring career in teaching. You'll experience placements in different schools and also have an opportunity to work in an Alternative Education Setting.
This course leads to Qualified Teacher Status (QTS). This course equips you to teach primary aged pupils, with a focus on the 5-11 age phase (Key Stage 1 and 2), or 3-7 age phase (Early Years and Key Stage 1), through school-based training, lectures, seminars, workshops and tutorials. You'll gain 60 Master's level credits and be awarded with a Postgraduate Certificate in Education.
LSBU has a particular focus on social justice and equality that is well matched to the needs of schools in urban and multicultural areas. We encourage creativity, reflective pedagogy and sensitivity to educational issues.
Why a PGCE at LSBU?
Our PGCE tutors are qualified teachers and expert practitioners.

Experience four placements in a range of school settings.

You'll be allocated a Professional Adviser to act as your mentor during your training.

Ranked joint 1st for Overall Satisfaction amongst London competitors in Education (National Student Survey 2020)

No.1 London University for 'Learning opportunities' and No.2 for 'Learning community' for Education (National Student Survey, 2018).

Bursaries are available to trainees on the PGCE primary general (with mathematics) course. See the Fees and funding tab for more information.

The Centre for Education and School Partnerships has extensive links with schools and alternative educational setting across London.

Top 3 in London for graduate prospects in Education (Complete University Guide 2019).
Key course information - ordered by mode
Mode
Duration
Start date
Location

Mode

Full-time

Duration

12 months

Start Date

September

Location

Southwark Campus
Modules
The equal opportunities, inclusion and citizenship element of the course is a very strong feature. It prepares trainees exceptionally well for working in an inner-city environment.

OFSTED report 2014
Level 6 Modules
The core curriculum
The Core Curriculum modules focus on the subject knowledge and pedagogy you will need to teach the core subjects; English, Mathematics and Science in Primary schools'
Professional studies
This module underpins the entire PGCE course; it covers all aspects of the professional requirements of being a teacher alongside developing your pedagogical understanding. It covers topics such as how children learn, planning, assessment and pupil progress, classroom management, teaching strategies, working with additional adults and supporting children with particular needs.
The wider curriculum
As part of the Foundation Subjects module and Computing sessions you will also develop subject knowledge and pedagogy in the foundation subjects: Art and Design, Computing, Design and Technology, Modern Foreign Languages, Geography, History, Music, Physical Education and Religious Education.
School experience
Over the course of the programme you will undertake four school placements each designed to provide a different experience.
The first placement is a Reading Mentor placement where you will work 1:1 with a child in a local primary school for seven weeks focusing on planning and supporting that child with their phonics and reading. On this placement you will also spend time working with the class teacher and supporting small groups.
The second placement takes place in different school for eight weeks and you will build up from planning and teaching small groups to planning and teaching the whole class with support from the class teacher and school based mentors.
The next placement is the Alternative Education Setting placement. See the section below for further details.
The final placement is for eleven weeks, usually in the opposite key stage to the second placement. By the end of this placement you will be expected to take on role of the class teacher, planning, teaching and assessing the whole class on a daily basis.
Alternative education setting
In term two you will arrange your own three week placement following your interests in an Alternative Education Setting. This placement is designed to give you a wider view of education and enable you to develop explicit skills that you will be able to transfer to mainstream practice. For example you may choose to work in a Special Educational Needs setting, a Pupil Referral Unit, an Early Years setting, a forest school or secondary school.
M Level Modules
Equality, inclusion and citizenship
This Masters level module will allow you to reflect on key issues such as equality, diversity and inclusion in an educational context. You will learn from leading academics and professionals from around the world about topics that affect education such as social class, race and diversity, gender, sexual orientation, asylum seekers and refugee families, inclusive practice, special educational needs and disability, looked after children, digital citizenship and children with English as an additional language. For the assessment of the this module you will undertake a small piece of classroom research based on one of these themes.
Plus one of the following module options:
SEND (Special Educational Needs and Disability)
This module discusses and explores how to enable learners with Special Educational Needs and/or Disabilities (SEND) to achieve in their learning. If you select this module your Alternative Education Setting placement will be in a Special Needs school.
Early years education
This module will allow you to explore the foundation stages of learning and have a specific focus on early years education. One of your placements will be in the Early Years Foundation Stage and the other will be in key stage 1.
Enquiry based science
This module will draw from current research and projects dealing with enquiry based learning in an international context. Sessions will include practical workshops where students will actively cooperate in groups to design and carry out scientific investigations. Issues concerning progression, assessment, the curriculum and leadership in primary science will be explored.
Raising achievement in mathematics (RAiM)
The RAiM module will help you gain knowledge and understanding to successfully teach mathematics with competence and confidence, and begin to develop as a specialist in this area. Part of your Alternative Education Setting placement will be in a mathematics department of a secondary school.
English: Language, learning and culture
This module focuses on spoken language as a key area of the English curriculum in order to explore culture and deepen learning in the classroom.
General Primary with Mathematics
We offer a Primary PGCE with Mathematics pathway. If you choose this route you will have the opportunity to develop your expertise in all areas of Primary mathematics teaching and learning. You will study the Raising Achievement in Mathematics module at Masters level and, as part of your Alternative Educational Setting placement, you will gain valuable experience working and teaching in a secondary school Maths department.
Employability
Completion and employment rates for our PGCE are both above the sector norms and we have been identified as a good provider of initial teacher training (OFSTED 2014). Although we pride ourselves in providing teachers for London schools, successful students enter the teaching profession in a variety of schools within the UK.
All students entering the course have the possibility of gaining up to 60 credits at Masters level, which can be used by students to count towards the award of full Masters qualifications (such as the LSBU MA in Education) gained via further study after graduation.
Employability Service
We are University of the Year for Graduate Employment for the second year in a row - The Times and Sunday Times Good University Guide 2018, 2019.
At LSBU, we want to set you up for a successful career. During your studies – and for two years after you graduate – you'll have access to our Employability Service, which includes:
An online board where you can see a wide range of placements: part-time, full-time or voluntary. You can also drop in to see our Job Shop advisers, who are always available to help you take the next step in your search.
Our Careers Gym offering group workshops on CVs, interview techniques and finding work experience, as well as regular presentations from employers across a range of sectors.
Our Student Enterprise team can also help you start your own business and develop valuable entrepreneurial skills.
Professional links
Academics from other institutions and related industries are invited as guest speakers to form part of the Equality Inclusion and Citizenship module. The Alternative Educational Settings placement provides an opportunity for you to experience teaching and learning in a completely different environment, and is one of the unique aspects of our programme.
This placement may be related to your choice of Masters Level option module. For further information please see Modules.
Placements
During the course you will undertake placements in at least two schools. Placement schools are chosen to provide different experiences, including size, organisation and location. Our partnership works with a wide range schools across London. Placements are allocated as best fit for each trainee, but if you live in outer London or beyond it may require careful planning, so that you are able to work at assigned schools.

In addition, you will undertake a placement in an alternative education setting. The choice of placement will depend on the option you choose and your interest in the education sector. Examples of placements include SEN schools, pupil referral units, hospitals etc.
A key element of the programme is to prepare you to work in multi-cultural, urban settings. In terms of school experience placements, you will normally be required to do at least one practice in an inner or outer London state school.
The Alternative Educational Setting placement is particularly effective and has an impact on the outcomes of the subsequent placements.

(OFSTED Report 2014)
Teaching and learning
We teach through lectures, workshops, practical sessions, seminars and tutorials. The aim throughout is to encourage creativity, reflective pedagogy and sensitivity to educational issues, aims and objectives. We aim to provide a learning community that actively challenges inequality and injustice.
In particular, the module on Equality, Inclusion and Citizenship will allow you to reflect on key issues such as equality, diversity and sustainability in the educational context.
You will be encouraged to make links between the theoretical and practical elements of the course. We use an interactive model of teaching and learning to encourage you to inform your understanding of effective methods of teaching and learning and how best to apply these in classroom situations.
The university-based training systematically links theory to practice. The use of school-based trainers' expertise makes training practical, relevant and inspiring.

OFSTED report 2014
Professional Advisor Support
You will be assigned a professional advisor during your first three weeks of classes at LSBU. The role of your professional advisor is to be your primary contact for academic guidance and professional development support.
They will help you get the most out of your time at LSBU, providing advice and signposting to other sources of support in the University.
Your advisor should be the first person at the university that you speak to if you are having any difficulties that are affecting your work. These could be academic, financial, health-related or any other type of problem.
In the first semester of your course you will meet with your professional advisor at least once a week in small group sessions. After this, you'll meet them a minimum of three times for 30-45 minutes throughout your course to discuss and record progress. You can contact your tutor for additional support by email and request additional meetings if required.
Entry requirements
UK or equivalent degree (Lower Second Class or above). This may be in any subject; it does not have to be a National Curriculum subject; and
a standard equivalent to a GCSE grade C / grade 4 in mathematics, English language and a science subject or equivalency test passes awarded by A* Star Equivalency and Equivalency Testing. Applicants who have not yet met this requirement are welcome to apply, but will not be able to start the course until they they have met this requirement; and
A positive reference that highlights the candidate's suitability to become a teacher; and
A written personal statement (see below).
Professional skills tests
Candidates starting teacher training in September 2020 are no longer required to take the professional skills tests.
Personal statement
Your personal written statement should be coherent, written in clear standard English, and include the following:
1. Evidence of your understanding of, and commitment to, the Centre of Education and School Partnerships' Equality and Diversity statement:
"To value and respect the diversity offered in a pluralistic society and to provide a learning community that actively challenges inequality and injustice."
2. Experience of and commitment to working with young or adult learners in a formal/informal setting
Experience of working with young or adult learners in a formal or informal setting could support your application. It is desirable, although not essential, to have spent some time in a UK Primary school.
3. An awareness of current issues in education
Additional requirements
Applicants for this course must also meet the following additional entry requirements:
All entrants to ITE courses are required to undergo both an enhanced criminal record check through the Disclosure and Barring Service (DBS), formerly known as the Criminal Records Bureau (CRB), and an Occupational Health check before they can be admitted to a course. LSBU pays for both of these checks. Once you accept an offer from us, we will provide you with guidance on how to apply for your DBS and OH checks.
An applicant with a criminal record is not automatically prevented from becoming a teacher. For more information on the DBS and their enhanced checks call them on 0870 90 90 811 or visit the Gov.uk website.
How to apply
Home/EU applicants
Mode
Duration
Start date
Application code
Application method

Mode

Full-time

Duration

12 months

Start date

September

Application code

2MBV

Application method
Full-time and part-time postgraduate students should apply through the UCAS Teacher Training scheme.
Postgraduate applicants are required to provide up to two references as part of their application.
Accommodation
Students should apply for accommodation at London South Bank University (LSBU) as soon as possible, once we have made an offer of a place on one of our academic courses. Read more about applying for accommodation at LSBU.
Finance
It's a good idea to think about how you'll pay university tuition and maintenance costs while you're still applying for a place to study. Remember – you don't need to wait for a confirmed place on a course to start applying for student finance. Read how to pay your fees postgraduate student.
Prepare to start
We help our students prepare for university even before the semester starts. To find out when you should apply for your LSBU accommodation or student finance read the How to apply tab for this course.
Enrolment
Before you start your course we'll send you information on what you'll need to do before you arrive and during your first few days on campus. You can read about the process on our Enrolment pages.
The course will start the week beginning 7th September 2020.
Fees and funding
Fees are shown for new entrants to courses, for each individual year of a course, together with the total fee for all the years of a course. Continuing LSBU students should refer to the Finance section of our student portal, MyLSBU. Queries regarding fees should be directed to the Fees and Bursaries Team on: +44 (0)20 7815 6181.
UK/EU fee:

£9250

International fee:

£14470

AOS/LSBU code:

5458

Session code:

1FS00
For more information, including how and when to pay, see our fees and funding section for postgraduate students.
Possible fee changes
The University reserves the right to increase its fees in line with changes to legislation, regulation and any governmental guidance or decisions.
The fees for international students are reviewed annually and, additionally, the University reserves the right to increase tuition fees in line with the RPIX measure of inflation up to 4 per cent.
Scholarships
We offer several types of fee reduction through our scholarships and bursaries. Find the full list and other useful information on funding your studies on the scholarships and fee discounts page.
Fee status
Please check your fee status and whether you are considered a home, EU or international student for fee-paying purposes by reading the UKCISA regulations.
Teacher training students
Initial Teacher Training (ITT) courses are treated similarly to undergraduate courses for fees and funding purposes. This means, in this instance, postgraduate students can apply for the same student loans and bursaries as undergraduate students but they no longer receive grant funding. Find out more on Gov.uk website.
Additional Fees
Disclosure and Barring Service clearance
All entrants to ITE courses are required to undergo both an enhanced criminal record check through the Disclosure and Barring Service (DBS), formerly known as the Criminal Records Bureau (CRB), and an Occupational Health check before they can be admitted to a course. There is a separate charge for both of these checks (the total for both is less than £100). These fees must be paid before or at the time of enrolment and cannot be paid for as part of a tuition fee loan.
Disclosure and Barring Service clearance and Occupational Health check
All entrants to ITE courses are required to undergo both an enhanced criminal record check through the Disclosure and Barring Service (DBS) and an Occupational Health check before they can be admitted to a course. There is a separate charge for both of these checks (the total for both is less than £100). These fees must be paid before or at the time of enrolment and cannot be paid for as part of a tuition fee loan.
Financial support
Home teacher training students are eligible to apply for Student Support funding via Student Finance England (details provided on Gov.uk website) for Tuition Fee loans. Training bursaries are sometimes available from National College of Teaching and Leadership (NCTL) (details provided on the Get Into Teaching website).
The Get Into Teaching fees and funding website provides more details.
Bursary information for September 2020 entry
Bursaries are available to trainees on the PGCE primary general (with mathematics) course. If you have a 2:2 or above with at least a grade B maths A level or equivalent then you will be eligible for a bursary of £6,000.
Visit the Get Into Teaching page for full details.
You do not need to apply for bursaries. Once you have firmly accepted an unconditional offer of a place on a Teacher Training course (and supplied proof of your appropriate grades), the University will liaise with the Department for Education to put your bursary in place.
Contact information
Course Enquiries - UK
Tel: 020 7815 7815
Due to COVID-19, call waiting times may be longer than usual. Any questions? Use the green bubble on the bottom right hand corner to start a live chat with us
Get in touch