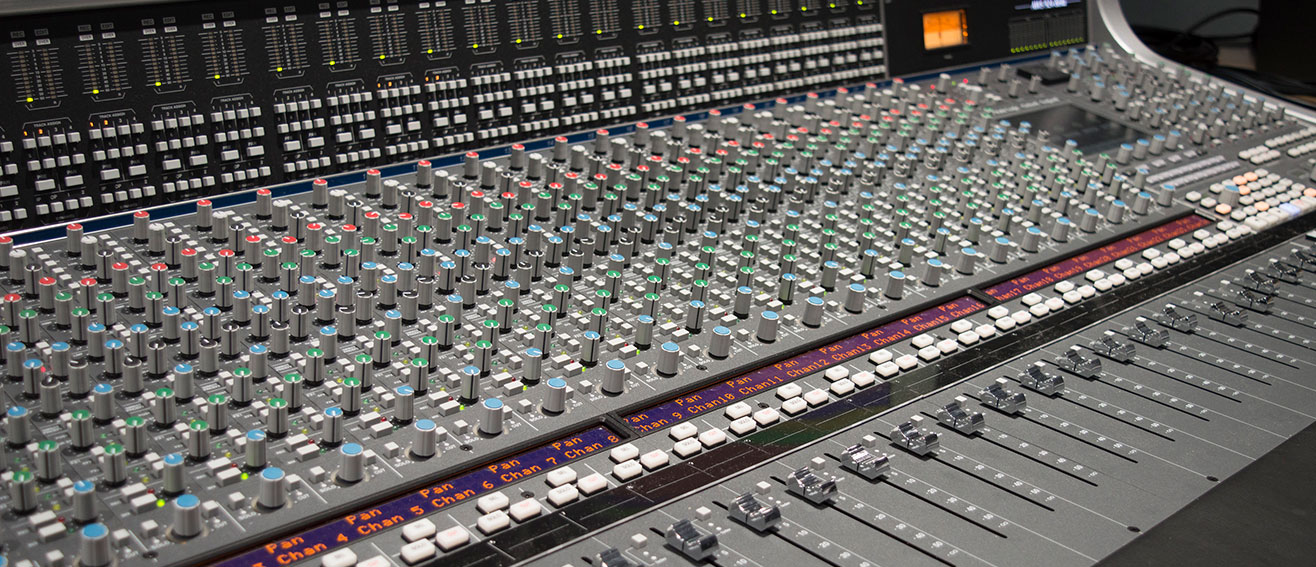 BA/BSc (Hons) Music and Sound Design
Southwark Campus
Mode: Full-time
Music and Sound Design - BA/BSc (Hons)
Overview
Looking to develop your skills in music production and sound design, and gain the ability to carve out a career within the creative industries? With this degree you will build on your knowledge and discover the wide range of opportunities that exist in electronic music production, film sound, game audio and studio practice.
The programme enables you to discover and develop your potential in a range of creative and technical roles and graduate with either a BA or BSc award. The course is taught by a dedicated team with extensive professional and academic expertise. You will have access to our state-of-the-art facilities, including a professional sound studio with a Dolby Atmos speaker system and an SSL mixing console. You will learn the concepts and principles that underpin music production and sound design, as well as a range of relevant contexts, enabling you to forge your own career path within a dynamic work environment.
We offer the opportunity for all undergraduate Home/EU students to undertake a work placement, internship or work experience while studying a full-time course starting in September 2021.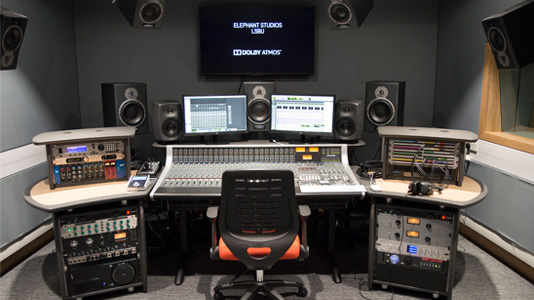 South Bank Sound Lab
Why study Music and Sound Design at LSBU?
Specialist staff with great industry contacts.

Ranked 4th in UK and 1st in London for Teaching Quality in Music (Sunday Times Good University Guide 2021).

Elephant Studios: high end studio facilities at the forefront of digital technologies and multimedia practice for creative students.

Flexible routes allow specialisation: Take the BA (Hons) route for creative sound design or the BSc (Hons) route for specialisation in technical development towards audio engineering.

Ranked 2nd in the UK and 1st in London for Student Satisfaction in Music (Complete University Guide 2021)

Work collaboratively with industry partners and related LSBU creative courses.
Music and Sound Design gave me the skills and knowledge to expand my skillset and pursue any career aspirations. Before studying at LSBU, I had never attempted any form of computer programming and was actively intimidated by the thought, but now it has taken a central role in my creative and technological practices. This would not have been possible without the support and encouragement of my tutors, who were always pushing me towards these new skills and knowledge.

Chris Holtum, BA (Hons) Sound Design
Accreditations
Key course information - ordered by mode
Mode
Duration
Start date
Location

Mode

Full-time

Duration

3 Years

Start Date

September

Location

Southwark Campus
Modules
This course prepares you to work as a music and sound design specialist within the dynamic environment of the creative industries. You'll graduate with a portfolio of work that highlights your expertise, providing you with a competitive advantage in the world of work.

You'll cover music production, film sound, game audio and studio practice.
Your practical work will be supported by a dedicated teaching team with extensive experience across a range disciplines in music and sound production and you'll have access to cutting-edge studio facilities, editing suites and sound recording equipment. Read more about our Elephant Studios facilities here. The main software used on the course include:
Ableton Live
Avid Pro Tools (Avid accredited)
Max/MSP
Unity & Fmod
VCV Rack
Your practice will be underpinned by a critical exploration of how music and sound resonate through culture and influences our perception of media artefacts. This will help you to articulate the intentions of your work through independent thinking and a deeper understanding of related concepts.
Methods of assessment for course overall: 100% coursework.
Year 1
Sample and Sequence
This module introduces you to music production, remixing and arranging in Ableton Live DAW software using multitrack stems.
Creative Music Technology
This module introduces you to the fundamentals of how to create sounds and explore a variety of advanced synthesis techniques such as granular synthesis and frequency modulation. You'll work with software such as Ableton Live, Max and Max for Live, along with hardware analog and modular synths.
Contemporary Music Industry
This module provides an overview of the evolution of the recording industry. You'll examine contemporary issues in the dissemination and commercialisation of music, and study the relationships between audiences, artists, record labels, production companies, and different modes of distribution.
Introduction to Film Sound
In this module, you will create a soundtrack to a short film created by students on the Film Practice BA. You will learn the key concepts in film sound, and industry techniques to mix music, dialog and sound effects using Pro Tools software.
Introduction to Game Audio
This module will introduce you to key concepts in game audio. You will explore the use of sound and music in an interactive environment, and learn how to create character sounds and game music.
Introduction to Studio Practice
This module will introduce you to the underlying concepts of a sound studio. You will explore the use of different microphones and acoustic principles, taking sounds through both analog and digital realms.
Year 2
Studio Production: Recording
This module builds on the Introduction to Studio Practice at Level 4. You'll develop your knowledge of microphone techniques, acoustics, critical listening skills, and learn about the relationships between different studio roles from engineering to performing and producing.
Studio Production: Mixing
This module will give you an in depth understanding of studio mixing techniques, including mixing with Pro Tools while using an analogue mixing console with outboard hardware, applying automation to give your productions a polished and professional sound.
Sound Design: Specialism 1
This module gives you an opportunity to specialise in sound design for either film or games, whilst collaborating with students from your chosen discipline. The first semester sound design module will focus on understanding the pre-production processes, preparing the music, sound effects and dialogue elements for a game or film.
Sound Design: Specialism 2
This module gives you an opportunity to specialise in sound design for either film or games, whilst collaborating with students from your chosen discipline. The second semester sound design module will focus on aspects such as film post-production and game audio implementation.
Music Image Text
This module will address contextual issues in the understanding of sound practices, in terms of production, consumption, distribution and subjectivity. It will support your sound and music production work by making connections between sound and specific cultural and technological contexts.
Performance
This module will explore the diversity of the live music sector, from local gigs to international tours, from small venues to music festivals. It will outline the roles of agents, promoters, managers, event organisers, merchandise teams, and venue owners. It will explore the economics of live music, the effects of live music on communities, and the effects of legislation and regulations. As part of this module, you will work as a team to organise a live music event.
Year 3
Research Project
The final year research paper module gives you the opportunity to conduct original research in an area of your degree or field of interest under the guidance of an academic supervisor.
Professional Practice
In this module, you'll gain all the necessary knowledge and understanding to become a successful professional in real-world creative sound and music contexts. You'll have the opportunity to undertake a work placements and develop a professional portfolio. The module will feature guest talks from industry professionals.
Advanced Project
You'll produce and exhibit a coherent and critically informed advanced final year project. Building upon individual research and experimentation undertaken in the prototype phase, you'll be working independently with support from tutors to produce and display at the End of Year Show. You are expected to work at a professional standard while exploring opportunities to innovate and challenge conventions. You can work individually or collaboratively to produce a piece of work such as sound for games, films, or produce stand alone sound/music production.
The modules were the right mix of theory and practical experience which was a crucial part of my decision. The chance to learn from well-respected lecturers was also really important, as was using facilities I would be expected to understand in the industry.

Nate Gallardo, BA (Hons) Sound Design (2013)
Employability
Employability Service
We are University of the Year for Graduate Employment for the second year in a row - The Times and Sunday Times Good University Guide 2018, 2019.
At LSBU, we want to set you up for a successful career. During your studies – and for two years after you graduate – you'll have access to our Employability Service, which includes:
An online board where you can see a wide range of placements: part-time, full-time or voluntary. You can also drop in to see our Job Shop advisers, who are always available to help you take the next step in your search.
Our Careers Gym offering group workshops on CVs, interview techniques and finding work experience, as well as regular presentations from employers across a range of sectors.
Our Student Enterprise team can also help you start your own business and develop valuable entrepreneurial skills.
Professional links
The course team are actively involved as practitioners in electronic music and sound design, as well as consulting on studio design projects. They are actively engaged in world-leading research in the field of sonic culture, ensuring a forward-looking course.

We maintain close links with industry and regularly invite guest speakers and alumni to share their experiences. Recent speakers include:
Work placements and internships
Throughout the course we encourage students to gain work experience through collaborations with industry partners, through workshops, collaborations and live briefs. We can provide advice when applying for work placements or internships. Below are some of the companies our students have worked with:
Teaching and learning
Covid impact
The course is currently being delivered using a blend of online and on-campus activity. Students are provided with access to the software required on the course and will be able to access facilities and equipment in line with university regulations.
Course team
Your Lecturers are leading practitioners and world-leading researchers in their fields, so everything we do is ahead of the pack and industry relevant. Inspiring guest speakers from renowned record labels, studios and production houses will give you further industry insight and build your professional connections
Our studio techs are experienced producers and sound engineers who will be on-hand to support your studio sessions.
Percentage of time spent in different learning activities

| | Lectures and seminars | Self-directed learning |
| --- | --- | --- |
| Year 1 | 25% | 75% |
| Year 2 | 25% | 75% |
| Year 3 | 22% | 78% |
Personal Tutor
As an undergraduate Arts and Creative Industries student, you will be allocated a personal tutor. The role of your tutor is to be your primary contact for academic and professional development support.
Your tutor will support you to get the most of your time at LSBU, providing advice and signposting to other sources of support in the University.
Your tutor should be the first person at the university that you speak to if you are having any difficulties that are affecting your work. These could be academic, financial, health-related or another type of problem.
You will meet your tutor at least twice a semester throughout your course. You can contact your tutor for additional meetings or support via our dedicated communication app, Slack.
Entry requirements
A Level BCC or;
BTEC National Diploma MMM or;
Access to HE qualifications with 9 Distinctions 36 Merits or;
Equivalent Level 3 qualifications worth 106 UCAS points
Applicants must hold 5 GCSEs A-C including Maths and English or equivalent (reformed GCSEs Grade 4 or above)
We welcome qualifications from around the world. English language qualifications for international students: IELTS score of 6.0 or Cambridge Proficiency or Advanced Grade C.
Advanced entry
If you have already completed some studies at another university, we may be able to consider you for advanced entry. Please see our advanced entry page for more information.
How to apply
International students
International (non Home/EU) applicants should follow our international how to apply guide.
Home/EU applicants
Mode
Duration
Start date
Application code
Application method

Mode

Full-time

Duration

3 Years

Start date

September

Application code

W390

Application method
Accommodation
Once we have made you an offer, you can apply for accommodation. You can rent from LSBU and you'll deal directly with the university, not third party providers. That means we can guarantee you options to suit all budgets, with clear tenancy agreements and all-inclusive rents that include insurance for your personal belongings, internet access in each bedroom and on-site laundry facilities.
Or, if you'd rather rent privately, we can give you a list of landlords – just ask our Accommodation Service.
Read more about applying for accommodation at LSBU.
Finance
You don't need to wait for a confirmed place on a course to start applying for student finance. Read how to pay your fees as an undergraduate student.
Prepare to start
Applicant events
After you've received your offer we'll send you emails about events we run to help you prepare for your course.
Welcome Week
Before you start your course we'll send you information on what you'll need to do before you arrive and during your first few days on campus. You can read about the process on our Welcome Week pages.
Preparatory Reading List
Hugill, A. (2018) The Digital Musician: Creating Music with Digital Technology, Routledge. (Very good introduction to critical and creative sonic production).
Cox, C. and Warner, D. (Eds) (2017) Audio Cultures: Readings in Modern Music. Bloomsbury Academic. (A collection of short relevant conceptual texts by producers and philosophers in sonic culture).
Collins, K. (2020) Studying Sound: A Theory and Practice of Sound Design., MIT Press. (An excellent overview of sound design practice)
Fees and funding
Fees are shown for new entrants to courses, for each individual year of a course, together with the total fee for all the years of a course. Continuing LSBU students should refer to the Finance section of our student portal, MyLSBU. Queries regarding fees should be directed to the Fees and Bursaries Team on: +44 (0)20 7815 6181.
UK/EU fee:

£9250

International fee:

£14470

AOS/LSBU code:

5219

Session code:

1FS00
Total course fee:
UK/EU
£27750
International
£43410
For more information, including how and when to pay, see our fees and funding section for undergraduate students.
Please check your fee status and whether you are considered a Home, EU or International student for fee-paying purposes and for our regulatory returns, by reading the UKCISA regulations.
See our Tuition Fees Regulations (PDF File 160 KB) and Refund Policy (PDF File 102 KB).
Possible fee changes
The University reserves the right to increase its fees in line with changes to legislation, regulation and any government guidance or decisions.
The fees for international students are reviewed annually and the University reserves the right to increase the tuition fees in line with the RPIX measure of inflation up to 4 per cent.
Scholarships
We offer several types of fee reduction through our scholarships and bursaries. Find the full list and other useful information on our scholarships page.
Contact information
Course Enquiries - UK
Tel: 020 7815 7815
Due to COVID-19, call waiting times may be longer than usual. Any questions? Use the green bubble on the bottom right hand corner to start a live chat with us
Get in touch
KIS Data