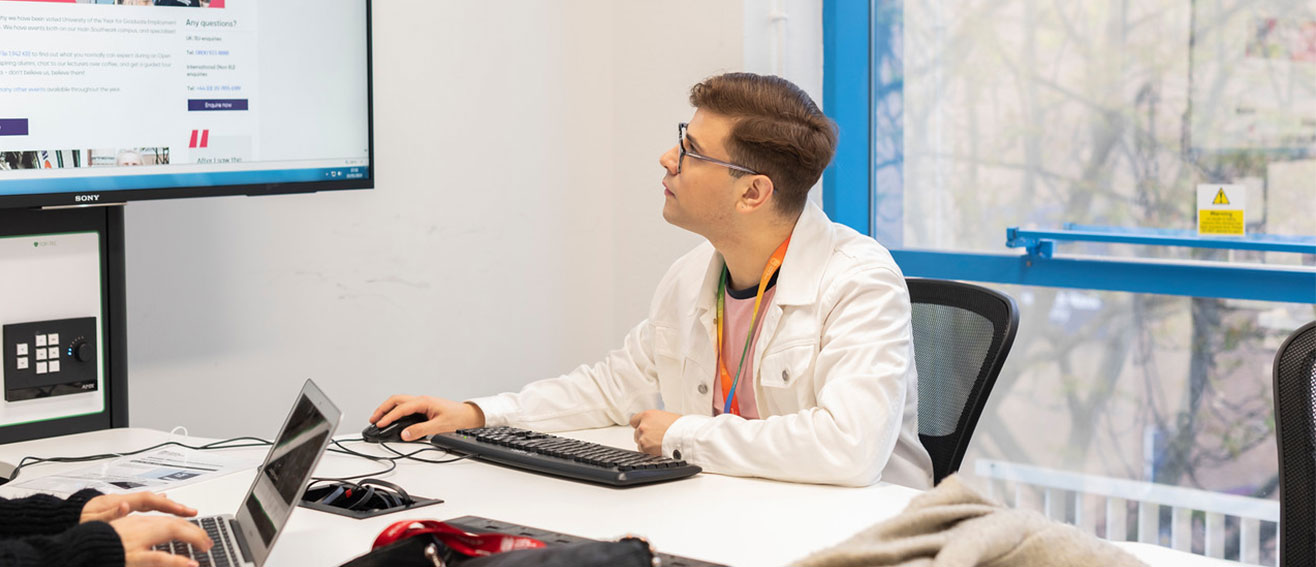 BA (Hons) Marketing with Enterprise and Entrepreneurship
Southwark Campus
Mode: Full-time
Marketing with Enterprise and Entrepreneurship - BA (Hons)
Overview
What's the big idea?
Are you fascinated by what it takes to build businesses? This undergraduate course can help you develop these skills in a marketing context. You'll enhance your knowledge and the self-confidence needed to take business risk and create success through initiative and inspiration – while developing a strong business base with understanding of effective planning techniques and customer value creation.
We offer the opportunity for all undergraduate Home/EU students to undertake a work placement, internship or work experience while studying a full-time course starting in September 2021.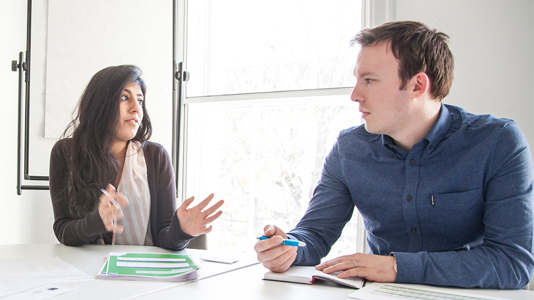 Why Marketing with Enterprise and Entrepreneurship at LSBU?
No.2 in London for satisfaction with courses across Business, Management & Marketing (Guardian University League Tables 2019).

2nd for graduate prospects in Marketing in London (Complete University Guide 2020) and joint 2nd for career prospects among London universities (Guardian University League Tables 2020).

Top 5 for overall score in Marketing amongst London universities (Complete University Guide 2021).

As part of the course, you'll have the opportunity of work experience in a consultancy role with a British-based company.

Professional accreditation – the course is accredited by the Chartered Institute of Marketing.

We support entrepreneurs – you can develop a ready-to-fund business plan or undertake consultancy as a final year marketing project.

Our unique 'give back' culture means you can build relationships with small and medium enterprises and alumni.
Accreditations
Key course information - ordered by mode
Mode
Duration
Start date
Location

Mode

Full-time

Duration

3 years

Start Date

September

Location

Southwark Campus

Mode

Sandwich

Duration

4 years

Start Date

September

Location

Southwark Campus
Modules
During the course, you'll develop your communication and presentation skills, creative management and problem-solving skills, and numerical ability. The course covers consumer behaviour, market research, product development, distribution, pricing, communications, brand management, entrepreneurship and agile operations.
Year 1
Principles of marketing
You'll be introduced to the theories and practices of marketing providing you with an underpinning in the subject of marketing for further studies at Levels 5 and 6. The module acts as an introduction to the basic principles of marketing from which other modules can develop. These principles include the marketing environment, the marketing mix, marketing research and buyer behaviour.
Marketing in a digital world
Building on what you learned in Principles of marketing, you'll concentrate on the digital elements to modern marketing techniques – an essential area to understand in today's marketplace. You'll develop a solid understanding on which to base further digital development in your second and final years.
Concepts of management
You'll be introduced to personal development planning, which will help you to identify your goals and, ultimately, to achieve your aims. You'll accomplish this by taking part in a structured coaching process, developing key skills, mathematical techniques and acquiring the knowledge you will need to succeed on an academic economics course or in a professional business environment.
Accounting and finance for managers
You'll study the core elements of accounting's regulatory framework, along with the characteristics of what constitutes useful accounting information. You'll also develop an understanding of the underlying principles and methods used in recording financial data, as well as the preparation and presentation of financial statements.
Business economics
You'll focus on the ways that the business applications of economics can help managers and entrepreneurs to make better decisions when it comes to situations including pricing, advertising, financing, market entry and product development. You'll be introduced to a range of essential economic concepts and methods, and be shown how they can be applied to understand the world around us. You'll also consider the implications of the macro economy on the way modern firms operate.
People and organisations
You'll develop an appreciation of the complexities of understanding people and behavior within organisations. By studying theories of organisational behavior and people management practices, you'll begin to understand why people behave in specific ways in the workplace.
Year 2
The consumer behaviour analyst
You'll look at the role of the consumer behavior analyst, considering the behavioural concepts and theories of individuals and groups when they select, use and dispose of products, services or experiences to satisfy their needs and desires. Understanding consumer behavior is an important element of marketing, with major behavioural changes happening in the marketplace thanks to ecommerce and globalisation. It underpins your learning in other units thanks to its interdisciplinary nature, which includes areas such as psychology and sociology.
The communications manager
You'll examine the role of marketing communications management within the business setting, looking at the wide range of techniques need to plan, control and evaluate marketing communications objectives.
The insight manager
You'll cover the principles and practice of marketing research, from defining the problem through research design, analysis and conclusion. You'll develop the knowledge, techniques and skills to plan and conduct a marketing research project, as well as to analyse and report the findings. The emphasis is on considering practical marketing research problems in different context, and you'll be learning from Insight Managers from industry who will present real-world research problems for you to solve through live briefs.
The innovation and product manager
You'll learn about the methods marketers use to develop and manage their product range, whether that is in the form of goods or services. You'll consider the product portfolio and its management, paying particular attention to innovation and new product development.
Entrepreneurial Mind Set Business Discovery and Development
Entrepreneurs know the best feeling in business discovery and development is when the start-up venture is developed to a size that suits the needs of the market and others believe in its success just like the entrepreneur and a brand presence is established. This module develops on the principles behind what gives entrepreneurs the mind-set and drive to develop and expand businesses,establishing a market presence for their new venture, and launching a presence for the brand. It provides entrepreneurial-minded students the tools to analyse, launch and establish presence of an enterprise venture within any highly competitive market, and to build a positive reputation. Drawing upon the discovery and development of business profiling which is achieved through big-data, you'll uncover patterns and relationships in establishing an entrepreneurial venture..
Plus one option from across second year business modules
Year 3
Optional placement year in industry
Year 4
Lean to Agile Enterprise Operations
The module scrutinises the principles, techniques, key tools of "Lean Start-ups" and how they might apply in a variety of processes in order to add value to new enterprises and become agile in operation management. Entrepreneurs have limited funding to start ventures, and therefore need to consider lean strategies in establishing venture that would add value to the enterprise activity. Lean operations focus on the creation of quality with efficiency and increase productivity in products and services. Start-ups need to think of "lean enterprise" activities to survive and create value. The module considers how new enterprises in various industries, with the likes of low-cost budget-operations, achieved higher returns due to streamlined operations.
Funding entrepreneurial projects Developing the skills required to develop successful enterprise creation this module examines the avenues of funding potential ventures. It is common that all enterprise and entrepreneurial ideas and new developments will require substantial tangible or intangible resources. Young and first-time entrepreneurs are typically poor in tangible resources such as physical or financial capital. The module develops the mind-set of entrepreneurs and budding enterprise manager's skills in leveraging their capital to gain access to tangible resources necessary to create the venture and obtain funding. This module provides an intense grounding in entrepreneurial and enterprise capital. Aiming to build your awareness of different forms of entrepreneurial and enterprise capital and build their effectiveness in entrepreneurial finance.
Brand management
You'll learn to solve management problems by studying the key theories, frameworks and models of current brand marketing. This module prepares you for a career in brand management by using a practical approach to applying complex theories. You'll be assessed in a variety of different ways, such as exams, group work and written reports.
Marketing strategy and planning
On this module, you'll learn how to apply your previous marketing learning to make sense of an unfamiliar commercial setting and the strategic position of one brand. You'll consider competitive advantage and value creation in the context of a hierarchy of strategies, before considering its application through marketing planning. Working on the chosen brand, you'll plan and conduct research, develop and deliver insight, and create a marketing strategy that can help the brand succeed.
Marketing project (double)
In this academic project you'll design and conduct research that challenges – and contributes to – marketing knowledge. With the guidance of a supervisor, you'll manage your data gathering programme and analysis to find an answer to the challenge you posed, and produce a 12,000 word dissertation which draws on your knowledge from across the course.
Employability
You'll be bursting with ideas when you graduate from this course – and you'll be equipped to develop strong business innovations and bring them to market.
Careers in Marketing
If you're looking for a role in marketing, you'll be equipped to apply for roles in corporate marketing, advertising, public relations and market research. Marketing executives help develop marketing campaigns to promote a product, service or idea. The work can be exceptionally varied – from sourcing and placing adverts, to producing marketing materials such as leaflets and e-newsletters, to organising events.
Excellent writing and confident presentation skills are essential to work in marketing. Good people skills are also a must as networking is particularly important. So is having a creative and adaptive mind. A traditional career path leads from marketing executive to senior marketing executive, then to marketing manager, and finally to marketing director. However the marketing industry is very broad, with many companies in all different sectors requiring varying degrees of marketing expertise, so options for progression vary considerably.
Employability skills
Our marketing courses are designed with employability at their core. The concepts and skills which you will learn here are being applied in the workplace today – we consult with industry at the design stage, so we know that you will graduate knowing how to do the job confidently, and with some experience under your belt to prove it.
If you choose to undertake the (optional) Placement route with a British-based company where you can gain valuable industry experience, your employment prospects will improve further. Our best graduates are working with brands such as Unilever, Zenith Watches, traditional agencies including those in the WPP and Publicis groups and in leading-edge digital consultancies. Many are helping to build smaller entrepreneurial enterprises. They're brand managers, marketing managers, account managers and consultants.
Continuing your studies
When you graduate from this course, you'll be able to apply for further study at postgraduate level, and the academic strength of this course means that you can also consider entering the field of academic research.
Employability Service
We are University of the Year for Graduate Employment for the second year in a row - The Times and Sunday Times Good University Guide 2018, 2019.
At LSBU, we want to set you up for a successful career. During your studies – and for two years after you graduate – you'll have access to our Employability Service, which includes:
An online board where you can see a wide range of placements: part-time, full-time or voluntary. You can also drop in to see our Job Shop advisers, who are always available to help you take the next step in your search.
Our Careers Gym offering group workshops on CVs, interview techniques and finding work experience, as well as regular presentations from employers across a range of sectors.
Our Student Enterprise team can also help you start your own business and develop valuable entrepreneurial skills.
Professional links
Our central London location and large and enthusiastic network of alumni mean we have strong – and numerous – our marketing industry contacts. On this course, you'll meet them during your studies and through frequent networking events. Last year our marketing students met managers of brands including Coca-Cola, Grazia Magazine, Lynx and Louis Vuitton Moet Hennessey (LVMH) and enjoyed guest lecturers from leading and award winning agencies including Ipsos-Mori, Dixon Baxi and Ogilvy & Mather UK.
Course modules are accredited by the Chartered Institute of Marketing.
Since its introduction, the marketing programme has enjoyed strong links with the Chartered Institute of Marketing (CIM). This award is accredited by the Chartered Institute of Marketing as part of their Dual Award Programme. Only a limited number of universities in the UK hold such accreditation. As a result, our graduates are allowed direct entry with exemptions onto the CIM Professional Postgraduate Diploma in Marketing.
Placements
All of our Marketing degrees have an optional one-year placement module. You can take this between the second and final year of study. To give you a competitive edge when you graduate, you'll be encouraged to undertake either a formal full year placement or to build a portfolio of work experience and voluntary work. Our students have undertaken marketing placements in companies such as Rolls Royce, InterContinental Hotels and Intel, as well as in smaller entrepreneurial businesses, and in communications, branding and sales agencies.
Teaching and learning
We focus on experiential learning, through a variety of real-time live case studies and an optional full-year placement – so you can apply your knowledge in a workplace environment and improve your employability in a competitive field. You'll be supported in your transition to Higher Education through coaching in year one and personal tutoring and mentoring at all stages.
Teaching is delivered through formal lectures, seminars and workshops in small groups, and online for each module through our virtual learning environment, moodle (which is available through your mobile or tablet). Project work is supervised in 1-2-1 sessions and lecturers are available for drop in sessions too.
Percentage of time spent in different learning activities

| | Lectures and seminars | Self-directed study |
| --- | --- | --- |
| Year 1 | 29% | 71% |
| Year 2 | 29% | 71% |
| Year 3 | 25% | 75% |
Personal Tutoring
As an undergraduate student in the Business School, your personal development and wellbeing is very important to us, so we have developed a personal tutoring system that is tailored to your individual and group needs.
Firstly, you will be allocated a personal tutor who will be available to you on a 1:1 basis as well as facilitating group personal tutoring sessions which will be designed to enhance your academic and personal development within your degree programme.
In addition to an allocated personal tutor, there will also be a personal tutor available 'on call' in a designated room, called 'Talk', for confidential 1:1 pastoral care meetings every day of the academic semester from 9am to 8pm. This personal tutor can be seen by appointment or within a few minutes in order to assist you with any concerns that you may have.
Our personal tutoring motto is that we want you to "Achieve, Succeed & Excel".
Coaching
Students in their first year of an undergraduate degree will also benefit from our BE programme. This programme is a proactive approach to student development that draws out our students' potential through a process of self-analysis, reflection, planning and action, enabling students to discover and decide upon their required needs.
Entry requirements
A Level BCC or:
BTEC National Diploma DMM or:
Access to HE qualifications with 9 Distinctions and 36 Merits or:
Equivalent Level 3 qualifications worth 106 UCAS points
Applicants must hold 5 GCSEs A-C including Maths and English, or equivalent (reformed GCSEs grade 4 or above).
We welcome equivalent qualifications from around the world. English language qualifications for international students: IELTS score of 6.0 or Cambridge Proficiency or Advanced Grade C.
Visit UCAS for guidance on the 2018 tariff.
Advanced entry
If you have already completed some studies at another university, we may be able to consider you for advanced entry. Please see our advanced entry page for more information.
How to apply
International students
International (non Home/EU) applicants should follow our international how to apply guide.
Home/EU applicants
Mode
Duration
Start date
Application code
Application method

Mode

Full-time

Duration

3 years

Start date

September

Application code

NN51

Application method

Mode

Sandwich

Duration

4 years

Start date

September

Application code

NN51

Application method
Accommodation
Once we have made you an offer, you can apply for accommodation. You can rent from LSBU and you'll deal directly with the university, not third party providers. That means we can guarantee you options to suit all budgets, with clear tenancy agreements and all-inclusive rents that include insurance for your personal belongings, internet access in each bedroom and on-site laundry facilities.
Or, if you'd rather rent privately, we can give you a list of landlords – just ask our Accommodation Service.
Read more about applying for accommodation at LSBU.
Finance
You don't need to wait for a confirmed place on a course to start applying for student finance. Read how to pay your fees as an undergraduate student.
Prepare to start
Applicant events
After you've received your offer we'll send you emails about events we run to help you prepare for your course.
Welcome Week
Before you start your course we'll send you information on what you'll need to do before you arrive and during your first few days on campus. You can read about the process on our Welcome Week pages.
Suggested reading
Kahneman, D. (2014) Thinking, Fast and Slow. NY; Farrar Straus Giroux.
Sharp, B. (2010) How Brands Grow. Melbourne; OUP
Fees and funding
Fees are shown for new entrants to courses, for each individual year of a course, together with the total fee for all the years of a course. Continuing LSBU students should refer to the Finance section of our student portal, MyLSBU. Queries regarding fees should be directed to the Fees and Bursaries Team on: +44 (0)20 7815 6181.
UK/EU fee:

£9250.00

International fee:

£14470.00

AOS/LSBU code:

4946

Session code:

1FS00
Total course fee:
UK/EU (excluding any optional years)
£27750.00
UK/EU (including any optional years)
£27750.00
International (excluding any optional years)
£43410.00
International (including any optional years)
£43410.00
For more information, including how and when to pay, see our fees and funding section for undergraduate students.
Please check your fee status and whether you are considered a Home, EU or International student for fee-paying purposes and for our regulatory returns, by reading the UKCISA regulations.
See our Tuition Fees Regulations (PDF File 160 KB) and Refund Policy (PDF File 102 KB).
Possible fee changes
The University reserves the right to increase its fees in line with changes to legislation, regulation and any government guidance or decisions.
The fees for international students are reviewed annually and the University reserves the right to increase the tuition fees in line with the RPIX measure of inflation up to 4 per cent.
Scholarships
We offer several types of fee reduction through our scholarships and bursaries. Find the full list and other useful information on our scholarships page.
Contact information
Course Enquiries - UK
Tel: 020 7815 7815
Due to COVID-19, call waiting times may be longer than usual. Click here to start a live chat with us (Mon-Fri, 9am-5pm)
Get in touch
KIS Data