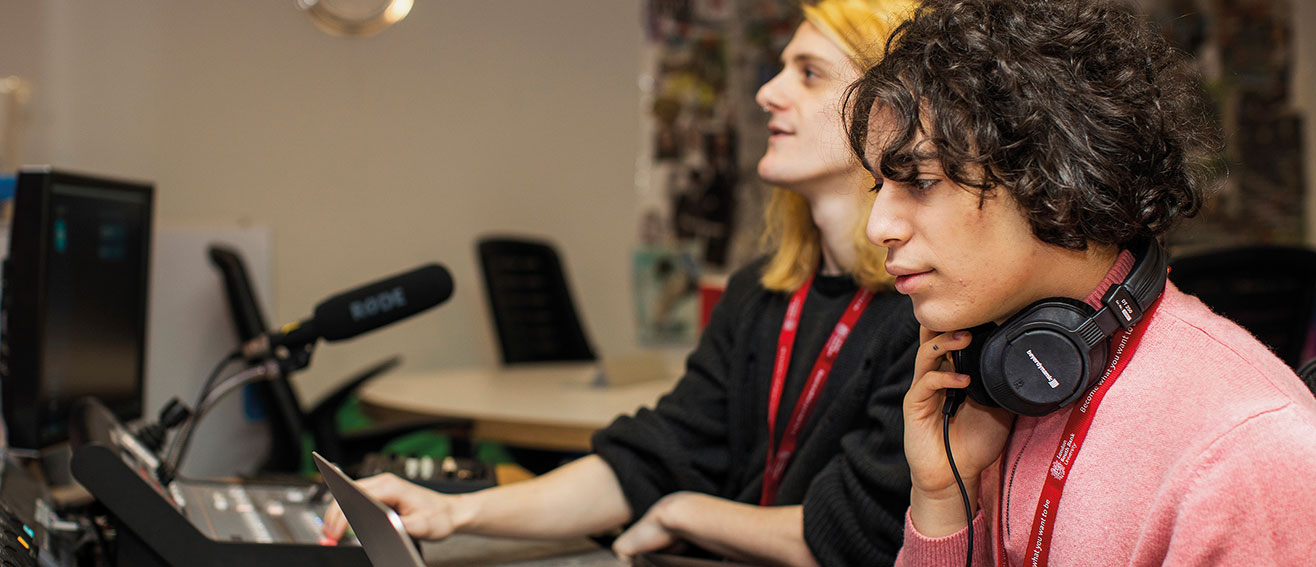 BA (Hons) Film Studies
Southwark Campus
Mode: Full-time
Overview
For film fanatics
Consistently rated as one of the top film studies programmes in London, this dynamic and wide-ranging course combines film theory, world cinema studies and digital video practice to give you a comprehensive, critical study of film. Our focus is on the cultural, aesthetic and economic importance of film, past, present and future. You'll acquire an extensive filmic knowledge and learn to analyse film in all its forms and cultural diversity. Throughout the course, you'll produce a distinctive portfolio of critical and practical work with the help of expert tutors and industry professionals. What's more, as a student in the heart of our film-making capital, you'll benefit from our exclusive partnership with the British Film Institute as well as having some amazing opportunities to get involved with the full array of media industries on our doorstep.
We offer the opportunity for all undergraduate Home/EU students to undertake a work placement, internship or work experience while studying a full-time course starting in September 2021.
Why study Film at LSBU?
Ranked joint 7th in the UK and 1st in London for Student Satisfaction in Communication and Media Studies (Complete University Guide 2021)

Watch and analyse an abundance of great films across a range of genres: lectures are accompanied by weekly film screenings and interactive seminars.

Courses are taught by expert film scholars and industry active practitioners with excellent links to arts and media organisations.

Elephant Studios: multi-million pound studio facilities at the forefront of digital technologies and multimedia practice for creative students.

Inspiring location: a short walk to the British Film Institute, the BFI Library and BFI Mediatheque.

Professional links: we have 15 large international media companies on our doorstep as well as television companies, some of the finest theatres in the world and a thriving start-up economy.

Top 10 in the UK and 1st in London for overall satisfaction in Media Studies (National Student Survey 2020)
Key course information - ordered by mode
Mode
Duration
Start date
Location

Mode

Full-time

Duration

3 years

Start Date

September

Location

Southwark Campus
Modules
Throughout the course you'll study film texts, film histories and national cinemas from a variety of perspectives to gain a deep understanding in the subject. You'll explore world cinema history, the British film industry, and the future of film in a globalised world of digital media. We'll help you to use that knowledge and training to make fiction and documentary films that break new ground, and you'll also learn how to present and communicate your ideas in an engaging and dynamic way by delivering great presentations, and compiling film production dossiers to industry standards. In your second year you'll have the chance to further develop your practical skills by either writing short screenplays, or entering a work experience opportunity in the cultural industries.
Methods of assessment for course overall: 83% coursework.
Year 1
Reading the screen: theory and aesthetics
This module develops and builds on the content covered in 'Reading the Screen: Analysis and Design' and introduces you to a range of theoretical approaches to the study of film. We'll introduce the role of film theory as a way of understanding and analysing movies. This module concentrates on a selection of Anglo-American and European film and narrative theory. There will be screenings of films throughout the module to explore the complex and meaningful dialogue between the analysis of film form and aesthetics and various theoretical approaches. Assessment: Group presentation and critical reflection (40%) and 1,500-word essay (60%).
The rise of cinema: history and diversity
The received opinion of film history is that out of an initial period of incredible diversity of purpose and form arose a 'dominant' mode of narrative film which we still see, more or less intact, today. This module charts this journey in the film's development, from the late 19th century to contemporary digital cinema, exposing the diversity and testing some of the central assumptions of text-book film history. We'll look at the historical development of cinema and the film industry from its outset through to the Post World War II era up until today's digital cinema manifestations. The social and cultural significance of cinema is examined at key points, illustrating how a knowledge of history can deepen our understanding of film texts and contribute to a 'historiography' of the moving image. Assessment:500-word essay introduction and conclusion (30%) and 1,500-word essay (70%).
Reading the screen: analysis and design
This module introduces you to a range of different approaches to the study of film. We'll introduce you to a range of narrative and non-narrative forms and offers a basic introduction to film style with a focus on the elements of mise-en-scene, camera work, editing and sound. The emphasis here is on providing you with the tools necessary for the detailed and comprehensive analysis and interpretation of film. This module will prepare you for the second semester, in which analysis will enter a creative dialogue with different aspects of film theory. Assessment: 1,000-word shot-by-shot analysis of a short sequence of selected film (40%) and Group presentation (60%).
The film auteur: vision and style
In this module we'll examine the wide-ranging debates related to the film auteur through historical enquiry, theoretical investigation and comparative case studies. We'll explore the fraught relationship between film theory and the concept of the auteur, where the arguments against the film director-as-artist are set against the many instances of extraordinary 'personal' style and innovation in the cinematic medium. After exposure to the critical debates, you'll analyse a series of case-studies to better understand the auteur in the context of the 'classical', the 'postmodern' and the 'world cinema' auteur. Finally, we'll also update the discussion by considering the impact of digital media on the idea of the film auteur. Assessment: 1,000-word extract analysis of a short film sequence (40%) and Essay (60%).
World cinema: origins and forms
In this module we'll look at the historical and formal development of film and the cinema industry from the perspective of World Cinema. We'll consider the significance of film from around the globe (E.g. Eastern Europe, Japan, Latin America, Africa, India) and charts the development of a global film industry. We'll follow the historical methodology signalled in the preceding 'Rise of Cinema: History and Diversity' module and widen the theoretical and analytical focus to instances of national cinemas that have provided a significant challenge and alternative to dominant 'Western' modes of narrative and representation. Assessment: 1,000-word extract analysis of a short film sequence (40%) and Essay (60%).
Film-making and innovation
In this practical film-making module you'll apply the practical skills and processes involved in digital video-making to the conceptual practices of film theory and aesthetics. You'll learn the basics of digital video production and enter into a creative dialogue between film theory and practice. They will produce a short fiction film that is satisfying in its own right and to an audience. You'll gain an awareness of the 'position' of this type of practice within moving-image industries, and produce a short video to illuminate and test certain key concepts in the theoretical analysis of film form such as strategies towards framing, editing, length of take, and mise-en-scène. Through lectures and workshops we'll foster an awareness of film as art and consider what constitutes innovation in film-making. Diversity issues are addressed in this module through discussions of ethics in moving-image representation and production. Assessment: 2-6 minute group film (50%) and 1,500-word production log sheets and evidence of theoretical film analysis (50%).
Year 2
European realisms: Italy and France
In this module we'll explore the cultural, historical and material factors that contributed to the importance of Neorealist films in post-war Italian cinema – one of the most influential film movements in cinema history. We'll go on to reveal the profound connections between this movement and the subsequent cine-revolution in France represented by the French New Wave. You'll analyse a range of Neorealist and New Wave films in relation to your cultural and historical context, and place them within critical debates on film form, national cinema and identities. You'll gain a thorough insight into the relation between theory and practice in these two innovative movements, and go on to discover the lasting legacy for contemporary cinema. Assessment: 1,500-word extract analysis of a short film sequence (40%) and 1,500-word essay (60%).
Projecting Britain: from the sixties to the new millennium
In this module we'll examine films from the specified period of British cinema history, with a focus on the films' representation of economic, political and cultural change in British society. The key question guiding this module is one of how change occurs, and film's implicit and explicit role in reflecting and commenting on the changes which occurred, as well as those that were thwarted, in Britain during this period. We'll introduce you to the British New Wave of the early 1960s, and the radical cinema of the later 1960s and 70s. We'll investigate the 'Thatcherite' texts from the 1980s and moves on to the variegated forms of the 1990s. We'll also examine the role of realism as a predominant style in British cinema and critically analyses works by major, as well as critically overlooked, British directors through close attention to detail paired with wider contextual study. Assessment: Group presentation (40%) and 1,500-word essay (60%).
Documentary modes: practice and theory
This course introduces you to the major documentary modes by offering a critical analysis of documentary's major systems of visual representation. You'll demonstrate your understanding by producing a short documentary film, which is satisfying in its own right and to an audience. You are expected to develop a critical agenda and to explore texts and films relevant to your project. The practical element of the module enables you to enter into a creative and critical dialogue with theories and debates surrounding traditional and alternative modes of documentary film-making. Assessment: 5-6 minute group documentary film (50%) and a 1,200-word critical reflection plus a 300-word production log (50%).
American cinema: Hollywood and independents
This module introduces you to the history and development of American cinema. You'll extend your knowledge and understanding of the growth of the film industry and your interpretation of image and meaning in film gained at Level 4. The module focuses on key aspects of Hollywood cinema including: production, distribution, exhibition and audiences. We'll go on to explore the relationship between Hollywood and Independent American cinema and explore the latter in terms of an alternative representational mode to Hollywood. You'll also be given the opportunity to view a wide range of Hollywood and Independent films and to critically evaluate such films in relation to the major themes of the module. Assessment: 3,000-word essay.
Critiquing gender and sexuality in the movies
In this module we'll examine developments in the cinematic representation of gender and sexuality from classical Hollywood cinema to present day mainstream film. We'll begin our critical focus in the early 1970s feminist interventions that not only began a wholesale reappraisal of the cinematic canon but also developed a theoretical corpus that addressed fundamental issues of women's identity in society, representation in the media, and spectatorship in cinema. You'll encounter a number of critical approaches – particularly psychoanalysis, semiotics, and queer theory – that were developed to explore the complex issues of gendered and sexual identity and the relationship between representation and politics. Assessment: 1,500-word extract analysis of a short film sequence (40%) and 1,500-word essay (60%).
Plus one optional module from:
Screenwriting
In this module we ask you to write an original 10-minute screenplay for a short narrative based drama. You'll explore the nature of narrative screen drama, the importance of research and development in generating new ideas, while considering the relationship between the script and the screen. You'll consider the importance of structure, plotting and setting, learn the difference between exposition and dialogue, while also thinking about such matters as point of view and mise-en-scene as narrative tools. Assessment: 100% coursework, 10-minute narrative screenplay (8-10 pages), one page treatment, and a 500-word reflection of the value of scholarly and trade literature (screenwriting books) for your scripts.
Professional employability
The production of film and video is almost always a collaborative exercise in some form or another. In the industry this means that teams of people, rather than the lone individual, predominantly produce work. This module offers you the opportunity to gain experience of work within the media industries through placement, shadowing experience or industry engagement. A placement will typically be for two weeks and you'll be required to reflect upon the culture, conventions, practices, power hierarchies and representations of the organisation. The focus will be on identifying what is happening in the your chosen sector in terms of trends, issues and markets, and this will involve analysis of your role in your industry engagement. Assessment: 5-minute presentation (40%) and a 2,000-word report (60%).
Year 3
Contemporary cinema and digital futures
This module will focus on contemporary cinema from across the globe to provide you with a flavour of current trends in terms of themes and aesthetics. We'll cover the development of CGI cinema as the most recognisable form of digital cinema in the popular imagination, but we'll expand the definition to encompass diverse genres, forms and national cinemas to afford an awareness of the richness and diversity of contemporary film output. We will frame cinema today in terms of digital production methods and seek to relate the particular forms of digital cinema to both a new kind of affect and a new kind of 'control society' characterised by flows of information. Assessment: 1,500-word film extract analysis (40%) and 2,000-word essay (60%).
Film and revolution in the developing world
In this module we'll examine the complex nexus of cinema, politics and film-making practices that have defined the concept of 'Third Cinema' since the 1960s. The focus will be on African, Asian and Latin American models, and will go on to explore the links to contemporary filmic manifestations of political resistance in the West as well as in the developing world. Finally, the we'll consider the future of this type of cinema in the light of digital technologies and global competition from 'Hollywood'. You'll explore the writings and manifestos of the Third Cinema filmmakers themselves and situate these in the light of contemporary critical and theoretical work. Assessment: 1,500-word film extract analysis (40%) and 2,000-word essay (60%).
Film reviewing and curating
This module introduces you to concepts and practices of both film reviewing in a number of contexts, and film curation, including archiving. We'll outline the milieus of the film review in relation to other areas of film writing such as film criticism and film theory, and provide you with an opportunity to practice film reviewing by publishing to a student-owned blog on the WordPress platform. In addition, the module will explore film curation and the role of the film curator within the spaces of the art gallery as well as the wider film industry. We'll chart the changes that have occurred in film programming over the past decades and explore the important contribution of film festivals to the production industry, and the role of the film archive in a digital context. As part of the module, you'll gain experience in programming an original idea of your own for a film festival or curation event. Assessment: film blog production with two film reviews (1,500 words) (50%) and a 1,500-word film festival or curation event proposal (50%), which will include the rationale for the festival/event, market profiling and analysis and venue selection.
British film industry now!
This module offers a detailed and practical survey of the contemporary British film industry, providing you with an understanding of its organisational and funding structure from the 1980s to contemporary times. We'll invite external speakers in various industry roles to provide insights into the professional capabilities required and a snapshot of the current state of the film industry and related sectors, with a particular focus on issues of diversity and representation. In addition we'll summarise the main trends in British Cinema since 2000 in terms of thematics and aesthetics. You'll be required to develop a feature film idea into a budgeted production package and pitch the idea to a nominal UK funding panel. Consequently, the module provides a chance for you to combine practical and academic knowledge to gain skills and capabilities useable in real world film and media production. Assessment: 1,000-word critical review of a professional role in the film industry (30%) and group pitch project (70%).
Plus one optional module from:
Critical film practice (practical module)
This module focused on the major fiction and documentary modes of film-making and relevant theories and debates surrounding narrative and non-narrative film. You choose from set assessment themes to explore a specific area of film theory in 'practice mode'. Understanding the relationship between theory and practice is demonstrated by producing a short film, which is satisfying in its own right and to an audience. You are expected to develop a critical agenda and to explore texts and films relevant to your project. The practical element of this module enables you to enter into a creative and critical dialogue with theories and debates surrounding traditional and alternative modes of either narrative, or non-narrative film-making. Assessment: group, or individual, project narrative or non-narrative film (8-10 mins) (50%) and 3,000-word individual documentation (production log) and critical reflection of film (50%)
Film dissertation
The final year Film Studies dissertation is an extended research project of 8,000 to 10,000 words. It is credited as a double module. The dissertation provides you with the opportunity to write a research based dissertation on any area covered in the course or relating to aspects of film studies. You are strongly encouraged to pursue an original line of enquiry, and are expected to manage your research and write independently with support and advice from their supervisor.
Employability
Studying film in London puts you at the centre of the filmmaking business. You'll be prepared for work in the film, media and cultural industries in roles such as film curation, TV production, journalism, PR, publishing or adverting. A Film Studies degree, like other humanities qualifications, also opens doors to a wide range of non-media specific professions including teaching, management, marketing, and the voluntary and local government sectors.
When you finish this course you'll have a range of practical skills with which to shape your future, including screenwriting, pitching ideas and building a creative video portfolio.
Although the course does not provide you with professional film or media production training, it will give you the intellectual and practical skills and abilities that are premium requisites in the media and creative industries – and our graduates have gone on to work for the BBC, ITV and Universal (Europe).
Recent graduates from this course have gone onto roles such as: TV Production Trainee at the BBC, Independent Music Video Director, Film Education Assistant at BFI Southbank, Production Runner, Client Service Runner and Theatre Production Assistant.
Take a look at some potential careers, including TV production, in our Prospects section.
Employability Service
We are University of the Year for Graduate Employment for the second year in a row - The Times and Sunday Times Good University Guide 2018, 2019.
At LSBU, we want to set you up for a successful career. During your studies – and for two years after you graduate – you'll have access to our Employability Service, which includes:
An online board where you can see a wide range of placements: part-time, full-time or voluntary. You can also drop in to see our Job Shop advisers, who are always available to help you take the next step in your search.
Our Careers Gym offering group workshops on CVs, interview techniques and finding work experience, as well as regular presentations from employers across a range of sectors.
Our Student Enterprise team can also help you start your own business and develop valuable entrepreneurial skills.
Professional links
Being based in SE1 gives the School or Arts & Creative Industries access to the creative big-hitters. We have links with everyone from the BBC and BAFTA to BFI, Globe Theatre, Old Vic, NEWS UK, The Photographers' Gallery and new media outlets such as LADbible. This network of contacts is crucial to your employability once you graduate – experience you gain working on placements, live briefs and other internship opportunities will be invaluable.
Cultural epicentre
LSBU is just a short walk away from the headquarters of the British Film Institute (BFI Southbank). Amongst the facilities and resources available here are the BFI Library, a world-renowned centre for academic film research, and the BFI Mediatheque, a set of dedicated workstations for viewing highlights from the world's greatest and most diverse collection of film and television. Students will visit BFI Southbank as part of their Induction.
Recent guest lecturers:
Nick Broomfield, documentary filmmaker
Deborah Moggach, screenwriter, Pride and Prejudice
Kieron Corless, deputy editor, Sight and Sound
John Smith, screenwriter, Gnomeo and Juliet.
You will benefit from LSBU's close partnership with The British Film Institute (BFI), the UK's lead organisation for film, television and the moving image. This includes complimentary access to the BFI Player, the BFI's award-winning streaming platform. The BFI Player is the leading platform for world and independent cinema, and has over 700 films as well as a wealth of POD rental titles and over 11,000 archival films that can be explored for free. Our partnership also means access to a range of bespoke masterclasses given by BFI staff members and BFI network colleagues. You will also have access to a number of benefits, discounts and offers. As the BFI is only a short walk away from LSBU, on London's South Bank, you have ready access to the organisation that curates and presents the greatest international public programme of world cinema for audiences in cinemas, at festivals - and online.

You will also get the opportunity to gain skills in Blackmagic Design's DaVinci Resolve 14, post production software, with an accredited trainer. DaVinci Resolve 14 is three high end applications in one with professional editing, colour correction and the new Fairlight audio tools.

Our Film courses are approved by the National Association for Higher Education in the Moving Image (NAHEMI), the professional body that represents excellence in film education and all of the major film schools and film courses in the UK and Ireland. This provides you with exciting opportunities to collaborate, share best practice and increased learning possibilities with film schools and universities, nationally and internationally. It provides a high profile showcase for your work and an opportunity to be at the forefront of debate in film pedagogies, extending our influence in film education and helping our students to succeed.
Teaching and learning
Your Lecturers are leading practitioners in their fields, so everything we do is industry relevant. Inspiring guest speakers from the media, broadcasting and production houses will give you further industry insight and build your professional connections.
Percentage of time spent in different learning activities

| | Lectures and seminars | Self-directed learning |
| --- | --- | --- |
| Year 1 | 30% | 70% |
| Year 2 | 25% | 75% |
| Year 3 | 20% | 80% |
Year Tutoring
As an undergraduate Arts and Creative Industries student, you will be allocated a named tutor during your first three weeks at LSBU. The role of your tutor is to be your primary contact for academic and professional development support.
Your tutor will support you to get the most of your time at LSBU, providing advice and signposting to other sources of support in the University.
Your tutor should be the first person at the university that you speak to if you are having any difficulties that are affecting your work. These could be academic, financial, health-related or another type of problem.
You will have appointments with your year tutor at least once a semester for 30 minutes throughout your course. You can contact your tutor for additional meetings or support by email.
Entry requirements
Entry requirements
A Level BCC or;
BTEC National Diploma MMM or;
Access to HE qualifications with 9 Distinctions 36 Merits or;
Equivalent level 3 qualifications worth 106 UCAS points
Applicants must hold 5 GCSEs A-C including Maths and English or equivalent (reformed GCSEs grade 4 or above)
We welcome qualifications from around the world. English language qualifications for international students: IELTS score of 6.0 or Cambridge Proficiency or Advanced Grade C.
Advanced entry
If you have already completed some studies at another university, we may be able to consider you for advanced entry. Please see our advanced entry page for more information.
How to apply
International students
International (non Home/EU) applicants should follow our international how to apply guide.
Home/EU applicants
Mode
Duration
Start date
Application code
Application method

Mode

Full-time

Duration

3 years

Start date

September

Application code

W600

Application method
Accommodation
Once we have made you an offer, you can apply for accommodation. You can rent from LSBU and you'll deal directly with the university, not third party providers. That means we can guarantee you options to suit all budgets, with clear tenancy agreements and all-inclusive rents that include insurance for your personal belongings, internet access in each bedroom and on-site laundry facilities.
Or, if you'd rather rent privately, we can give you a list of landlords – just ask our Accommodation Service.
Read more about applying for accommodation at LSBU.
Finance
You don't need to wait for a confirmed place on a course to start applying for student finance. Read how to pay your fees as an undergraduate student.
Prepare to start
Applicant events
After you've received your offer we'll send you emails about events we run to help you prepare for your course.
Welcome Week
Before you start your course we'll send you information on what you'll need to do before you arrive and during your first few days on campus. You can read about the process on our Welcome Week pages.
Preparatory Reading List
The rise of cinema:
Bordwell,D & Thompson,K (2009) Film History: An Introduction. Winconsin: McGraw-Hill
Reading the screen:
Film Analysis: o Bordwell,D & Thompson,K (2010) Film Art: An Introduction. Winconsin: McGraw-Hill.
Authorship in cinema:
Wood, Robin (1989) Hitchcock's films revisited New York: Columbia University Press
Please read the introductory chapter of each book.
Fees and funding
Fees are shown for new entrants to courses, for each individual year of a course, together with the total fee for all the years of a course. Continuing LSBU students should refer to the Finance section of our student portal, MyLSBU. Queries regarding fees should be directed to the Fees and Bursaries Team on: +44 (0)20 7815 6181.
UK/EU fee:

£9250

International fee:

£14470

AOS/LSBU code:

3311

Session code:

1FS00
Total course fee:
UK/EU
£27750
International
£43410
For more information, including how and when to pay, see our fees and funding section for undergraduate students.
Please check your fee status and whether you are considered a Home, EU or International student for fee-paying purposes and for our regulatory returns, by reading the UKCISA regulations.
See our Tuition Fees Regulations (PDF File 160 KB) and Refund Policy (PDF File 102 KB).
Possible fee changes
The University reserves the right to increase its fees in line with changes to legislation, regulation and any government guidance or decisions.
The fees for international students are reviewed annually and the University reserves the right to increase the tuition fees in line with the RPIX measure of inflation up to 4 per cent.
Scholarships
We offer several types of fee reduction through our scholarships and bursaries. Find the full list and other useful information on our scholarships page.
Contact information
Course Enquiries - UK
Tel: 020 7815 7815
Due to COVID-19, call waiting times may be longer than usual. Any questions? Use the green bubble on the bottom right hand corner to start a live chat with us
Get in touch
KIS Data