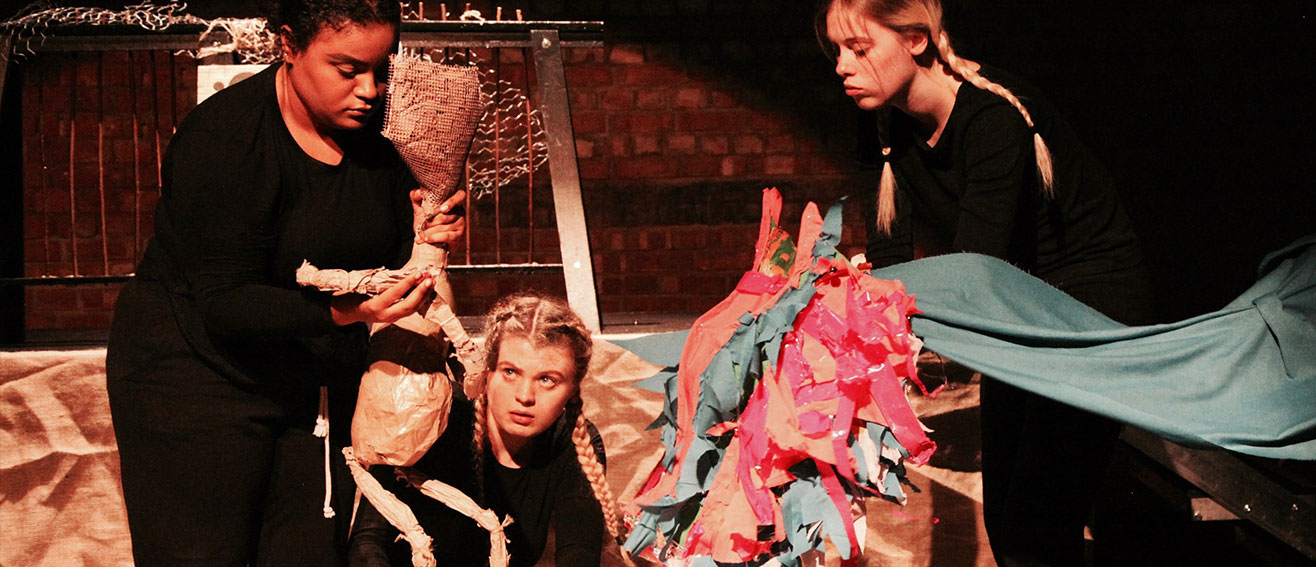 BA (Hons) Drama and Applied Theatre
Southwark Campus
BA Drama and Applied Theatre
Overview
A distinctive insight
BA (Hons) Drama and Applied Theatre allows you to study a range of drama techniques and practice, as well as providing a distinctive insight into applied theatre: making you highly employable after you graduate.
We offer the opportunity for all undergraduate Home/EU students to undertake a work placement, internship or work experience while studying a full-time course starting in September 2021.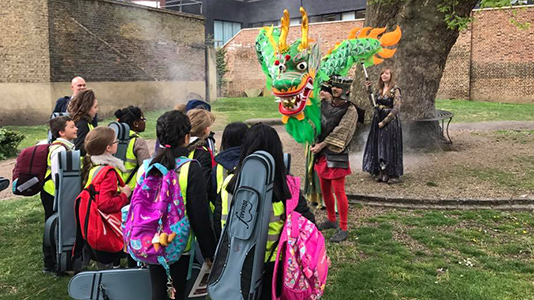 You'll work with a range of industry-trained academics and professional partners who will help you gain the practical skills needed to produce and deliver your own community theatre projects while having many opportunities to capitalise on our cultural quarters.
Why study Drama and Applied Theatre at LSBU?
Ranked 1st for satisfaction with teaching in London (Guardian League Tables 2020).

LSBU Student Theatre Company: You'll take part in a full season of theatre working exclusively with theatre professionals including directors, performers and theatre companies.

Creative partnership with Frantic Assembly: Known for their high-octane, physical theatre productions Frantic Assembly will deliver workshops and residencies, and share their expertise with you.

The Edric Theatre is a dedicated performance and rehearsal space with a 90-seat capacity, plus a 30-seat studio and backstage facilities.

Take full advantage of the proximity to London's theatres by attending professional workshops, gaining temporary employment and answering casting calls.

Top 20 in the UK for Graduate Prospects in Drama, Dance and Cinematics (Complete University Guide 2021)
LSBU recently awarded Hollywood star David Oyelowo an Honorary Doctorate. To find out more about how Gill Foster our head of Drama helped encourage David to pursue his acting career read our story and check out this BBC News clip.
Key course information - ordered by mode
Mode
Duration
Start date
Location

Mode

Full-time

Duration

3 Years

Start Date

September

Location

Southwark Campus
Modules
During your three-year course you'll build core performance strengths in acting technique, movement, expressiveness, scene study, and characterisation.
Alongside this you'll also engage your skills as a creative actor and performer through the exploration of innovative contemporary performance methods and new theatre practices.
Year 1
Theatre workshop
In this module you will take part in a diverse series of practical and fun workshops exploring key dramaturgical concepts, perspectives, tools and general performance skills. You will develop trust, play and confidence that will guide you through the next three years of your degree. This module is a practical introduction to fundamental theatre-making concepts and performance skills. The study area of each workshop will be developed by looking at existing performances; you will examine the structural and essential features that constitute a theatrical experience. Different members of the Drama teaching team will lead each session allowing you to meet the diverse set of staff leading you through your degree.
Acting a role
This module will introduce you to the Stanislavski system of training the actor and enable you to develop your vocal and stagecraft skills in rehearsal and performance. You will investigate the artistic processes involved in creating a role to the standards of the professional rehearsal room. You will also learn about the historical evolution of naturalism and realism and engage actively and creatively in the process of building a role.You will develop the ability to interpret a text from the point of view of an actor, equipping you with the skills needed to work to professional standards, introducing you to the working practices of the professional actor.
What is education?
An introduction to key concepts in education studies contextualised within the disciplines of philosophy, sociology and history.
Performance Lab
The emphasis of this module will be live performance, the performer's body and the relationship you have with the audience. In the first part of this module you will be introduced to work created upon the form of ritual, play, games and performance in everyday life. You will then be guided into performance art and body art through a brief historical overview of the field. This module will enable you to analyse the relationship between the body in everyday life and the body in performance, and develop an understanding of the relationship between the audience and the space.
Acting the text
This module is offered as an option if you are interested in further developing the work encountered in Acting a role by exploring characterisation techniques used by professional actors. In groups, you will develop a workshop performance of a contemporary play and apply the characterisation techniques learnt on the module. Alongside the practical work, you will work on critical reflections in the form of a rehearsal script and notebook. You will experience the performer's journey from their first encounter with a script, through the various stages of rehearsal to a work-shopped formal performance
Workshop in development
Facilitation and delivery of workshops, ethics of intervention and representation and an overview and exploration of different concepts of applied theatre.
And an optional module
Movement for actors
Through the combined study of technique and its application to practice, students will develop an informed understanding of the many different contemporary approaches to movement in theatre and performance. The module will build awareness of the importance of physical training in order to create the physical score of a text and fully embody a character, as well as build confidence in the students' understanding of the expressive potential of the body in performance.

This module will focus on the development the actor's movement and expressive physicality through technique classes designed to improve strength, coordination and flexibility. The work encountered will enhance your awareness of physical and gestural approaches to characterisation in preparation from Collaborative Production and Artistic Residency in Year 2.
Year 2
Collaborative community theatre project
This is a 4 week intensive practical project ending in a production for a specific community/educational setting audience.
Company in residence - delivered by Frantic Assembly
In this module, you will gain practical experience working intensively with a professional physical theatre company. Working from contemporary issues, you will explore risk-based physical work, expressive staging and ensemble movement to create a new piece of physical theatre. The current partner delivering this module is Frantic Assembly Theatre, although this is subject to change. You will gain confidence as a performer and develop a more expressive and dynamic stage presence. You will develop physical skills and techniques that can be applied to devising your own work.
Critical frameworks
This module will encourage you to theorise the practice you encounter in the 'professional season' semester. You will engage in a series of lectures and seminars designed to develop critical thinking and reflection on the work you engaged in for the intensive practical modules.
Theatre and audience
In this module you will investigate different forms of interactive theatre to gain an understanding of the practical and ethical aspects of engaging an audience directly in performance. You will learn approaches to making and performing participatory work and develop an understanding of the ethical implications of participation. You will be introduced to a range of different interactive forms including socially engaged work and community projects and skills including improvisation, reading an audience and dealing with challenging participants.
Theatre as social activism
A practical module where students will have the chance to work in small groups on a specific project from proposal to production in a community setting.
Placement module
This module invites you to experience a work placement which will be set up over the summer before year 3 begins.
Year 3
Contemporary issues in education
This module deals with politically, economically and socially current issues in education.
Mediation and negotiation skills
A shared module module with Law students in mediation and negotiation skills. This module can be extended externally to become an approved qualification by the College of Mediators.
Independent applied performance project
This module aims to allow students to develop and present an advanced independent performance project. Students will be expected to produce a coherent and critically informed final work that is fully matched to its intended audience. Students will be expected to produce work that demonstrates in-depth knowledge and understanding of the relevant issues and debates within the formal parameters of the subject they have chosen.
Independent applied practice as research
This module aims to allow students to develop and present an advanced independent practice as research project, which represents a summation of their practical and research interests on the course. Students will be working on creating 5000-6000 practice as research paper on a topic of their choice.
Employability
Graduates can be employed in a range of applied theatre settings, including theatre company education and outreach departments, Youth Theatres, schools, community theatre groups, Theatre-In-Education (T.I.E.) companies, and specialist theatre companies – e.g. in prisons and special schools etc. Alternatively, they can freelance as workshop leaders, directors, project managers and producers or go on to further their skills as teachers.
Employability Service
We are University of the Year for Graduate Employment for the second year in a row - The Times and Sunday Times Good University Guide 2018, 2019.
At LSBU, we want to set you up for a successful career. During your studies – and for two years after you graduate – you'll have access to our Employability Service, which includes:
An online board where you can see a wide range of placements: part-time, full-time or voluntary. You can also drop in to see our Job Shop advisers, who are always available to help you take the next step in your search.
Our Careers Gym offering group workshops on CVs, interview techniques and finding work experience, as well as regular presentations from employers across a range of sectors.
Our Student Enterprise team can also help you start your own business and develop valuable entrepreneurial skills.
Professional links
We have established a working partnership with the highly successful and creative theatre company, Frantic Assembly, known for their high-octane, physical theatre productions. You will work alongside Drama and Performance students with them while they share their expertise and working methodology with you through residencies to create performances together.
For activities such as networking, guest speakers, placement opportunities and projects we have links with a range of other theatre companies:
Theatre Centre, founded in 1953 by Brian Way; Theatre Centre empowers young leadership and youth activism through the arts and new writing touring into schools.

Bamboozle – a theatre company that creates possibilities for disabled children through making multi-sensory theatre experiences for schools and families.

Cardboard Citizens – who have been making life-changing theatre with and for homeless people for more than 25 years.

Synergy Theatre Project, which works across theatre and the criminal justice system inspiring change by affecting the feelings and attitudes of performers and audience.

National Theatre Learning, the education and outreach department of the National Theatre creates exciting projects at the NT, in schools and with people of all ages across the U.K.

Southwark Playhouse, a local theatre with strong community links and an Elders company as well as a young company.

New York Theatre Workshop, one of the leading producing theatres of original work in the United Sates and an LSBU Drama partner in co-producing community theatre projects.

Waterloo Community Theatre, a local organisation whose mission it is to offer free access to the arts, community and young people's creative selves
Other exciting contemporary theatre companies including Dirty Market Theatre, FanShen, Rough Fiction Theatre, Thick-Skin Theatre Company, Metra Theatre, Three Legged Theatre Company.

Further links and guest lecturers from professional companies and organisations including:
Teaching and learning
Personal, Year and Group Tutoring
As an undergraduate Arts and Creative Industries student, you will be allocated a named tutor during your first three weeks at LSBU. The role of your tutor is to be your primary contact for academic and professional development support.
Your tutor will support you to get the most of your time at LSBU, providing advice and signposting to other sources of support in the University.
Your tutor should be the first person at the university that you speak to if you are having any difficulties that are affecting your work. These could be academic, financial, health-related or another type of problem.
You will have appointments with your tutor regularly throughout your course. Sessions will be a mix of group and one-to-one sessions. You can contact your tutor for additional meetings or support by email or in class.
Entry requirements
A Level BBC or;
BTEC National Diploma DMM or;
Access to HE qualifications with 15 Distinctions 30 Merits or;
Equivalent Level 3 qualifications in a relevant subject such as Drama, Theatre or Performing Arts worth 112 UCAS points
Applicants must hold 5 GCSEs A-C including Maths and English or equivalent (reformed GCSEs grade 4 or above)
We welcome qualifications from around the world. English language qualifications for international students: IELTS score of 6.0 or Cambridge Proficiency or Advanced Grade C.


All students must also complete a successful audition to be considered for this course.
Advanced entry
If you have already completed some studies at another university, we may be able to consider you for advanced entry. Please see our advanced entry page for more information.
How to apply
Home/EU applicants
Mode
Duration
Start date
Application code
Application method

Mode

Full-time

Duration

3 Years

Start date

September

Application code

W440

Application method
Accommodation
Once we have made you an offer, you can apply for accommodation. You can rent from LSBU and you'll deal directly with the university, not third party providers. That means we can guarantee you options to suit all budgets, with clear tenancy agreements and all-inclusive rents that include insurance for your personal belongings, internet access in each bedroom and on-site laundry facilities.
Or, if you'd rather rent privately, we can give you a list of landlords – just ask our Accommodation Service.
Read more about applying for accommodation at LSBU.
Finance
You don't need to wait for a confirmed place on a course to start applying for student finance. Read how to pay your fees as an undergraduate student.
Prepare to start
Applicant events
After you've received your offer we'll send you emails about events we run to help you prepare for your course.
Enrolment
Before you start your course we'll send you information on what you'll need to do before you arrive and during your first few days on campus. You can read about the process on our Enrolment pages.
Fees and funding
Fees are shown for new entrants to courses, for each individual year of a course, together with the total fee for all the years of a course. Continuing LSBU students should refer to the Finance section of our student portal, MyLSBU. Queries regarding fees should be directed to the Fees and Bursaries Team on: +44 (0)20 7815 6181.
UK/EU fee:

£9250.00

International fee:

£14470.00

AOS/LSBU code:

5079

Session code:

1FS00
Total course fee:
UK/EU
£27750.00
International
£43410.00
For more information, including how and when to pay, see our fees and funding section for undergraduate students.
Please check your fee status and whether you are considered a Home, EU or International student for fee-paying purposes and for our regulatory returns, by reading the UKCISA regulations.
See our Tuition Fees Regulations (PDF File 160 KB) and Refund Policy (PDF File 102 KB).
Possible fee changes
The University reserves the right to increase its fees in line with changes to legislation, regulation and any government guidance or decisions.
The fees for international students are reviewed annually and the University reserves the right to increase the tuition fees in line with the RPIX measure of inflation up to 4 per cent.
Scholarships
We offer several types of fee reduction through our scholarships and bursaries. Find the full list and other useful information on our scholarships page.
Contact information
Course Enquiries - UK
Tel: 020 7815 7815
Due to COVID-19, call waiting times may be longer than usual. Click here to start a live chat with us (Mon-Fri, 9am-5pm)
Get in touch
KIS Data