Unistats
What is Unistats?
Key Information Set (KIS) Data is only gathered for undergraduate full-time courses. There are a number of reasons why this course does not have KIS data associated with it. For example, it may be a franchise course run at a partner college or a course designed for continuing professional development.
Overview
Designed for you
Please note: this course is currently closed for entry.
Digital Design combines the power of design thinking with the potential of digital technology to shape and change the way we interact with each other. The degree nurtures creativity and innovative thinking to produce confident graduates who are visually and digitally literate and equipped to adapt to new and exciting developments within this rapidly growing sector.
The course encourages you to experiment with a range of creative digital media across varied platforms (from animation and app development, to video editing and the web), as well as develop a contextual understanding of digital design through theory-based learning.
We offer the opportunity for all undergraduate Home/EU students to undertake a work placement, internship or work experience while studying a full-time course starting in September 2019.
At every stage of your degree, you'll be mentored by internationally recognised industry professionals and academic staff with commercial experience in video games, app development, web, graphics design, digital art theory and media production. You'll be encouraged to develop your own modes of practice throughout the degree, taking full advantage of collaborative opportunities with students on a wide range of related courses at the University.
Graduates earn a striking portfolio - an extremely strong foothold in the world of digital media design work.
Why Digital Design at LSBU?
Top 5 for graduate prospects amongst London competitors in Art and Design (Complete University Guide 2019).

Top for graduate prospects amongst London competitors in Art & Design (Sunday Times 2019).

Become an industry-ready creative. Develop skills in manipulating images, video and sound to create websites, animations, videos and interactive media for online and mobile use.

Taught by practitioners and academics with commercial experience in video games, app development, web, graphics design, digital art theory and media production.

Multi-million pound Elephant Studios: Arri Cameras, Dolby Atmos Surround Sound studios and cinemas, grading suites, news room and games design centre, digital design suites, and industry-ready film and photographic studios.

Collaborations, placements and work experience opportunities with The Photographer's Gallery, BBC, Blyk Mobile, British Red Cross, Museum of London, Tate Britain, the National Theatre and The National Gallery.

International exchange opportunities: Live and study at an international partner university to improve your CV and create global connections and outlook.

Inspiring location: a short walk to the Southbank Centre, National Theatre, BFI IMAX, Tate Modern, Royal Festival Hall, The Old Vic Theatre, and The Young Vic.
Key course information - ordered by mode
Mode
Duration
Start date
Location

Mode

Full-time

Duration

3 years

Start Date

September

Location

Southwark Campus
Stories
Mindaugas Snarskis, BA (Hons) Digital Media Arts, created a short video that reached the final of the Sky Arts ident competition.

The Elephant Studios at LSBU Mac Lab is fitted with Quad-Core and Dual GPU MacPros, available for digital media workshops and unsupervised student work.
Modules
You'll have the opportunity to learn an array of subtopics related to digital design, including creative coding, designing user experience and interaction, and moving image practices. All modules are assessed by the submission of individual and/or group coursework, oral presentations, essays and reports. Coursework makes up 100% of your assessment.
Year 1
Digital design fundamentals
This module introduces you to the fundamentals of digital media through digital imaging, writing and audio practices. You'll be encouraged to develop a critical awareness of how images carry meaning, explore the relationship between word and image, and discover the expressive power of sound.
Design for digital media
This module covers the fundamental principles of visual communication and digital design. Focusing on the application of two-dimensional design, including graphics, drawing and illustration, you'll be presented with specific briefs to stimulate visual thinking, encourage ideas generation, and promote new approaches to the design process.
New media and digital arts
This module will provide you with an introductory theoretical framework for considering the relationship between art, culture and technology and for developing critical reflection upon new media practices.
Creative coding
This module introduces you to the basic principles of programming and its creative application to digital media. It also explores the crucial role that software and coding has as the material foundation of digital culture.
Digital Storytelling
This module encourages students to experiment with communicating ideas through the use of sequential images: still and moving. Students will work in small production teams, collaborating to create animation and video projects (and solo reflective written pieces), and gain an understanding of the basic principles and expressive power of visual storytelling.
Thinking, making, writing in Creative Media
In this module you will explore synergies and convergences across the disciplines of photography, design, film, music, fine art and digital media. By extending your frame of contextual reference and your ability to engage in critical and creative thinking, the module will provide a grounding in academic writing, production research and idea generation in the context of an understanding of discourse at an academic and professional level.
Year 2
Moving image practices
The module explores contemporary moving image practices and introduces you to professional post-production tools used for digital motion graphics, visual effects and compositing. Building on the digital imaging, audio and animation skills acquired at Level 4, you'll be able to experiment with techniques for combining media from a variety of sources to produce hybrid moving image work for screen.
Designing for interaction
This module is designed to introduce you to the principles and practices of interactive media production for installation and online and mobile consumption. In particular, you'll be encouraged to adopt a user-oriented approach, examining the primacy of the screen for daily media interactions, and exploring concepts such as interface and interactivity through practical activities and project work.
Critical theories of digital media
This module explores the critical and cultural contexts for practice in digital and new media art. You'll be introduced to a range of work by media arts practitioners, and encouraged to explore the relationship between theory and practice in your work. The module considers research as an ongoing component of the creative process, and will help you embed innovative approaches to research and writing into your routines as practitioners.
Creative brief: digital design
This module provides you with the opportunity to spend time developing concepts and practical work introduced in the previous semester. You are encouraged to extend your interest in a more focused area of digital and web-based media, laying the foundations for the advanced independent project in the final year. To facilitate this process, you'll be provided with a choice of briefs from which to develop your practical work.
Collaborative practices
This module allows students across multiple creative media disciplines to collaboratively address a conceptually framed brief, and to see a project through from initial idea to final production. The module will set project briefs related to contemporary events, situations and issues, and you'll be involved in working collaboratively on all stages in the production of work.
Researching digital design
Building on methods learnt during Critical Theories of Digital Media module, this module is designed to prepare you for the demands and expectations of the third year Research Paper, assisting you in identifying a potential area of interest to pursue in the final year.
Year 3
Digital design project: prototyping
The module focuses on the development of practical and theoretical research skills as an initial foundation for the advanced independent project. By the end of the module you'll be able to position your work in a professional context and support the formation of essential working methods to carry into the final semester, and the presentation of your project work.
Research project
The final year Research Paper Module gives you the opportunity to conduct original research in an area of your degree or field of interest. The Research Paper allows you to use any of the theories, topics and methods encountered on your course. You'll manage your own learning under the guidance of an academic supervisor.
Professional practice: digital design
This module explores the contexts and issues informing professional work in the arts and creative media industries. It focuses on developing and delivering a range of professional skills to support the entry of you in to the world of work, or postgraduate study, through a combination of self-assessment exercises, personal development planning, workshops and guest lectures.
Digital media project: production
This module provides a critical framework through which to develop, realise and exhibit a coherent and critically informed advanced final year project. Building upon individual research and experimentation undertaken in Semester 1, you'll have the opportunity to work largely under your own direction to bring your projects to a highly resolved conclusion.
You'll be assessed by experienced tutors and lecturers, who combine their teaching with diverse digital media arts practice spanning industry, freelance and visual arts contexts. Your practical work will be supported by a team of Technical Tutors and you will utilise the resources in our Elephant Studios, with a suite of labs with high-spec Apple Mac computers supporting the full Adobe Creative Cloud suite.
Employability
This course is ideal if you want to go into a career within the cultural and media industries. It's also a suitable career development choice if you are a creative media producer who wants to change direction or broaden your skills to encompass digital media technologies.
Recent graduates have found roles in all areas of digital media production and design, including: mobile phone content creation; social media; flash design; motion graphics; video production; animation; and web design – securing jobs with Knifedge, please find attached, Other Creative, Sony, BBC and Apple.
If you graduate from this course, you will be able to apply for further study at postgraduate level.
Employability Service
We are University of the Year for Graduate Employment for the second year in a row - The Times and Sunday Times Good University Guide 2018, 2019.
At LSBU, we want to set you up for a successful career. During your studies – and for two years after you graduate – you'll have access to our Employability Service, which includes:
An online board where you can see a wide range of placements: part-time, full-time or voluntary. You can also drop in to see our Job Shop advisers, who are always available to help you take the next step in your search.
Our Careers Gym offering group workshops on CVs, interview techniques and finding work experience, as well as regular presentations from employers across a range of sectors.
Our Student Enterprise team can also help you start your own business and develop valuable entrepreneurial skills.
Professional links
Lecturers are in contact with a number of production companies and students have undertaken work placements and informal work experience in a variety of contexts. Collaborations, placements and work experience opportunities have included the BBC, Blyk Mobile, British Red Cross, Museum of London, Tate Britain , the National Theatre and The National Gallery. Some of our current undergraduates balance study with work as photography assistants, web designers or in digital design.
Recent guest lecturers include:
Sara Nesteruk, animator and motion graphics designer
Andrew Lemon, audio and gaming specialist
Judi Spiers, AKQA (a creative agency specialising in interactive marketing)
Toby Winder, animator (3D animation for Batman: The Dark Knight)
Toby Coffey, lead digital creative at the National Theatre.
Placements
Developing an iPad app for the National Theatre
Students have excellent prospects in finding placements. For his final year project, Ivan Bandura collaborated with the National Theatre to develop an iPad app - a timeline of all the Shakespeare productions at the NT since it's foundation in the 1960s.
Ivan was able to utilise the rich content (including high quality images and posters) that the National Theatre has in its archive, and his remit was to find innovative design solutions for presenting this content. After graduating Ivan worked at the National Theatre to implement the project.
Students have also worked on a freelance basis at The Photographers Gallery assisting with exhibition research and digital media production.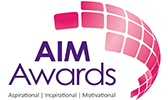 AIM Awards is the specialist awarding organisation for the Games, Animation and VFX Industries, chosen by major employers to develop this innovative Level 3 Extended Diploma in partnership with them, to prepare students for high level degree courses and apprenticeships.

LSBU currently offers guaranteed interviews to any AIM Awards student wishing to apply for Digital Design who has successfully passed level 3 or equivalent exams.
Teaching and learning
You'll be encouraged to develop your own modes of practice throughout the degree, taking full advantage of collaborative opportunities with students on a wide range of related courses at the University.
You'll be taught by experienced tutors who combine their teaching with diverse digital media arts practice, spanning industry, freelance and visual arts contexts.
Your practical work will be supported by a team of Technical Tutors and will utilise our resources in the Keyworth Arts and Media Centre, housed in LSBU's Keyworth Centre. Here, you will have access to still cameras, HD cameras, field sound recording equipment, and five labs with high-spec computers supporting cutting-edge multimedia and video software.
The best thing about studying at LSBU is the quality of the lectures we have, which are incredibly illuminating and help us to increase our understanding of arts. The University also has brand new labs, so we can work using the latest software and computers, which makes a real difference to the quality of the work we are able to produce.

Mindaugas Snarskis, BA (Hons) Digital Design
Percentage of time spent in different learning activities

| | Time spent in lectures and seminars | Self-directed learning |
| --- | --- | --- |
| Year 1 | 24% | 76% |
| Year 2 | 24% | 76% |
| Year 3 | 22% | 78% |
Year Tutoring
As an undergraduate Arts and Creative Industries student, you will be allocated a named tutor during your first three weeks at LSBU. The role of your tutor is to be your primary contact for academic and professional development support.
Your tutor will support you to get the most of your time at LSBU, providing advice and signposting to other sources of support in the University.
Your tutor should be the first person at the university that you speak to if you are having any difficulties that are affecting your work. These could be academic, financial, health-related or another type of problem.
You will have appointments with personal tutor at least once a semester for 30 minutes throughout your course. You can contact your tutor for additional meetings or support by email.
Entry requirements
A Level BCC or;
BTEC National Diploma MMM or;
Access to HE qualifications with 9 Distinctions 36 Merits or;
Equivalent level 3 qualifications worth 106 UCAS points
Applicants must hold 5 GCSEs A-C including Maths and English or equivalent (reformed GCSEs grade 4 or above)
We welcome qualifications from around the world. English language qualifications for international students: IELTS score of 6.0 or Cambridge Proficiency or Advanced Grade C.
How to apply
International students
International (non Home/EU) applicants should follow our international how to apply guide.
Instructions for Home/EU applicants
Mode
Duration
Start date
Application code
Application method

Mode

Full-time

Duration

3 years

Start date

September

Application code

G540

Application method
Please note: this course is currently closed for entry.
For full-time courses, please send your applications through the Universities and Colleges Admissions Service (UCAS) using our code L75. UCAS is the organisation responsible for managing applications to higher education courses in the UK.
If you're applying for January entry through UCAS, make sure to search under the 2018/19 academic year.
For part-time courses, you can apply directly to the University.
For more details on how to apply (full-time and part-time) see our how to apply page.
Accommodation
Once we have made you an offer, you can apply for accommodation. You can rent from LSBU and you'll deal directly with the university, not third party providers. That means we can guarantee you options to suit all budgets, with clear tenancy agreements and all-inclusive rents that include insurance for your personal belongings, internet access in each bedroom and on-site laundry facilities.
Or, if you'd rather rent privately, we can give you a list of landlords – just ask our Accommodation Service.
Read more about applying for accommodation at LSBU.
Finance
You don't need to wait for a confirmed place on a course to start applying for student finance. Read how to pay your fees as an undergraduate student.
Fees and funding
For more information, including how and when to pay, see our fees and funding section for undergraduate students.
Please check your fee status and whether you are considered a Home, EU or International student for fee-paying purposes and for our regulatory returns, by reading the UKCISA regulations.
Possible fee changes
The University reserves the right to increase its fees in line with changes to legislation, regulation and any government guidance or decisions.
The fees for international students are reviewed annually and the University reserves the right to increase the tuition fees in line with the RPIX measure of inflation up to 4 per cent.
Scholarships
We offer several types of fee reduction through our scholarships and bursaries. Find the full list and other useful information on our scholarships page.
Stories
Select a story and read about practical project work, students' placement experiences, research projects, alumni career achievements and what it's really like to study here from the student perspective.
Mindaugas Snarskis, BA (Hons) Digital Media Arts, created a short video that reached the final of the Sky Arts ident competition.

The Elephant Studios at LSBU Mac Lab is fitted with Quad-Core and Dual GPU MacPros, available for digital media workshops and unsupervised student work.
Prepare to start
Applicant events
After you've received your offer we'll send you emails about events we run to help you prepare for your course.
Welcome Week
Before you start your course we'll send you information on what you'll need to do before you arrive and during your first few days on campus. You can read about the process on our Welcome Week pages.
Preparatory Reading List
Dewdney. A & Ride. P. (2006) The New Media Handbook. London. Routledge. (second edition Spring 2013)
Lister.M. Dovey.J. et al (2009) New Media: A Critical Introduction. London. Routledge
Manovich.L. (2002) The Language of New Media. Massachusetts. MIT
Lovejoy. M. (2004) Digital Currents: art in the electronic age. London. Routledge
Top of page
Top of page