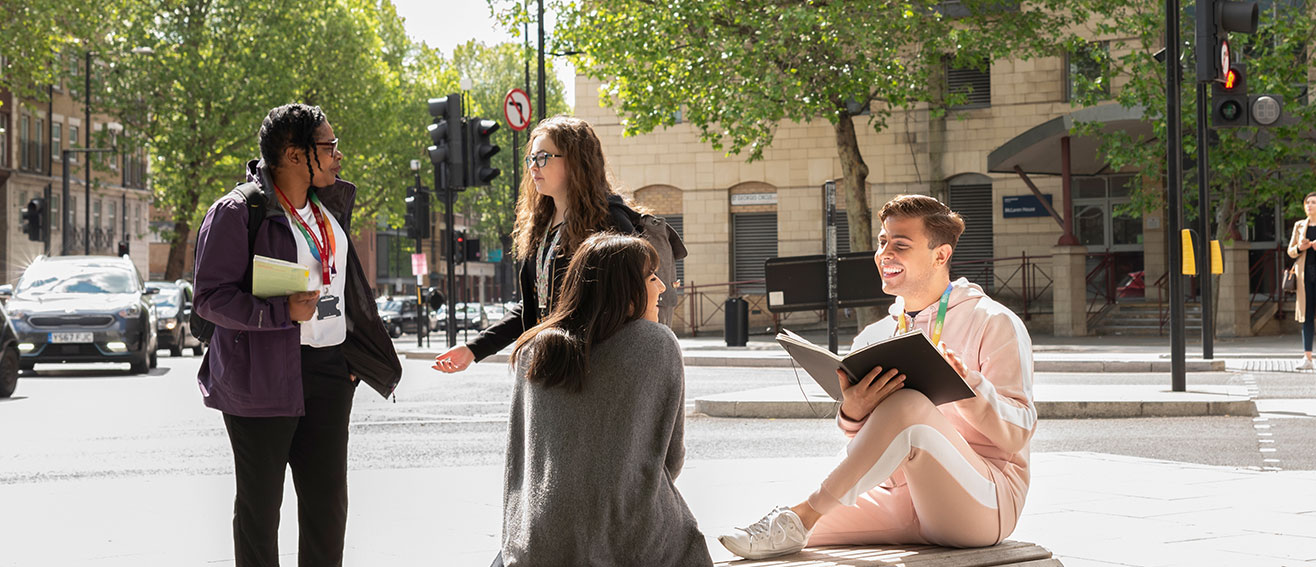 BA (Hons) Creative Advertising with Marketing
Southwark Campus
Mode: Full-time
Creative Advertising with Marketing BA (Hons)
Overview
A fast-growing area of employment in the creative industries
Blending creative practice with marketing theory, this course develops students' capabilities and skill sets to enter the exciting world of advertising and marketing. Learning on the course takes a practice, agency-led approach, meaning you will gain an understanding of what is like to work in a real world media and communications landscape.
Expanding your knowledge of creative practice, branding and design, you will hear from speakers who are practitioners and experts in their field, attend D&AD (Design & Art Direction) events, and work with your lecturer to identify an optional work placement that allows you to explore your interests. The course is also accredited by the Chartered Institute of Marketing (CIM), ensuring you get the skills and knowledge you need to pursue the career you want.
Being based at London South Bank University, you are just a stone's throw away from the centre of London, giving you access to a fantastic range of galleries, museums and cultural centres that will fuel your creative imagination. London is literally your classroom as you will take trips to iconic locations such the world-leading Tate Modern gallery and The Victoria and Albert Museum of art and design.
We offer the opportunity for all undergraduate Home/EU students to undertake a work placement, internship or work experience while studying a full-time course starting in September 2021.
Student showcase
Take a look at some of our brilliant students' work including Drama show posters and video projects:
Why Advertising at LSBU?
No. 1 in London for Graduate Prospects in Marketing (Complete University Guide 2021)

Elephant Studios: multi-million pound studio facilities at the forefront of digital technologies and multimedia practice for creative students.

Inspiring location: we're a short walk from the Southbank Centre, National Theatre, BFI IMAX, Tate Modern, Royal Festival Hall, The Old Vic Theatre, and The Young Vic.

1st for Overall Satisfaction in Marketing in London (National Student Survey 2020)

Our International Live Brief module offers students the opportunity to work in international, interdisciplinary teams to develop a solution to a real-world problem. Read about one of our student's experience.
Accreditations
Key course information - ordered by mode
Mode
Duration
Start date
Location

Mode

Full-time

Duration

3 years

Start Date

September

Location

Southwark Campus
Modules
During the course, you'll learn vital marketing principles, cross-platform creative practice, and how to best manage a brand. What's more, our optional work placement (Year 2) will give you the opportunity to understand and enact key skills and competencies in situ.
Year 1
Principles of marketing
This module will introduce you to the nature and scope of marketing. It will provide you with basic principles including marketing environment, the marketing mix, marketing research and buyer behaviour. The module will provide you with a foundation of the principles, theories and frameworks needed across a range of marketing roles and provide you with the basic knowledge needed for your next three years of study.
Visual analysis
This module focuses on the major forms of contemporary advertising, introducing you to the practice of defining advertisements through analysis and theory in relation to image. You will be introduced to forms of visual analysis developed from various theoretical traditions such as semiotics, structuralism and feminism. This module introduces a variety of meaning-making strategies employed in the advertising and creative industries.
Brand, branding and social media
This module seeks to introduce students to key ideas around branding and brand communication. Recognising the role of brand positioning through their own primary research and competitor review, students will work in groups to identify a new brand potential and launch through social media. In so doing students will be introduced to key employability skills including teamwork, conducting primary research, project management and pitching for business.
Marketing in a digital world
In this module you will explore the success for use of social media through the building of an online community of your own conception. You will learn how to manage social media and online communities from both a practical and theoretical perspective. You will also develop a broad understanding of social behaviour online, including potential societal and commercial value to business and social enterprises. You will gain the skills to work in a marketing department offering social media marketing or for a specialist community management company as a designer, producer, or moderator.
Introduction to cross-platform creative practice
This module will introduce you to the processes and strategies involved in creative practice. Advertising continuously requires innovation and new ideas and this module will allow you to learn the craft of creative professional. These skills will create a foundation for you to develop story telling abilities for later modules. You will be introduced to the creative advertising team and the different roles of the Art Director, Copywriter and Content Writers and acquire practical and creative skills required for entry-level jobs in the advertising industry.
Year 2
The consumer behaviour analyst
You'll look at the role of the consumer behaviour analyst, considering the behavioural concepts and theories of individuals and groups when they select, use and dispose of products, services or experiences to satisfy their needs and desires. Understanding consumer behaviour is an important element of marketing, with major behavioural changes happening in the marketplace thanks to e-commerce and globalisation. It underpins your learning in other units thanks to its interdisciplinary nature, which includes areas such as psychology and sociology.
The communications manager
You'll examine the role of marketing communications management within the business setting, looking at the wide range of techniques need to plan, control and evaluate marketing communications objectives.
Advanced creative practice
This module will introduce you to the process of how advertising campaigns are created. You will learn the advanced critical skills required for understanding and responding to a client brief. There will be a particular focus on how to create a brand story and the role digital marketing has in the process. You will further develop creative skills and have the opportunity to create pieces of work towards your own portfolio.
Cultural identities in advertising
In this module you will explore how notions of identity is articulated and then represented in advertising. Focusing on gender, sexuality, ethnicity and class, the module explores these markers of 'difference'. It discusses historical and cultural ideas about the self and investigates how identity is located socially and communicated symbolically through representation in advertising.
Creativity: the creative industries
This module conceptualises the notion of creativity, unpicking what constitutes 'the creative industries'. Taking a critical look at contemporary tactics and strategies that define cultural production, the module introduces aspects such as organisational behaviours, policy frameworks, cultural and civic contexts, and issues around value and monetisation of creativity. Furthermore, the module supports students to develop a creative project around their own creative interests and expertise, through: a) questioning for themselves what it means to be creative, b) reflecting on how their creative practice sits within an industry context, and how it is valued. Students apply the theoretical and critical frameworks presented onto a creative project developed through work experience or mentorship.
Year 3
Professional practice in creative advertising
This module will build on what you have learnt during your previous two years of study and provide you with the professional expertise needed for a career in advertising. You will create a full advertising campaign, which you will be able to develop to include in your professional portfolio. You will gain further insight into creative processes, strategic thinking and professional skills as well as legal issues in relation to creative advertising.
Enterprising futures
This module focuses on enterprise and employability, encouraging you to locate your strengths, recognise your potential and maximise your opportunities for connecting with industry professionals. You will be supported in a process of critical self-reflection from which you will develop a personal and professional strategy around a series of aims and objectives. Maximising work placements, industry mentorship and professional networking opportunities are encouraged.
Brand management
You'll learn to solve management problems by studying the key theories, frameworks and models of current brand marketing. This module prepares you for a career in brand management by using a practical approach to applying complex theories. You'll be assessed in a variety of different ways, such as exams, group work and written reports.
Marketing strategy and planning
On this module, you'll learn how to apply your previous marketing learning to make sense of an unfamiliar commercial setting and the strategic position of one brand. You'll consider competitive advantage and value creation in the context of a hierarchy of strategies, before considering its application through marketing planning. Working on the chosen brand, you'll plan and conduct research, develop and deliver insight, and create a marketing strategy that can help the brand succeed.
Plus one option from:
PR, propaganda and persuasive communication
This module will provide you with a critical view of the major ideas informing persuasion and influence. You will be encouraged to construct and deconstruct persuasive communications using theory, research and by the application of critical thinking to real PR challenges.
With a focus on both face to face & digital and social media channels the application of stakeholder management techniques and key concepts such as Excellence Theory will be explored through sector specific case studies & contact with practitioners working in disciplines such as public affairs, political PR and behaviour change campaigns.
Direct and digital marketing strategy
This module will introduce you to the principles and theories of digital- and data-led marketing strategy and how to use these to synthesise relevant data to implement appropriate digital and direct business solutions. Digital and direct marketing are growth areas within 'marketing' and many opportunities exist for those interested in this field. These include working on the 'client side' in marketing departments. Additionally, many advertising agencies have established digital and direct divisions and new specialist support service companies are growing to provide data planning, data warehousing, search engine optimisation, direct mail and fulfilment services, to name a few.
This module is accredited by the IDM and on completion students may opt to take the IDM Certificate in Direct and Digital Marketing.
Retail boutiques and shopper behaviour
The module will give you the opportunity to develop the theoretical and practical skills, needed to establish a boutique set-up (high-end retail) establishment. You will gain direct experience by examining the skills of setting-up, operating a retail business venture and understanding the target consumers' retail behaviour, purchasing dynamics and developing shopper intimacy.
You will develop the skill-sets required to understand the new target customer dynamic towards new start-ups and blossoming brands and consider 'what shoppers will do' and 'are going to do'. A form of engaging consumer behaviour in the context of studying the systematic habits and the forces of human behaviour choice, feelings, and emotions towards retail shopping.
Employability
On completion of the course, you'll have the advantage of accessing careers in creative advertising marketing and communications.
This course can lead you to develop a career in variety of creative jobs such as:
Art Director
Copywriter
Content Writer
Social Media Manager
User Experience Designer
Marketing Manager
Account Management.
You'll also have the option of progressing to MA programmes such as Advertising, Digital Marketing and Marketing Communications.
Employability Service
We are University of the Year for Graduate Employment for the second year in a row - The Times and Sunday Times Good University Guide 2018, 2019.
At LSBU, we want to set you up for a successful career. During your studies – and for two years after you graduate – you'll have access to our Employability Service, which includes:
An online board where you can see a wide range of placements: part-time, full-time or voluntary. You can also drop in to see our Job Shop advisers, who are always available to help you take the next step in your search.
Our Careers Gym offering group workshops on CVs, interview techniques and finding work experience, as well as regular presentations from employers across a range of sectors.
Our Student Enterprise team can also help you start your own business and develop valuable entrepreneurial skills.
Professional links
Graduates will be well equipped for a career in advertising, digital marketing and the wider creative industries. This course has been designed in consultation with advertising industry professionals and accrediting bodies, as well as students on our marketing and media courses. Course leaders have close links with the Institute of Practitioners in Advertising, ensuring content delivered on the course is in line with industry standards. We also offer opportunities for work experience to give you contemporary creative and practical skills for the digital world.
This course includes an industry placement in the second year, allowing students to work alongside creative professionals. This placement is a fantastic opportunity to develop a network of contacts and have a taster of working in creative advertising.
Since its introduction, the marketing programme has enjoyed strong links with the Chartered Institute of Marketing (CIM). This award is accredited by the Chartered Institute of Marketing as part of their Dual Award Programme. Only a limited number of universities in the UK hold such accreditation. As a result, our graduates are allowed direct entry with exemptions onto the CIM Professional Postgraduate Diploma in Marketing.
Facilities
The course content draws on the opportunities offered by our advanced production facilities located in Elephant Studios at LSBU. You'll have access to a vast range of media equipment and studio spaces, such as: a digital newsroom; digital design, film, and sound studios; and edit suites for visual effects. You'll be learning within a highly creative community of undergraduate and post-graduate practitioners able to collaborate on projects.
Teaching and learning
Teaching is designed to support and develop your technical, creative and professional abilities. The following are some of the forms your teaching and learning will take:
Lectures on both the practical and theoretical side of creative advertising
Technical workshops
Project and ideas work
Small group seminars
Group and individual tutorials
The course is taught by a team of practitioner-academics who are at the forefront of their fields.
Percentage of time spent in different learning activities

| | Lectures and Seminars | Self-directed learning | Work-based placement |
| --- | --- | --- | --- |
| Year 1 | 30% | 70% | |
| Year 2 | 30% | 65% | 5% |
| Year 3 | 30% | 70% | |
Personal Tutoring
As an undergraduate Arts and Creative Industries student, you will be allocated a named tutor during your first three weeks at LSBU. The role of your tutor is to be your primary contact for academic and professional development support.
Your tutor will help you get the most out of your time at LSBU, providing advice and signposting to other sources of support in the University.
Your tutor should be the first person at the university that you speak to if you are having any difficulties that are affecting your work. These could be academic, financial, health-related or another type of problem.
You will have appointments with your personal tutor at the beginning and end of each semester for 30 minutes. Weekly drop in times will be made available and you can contact your tutor for additional support by email or in class.
Entry requirements
A Level BCC or;
BTEC Extended Diploma MMM or;
Access to HE qualifications with 9 Distinctions 36 Merits or;
Equivalent level 3 qualifications worth 106 UCAS points
Applicants must hold 5 GCSEs A-C including Maths and English or equivalent (reformed GCSEs grade 4 or above)
We welcome qualifications from around the world. English language qualifications for international students: IELTS score of 6.0 or Cambridge Proficiency or Advanced Grade C.
Advanced entry
If you have already completed some studies at another university, we may be able to consider you for advanced entry. Please see our advanced entry page for more information.
How to apply
International students
International (non Home/EU) applicants should follow our international how to apply guide.
Home/EU applicants
Mode
Duration
Start date
Application code
Application method

Mode

Full-time

Duration

3 years

Start date

September

Application code

N561

Application method
Accommodation
Once we have made you an offer, you can apply for accommodation. You can rent from LSBU and you'll deal directly with the university, not third party providers. That means we can guarantee you options to suit all budgets, with clear tenancy agreements and all-inclusive rents that include insurance for your personal belongings, internet access in each bedroom and on-site laundry facilities.
Or, if you'd rather rent privately, we can give you a list of landlords – just ask our Accommodation Service.
Read more about applying for accommodation at LSBU.
Finance
You don't need to wait for a confirmed place on a course to start applying for student finance. Read how to pay your fees as an undergraduate student.
Prepare to start
Applicant events
After you've received your offer we'll send you emails about events we run to help you prepare for your course.
Enrolment
Before you start your course we'll send you information on what you'll need to do before you arrive and during your first few days on campus. You can read about the process on our Enrolment pages.
Preparatory reading list
Parene, D.E. and Strausbaugh-Hutchinson, K.L. (2015). Advertising Campaign Strategy: A Guide to Marketing Communication Planning (eds). Boston, MAL: Cengage Learning
J. Ingledew (2011) The A-Z of Visual Ideas. Laurence King.
J. Hegarty (2014) Hegarty on Creativity: There are no rules. Thames & Hudson
M. Sorrentino (2014) Creative Advertising: An Introduction. Laurence King
Fees and funding
Fees are shown for new entrants to courses, for each individual year of a course, together with the total fee for all the years of a course. Continuing LSBU students should refer to the Finance section of our student portal, MyLSBU. Queries regarding fees should be directed to the Fees and Bursaries Team on: +44 (0)20 7815 6181.
UK/EU fee:

£9250

International fee:

£14470

AOS/LSBU code:

4894

Session code:

1FS00
Total course fee:
UK/EU
£27750
International
£43410
For more information, including how and when to pay, see our fees and funding section for undergraduate students.
Please check your fee status and whether you are considered a Home, EU or International student for fee-paying purposes and for our regulatory returns, by reading the UKCISA regulations.
See our Tuition Fees Regulations (PDF File 160 KB) and Refund Policy (PDF File 102 KB).
Possible fee changes
The University reserves the right to increase its fees in line with changes to legislation, regulation and any government guidance or decisions.
The fees for international students are reviewed annually and the University reserves the right to increase the tuition fees in line with the RPIX measure of inflation up to 4 per cent.
Scholarships
We offer several types of fee reduction through our scholarships and bursaries. Find the full list and other useful information on our scholarships page.
Contact information
Course Enquiries - UK
Tel: 020 7815 7815
Due to COVID-19, call waiting times may be longer than usual. Any questions? Use the green bubble on the bottom right hand corner to start a live chat with us
Get in touch
KIS Data