Unistats
What is Unistats?
Key Information Set (KIS) Data is only gathered for undergraduate full-time courses. There are a number of reasons why this course does not have KIS data associated with it. For example, it may be a franchise course run at a partner college or a course designed for continuing professional development.
Overview
Count on us
Our Economics course is versatile and an ideal route into marketing, sales, advertising, IT, education or further studies. The degree gives you a strong foundation in economic analysis, a fundamental part of today's global finances.
Why Economics at LSBU?
The course is accredited by the IOEE. The School has Centre of Excellence status with the IOEE, in recognition of our entrepreneurial culture and leading-edge practice.

We hold close professional links with the Centre for International Business Studies and guest speakers are invited to reflect on a range of disciplines.

During your third year you'll have the option to spend a year in industry, working in a business or economics-focused environment. This could be in the UK or overseas.

Access to software widely used in industry: Stata, Bloomberg, Thomson One Banker, SAGE, Blueprint, FAME, Nvivo and SPSS.
Accreditations
Key course information - ordered by mode
Mode
Duration
Start date
Location

Mode

Full-time

Duration

3 years

Start Date

January; September

Location

Southwark Campus

Mode

Full-time (sandwich)

Duration

4 years

Start Date

September

Location

Southwark Campus
Case studies
Brooke found a passion for Economics from her gap year, and from her time here at LSBU, but her joy in college was surprisingly in more artistic puirsuits.

Dorian is studying Economics BSc (Hons) at London South Bank University after having developed a keen interest in the subject from A-Levels and during his gap year where he taught himself to start trading stocks and currencies.
Modules
In general terms, Level 4 provides the broad platform for a thorough knowledge of the main economic and business related disciplines in an international context. Beyond Level 4, the structure enables you to make a more detailed journey to an understanding of economics, building on your strengths and interests. Methods of assessment for course overall: 71% coursework.
Year 1
Concepts of Management In this module you'll be introduced to the concepts of management from both a business and personal perspective, including personal development planning, supporting you in identifying your goals and achieving your aims via participation in a structured and facilitated coaching process. It will also support your development of key skills, mathematical techniques and acquisition of knowledge necessary for success on an academic business programme or in a professional business setting.
Principles of marketing This module introduces you to the theories and practices of marketing providing you with an underpinning in the subject of marketing for further studies at levels 5 and 6. It acts as an introduction to the basic principles of marketing from which other modules can develop. These principles include the marketing environment, the marketing mix, marketing research and buyer behaviour.
Financial accounting fundamentals This module will introduce you to the fundamentals of the regulatory framework of accounting together with the qualitative characteristics of useful accounting information. You'll also develop knowledge and understanding of the underlying principles and methods used in the recording of financial data and preparation and presentation of financial statements.
People and organisations This module will give you an appreciation of the complexities of understanding people and behaviour within organizations. This module is incorporated with theories of organisational behaviour and people management practices and you'll develop an understanding of how and why individuals behave in specific ways in the workplace. Business economics 1 This module will introduce a range of essential economic concepts and methods and show how these can be applied to understand the world around us. The emphasis of this module is upon the business applications of economics in facilitating the decisions of managers, entrepreneurs in a variety of situations including pricing, advertising, financing, market entry, and product developments. This module will also consider the implications of the macro economy on the operations of modern firms.
Business economics This module will introduce a range of essential economic concepts and methods and show how these can be applied to understand the world around us. The emphasis of the module is upon the business applications of economics in facilitating the decisions of managers, entrepreneurs in a variety of situations including pricing, advertising, financing, market entry and product developments. The module will also consider the implications of the macro economy on the operations of modern firms.
Business economics 2 This module will continue to develop your understanding of the essential micro and macro-economic theories which are the bed rock to the economic concepts and methods studied in Business Economics (Economics 1). The emphasis of this module is upon the theoretical frameworks underpinning the business applications of economics in facilitating the decisions of policy makers, managers, entrepreneurs in a variety of situations as well as the implications of the macro open economy on the operations of modern firms.
Year 2
Intermediate macroeconomics
This module builds on the Business Economics modules at level 4. This module, while describing the macroeconomic world around us, places far more emphasis on conveying the theoretical underpinnings for what is observed.
Quantitative methods for economists
This module introduces and makes use of quantitative methods and techniques for modelling economic and business problems cast in an unconstrained and constrained environment. For this purpose this module introduces and applies the powerful analytic method of calculus for finding optimal solutions to specific issues in economics and business.
Historical and institutional economics
This module explores the institutional features of a modern political economy, particularly the role of the state and the market, capital and labour. But these are viewed from the perspective of change in which institutions and laws have evolved from the past and continue to change into the future.
Intermediate microeconomics
This intermediate microeconomic module builds on the work from level 4 economics. It seeks to broaden and deepen the foundations of microeconomics. It provides a fundamental understanding of consumer theory, and the theory of the firm. An exploration of production theory supports this work. The operation of markets and their efficiency are also investigated. General equilibrium and social and welfare issues are introduced.
Introduction to econometrics
This module introduces you to the basics of econometrics. It starts with the standard OLS methodology and beginning with simple regression analysis, moves to multiple regression analysis. The problems associated with OLS are explained along with their consequences and potential alleviating measures. Indicator or dummy variables are also considered along with their applications. A heavy emphasis on addressing econometric problems via the software Stata in lab sessions will also be pursued.
Environmental economics and sustainability
This module provides an opportunity for you to critically consider the role of the key international stakeholders in environmental economics and sustainability. Skills in critical policy analysis, policy formulation, negotiation and advocacy are developed through conferencing and discourse using transdisciplinary case studies (TCS) where you'll represent institutional stakeholders active within the realms of environment and sustainability.
Year 3
Optional work placement

You'll gain the opportunity to spend a year in the work-place, honing your transferable skills and providing academic learning in the development of real-world systems. The assessment of the placement is designed to support and accredit the experience by formalising personal development outcomes, and by contextualising prior learning.
Year 4
Introduction to advanced macroeconomics
This module introduces you to an understanding of fundamental models in macroeconomics and introduces you to methods of formal macroeconomic analysis. It differs from previous modules on macroeconomics that you'll have completed in that it treats the models in a more formal manner, where mathematical notation and calculus are commonly employed. The module focuses on the long-run determinants of economic growth.
Introduction to advanced microeconomics
You'll develop an understanding of fundamental models in microeconomics and be introduced to methods of formal microeconomic analysis. It differs from previous modules on microeconomics by treating the models in a more formal manner, and additionally introduces you to the treatment of the models using various mathematical (and graphical) techniques including calculus.
Economic research
A capstone to the economics course is a piece of independent research where you'll write an economic journal formatted article focused on a present and relevant economic research topic. The module leads you to develop a full understanding of an economic topic, with the aim of developing expert knowledge into the chosen topic.
Plus three options* from:
Development economics
In this module you'll explore the economic reasons that have led to increasing development inequality (national and international) and the impact on the labour market. It focuses on how microfinance can encourage economic development; the relationship between gender equity and growth, and analyse core issues regarding the labour market.
Financial econometrics
In this module you'll focus on the use of modern econometric methodology for dealing with problems in the area of finance and provide you with the econometric tools applied in the area. It applies the techniques of mathematics, statistics and econometrics to analyse financial data so as to understand and model the underlying financial and/or economic conditions.
Applied econometrics
Building on the module introductory econometrics, this module develops your understanding of the various analytical techniques with an applied (hands-on approach) in order to apply economic theories to real economic data by means of empirical models. You'll be deepening and broadening your knowledge and understanding of econometric techniques needed for empirical quantitative analyses of micro and macro as well as financial data.
Behavioural economics
The module examines the psychological underpinnings of economic behaviour and investigates recent theories and empirical findings in behavioural economics. This module will enable you to scrutinise economic theory from a behavioural perspective, develop an understanding of how real people actually make decisions and highlight occasions where traditional economics predicts actual choices correctly and instances where it does not.
Contemporary issues facing the UK and world economy
In this module you'll be introduced to a selection of contemporary economic issues in the World Economy. This module will encourage you to critically evaluate the current arguments surrounding the issues addressed during the course as well as the economic, social and political context.
Employment and labour markets
This module studies labour markets from both a theoretical and empirical perspective. It is designed to provide a practical understanding of the changing economic forces, and institutions, both micro and macro, operating in the world of work.
Multinational firms and global trade
This module forms part of the area of international economics and studies the role played by multinational firms in the global trading system. You'll be introduced to the global trading system, both the theories of how and why countries engage in trade and the role played by governments, regional trading agreements and international institutions in the regulation of trade. You'll also look into multinational companies, examining the growth of multinationals, the theories advanced to explain the growth of multinationals and the effects of multinationals on the countries where they operate.
*All options run subject to sufficient students selecting the option.
Employability
With the hands-on practical element of this course, you'll develop skills which employers find highly desirable. A flavour of what economists can do is shown at www.economistjobs.com.
Type of role you can expect
Career paths include: economic research bodies, economic consultancy practices (including the consulting segments of some of the large chartered accountancy/financial services firms), broader management and strategic consultancies, the Government Economic Service (GES), commercial banks, investment banks, private equity and other specialist investment services, the International Monetary Fund (and other international bodies), NGOs, local authorities and Learning and Skills Council offices.
The majority of employers have a small number of staff devoted to economic consultancy work, or alternatively are relatively small organisations focused purely on economic consultancy.
Salaries
Starting salaries range from £25k to £35k per annum with some economic research bodies and government departments paying less.
A graduate joining one of the major consultancies will have a starting salary of around £32,000. A smaller consultancy or corporate will probably offer less – perhaps £24,000 to £26,000. The public sector are likely to offer a similar joining salary to smaller consultancies and corporates (Prospects).
LSBU Employability Service
We are University of the Year for Graduate Employment - The Times and Sunday Times Good University Guide 2018
LSBU is committed to supporting you develop your employability and succeed in getting a job after you have graduated. Your qualification will certainly help, but in a competitive market you also need to work on your employability, and on your career search.
As an LSBU student you have access to the Employability Service and its resources during your time here and for two years after you graduate.
Our Employability Service will support you in developing your skills, finding a job, interview techniques, work experience or a placement/internship, and will help you assess what you need to do to get the career you want at the end of your course. LSBU offers a comprehensive Employability Service, with a range of initiatives to complement your studies, including:
Direct engagement from employers who come in to network with students
Job Shop – daily drop in service to help with, tailoring CVs, cover letters and applications, sourcing online resource, mock interviews and general job searching. One to one appointments for further support also available
Mentoring and work shadowing schemes
Higher education achievement report - The HEAR is designed to encourage a more sophisticated approach to recording student achievement, which acknowledges fully the range of opportunities that LSBU offers to our students.
It pulls into one certificate: Module grades, Course descriptions, Placements, LSBU verified extra-curricular activities
Employability workshops - delivered free to students all year round on a variety of related topics
Careers fairs throughout the year to really focus your thoughts on a career after university
Find out about any of these services by visiting our student employability page
Professional links
The economics team at LSBU are closely involved with the Centre for International Business Studies or CIBS. The current Research Director of CIBS, Dr Peter Luke, is also the subject group leader and course director for this course. Recent guest speakers reflect the range of disciplines across the School of Business and students studying economics are actively encouraged to attend the lecture series held each semester.
Recent guests include Gian Paolo Ansaloni, Deputy Chief Economist at the Home Office, who spoke to students about what it's like to work as a government economist, and about the fast stream route into the civil service for students currently studying economics.
Centre of Excellence status is the IoEE's (Institute of Enterprise and Entrepreneurs) flagship organisational accreditation for organisations that promote and deliver enterprise skills development – and is in recognition of the School's entrepreneurial culture and leading-edge practice.

The Association of Chartered Certified Accountants (ACCA) was founded in 1904; the ACCA is the global body for professional accountants offering the Chartered Certified Accountant qualification. This course provides exemptions for ACCA paper F1.
Placements
During your third year you'll have the option of spending a year in industry, working in a business or economics-focused environment. This could be in the UK or overseas. You'll be supported by the course team and the University's Employability Service.
Facilities
Teaching and learning
A variety of teaching methods are used, including the use of case studies, computer simulations, and group projects. The majority of first and second year modules are taught with eBooks provided by the University.
The precise mix of methods varies considerably from module to module, but in general, most are normally conducted through a series of lectures and seminars organised in three / four hour sessions per week.
The lectures generally set the framework for the module by providing you with the basic theoretical concepts, and examples of their application. Key module topics are introduced weekly in lectures.
Seminars are normally student-centred and investigative. You are expected to make oral presentations on given or chosen topics. The main aims of seminars are to enable you to develop practical and communication skills, equip you with tools for problem solving, encourage team work, and encourage you to critically evaluate your colleague's presentations through discussion.
The emphasis on student-centred, investigative, active learning methods is reflected in the fact that most course modules will require about 10 hours of private study time in addition to around 40 hours of class contact. Class contact will average 2 to 4 hours per week per module - giving around 12 to 14 hours per week class contact overall.
Percentage of time spent in different learning activities

| | Lectures and seminars | Self-directed study |
| --- | --- | --- |
| Year 1 | 30% | 70% |
| Year 2 | 29% | 71% |
| Year 3 | 23% | 77% |
Entry requirements
2018 Entry
A Level BCC or:
BTEC National Diploma DMM or:
Access to HE qualifications with 9 Distinctions and 36 Merits or:
Equivalent Level 3 qualifications worth 112 UCAS points
Applicants must hold 5 GCSEs A-C including Maths and English, or equivalent (reformed GCSEs grade 4 or above).
We welcome equivalent qualifications from around the world. English language qualifications for international students: IELTS score of 6.0 or Cambridge Proficiency or Advanced Grade C.
Visit UCAS for guidance on the 2018 tariff.
How to apply
International (non Home/EU) applicants should follow our international how to apply guide.
Instructions for Home/EU applicants
Mode
Duration
Start date
Application code
Application method

Mode

Full-time

Duration

3 years

Start date

January; September

Application code

L100

Application method

Mode

Full-time (sandwich)

Duration

4 years

Start date

September

Application code

L100

Application method
All full-time undergraduate students apply to the Universities and Colleges Admissions Service (UCAS) using the University's Institution Code L75. Full details of how to do this are supplied on our How to apply webpage for undergraduate students.
All part-time students should apply directly to London South Bank University and full details of how to do this are given on our undergraduate How to apply webpage.
Accommodation
Students should apply for accommodation at London South Bank University (LSBU) as soon as possible, once we have made an offer of a place on one of our academic courses. Read more about applying for accommodation at LSBU.
Finance
It's a good idea to think about how you'll pay university tuition and maintenance costs while you're still applying for a place to study. Remember – you don't need to wait for a confirmed place on a course to start applying for student finance. Read how to pay your fees as an undergraduate student.
Fees and funding
Fees are shown for new entrants to courses, for each individual year of a course, together with the total fee for all the years of a course. Continuing LSBU students should refer to the Finance section of our student portal, MyLSBU. Queries regarding fees should be directed to the Fees and Bursaries Team on: +44 (0)20 7815 6181.
UK/EU fee:

£9250

International fee:

£13125

AOS/LSBU code:

4369

Session code:

1FS00
Total course fee:
UK/EU (excluding any optional years)
£27750
UK/EU (including any optional years)
£27750
International (excluding any optional years)
£39375
International (including any optional years)
£39375
For more information, including how and when to pay, see our fees and funding section for undergraduate students.
Possible fee changes
Current regulatory proposals suggest that institutions will be permitted to increase fee levels in line with inflation up to a specified fee cap. Specifically, LSBU may be permitted to increase its fees for new and existing Home and EU undergraduate students from 2017/18 onwards. The University reserves the right to increase its fees in line with changes to legislation, regulation and any governmental guidance or decisions.
The fees for international students are reviewed annually, and additionally the University reserves the right to increase tuition fees in line with inflation up to 4 per cent.
Scholarships
We offer students considerable financial help through scholarships, bursaries, charitable funds, loans and other financial support. Many of our scholarships are given as direct tuition fee discounts and we encourage all eligible students to apply for our Access Bursary. New home full-time undergraduate students meeting eligibility criteria could receive a £1,000 cash bursary by joining us in the 2017/18 academic year. Find out more about all our scholarships and fee discounts for undergraduate students.
International students
As well as being potentially eligible for our undergraduate scholarships, International students can also benefit from a range of specialist scholarships. Find out more about International scholarships.
Please check your fee status and whether you are considered a home, EU or international student for fee-paying purposes by reading the UKCISA regulations.
Case studies
Select a case study and read about practical project work, students' placement experiences, research projects, alumni career achievements and what it's really like to study here from the student perspective.
Prepare to start
We help our students prepare for university even before the semester starts. To find out when you should apply for your LSBU accommodation or student finance read the How to apply tab for this course.
Applicant Open Days
To help you and your family feel confident about your university choice we run Applicant Open Days. These are held at subject level so students start getting to know each other and the academic staff who will be teaching them. These events are for applicants only and as an applicant you would receive an email invitation to attend the relevant event for your subject.
Enrolment and Induction
Enrolment takes place before you start your course. On completing the process, new students formally join the University. Enrolment consists of two stages: online, and your face-to-face enrolment meeting. The online process is an online data gathering exercise that you will complete yourself, then you will be invited to your face-to-face enrolment meeting.
In September, applicants who have accepted an unconditional offer to study at LSBU will be sent details of induction, which is when they are welcomed to the University and their School. Induction helps you get the best out of your university experience, and makes sure you have all the tools to succeed in your studies.
Top of page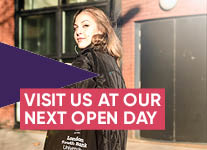 Course Enquiries - UK/EU
Tel: 0800 923 8888
Tel: +44 (0) 20 7815 6100
Get in touch
Course Enquiries - International
Tel: +44 (0) 20 7815 6189
Get in touch
Top of page