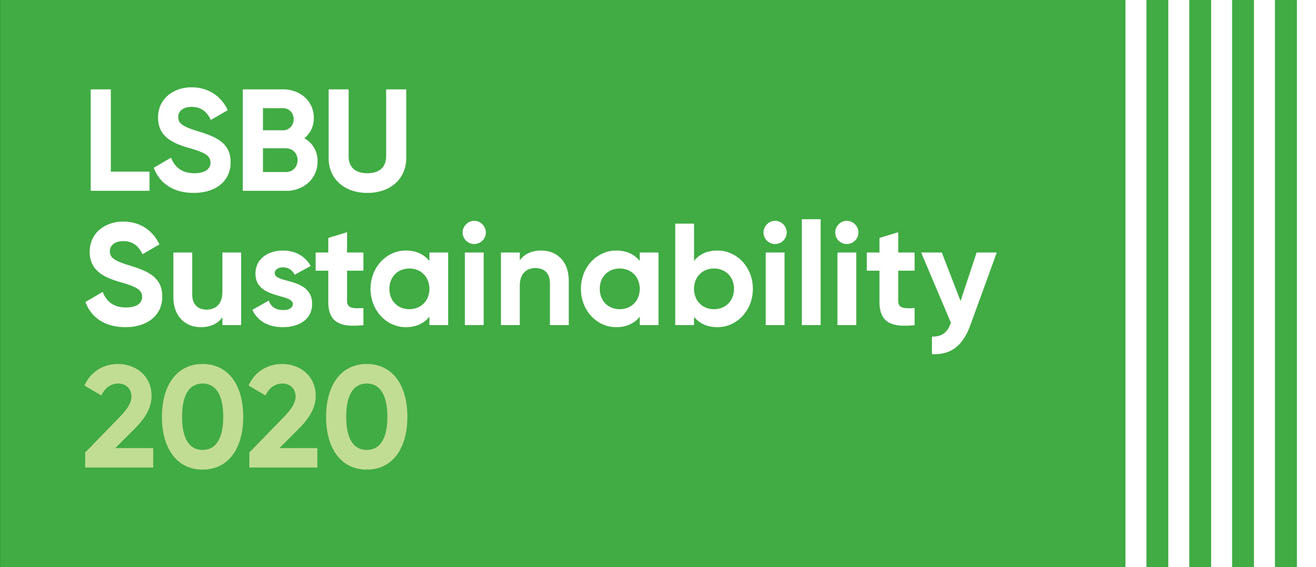 Sustainability 2020 Competition
Sustainability 2020 Competition
Inspiring sustainable action at LSBU
In 2020, London South Bank University is hosting a pilot sustainability competition. We are inviting students from all seven schools to propose innovative ideas with workable plans for practical application at LSBU. This competition is a great opportunity for you to shape the campus and the way we work so we have a healthier impact on society and the environment whilst kick starting your career. The winning entry will see their idea rolled out at LSBU next year, receive a place on IdeaHack and an Institute of Directors (IOD) Student Membership. What's more, we'll also hook you up with a 1-1 appointment with one of our careers experts who will help you integrate your achievements into your CV. So, if you have a creative idea and can develop a practical and workable plan – we want to hear from you.
The challenge
You are being invited to identify an area of improvement. Your idea should identify an opportunity to enhance our social impact or reduce our environmental impact. Your idea should consider its real-world impact and contribution towards a healthy and responsible economy. Once you have your idea, you are being asked to develop a clear step-by-step plan for delivery.
Judging Criteria
Identification of a need, problem or sustainability opportunity at LSBU.
Demonstration of innovative and cross-cultural thinking.
Connection of the solution to social and environmental impact.
A practical and workable plan for implementation.
Eligibility
This competition is open to all undergraduates and postgraduates. Entries will be accepted from individuals and groups. Entries across different Schools are highly encouraged, although not essential. Entries must be the original work of the entrant/s.
Prizes
LSBU's commitment to implement your idea
The winning entry will influence the way we work or the working environment at LSBU. The winning entry will see their idea implemented at LSBU within the next academic year, enabling you to showcase how you have influenced organisational change.
A place on LSBU's IdeaHack
IdeaHack is a transformative 2-week programme designed to take your idea and rapidly test whether it can be a business. Its a great way for a LSBU student to test their idea with access to hot-desking facilities and business experts. The winning entry will be automatically enrolled onto the next round of LSBU's IdeaHack. https://ideahack.co.uk/
An Institute of Directors (IOD) Student Membership
The winning entry will receive an IOD student membership, providing you with a range of benefits to help you progress your studies and your future career. You will have access to regular events where you will meet professionals, employers and entrepreneurs giving you access to information and the opportunity to build valuable contacts. https://www.iod.com/membership/student-membership
A personal career coaching session at LSBU Careers Hub
At the end of the process, you'll be invited for a personal career coaching session with one of LSBU Careers Hub's employability consultants. They'll work with you to make sure you leverage all of your hard work on your CV so that you are set up to apply for that dream job.
Deadline
Submissions must be uploaded on Moodle by 12:00 Noon on Friday 22nd May 2020 to be considered by the judging panel.
This Year's Winner
Congratulations to Allyna Ullah, a 3rd year, Chemical and Process Engineering from the School of Engineering, on her winning entry to future-proof our recycling processes
What was your submission to the competition?
My idea is to create a removable lining for cardboard boxes that are used in the canteens across LSBU's campus for food take-out. The cardboard boxes can't currently be recycled if they are contaminated with things like oils and sauces. The new lining will sit inside the cardboard boxes, with little tabs that make it easily removable. My prototype uses baking paper, but I'm looking to develop this further. I'm calling it 'a bib for your box'.
Currently 84% of waste can't be recycled because of contamination and councils spend a huge amount of money each month trying to resolve this. My idea isn't something new, but I'm hoping that it can bring about a change to the recycling processes at LSBU and reduce the amount of non-recyclable waste.
What inspired this project – was it a particular moment or event in time or your life, or an issue close to your heart?
My inspiration came mainly from sitting in LSBU's canteen. Every day lots of people were putting cardboard boxes into the recycling bin that can't be recycled. The general waste bins were also full of cardboard boxes that should be recycled. Seeing the bins piled high with these cardboard boxes was a big issue for me.
I know the university has already taken some steps to move towards using more paper and cardboard, but it doesn't go far enough. I didn't realise how big of an issue this was until I started to do some more research.
I bake a lot at home and regularly use cardboard boxes lined with baking paper to protect the boxes from spills. I've done this for a few years and have also tried with different foods, including sauces and chips. Baking paper has proven to be the best option as it's more durable.
My generation really care about the environment and we know it's up to us to be the change. My mum has always encouraged me to use my voice to make a difference. I'm so lucky that my idea can actually become real, because of this competition.
What was it about our competition that caught your eye – how long did you have this winning idea before entering the competition?
I came across the sustainability competition through my LSBU emails. I had already had this idea about paper boxes and just thought that maybe I should enter it. I never thought I would win but I thought it was worth a try, even if it meant I could raise awareness of the current recycling issues at LSBU.
I've always been interested in doing projects outside of my course. I like doing things where I can use my skills and experience, whilst applying the theory I'm learning to real-world problems like recycling. As a chemical engineer I could share the science behind why a clean environment is important to me through the questions on the application form.
To be honest, without the competition I probably wouldn't have done anything with my idea. I thought my idea would be overlooked, but the competition has given me an opportunity and a voice to raise awareness of recycling at LSBU.
We understand you presented your ideas on the last day of the conference – do you think presentation is an effective way for your idea to gain traction, and will it be instrumental in supporting its success?
I didn't really speak at the conference, they just announced that I was the winner and so I said thanks for the award. The panel of judges shared their understanding for the issue too and said they also didn't realise how big of an issue it was.
How important do you think it is to help people develop a critical eye towards current eco-friendly solutions? As with your product, it seems to be that we mistake products as easily recyclable.
It's massive! People need to be more aware. I read that we have seven years to convert climate change before it comes irreversible. If everyone came up with an idea, who knows how it could help the planet in the long term.
Eco-friendly solutions aren't just necessary at LSBU too. Through my course I'm learning about companies like Shell who are now more engaged with the topic of sustainability. The survey that I conducted showed there's a lack of understanding around people knowing which products can and can't be recycled.
It's up to my generation to fix this issue. With this project at LSBU I'm hoping to make people more aware of which materials can and can't be recycled, so that we can all be better at it.
Is education and awareness about specific materials part of the long-term plan?
I've created an Instagram account - @_unspoiled, so that I can start to build a community and following around the product. I'm also using this as a platform to share tips and simple rules on recycling. I've made posters to showcase really simply what materials can and can't be recycled.
Through the competition I've got peoples' attention so I want to educate them while I can. LSBU students have a lot of concern about their environment at university. Once our generation are aware of an issue, we really try to do something about it. I'm hoping that through this competition, I can get people to help me save the planet.
Carl Thomas, one of LSBU's Student Enterprise Managers has been really helpful in sharing tips and tricks on how to get my message out there. It's a lot easier to go up and talk to people in person, but as we can't currently do this I've been asking friends to share my account to help spread the word. If LSBU students follow the Instagram account, it would really help me to raise awareness of my product and knowledge about recycling.
Where do you see this plan in a year's time, or even further?
I'm hoping that in a year's time, my product idea will have been implemented across all the university canteens. LSBU has lots of students so imagine the huge impact my idea could have if we reached them all.
In the future I'm also keen to implement this in other universities. In 10 years' time, I'd like to approach other restaurants and cafes too. Recycling uses less energy, so seeing more of us recycling in a more efficient way for the environment will mean so much.
How have you developed your idea since winning the competition?
I've learnt so much since entering the competition. I wish everyone could have the same opportunity, as I've gained so much out of it.
I've been having regular one-to-ones with the Student Enterprise team to develop my idea. They've been really helpful in suggesting lots of ideas, including doing some electronic surveys and more market research, so that I can get a better idea of peoples' concerns with the product and with recycling in general.
The social media account has helped me to build a following, which I can use to show how many people care about the product and the issue, to potential partners or funders. I've also created an advert and website, but will make these live and develop them further when I participate on the IdeaHack programme in October.
The competition has also been great for my CV. I didn't even realise that career and CV support was one of the prizes! I've been put in touch with a careers coach and LSBU alumni working within the Chemical Engineering field. I've learnt how to improve my CV, my personal statement and my LinkedIn profile and have already made connections with 4 or 5 chemical engineers for further advice and support.
Why we run the competition
In 2020, London South Bank University is hosting a pilot sustainability competition. We are inviting students from all seven schools to propose innovative ideas with workable plans for practical application at LSBU.
The Judges
Carl Thomas - Student Enterprise Manager
Dr Jaya Gajparia - Education for Sustainability Course Director
Prof. Patrick Bailey - Provost
Thomas Empson - Sustainability Project Manager
LSBU's agreed actions
Estates have advised that they will work with our caterers to use grease-proof paper to line our paper containers to enable recycling, further cutting out plastic. They will also improve signage on what can and can't be recycled.