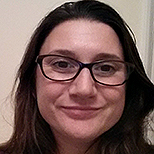 Zoe Linekar
Senior Lecturer
Health and Social Care / Institute of Vocational Learning
Zoe Linekar is a Senior Lecturer with the Institute of Vocational Learning in the School of Health and Social Care at London South Bank University (LSBU).
Prior to joining LSBU, Zoe enjoyed working across a range of charity and statutory mental health services in London. In 2008 Zoe received an MSc in Occupational Therapy at LSBU. She has experience in acute and community mental health settings, including specialist forensic, vocational and rehabilitation services. Her interest in the training and education of support staff began whilst working as an OT in a community rehabilitation team, where she developed workshops for staff in supported housing schemes around recovery, social inclusion and enabling support.
Zoe has since worked with the education and training department at South London and Maudsley NHS Trust, co-designing and co-facilitating recovery and social inclusion training with service user trainers. In higher education, she provided support to students experiencing mental health difficulties and trained staff and students in mental health awareness and suicide prevention.
Zoe currently develops and delivers workshops on a range of subjects to bands 1-4 staff at the Institute of Vocational Learning. She values the opportunity to contribute to the development of this essential workforce and is particularly interested in person-centred care, the interaction between mental and physical health needs, mental health and dementia.
Zoe develops and delivers workshops to the NHS bands 1-4 workforce in a variety of clinical and soft skills.