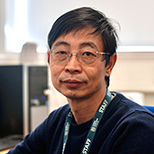 Zhanfang Zhao
Senior Lecturer
Engineering / Electrical and Electronic Engineering
Dr Zhao is a senior lecturer in the Division of Electrical and Electronic Engineering, School of Engineering. His research focus on robotics NDT and control system design. He spent 7 years as an Assistant and Associate professor at Beijing Institute of Technologies after he received his PhD from Beihang University. He joined LSBU in 1999.
Modules taught before:
Control Engineering; Engineering Software c++; Network Technologies and Design; Object Oriented Programming(Java); Principle of Computer Engineering; Distributed Systems and Networking; Applied Software for internet Engineers; Computer Networks and Mobile Computing.; DSP; Internet Protocols; Internet Technologies.
Dr Zhao's research interests cinclues robotics, control systems design and system interfacing. His previous work in China includes the development of a Denture CAD/CAM system and the development of an industrial robots performance test system, both Funded by the Chinese National 863 High-Tech Plan. He had also coordinated a few projects to develop control systems for industries. For example he is the main designer of the Planetarium control system design which is widely used in small planetarium in China. After moved to UK in 1999, He has worked on four EU funded projects. They are:
Brite-Euram funded project (BE96-3038): A compact wall and ceiling climbing robotic vehicle with dexterous manipulator arm for low cost remote non-destructive inspection in hazardous environments.
EC research project (GRD1-1999-1-572): In service inspection robot for structural integrity of tanks filled with hazardous liquids.
EU research project (CRAF-1999-70040): Development of a robotic system for the inspection of aircraft wings and fuselage.
EU funded project, H2020 FTI TankRob(06/2016-06/2018): In-service intrusive NDT of petrochemical storage tank floors and walls