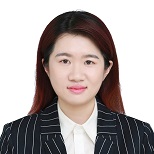 Dr Yuting Chen
Lecturer
Built Environment and Architecture / Construction, Property and Surveying
Dr Yuting Chen is a lecturer in Construction Project Management in the Department of Construction, Property and Surveying, School of Built Environment and Architecture. She specialises in construction management with interest in contract and trust and the influence of culture on these issues.
Yuting Joined LSBU in early 2020. Before she joined LSBU, she spent 10 months in University College London as a visiting PhD student for doing research during 2018 to 2019. She used to be a research group leader in Tianjin University, where she had originally studies her doctoral qualifications from 2016 to 2020. She also has education background in law, finance and MIS. She is interested in their applications in construction industry.
She has experience in giving consulting services to construction companies for summarizing the successes and failures, making management principles and doing business analysis.
Yuting's research interests focus on contractual and relational governance on construction projects. Her current interests focus on the stage of contractual violation, which is greatly related to law and enforcement. She is also very interested in the relationship between contract and trust, especially under different cultural environments. She is looking forward for some inspirations from other disciplines, law, psychology, and finance for example.
She is now also interested in risk and BIM in construction project management.