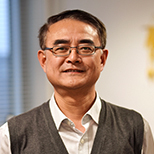 Ya Bao
Senior Lecturer
Engineering / Electrical and Electronic Engineering
Ya has over 30 years' experience in research, design, and teaching in the field of Electronic, Communications and Networking engineering. Ya joined the London South Bank University in 2001 and prior to that had been an associate professor in Southwest Jiaotong University (China) and visiting researcher at the University of Leeds.
Ya teaches on the following modules:
Engineering Science
Principles of Electronics and Computer Engineering
Digital Systems and Microprocessor Design
Advanced Analogue and RF Electronics
Advanced Computer Engineering
Computer Network Design
Ya's research focuses on error control techniques in digital networks, network design and simulation, wireless channel measurement and modelling.