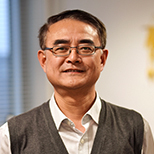 Ya Bao
Senior Lecturer
Engineering / Electrical and Electronic Engineering
Ya has over 25 years' experience of research, design and teaching in the field of communication and networking engineering. His teaching includes modules relating to Communication Systems as well as those related to Network Design for Enterprise, both at undergraduate and postgraduate levels.
Ya teaches on the following modules:
Design and Practice (level 4)
Analogue, Digital and Wireless Communications (Level 6)
Wireless Communications and Satellite Systems (Level 7)
Network design and Implementation (Level 7)
Data Communication Theory and Coding (Level 7)
IP Based Communication Networks (Level 7)
Ya's research focuses on error control techniques in digital networks, network design and simulation, wireless channel measurement and modelling.