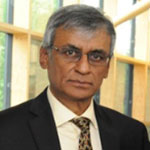 Vijay Lee
Associate Head of Division Accounting, Finance & Economics
Business / Accounting, Finance and Economics
Vijay is Associate Head of Division of Accounting, Finance & Economics at London South Bank University. A Senior Fellow of the Higher Education Academy and member of the Indian Institute of Bankers, he was previously an assistant general manager in India's largest commercial bank, specialising in business finance and corporate lending. He also served for many years as Chief Examiner for corporate finance and funding for the Association of Corporate Treasurers UK.
Vijay, who has a Masters degree in Economics, and an MBA in Finance from Cass Business School, specialises in teaching financial management at both undergraduate and postgraduate levels.
Vijay has an interest in both pedagogic research and financial management. His recent publications include the textbook "Bank Lending: Principles and Practice" by Nirmala Lee & Vijay Lee (Gosbrook, 2018). Vijay has earlier engaged in action research on the sociological and psychological aspects of learning, presented papers on the subject at conferences, and draws on his research to improve student learning in the classroom.
Associate Member of the Indian Institute of Bankers
Vijay, who has held several external examinerships over the years, is currently an External Examiner for the University of Hertfordshire in UK, and Tunku Abdul Rahman University College in Malaysia.