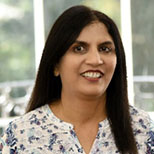 Usha Mistry
Senior Lecturer in Accounting and Finance
Business / Accounting, Finance and Economics
Usha currently at LSBU is a Senior Lecturer and Link Manager to the Association of Chartered and Certified Accountants in the Department of Accounting, Finance and Economic, LBSU Business School.

Usha specialises in Financial and Management Accounting with special interest in accounting education and has presented papers at many conferences via British Accounting and Finance Association, AdvanceHE to international conferences. Usha has organised many employability events from CEO, to PSRBs, charities to public sector for students studying at all levels and all disciplines in the area of Business, Accounting and Law.

Usha is a Fellow of ACCA and a Senior HEA Fellow with 25 years teaching experience in the higher education sector.

Usha has held many roles in the HE sectors, including course leader for Business and Accounting undergraduate degree, Head of Programme Development, Head of Academic and Employment Engagement and Head of the School of Accounting and Finance.
Member of British Accounting and Finance Association accounting education and have presented conference papers. Member of the Commonwealth Women in Leadership and Empowerment. Member of Middlesex Association for the Blind.