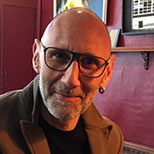 Tony Charalambous
Senior Lecturer & Course Director BA (Hons) Fashion Media
Arts and Creative Industries / Creative Technologies; Management, Marketing and People
Tony Charalambous is a Lecturer on the BA Fashion Promotion with Marketing programme and Course Director for BA (Hons) Fashion Media. He specialises in visual communication, with interests in fashion curation, creative direction and self publishing.
Tony has curated exhibitions in Japan, China, Armenia and Romania and the UK, and spent time working with the Barbican, British Library, British Council, British Fashion Council, and the V&A Museum. He joined LSBU in September 2019.
Tony's teaching practice emphasises the changing focus of the fashion industry as a co-producer; exploring the opportunities for interdisciplinary practices to showcase and celebrate students creativity.
Tony's teaching practice spans Fashion Promotion, Fashion Photography, Costume, Technical FX and Make Up & Hair for Performance, Creative Direction, Fashion & Branding and Fashion Media.
Greek Xpectations is co-produced and co-authored by Tony Charalambous (UCA), and Roulla Georgiou.

Greek Xpectations is a photo book, exhibition and catalogue (one output), currently in development.

Greek Xpectations challenges the cultural expectations of the Greek Orthodox wedding ceremony. This ancient ritual is understood to be an ordered keeper of commitment and perfection full of profound meaning, that has been celebrated in its present form for centuries.

We have taken our lead from the traditional Greek family photograph album, and through the work of Dutch artist Rineke Dijkstra who uses photography and film to portray individuals at transformative moments in their lives. Like Dijkstra, we are concerned with human transition from one state to another; we bear witness to the social pressures made visible on the bodies and faces of our subjects as they pass from singledom to coupledom.

By using the X moniker within the title, we already suggest an unconventional reading of the church ceremony. The moral theme of Greek Xpectations is quite simple – to challenge this feudal notion that social advancement, wealth, and class are more important than true love, loyalty, affection, and conscience. This work sees the dissembling of this ancient ritual and reassembling it with an alternative narrative that subverts the rituals and symbolism of the church resulting in a violent outcome to an unhappy alliance.

Our protagonists participate in the travesty of marriage as a cover for their respective undercover lives and related activities to satisfy the strictures of a culture. Here they seek to portray the predominantly patriarchal view of the sacrament of marriage as a falsehood; a denial of men's and women's rights and true desires in an attempt to appease orthodox family expectations. This tradeoff is explored visually through the gendered use of clothing, posture and props – referencing and dissecting traditional pictorial and gendered tropes.