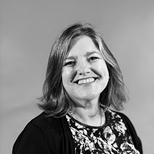 Tirion Havard
Health and Social Care / Social Sciences
Dr Tirion Havard is a Senior Lecturer in the Department of Social Work in the School of Health and Social Care . Her areas of interest relate to violence against women and girls. This includes research into the influence of mobile phones in the coercive control of adult heterosexual women as well as girls and young women in gangs.
Tirion joined LSBU in 2009 following a long and successful career in the Probation Service where she worked with a wide range of offenders with complex and multiple needs who posed a high risk of harm to members of the public. She took a particular interest in working with domestic violence offenders and has carried this into her academic career.
Tirion has been awarded the Post Graduate Certificate in Education (PGCHE) and is a Senior Fellow of the HEA.
Tirion has comprehensive experience of teaching across the social work course leading or participating in most of the modules on the BA (Hons) and MA courses. Where possible she integrates her research relating to violence against women and girls into the programme and teaches about her research across disciplines.

Currently she is module lead for Human Growth and Development (MA) and the Professional Capabilities Framework (MA). Tirion makes efforts to involve service users and external practitioners into her modules to ensure that the teaching is relevant, current and considers all aspects of the social work profession.

Tirion also supervises students writing their social work dissertations.
Senior Fellow of the Higher Education Academy
HCPC-registered social worker
Currently organising and presenting at an evening symposium relating to the issue of Violence Against Women and Girls due to be held on the 7th November 2019. Further information will be made available.
Created webinars for the North London Social Work Symposium in London in relation to both her work around girls in gangs and coercive control.
Presenting doctoral research at the upcoming Hestia Conference and has been invited to speak about digital toxicity to the Centre for Intimate and Sexual Citizenship (CISC) at the University of Essex.
Organised and delivered a seminar entitled 'Gang violence in London and New York: New risks, new approaches". Guest speaker Dr Brian Gilchrist Fulbright Scholar from Long Island University, New York and chaired by Sir Simon Hughes.
Panel Member on 'Yr Hanner Call' [Radio Programme] discussing the impact of technology on modern life. BBC Radio Cymru (Wales). 11th October 2018.
Appearance on 'Heno' (2018) [TV programme] discussing coercive control and mobile phones. S4C 3rd October 2018.
Appearance on the Victoria Derbyshire show (2018) [TV programme]. BBC2, 26th July (University education).
Appearance on Victoria Derbyshire show (2018) [TV programme]. BBC2, 6th June. (Girls in gangs)
Interview with The Guardian 5th June 2018.
Interview with Evening Standard 4th June 2018.
Co-author of a national training manual for childcare social workers returning to practice through the CWDC 'Return to Social Work' initiative
External examiner for the MA social work programme at Bangor University.