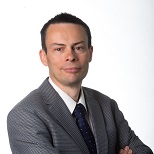 Timothy Eccles
Senior Lecturer - Real Estate
Built Environment and Architecture
Dr Timothy Eccles is a chartered surveyor with over 30 years teaching experience in UK universities. He is currently course director for the suite of BSc (Hons) degrees in Quantity Surveying, having joined LSBU from Nottingham Trent University where he ran their highly successful BSc (Hons) in Real Estate. Before that he worked at Kingston University as a senior lecturer, where he helped establish their Centre for Excellence in Teaching and Learning (CETL) in surveying education.
Dr Eccles is course director for all BSc (Hons) degree routes in Quantity Surveying. His areas of interest concern the business implications of, and influences on, technical practices. His teaching, therefore, falls broadly within the remit of 'management' and 'economic' aspects of the vocational degrees he leads. His work in teaching economics led him to co-author Property and Construction Economics (International Thomson, 1999).
Prior to LSBU, he was course leader in Real Estate at Nottingham Trent University. Whilst there, he introduced a case study approach to teaching to try and emulate workplace practices within the academic environment. He has also developed courses outside the UK, most recently on environmental construction management for Warsaw University, and writes/ presents for professional audiences, including CPD events and in-house training.
Dr Eccles' work concerns the sociology of professions and occupations with emphasis on the real estate and building industries. He co-authored Corporate Real Estate Asset Management (Routledge, 2017), which resulted from studying how workplace transformation and professional expertise interact to create new occupational forms to advise on this immense upheaval. He has also published on practice management and the organisational responses to change. His work on service charge management influenced the introduction of a code of practice, and also led to his modelling explanations of how technical practices change. He is currently working with Dr Alla Koblyakova (Nottingham Trent University) on non-rational aspects of mortgage finance.
Having a PhD in Sociology (London School of Economics) and a MA in Social and Political Theory (Sussex) helps bring theoretical concepts to his work in the field. The result is that his research has both academic and professional impacts, including consultancy work. His latest work concerns the concept of formality and informality as driver of change in professional practice.
Dr Eccles is a Member of the Royal Institution of Chartered Surveyors (MRICS) and a Fellow of the Higher Education Academy (FHEA).