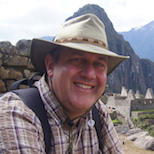 Stephen Bleay
Senior Lecturer
Applied Sciences / Human Sciences
Dr Steve Bleay is a Senior Lecturer in Forensic Science in the School of Applied Sciences. He specialises in fingermark enhancement and imaging, with interests in the interactions between trace evidence, the surface it is deposited on and the environment it is exposed to.
Dr Bleay graduated in Materials Science from the University of Bath in 1988, obtaining a PhD from the same department in 1991. After 10 years working on stealth materials for the Defence Evaluation and Research Agency, he moved to the Home Office in 2003 and spent 15 years working on fingermark visualisation processes.
He is one of the authors of the internationally recognised Home Office Fingermark Visualisation Manual and has over 50 publications in Forensic Science journals. He joined LSBU in January 2019.
Steve teaches on modules where he can apply his expertise in materials science, trace evidence and research, including Fundamentals of Measurement and Instrumentation, Introduction to Forensic Science, Core and Materials Science, Research Methods and parts of Marks and Traces. He also runs the Research Project module in Year 3.
Fellow of the Chartered Society of Forensic Sciences (FCFS)
Professional Member of the Institute of Materials, Minerals and Mining (MIMMM)
Chartered Engineer (CEng)
Forensic Adviser to the Defence Science and Technology Laboratory (Dstl)
UK Accreditation Service (UKAS) Technical Assessor to the ISO17025 standard and Forensic Science Regulator's Codes of Practice for Fingerprint Enhancement laboratories