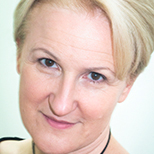 Stefania Marangoni
Lecturer
Arts and Creative Industries / Film and Media
A fine art graduate, Stefania Marangoni is a filmmaker whose work has included experimental as well as fiction and documentary projects.
Her experimental short "The Launderette" has screened in competition at Alpe Adria Cinema, and was presented as part of an arts program at Hamburg Film Festival, Bergen Art Festival and Randomize UK-Taiwan touring art exhibitio
Stefania Marangoni teaches editing and post-production in the School of Arts and Creative Industry on the MA editing and postproduction and the BA filmmaking.
Before joining LSBU, she taught drama and documentary editing at the London Film School, where over a period of ten years she supervised the editing and post-production of hundreds of short films.
She has also taught short drama editing workshops at the Northern Film School in Leeds, Scuola Holden in Turin-Italy, MTI Kingston-Jamaica and more recently at Warwick University
Stefania research interests include ethnographic filmmaking, hybrid and experimental documentaries.
British Film Editors (Member of The Board of Governors)
Women in Film and Television