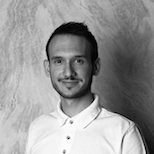 Stavros Daoukas
Lecturer
Health and Social Care / Allied Health Sciences
Stavros Daoukas is a Lecturer in Physiotherapy and Sport Rehabilitation in the Institute of Health and Social Care. He teaches across the BSc (Hons) and MSc Physiotherapy, Sport Rehabilitation, and Chiropractic courses. Stavros has previously worked as an Athletic Therapist (GSR) and MSK Sonographer across multiple clinical settings including the National Health Service (NHS), private medical clinics, and medical teams in elite football clubs.
Stavros qualified from the Aristotle University of Thessaloniki with a BSc (Hons) in Sports Science, St Mary's University Twickenham London with an MSc (pre-reg) in Sport Rehabilitation, and subsequently completed his Postgraduate Certificate in Diagnostic Musculoskeletal Ultrasound at University of East London.
Stavros has a wide range of teaching and research interestes including clinical examination, diagnostic musculoskeletal ultrasonography, and achilles tendinopathy neovascularisation.
Stavros is President of the Greek Association of Sports Therapy and Rehabilitation (PASTaR), and Committee Member in the Research and Education Committee of the World Federation of Athletic Therapy, and Scientific Director for the Organisation of the MSK Diagnostic Ultrasound at the EuroMediterranean Institute for Quality and Safety in Health Services (EIQSH).
Stavros has previous experience of academic teaching at the University of Bedfordshire. In April 2020, Stavros joined London South Bank University within the Institute of Health and Social Care.
Stavros is the Module Lead for Functional Anatomy and Kinesiology across Physiotherapy, Sport Rehabilitation and Chiropractic courses. He is also the Clinical Placement Lead for Sport Rehabilitation students.
President of the Greek Association of Sports Therapy and Rehabilitation (PASTaR)
Member of the British Association of Sports and Exercise Medicine (BASEM)
Member of the British Medical Ultrasound Society (BMUS)
Member of the British Association of Sport Rehabilitators (BASRaT)
Committee Member in the Research and Education Committee of the World Federation of Athletic Therapy (WFATT)
Scientific Director for the organisation of MSK Diagnostic Ultrasound at the EuroMediterranean Institute for Quality and Safety in Health Services (EIQSH)