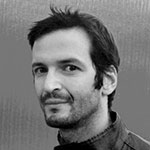 Spyridon Kaprinis
Senior Lecturer
Built Environment and Architecture / Architecture
Spyridon Kaprinis completed his undergraduate studies at the University of Westminster (BA-Hons-Arch, 1999) and at the Architectural Association School of Architecture (AA Diploma/MArch, 2002) in London and his postgraduate studies at the University of UCL (The Bartlett / M.Arch. In Architectural Design, 2006) and the Architectural Association School of Architecture in London (M.Arch. In Architecture and Urban Planning, 2010) with Distinction.
Since 2010, he has worked for Zaha Hadid Architects, in London, and since 2017 he has been teaching architectural design at London South Bank University (Senior Lecturer in Architecture) and the University of Huddersfield (Lecturer in Architecture), where he is currently a PhD candidate.
Spyridon is responsible for leading and supporting design studio teaching at LSBU, at undergraduate level. He leads a design studio and provides teaching through tutorials, seminars, and workshops in the broad curricular area of design skills for architecture, supporting the development of a pedagogical position on architecture and the role of design in professional practice for students at different levels of the programme. He helps the students develop skills in technology, theory, representation, and professional relevance and integrate them in the work of the architecture design studios. Spyridon is also responsible for supporting design studio teaching at the University of Huddersfield at graduate level (BA 2nd & 3rd Year), where he co-leads a BA design studio and provides teaching through tutorials and Rhino and AutoCAD workshops.
Spyridon was a Lead Designer/ Lead Architect (TEE/TCG) (Zaha Hadid Architects) for the Serviced Apartments / Opus Tower project in Dubai and a project architect for the Serviced Apartments Interior Design package (Schematic Design & Detail Design), where his main tasks included the following: producing 2D drawings for interiors and details (using Maya/MEL, Rhinoceros, Grasshopper and AutoCAD), ensuring the project was designed, detailed and delivered to meet the ZHA standards and deadlines, briefing and managing the wider design team to create plausible concepts and detailed solutions, responding to the constraints of the site, programme, budget and brief of the client. Moreover, he was leading, supervising and managing architectural assistants and architects as they created key stage drawings, specifications and construction information, as well as acting as a point of contact with the day-to-day client representatives.
Spyridon is a registered architect and member of the Technical Chamber of Greece (TEE) since 2003. His work has been exhibited in London, Antwerp, Huddersfield and Thessaloniki, as well as featured in various architectural publications and websites.
Spyridon was a guest / invited tutor for 3 consecutive years (2011, 2012 & 2013) in the "ADSL: The Antwerp Design Seminars & Lectures" programme, an international event which took place each year at the Faculty of Design Sciences, University of Antwerp, Belgium, as well as a γuest critic at the University of Westminster and Oxford Brookes University. From 2002 to 2005, he was a teaching assistant at the Aristotle University of Thessaloniki, Greece (Design Course: "Design as a Game of Destabilization and Deconstruction", Associate Professor: Dr.Vana Tentokali).