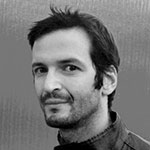 Spyridon Kaprinis
Senior Lecturer
Built Environment and Architecture / Architecture
Spyridon Kaprinis has obtained his BA(Hons) in Architecture from Westminster University (1999) and his AADiploma/MArch/Part II from the Architectural Association (2002). He has also obtained a Master's Degree in Architectural Design (with Distinction, 2006) from The Bartlett/UCL, as well as a Master's Degree in Architecture and Urbanism (with Distinction, 2010) from the AADRL/Architectural Association.
He is currently working on his research for his PhD proposal. He has worked for many architectural offices in Thessaloniki and London, including prestigious architectural practices, such as Zaha Hadid Architects [Lead Architect, 6.5 years] and Andrew Phillips Ltd. [Project Architect, 1 year].
"The various definitions of congruence describe a situation where a state of harmony and agreement is perceived or achieved. There is a governing notion of similarity, albeit a strange one: it is not a complete equivalence, nor a complete disjunction.
Furthermore, in psychology, the concept of congruence is more related to «genuiness», realness and to interpersonal relationships that are true and «transparent», having no «front», no facade... In architecture and design, congruence can be encountered and perceived as a transcendental trait, which has the capability of being constantly adapted and transformed, according to any specific situation or design problem that must be faced and tackled.
More specifically, architectural examples of congruence can be perceived within styles or typologies, as examples of anatopism, as hues of materiality, as concepts and narratives, or even as articulating techniques during the design process. The notion of congruence can be related to a variety of themes, such as style and typology, architectural anatopism, materiality, concept and narrative, technique, as well as it can become the medium towards the articulation of the actual design process."